Update: Delta will be providing vouchers to all passengers delayed more than 3 hours, and will not be accepting unaccompanied minors for travel today. Scroll down for details.
Delta flights were grounded this morning after a computer outage brought the airline systems to a halt.
Flights are resuming, but given that Delta was only able to operate ~800 of their 6,000 scheduled flights this morning, things are a bit messy. A vast majority of Delta planes aren't where they're supposed to be (along with their passengers and crew), so it's going to take a significant amount of time to get everything back to normal.
If you're flying Delta today (or scheduled to fly this week), here's what you need to know.
Check your flight status
It's best if you can do this before heading to the airport. The Delta app and website are still a bit glitchy, but there are several flight tracking apps that can give you more information.
The easiest, however, is just to Google. Enter your flight number preceded by "DL" into the search bar — so Delta flight 32 becomes "DL32" and you'll see your flight status: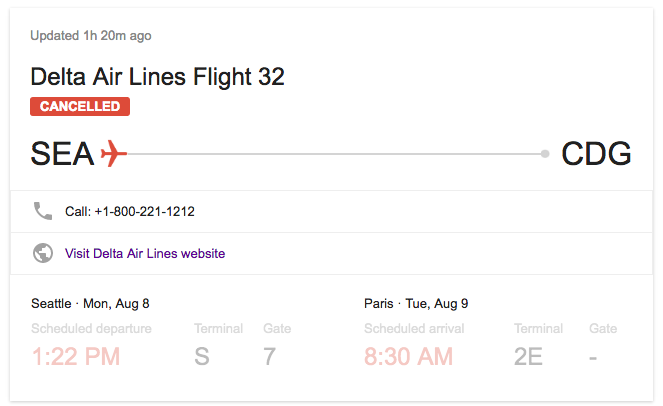 It's also worth noting that unaccompanied minors will not be allowed to travel today. If they've already started their journeys, Delta will take care of the kids, but this is an indicator of how unstable the route network still is.
You can change your flights
If you are flying on Monday, August 8th, and want to move or cancel the trip, Delta is waiving the penalties:
If your flight is canceled or significantly delayed, you are entitled to a refund. Even if your flight is not canceled, you may make a one-time change to your ticket without fee if you are scheduled to travel […] on Delta, Delta Connection®, or Delta-coded flights.

When rescheduled travel occurs beyond August 12, 2016, the change fee will be waived. However, a difference in fare may apply. Final travel must be completed by end of ticket validity, one year from date of original issue. If travel is not able to be rescheduled within these guidelines, customers may cancel their reservation and apply any unused value of the ticket toward the purchase of a new ticket for a period of one year from the original ticket issuance. Applicable change fee and fare difference will apply for new travel dates. Final travel must be completed by end of ticket validity.
So if you have flexibility in your plans, you might be best off canceling your Delta ticket, or rebooking for later in the week.
Domestic flights
If you're already at the airport, you may have options other than what the gate agent is telling you.
You can certainly wait for your flight — the delays won't last forever — but it's worth asking about other options.
If your destination is served by Alaska or United, Delta may be able to "endorse" your ticket over to another carrier.
Delta doesn't have interline agreements with American, JetBlue, Southwest, or Virgin America, so getting on one of those flights is less likely.
But it's worth asking, especially if you need to travel today.
International flights
If you're traveling internationally, you might be in a better situation than Delta's domestic flyers.
That's because Delta has dozens of SkyTeam partners, along with Virgin Atlantic & Virgin Australia, and it's easier for them to rebook you on a partner airline.
| | | |
| --- | --- | --- |
| Aerolineas Argentinas | Delta Air Lines | Saudia |
| Aeromexico | Garuda Indonesia | TAROM |
| Air Europa | ITA Airways | Vietnam Airlines |
| Air France | Kenya Airways | Xiamen Air |
| China Airlines | KLM | |
| China Eastern Airlines | Korean Air | |
| Czech Airlines | Middle East Airlines | |
SkyTeam member airlines
You can look at ExpertFlyer, GoogleFlights, or even the airport's Wikipedia page to get an idea as to what other airlines fly to your destination.
If there's a seat for sale, Delta might be able to get you on the flight (ask nicely).
Lounges, lounges, lounges
Whenever there's a travel disruption, the lounge will be the best place to discuss your travel. As chaotic as everything will be today, the SkyClubs will be slightly less busy, as they don't have quite as many passengers to help.
Even if you don't have lounge access by way of your ticket, elite status, or credit card, today could be a day where it makes sense to pay for a day pass.
Phones are iffy
Hold times are outrageous, so if you're not traveling today, you might want to wait for any Delta phone calls you would have made.
If you're willing to spend a few dollars on Skype or Google Voice credit, you can try Delta Air Lines international reservations, which is sometimes a bit faster.
Either way, the phone systems are going to be slow.
You can also try to contact @Delta on Twitter. They're generally quite helpful, but are obviously overwhelmed today.
Delta systems are still not 100%
While the airports are able to get flights in and out now, the Delta computer outage is still impacting many of the passenger-facing systems.
Delta.com doesn't seem to be super accurate. New reservations aren't syncing with SkyMiles accounts, and flights aren't displaying on many routes. Delta is aware, and noted in their statement:
There may also be some lag time in the display of accurate flight status at delta.com, the Fly Delta App and from Delta representatives on the phone and in airport.
Based on what I'm experiencing, the airport systems and agents have the most resources. If you're at the airport, an in-person conversation will be your best bet.
Consider bailing to a hotel
Generally my approach during system disruptions — particularly weather delays — is to treat it like a zombie apocalypse. You have to keep moving, or it's not going to end well.
In this case however, there might not be anywhere to move to. If your flight is delayed several hours, and endorsing the ticket to another carrier isn't a reasonable option, you might want to get out of the airport. A cheap airport hotel can give you a place to work and recharge versus sitting in the terminal.
The airline baggage service office may be able to give you a "distressed traveler voucher" but be prepared to wait in line, and be subject to their agreements/availability.
Times like these are when those free hotel credit card vouchers can really come in handy, as airport hotels tend to be lower categories, and you're always going to be better off when you can book something on your own.
Delta is giving out vouchers too
This is unusual, and speaks to how severe the system outage has been today.
Delta will provide $200 in travel vouchers to all customers who experienced a delay of greater than three hours or a cancelled flight as a result of today's systemwide outage. The vouchers are available for travel on all Delta and Delta Connection-operated flights.

Customers affected by the outage and who have provided their email address will be contacted today and will receive their voucher in seven to 10 business days. Customers who have not been contacted can complete a Customer Care form on www.delta.com/wecare to receive their voucher.
Compensation is generally done on a case-by-case basis, so blanket $200 vouchers are an impressive gesture. That won't void all the frustration from today, but should take some of the sting out.
Bottom line
As always, be polite, be patient, and be proactive. This is truly an unprecedented situation for Delta, and they'll be doing everything they can to restore operations after the outage.
If you're already at the airport, I'd take pretty much any alternative flight they can offer you.
If you haven't left yet, and can delay your travel by a day or two, that might make for a more pleasant experience.
For those flying Delta today — how's it going out there?