All the people who really need a life cool kids are going back and forth to Beijing these days. American's 777s are notoriously unreliable as of late, so it's hardly surprising that these runs didn't go entirely as planned. Social media has been full of people rebooking their flights, and I haven't spoken with anyone yet who had seamless travels in both directions.
Entertaining as it might be to read about someone else's travels, the real value here is in learning how to handle delays and cancelations when they happen to you. So I thought it might be helpful to break down the process I go through when dealing with a flight delay.
Fortunately (I guess?) the Beijing trips provided lots of opportunities for live examples, so we can break this down in detail.
1. Track your flights
Everyone do me a favor here. Open a new browser tab, or grab your phone.
Open Google.
Type in an airline code (like UA for United, or DL for Delta), followed by a flight number.
Boom! You're tracking a flight.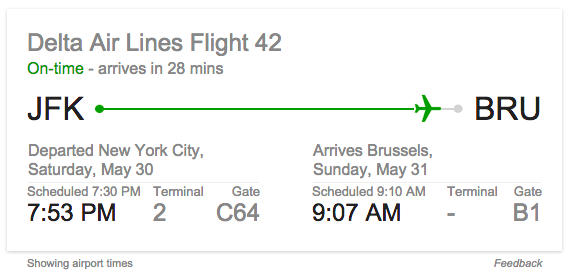 It's seriously that easy nowadays. I don't know why more people don't do this. Of course you can get more advanced, and it's helpful to track your inbound flight as well. The main thing is don't rely on notifications from the airline. Once the delay has posted to the departures board you have the same knowledge as everyone else, which doesn't help with avoiding queues.
Going back to our trip, the night before our return from Beijing I was checking the status of our flights. While our flight was showing an on-time departure at 10:10AM, the inbound flight from Chicago had a spectacularly tardy 14+ hour delay: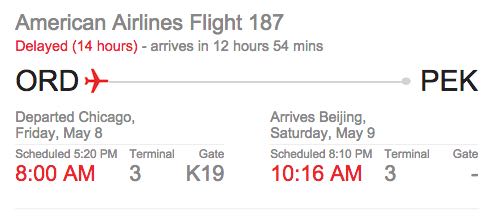 Needless to say, a negative six minute turn ain't happening, which leads us to the next phase of handling flight delays —
2. Know your worst case
To help with the timeline, our flights back from Beijing were on Saturday morning. I had a separate ticket back to San Diego Saturday night, while Ben had a direct turn back to Beijing on Sunday.
So we were highly motivated to get to DCA on Saturday afternoon, but as a backup, the very first thing I did was to look at flights to San Diego on Sunday morning.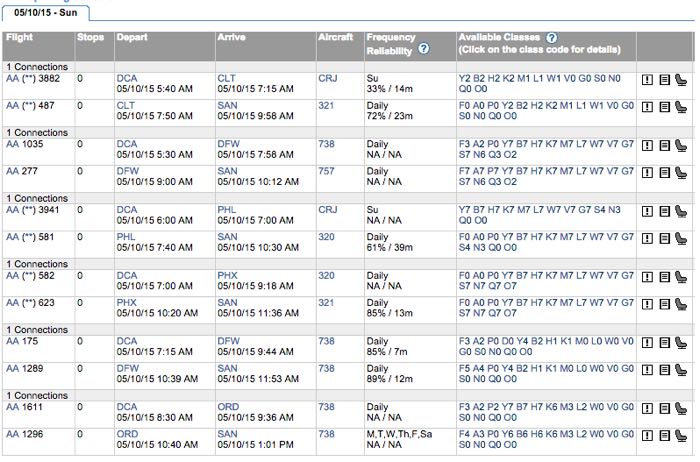 With flight loads in hand, I then made a call to the AAdvantage Executive Platinum line.
Me: Hello! I am scheduled on the 186 tomorrow, and it looks like it's going to be quite late.
Agent: Hmmm, I have that as on-time.
Me: Can you look at 187? Looks like it just posted a 14 hour delay.
Agent: Oh heavens, that's not good.
Me: Indeed! So I have a flight out of DC Saturday afternoon on a separate PNR [ ]. Ideally I'll still make those flights, but just in case, can you protect me on the 5:30AM flight Sunday morning?
Agent: Absolutely, give me just a moment to do that.
With that out of the way, we started looking at alternative options out of Beijing. American had started operating their Dallas > Beijing route just a few days prior, and that flight was wide open: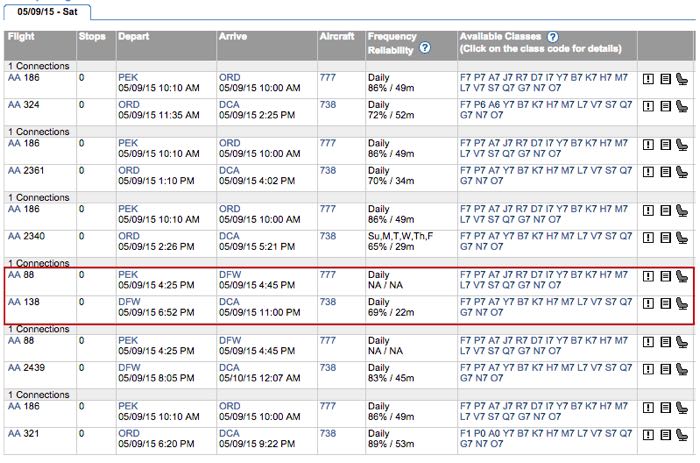 So we had our very worst case — if our flight to Chicago was delayed further, we would move to the Dallas flight. It would suck, absolutely, but it was an option.
3. Have a plan (and communicate it)
Grateful to have checked our flight status the night before, we didn't leave the hotel at 6:30AM, and were instead enjoying the dessert breakfast buffet at the W when American finally posted the delay.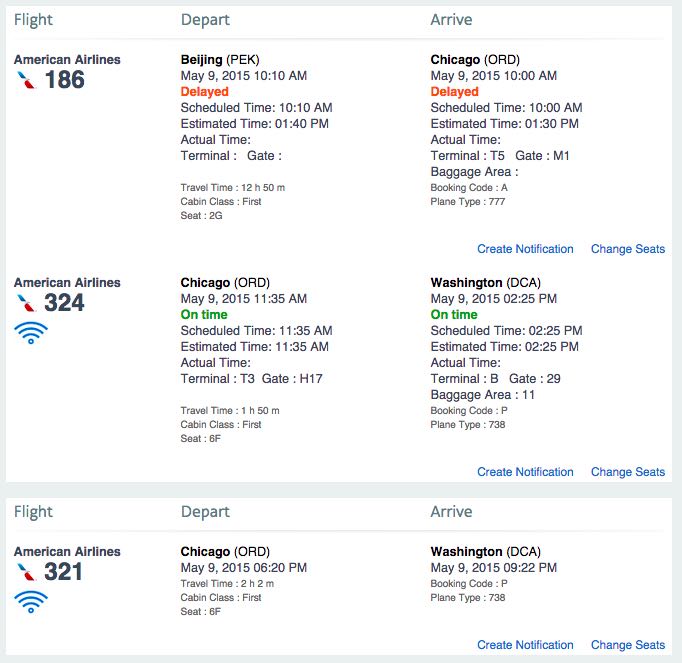 As a bonus, American had proactively protected us on a later flight from Chicago. Yay!
Of course, four hours in O'Hare isn't anyone's idea of a good time, particularly not Our Hero's. A quick look at ExpertFlyer showed there was an earlier flight out of Chicago, and it was wide open: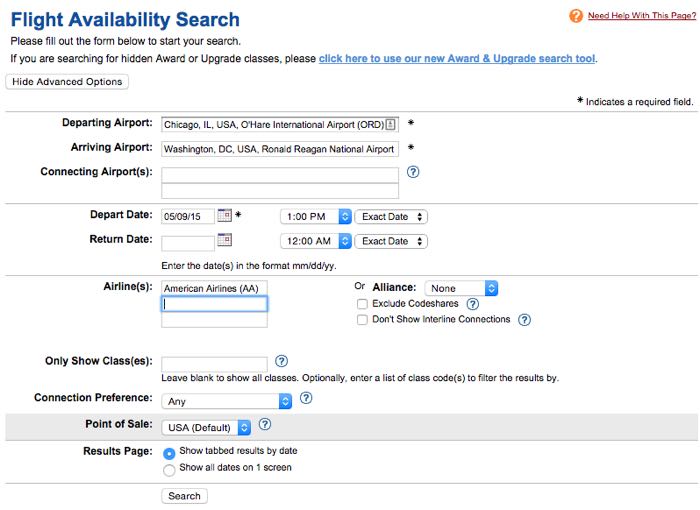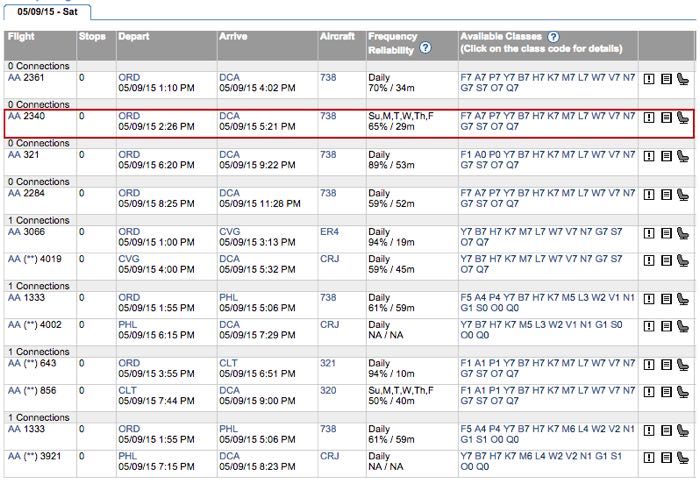 Ben: So here's the plan. If we push on time, we Tweet AA and ask them to protect us on the 2:26PM
Me: That's not a legal connection
Ben: We'll ask nicely and promise to run
Me: If they say no?
Ben: We run anyway, and ask at the gate
And sure enough, as we boarded the plane in Beijing, that's what he did: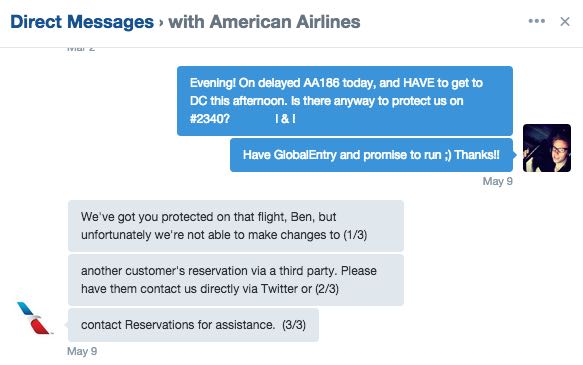 An earlier flight to DC still wouldn't keep me from missing my flight to San Diego, but it would make it possible to get home later that evening, rather than Sunday: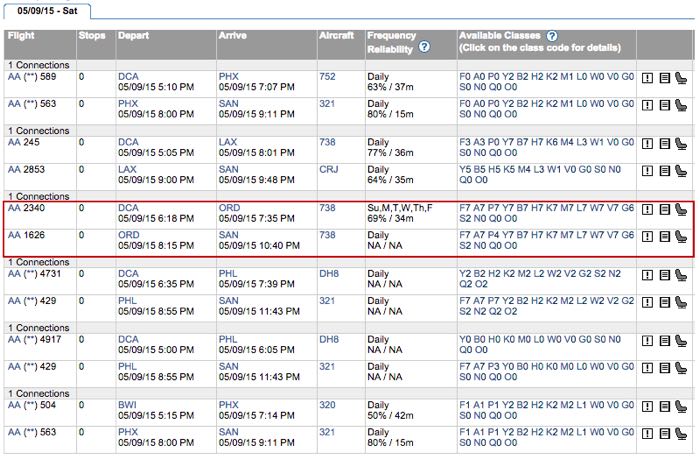 And since I had to talk to the AA folks on Twitter anyway…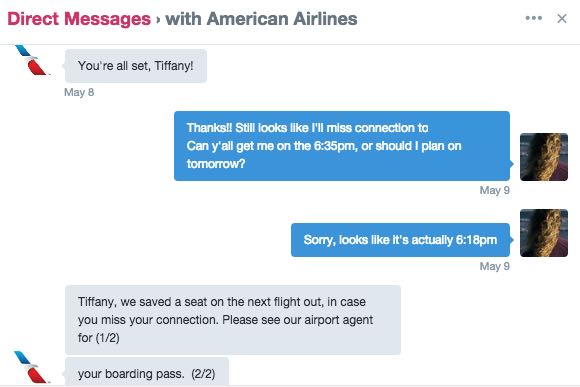 So we were fairly committed to making that flight. Missing from Ben's trip report was the replay of him announcing our projected arrival time and odds of making the earlier flight approximately every seven minutes for the entire flight kill me now.
We reached our gate in Chicago at 1:29PM (the furthest gate from customs, of course), and without running we cleared immigration and security and arrived at the next gate before they even started boarding.


Good thing, since the flight left early!
The rest of the day was as uneventful as domestic travel gets. We flew to DC, I flew back to Chicago, and then to San Diego. Essentially a textbook day in terms of rebooking flights.
4. Stay ahead of the crowd
This is key, and what made our travel day go relatively smoothly. Had we not been actively managing our flights, our day might have looked like this:
Leave hotel before 7AM
Arrive at airport to discover flight is delayed until 1:40PM
Take delayed flight, arriving in Chicago three and a half hours late
Likely miss connection, go to desk to be rebooked
Queue
Probably queue some more
Discover all seats on the later flights have been taken by those in the front of the line
Standby
Not clear
Queue for a hotel voucher
Spend the night in Chicago
Take first confirmed flight to DC in the morning (meaning I would have even missed my backup flight to San Diego, and Ben would have missed his flight to Dallas)
Spend all day trying to untangle the mess of reservations
Cry
So in comparison, it's easy to see how arming yourself with a bit of knowledge and proactively communicating with the airline can change your entire travel experience.
Ultimately it's the difference between waiting to be told where to go, or controlling your own destiny.
And no one at the airline will ever care as much about your travel plans as you do.
What is your approach during delays? Anything you would have done differently?