As the projected severity of the winter storm in the Northeast increases, most domestic airlines in the US have either canceled flights, or issued waivers for travel over the next few days.
A bit of snow (much less a blizzard) can cause systemwide disruptions, so if you're scheduled to travel this weekend you'll want to take precautions.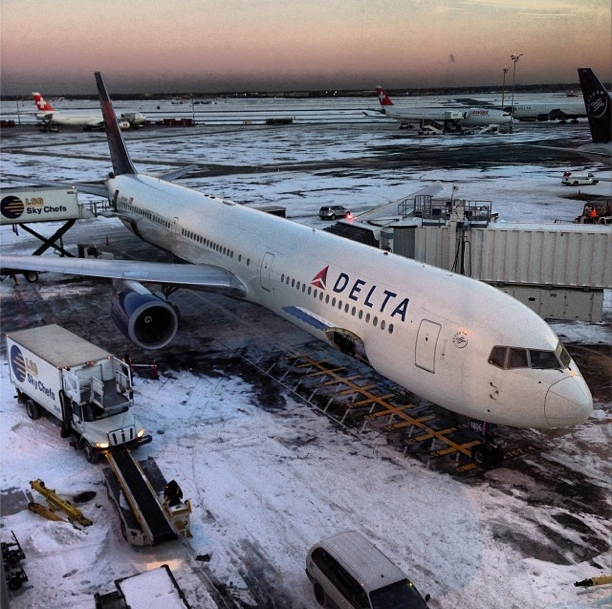 A 2014 storm shut down JFK
Weather waivers
As of this moment, most of the US airlines (and Air Canada) have issued some kind of notice for this weekend. These range from announcements that flights might be delayed, to full-on cancelations, depending on the airline.
In most cases, the waivers allow you to rebook your travel to a future date, change your routing, and potentially cancel altogether. You'll want to contact your airline directly, and the extent of the waiver can change at any time.
To help with that, here are key the travel advisory pages:
In general, the airlines don't want passengers sleeping in airports either, so they'll try to work with you to rebook your flights. If you have to travel this weekend, be prepared for it to get a bit messy.
Skip the phone queue
Given the thousands of people needing to rebook flights right now, the odds are good you'll be waiting endlessly on hold to change your tickets. So there are a few ways to avoid that.
Try the club lounge
If you're already at the airport, start with the lounge agents. They tend to have fewer passengers to deal with than the gate agents, and thus may have more time (and more patience), when it comes to rebooking your flight.
Reach out on social media
I've had good luck changing flights by sending direct messages to American via Twitter. Several other airlines have a Twitter presence as well, and while they might not be able to fix your reservation, it's worth trying:
Avoid the domestic call centers
If you're willing to spend a few dollars on Skype or Google Voice credit, calling the international call center for an airline can often save you an hour or more of hold time.
Almost all of these call centers have an English-speaking option, but you can also call Australia, where I understand the weather is nice today, or even just Canadian numbers can get you through faster.
¿Hablas Español?
If you have a rudimentary understanding of Spanish (like, just enough to get through the computer system), you can try the Spanish-speaking numbers. Again, fewer people calling means shorter hold times, and the agents typically speak English as well.
American Airlines Spanish line: 1-800-633-3711
Southwest Spanish line: 1-800-VAMONOS
United Airlines Spanish line: 1-800-426-5561
Be your own advocate
This is maybe more a life philosophy than one specific to weather delays, but it holds true — no one cares about you (or your travel) as much as you do.
So be nice, but ask questions, present alternatives, be prepared to book your own hotel rather than waiting in line with a hundred other people for a voucher, and so forth.
If you stand around and wait, you will almost certainly have a worse time than those who are actively finding solutions to the situation.
Bottom line
In a storm, or any other type of travel disruption, you always have options. If you wait to be told what your travel choices are, the odds are good that you'll miss out on the better alternatives.
Be patient with people, but be proactive.
Is anyone traveling this weekend? What is your plan for the weather?