In the interest of full disclosure, OMAAT earns a referral bonus for anyone that's approved through some of the below links. The information and associated card details on this page for the Hilton Honors American Express Aspire Card has been collected independently by OMAAT and has not been reviewed or provided by the card issuer. These are the best publicly available offers (terms apply) that we have found for each product or service. Opinions expressed here are the author's alone, not those of the bank, credit card issuer, airline, hotel chain, or product manufacturer/service provider, and have not been reviewed, approved or otherwise endorsed by any of these entities. Please check out
our advertiser policy
for further details about our partners, and thanks for your support!
We're now over halfway into 2019 (I'd say "where has time gone?" but I feel like I'm always wondering that), so I wanted to provide an update on how 2019 is looking for me status-wise at the halfway point.
At the very beginning of 2019 I wrote a post sharing the status I qualified for last year, so how's my progress towards qualifying for 2020 going?
My general elite status theme for 2019
This year I'm channeling Melania Trump's fashion when it comes to elite status. I don't really care… do you?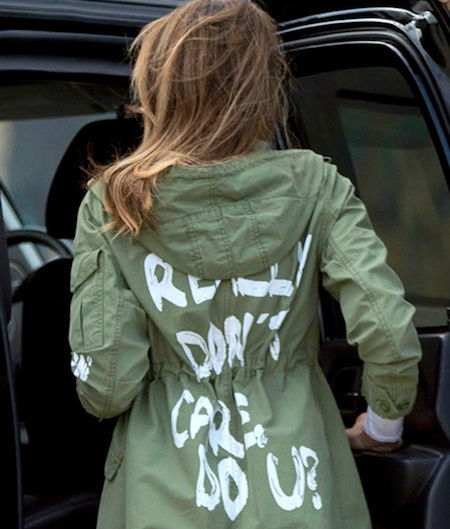 What's funny is that in past years I'd develop a strategy early on in the year, track my progress towards that, etc. This year that's not the case at all. Actually, the first time I really looked at my status progress for the year is when I sat down to write this post and started taking screenshots.
A vast majority of my flying has been on award tickets this year as well, which has impacted my ability to earn elite miles.
So let's look at how status is looking for this year — I'll start with status that's a given (that's earned just for having a credit card), and will then share the status that I actually have to earn.
Hotel status that's a given
I have the following hotel status just for having certain credit cards:
Airline status that I'm earning (or not)
Below I'll share my progress towards earning airline status for this year. I'll share the programs with which I either earned status last year, or plan on earning status with this year.
Alaska Mileage Plan
Last year I earned Alaska Airlines MVP Gold status. I love Alaska Airlines Mileage Plan and wish I were requalifying for this status, but the truth is that living in South Florida I don't have many opportunities to fly with them. So I've earned zero elite miles with them this year, and am likely to lose the status.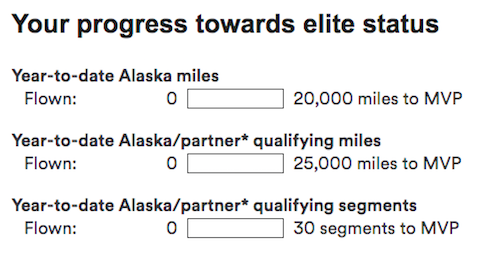 American AAdvantage
I've been an American Executive Platinum for years. This year I haven't actually made an effort of flying with them, and quite to the contrary have been trying to avoid them whenever practical.
In spite of that, living in South Florida they often can't practically be avoided. So far I'm at just under 36,000 elite qualifying miles, so I'm just over a third of the way towards requalifying for Executive Platinum status.

As I said above, that's in spite of actually going out of my way to avoid them whenever it's practical. I'm not sure how I'll end this year with American. I guess if the current pace of travel on them continues I'll end the year right around 75,000 elite qualifying miles, which would earn me Platinum Pro.
I don't want to shift any more business to American, though at that point is it worth going out of my way to fly American so that I at least make it to Executive Platinum? In other words, is it worth the incremental 25,000 elite miles?
I have no love for the airline (at all), but if I'm stuck flying them in many circumstances, I'd rather be Executive Platinum than not.
I don't know, I'll make a decision on this closer to the fourth quarter.
Delta SkyMiles
I fly Delta a reasonable amount because I think they're the best major US airline. I don't currently have status with them, though based on my travel booked with them so far this year I'll at least earn Silver status. That's not worth a whole lot — I don't think I'll go out of my way to fly more with them, though.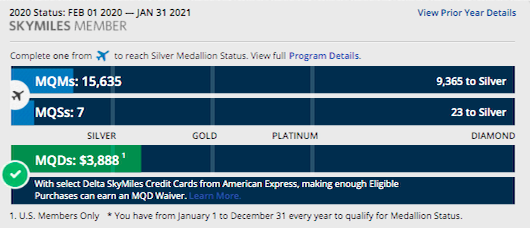 Delta's first class fares are usually quite reasonable for the markets I look at, so I'll probably just keep flying them when it's convenient, with little regard for status.
Hotel status that I'm earning (or not)
While the value of airline elite status has decreased greatly over the years, I actually still think there's value to be had with hotel status. Obviously that value varies by program, though. While I love having Hilton Honors and IHG Rewards Club as backup programs thanks to the status I earn through credit cards, there are two hotel status levels I otherwise go for.
World of Hyatt
I'm a World of Hyatt Globalist member, and get a lot of value out of that status. At the moment I'm at 33 elite nights, and need 55 to requalify. Those elite nights are partly through the World of Hyatt Credit Card, which offers five elite nights annually just for having the card, plus two elite nights for every $5,000 spent.

I should have no trouble earning Globalist status again through stays, though towards the end of the year may try to "spend" on the card for any remaining elite nights I need.
Marriott Bonvoy
Oh Bonvoy…
I'm a Marriott Ambassador member, which is a status I've really valued. As of now I'm only at 30 elite nights for the year, and that includes the 15 elite nights that I earned for having the Marriott Bonvoy Business® American Express® Card.
Ambassador requires 100 elite nights, which I actually shouldn't have too much trouble achieving, especially as I'm currently targeted for a double elite nights promo.
The challenge is that as of this year Ambassador also comes with a $20,000 spending requirement. That's usually not unreasonable for 100 nights, though the issue is that I'm redeeming a ton of points for stays this year, so I'm not sure I'd reach that spending threshold.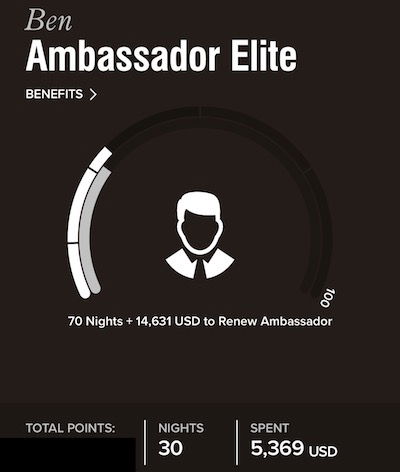 So what do I do at that point? I have lifetime Platinum status with Marriott, so do I go for Titanium status, or…?
Bottom line
I've never cared so little about airline status before, and it's impacting my airline decision making.
I still end up flying American a fair bit, simply on account of being based out of Miami. I imagine at the end of the year I'll be fairly close to Executive Platinum, and at that point the question will be whether it's worth earning the status since I am often stuck flying with them.
On the hotel front, I feel like Hilton Honors treats me very well given how easy it is to earn Diamond status, and also given their ever-increasing number of luxury properties. I also love my World of Hyatt Globalist status, especially with all of their recent hotel additions.
While I love my Marriott Ambassador, I'm not thrilled with Marriott overall, and don't think I'll reach the $20,000 spending threshold with them this year.
Where do you stand on elite status qualification for this year?