Hello from New York! Yesterday I flew Etihad Airways from Abu Dhabi to New York, which I booked using Etihad Guest miles (they're transfer partners with Amex Membership Rewards and Citi ThankYou).
I've flown the Etihad First Class Apartment several times before (including on their inaugural A380 flight), though at this point it has been over two years since my last flight on this plane.
I was curious to see how the product was holding up, given Etihad's significant cost cutting, while at the same time adding some features in first class (like a caviar service on select flights).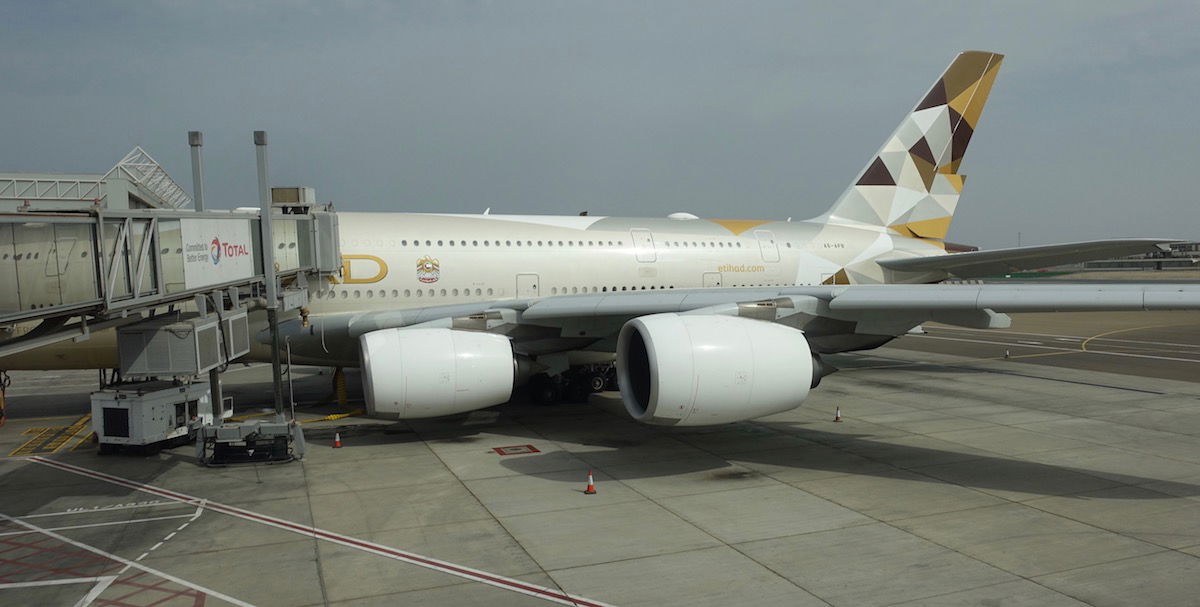 So, how was my 13hr15min flight? Here are my initial thoughts, with a full trip report to follow:
Etihad A380 First Apartment cabin & seats
Physically, Etihad's A380 first class cabin is one of the most stunning in the sky. It's located at the front of the upper deck and has just a single aisle, with a total of nine first class seats, known as "Apartments." Then there's also the "Residence," which is Etihad's three room suite with butler service, though it's typically empty. On this flight all first class seats were occupied, though the Residence was empty.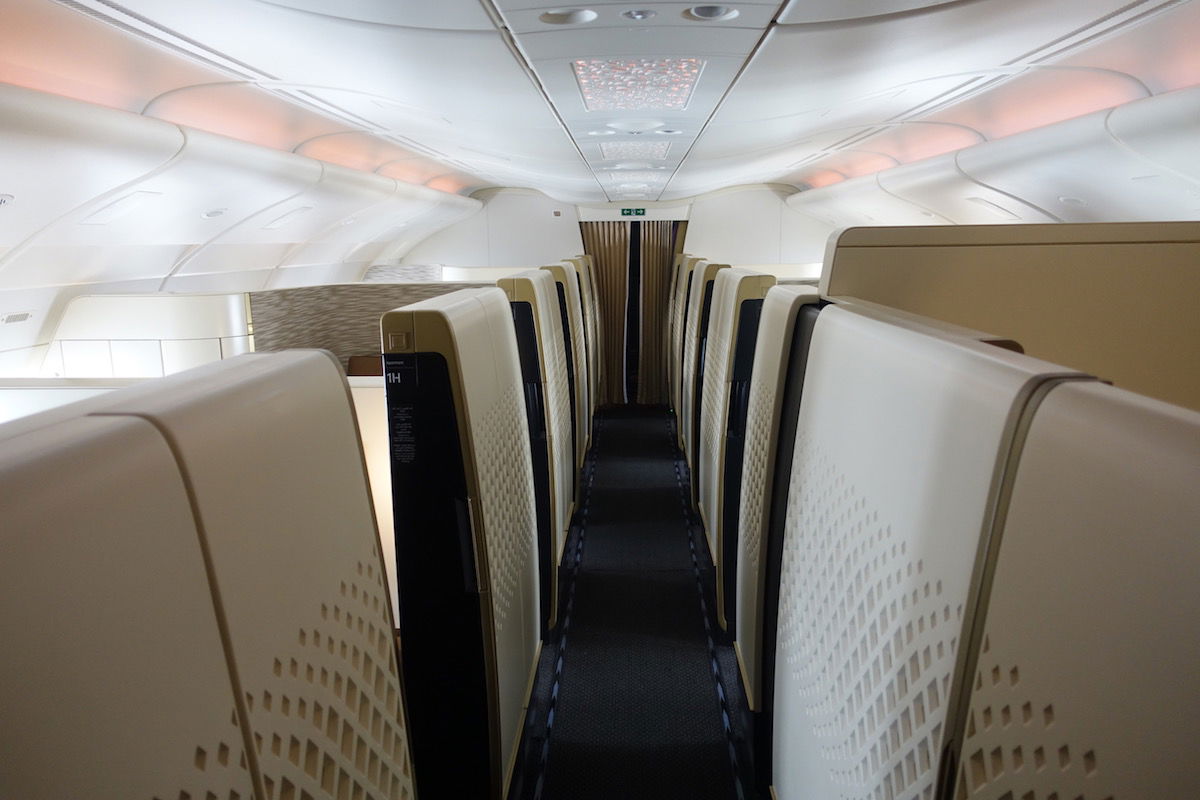 Etihad's A380 first class is among the most spacious seats in the sky in terms of the square feet per passenger, and no doubt it's an extremely impressive product. You have a massive seat, and then there's a long bench along the other side of the suite.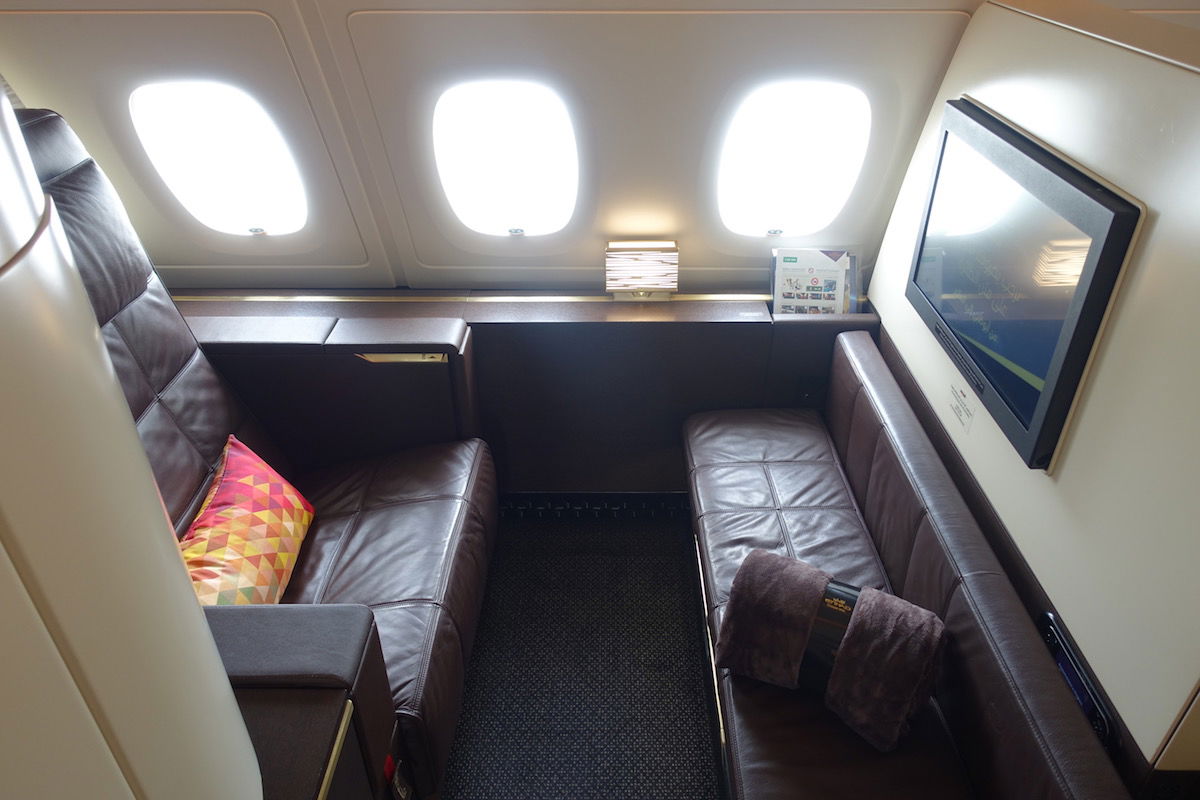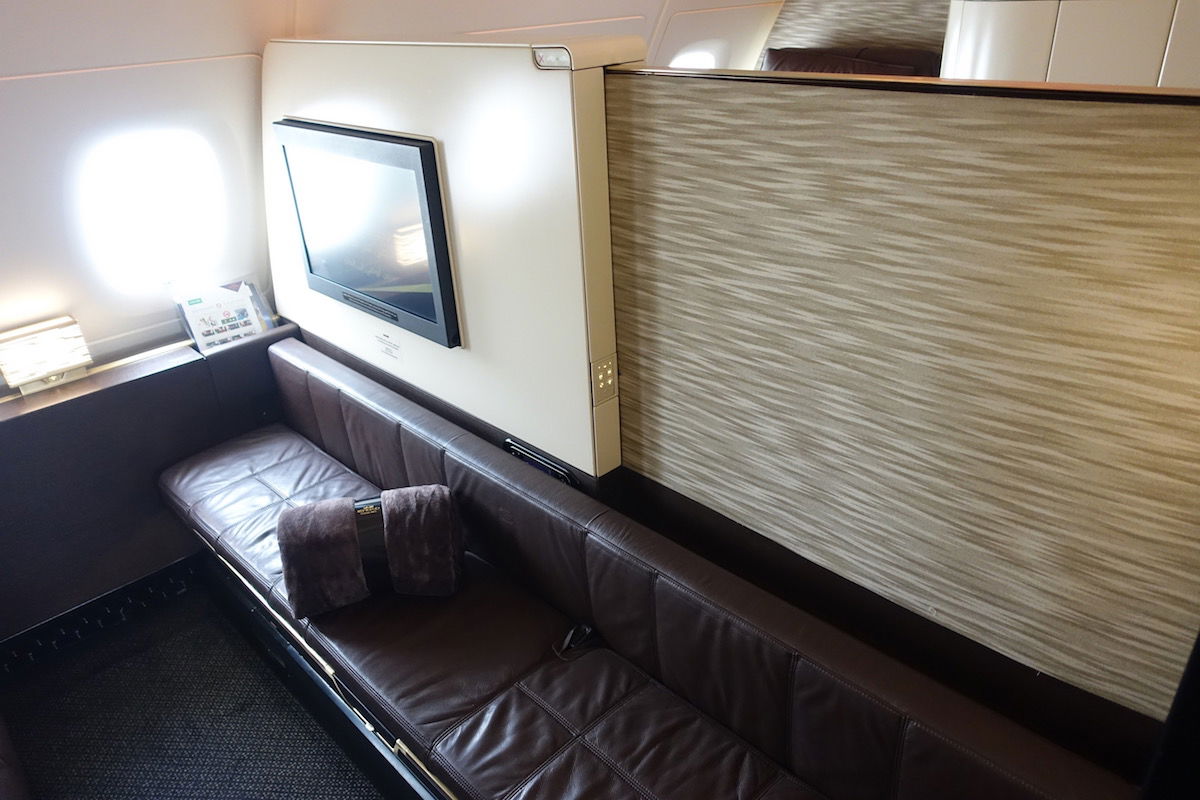 This bench eventually turns into the bed when you want to sleep, though you can also use it to invite other people over to dine with you, etc. It was nice to be able to eat with Ford, though he'll have you know that he's staying neutral in the Emirates vs. Etihad vs. Qatar debate.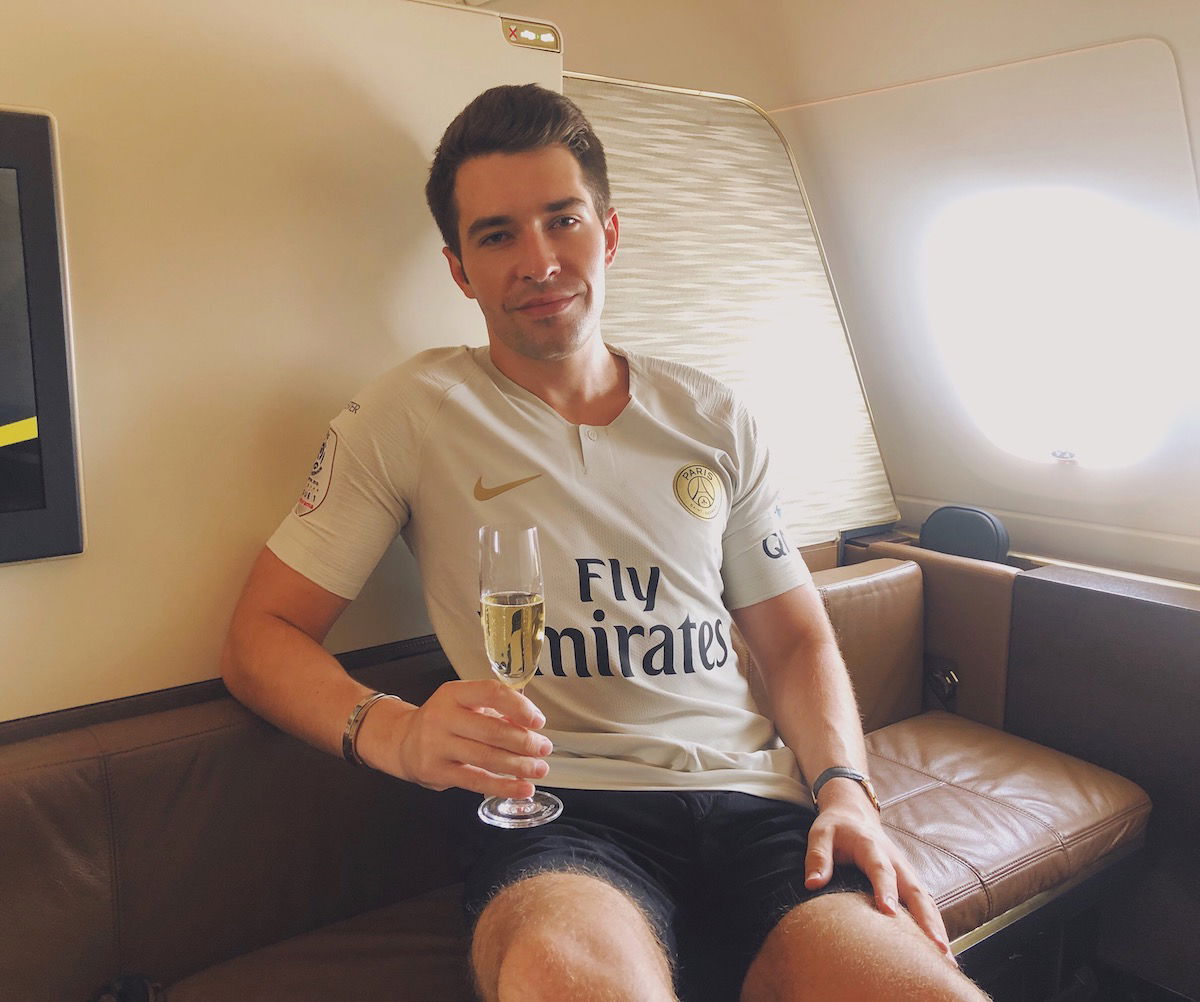 Then there's a TV, which swivels so that you can watch it from your seat or bed. There's also a vanity, a minibar, and more.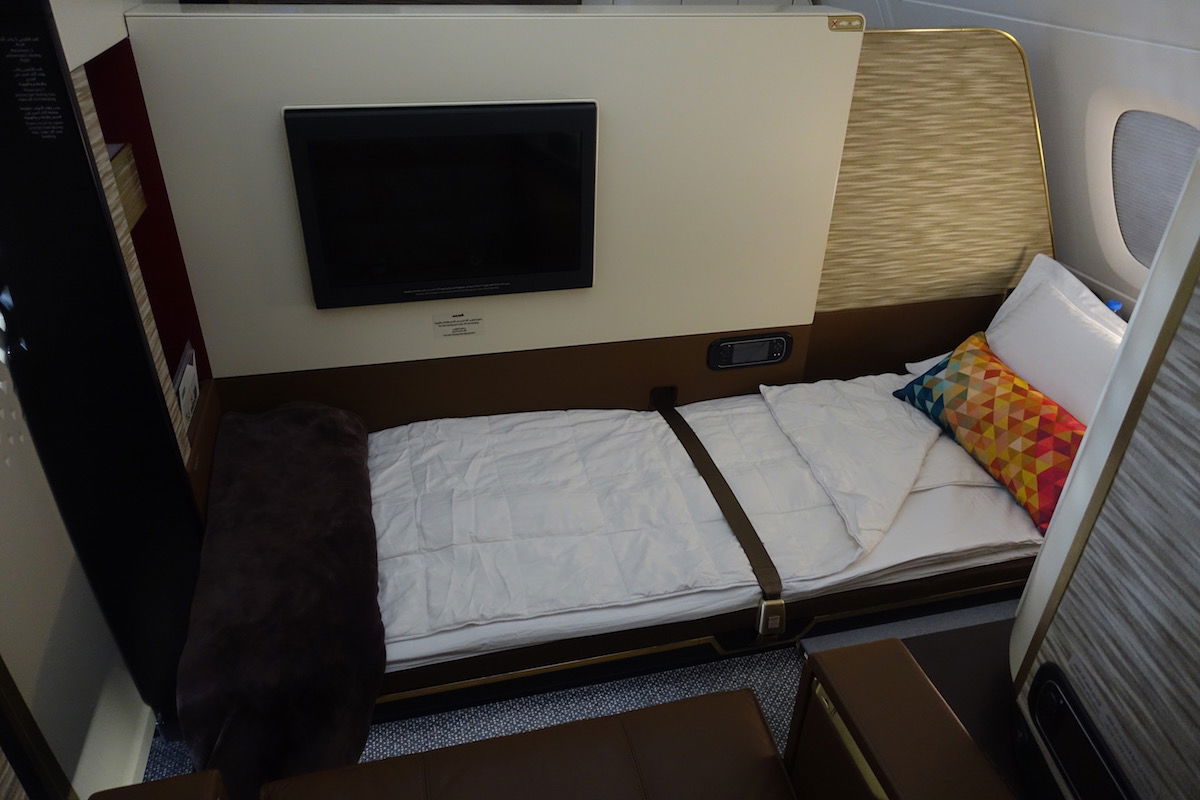 While it looks impressive and is a good product, I also think the space isn't utilized that well. The bed isn't that big, and it's on the hard side. The seat itself only has very limited recline, so you don't really have much middle ground between sitting up straight and fully reclining.
By comparison, Emirates' new first class offers less total space per passenger, but I tend to think the space is better utilized.
Etihad first class food
Color me very impressed. As usual, Etihad had an onboard chef and an extensive dine on demand menu. They didn't run out of anything on the menu, which I've had serious issues with in the past.
And Etihad recently added caviar service, which was very nice.
Service began with nuts, olives, etc. The champagne on offer was Charles Heidsieck 2006, and they even had the 2006 rose version as well.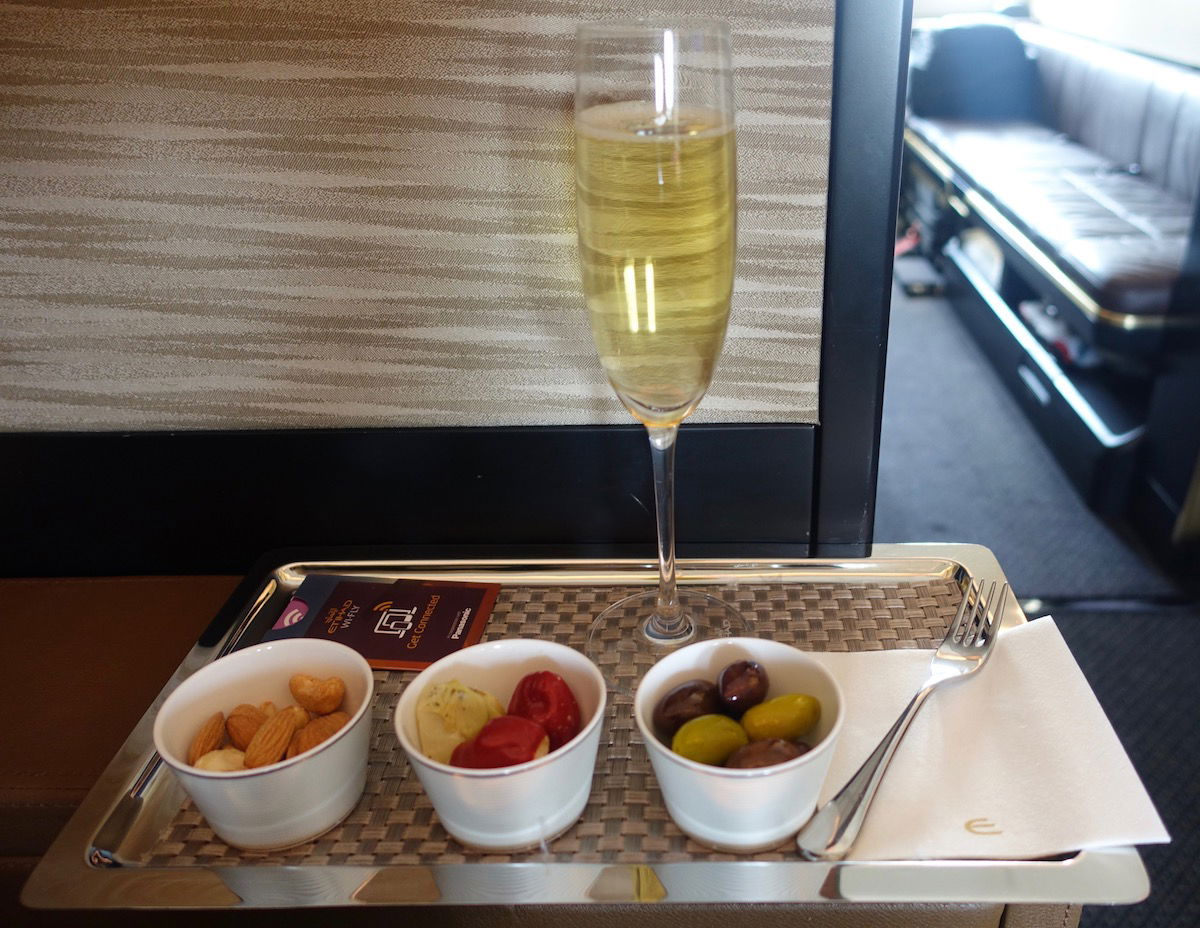 Etihad's caviar presentation is quite nice. I'm surprised they offer Russian caviar rather than Abu Dhabi farmed caviar, given that you'd think they'd want to inject some of their "home" into the product.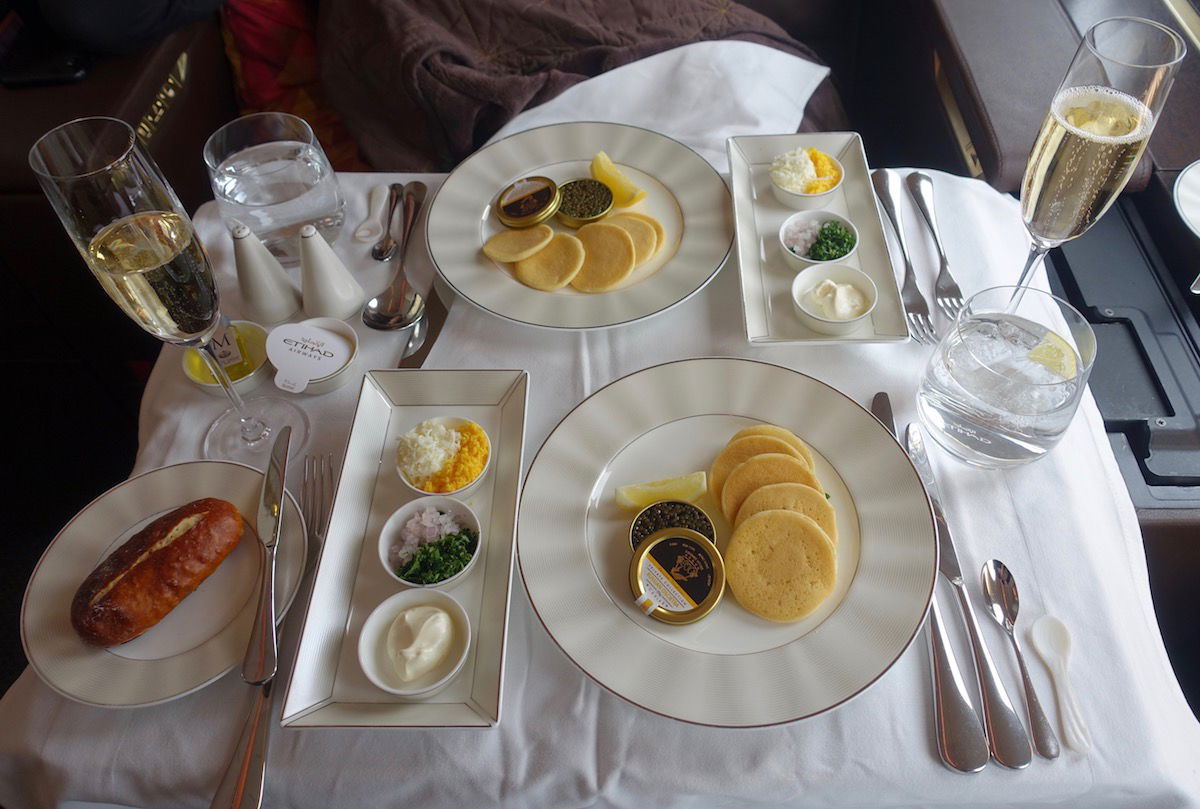 Then I had a delicious lobster appetizer.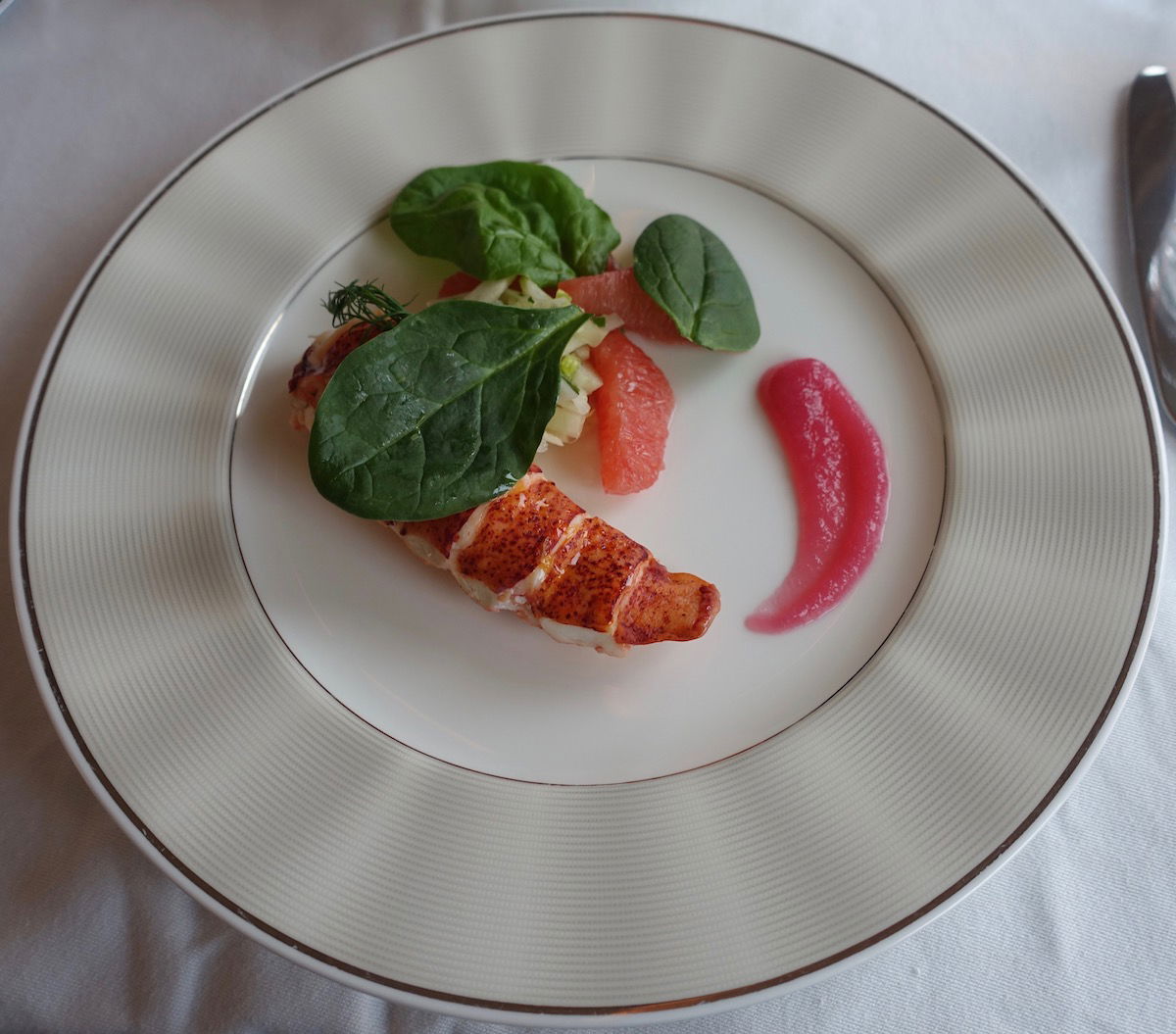 For the main course I had the salmon.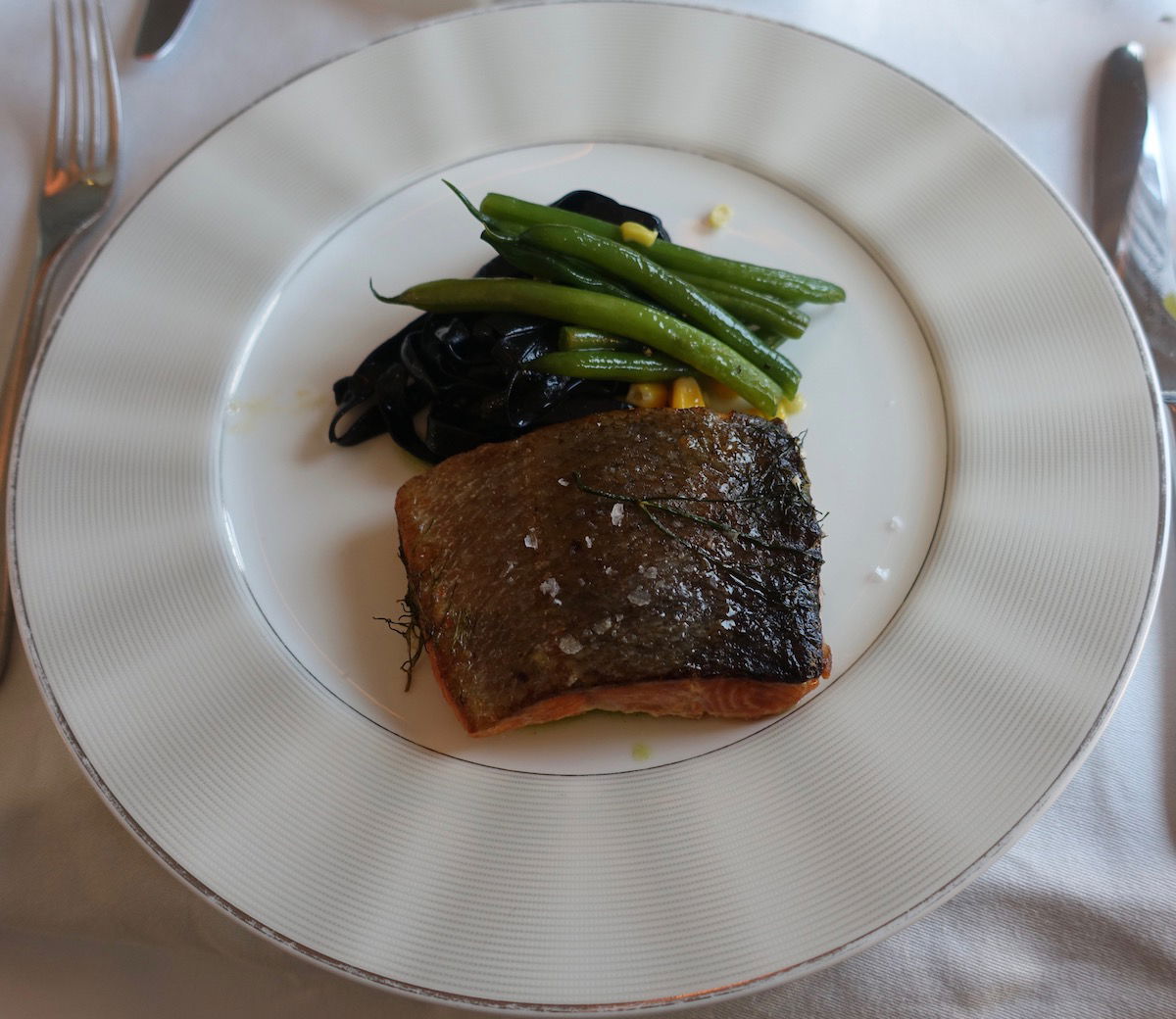 For dessert I had pavlova.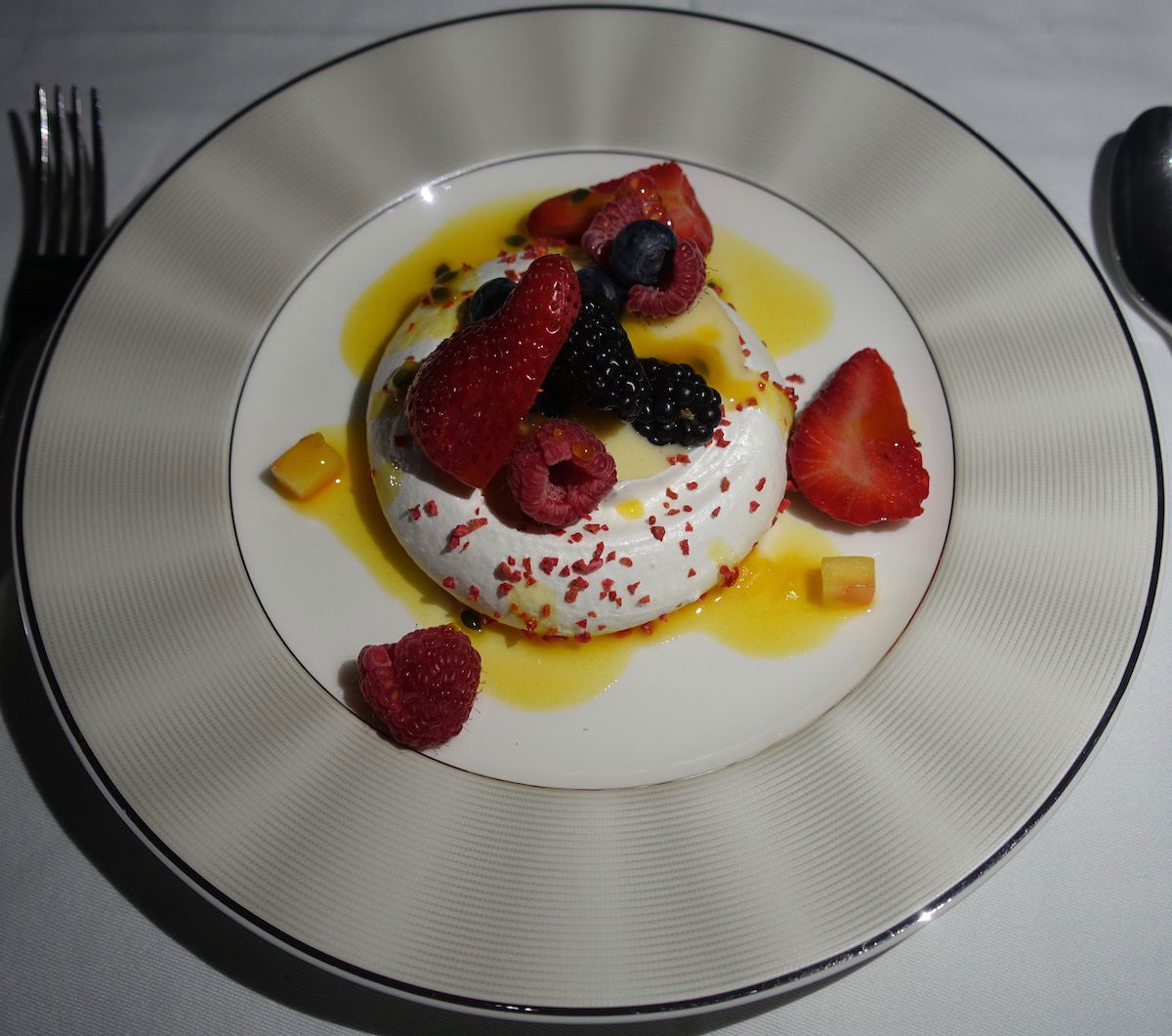 The food really impressed me on this flight, and the addition of caviar better differentiates their first class catering from their business class catering.
Etihad first class amenity kits, pajamas, and more
Etihad offers pajamas and slippers from an Emirati designer, and I really liked these. They were light and comfortable.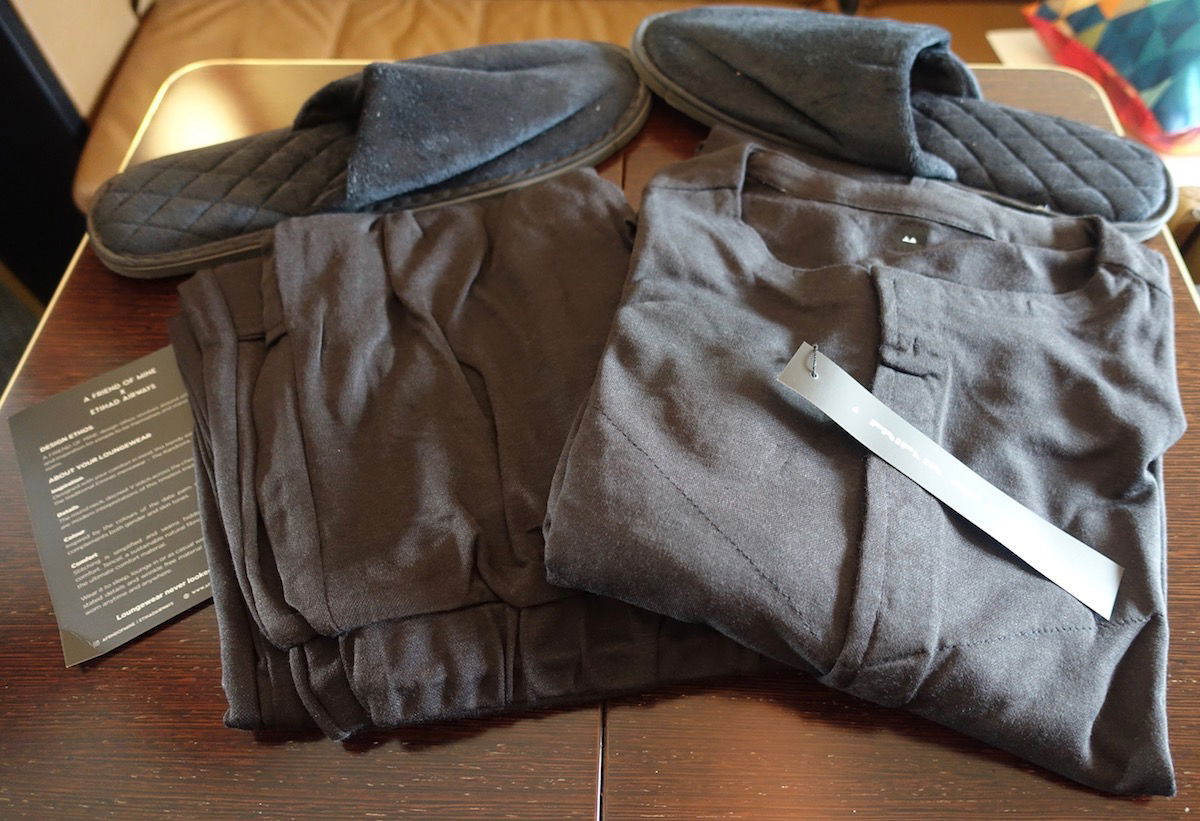 Then the amenity kit was from Acqua Di Parma, with a solid selection of products.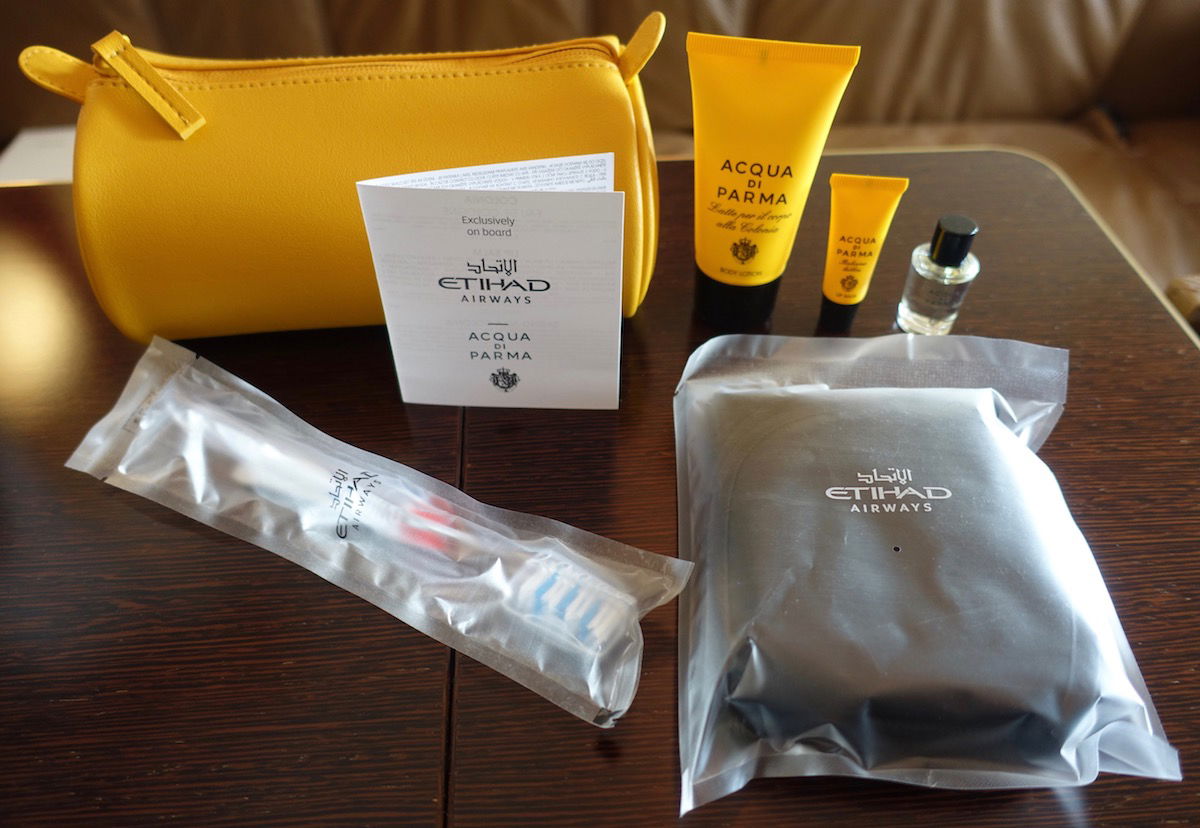 There were also Bose headphones, which are among the best out there.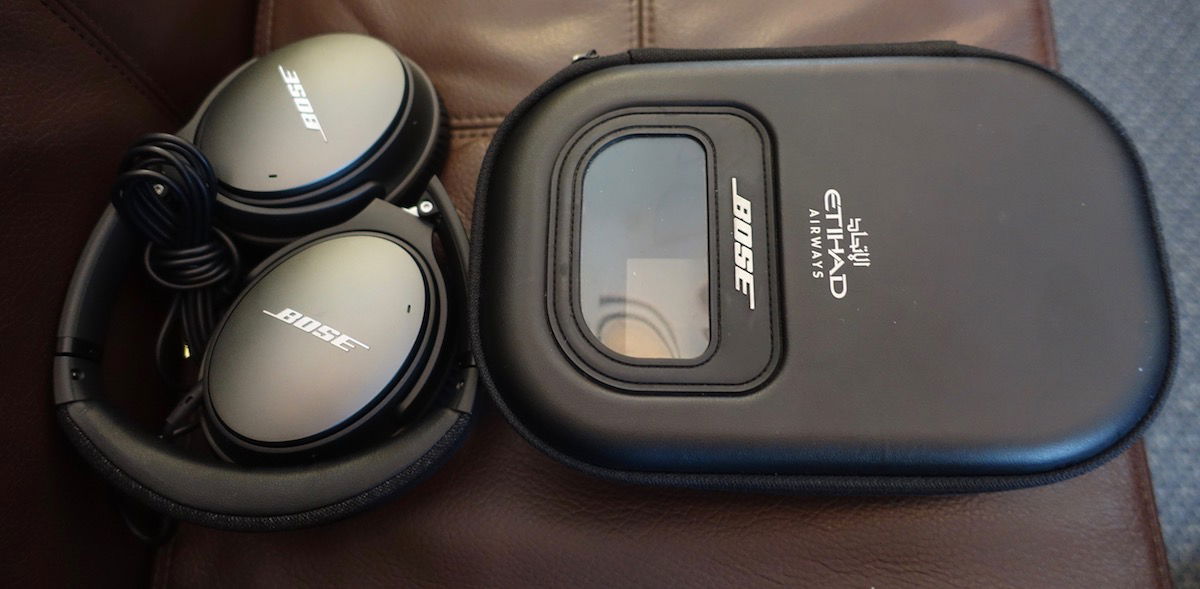 Etihad first class shower & The Lobby
As far as other amenities go, the Etihad A380 has "The Lobby," which is a shared space between first and business class. Unlike on the Emirates A380, I don't really get this concept. It's not a traditional bar and most of the time I find it's just empty, so I'm not sure I really get the point.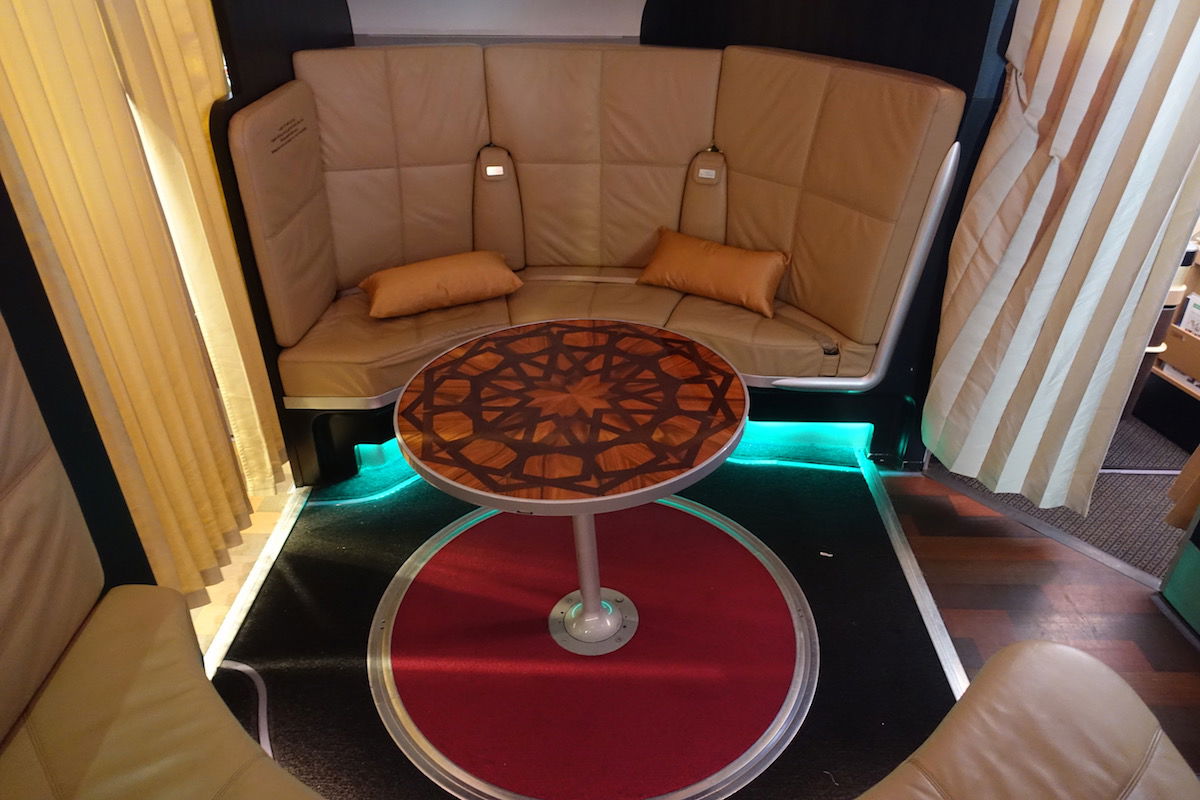 Etihad also has two lavatories at the front of the first class cabin, and one of them has a shower. Showering in the sky is one of the coolest experiences ever as an avgeek. However, if we're going to compare inflight shower experiences, Emirates definitely has the edge, as their shower suite is significantly more luxurious.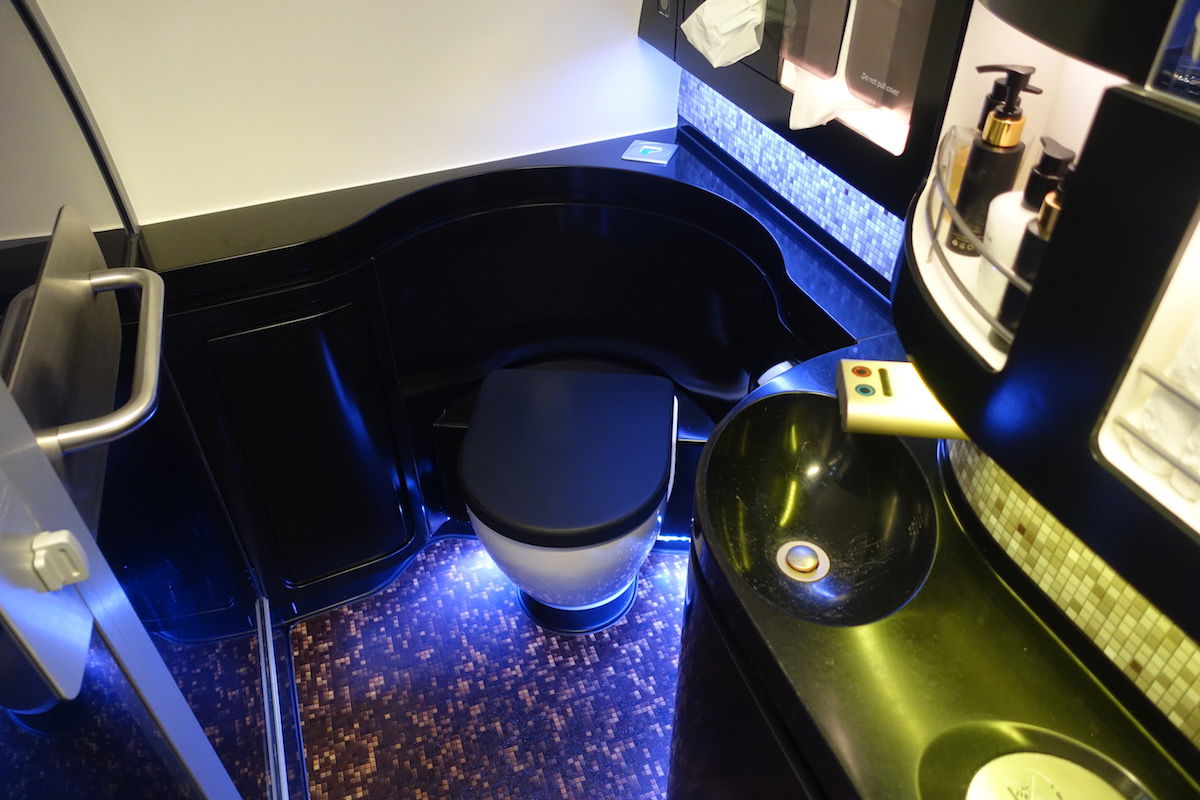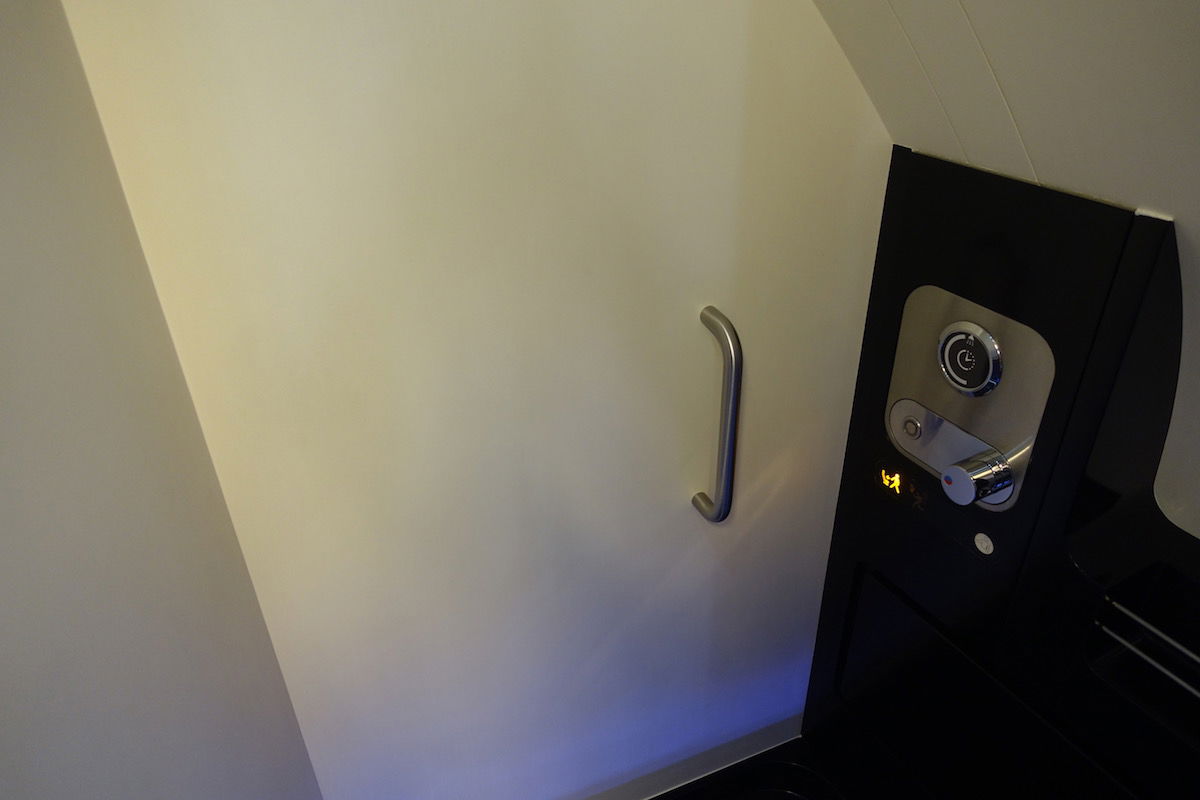 Etihad first class entertainment & Wi-Fi
Etihad has one of the best entertainment systems in the sky, perhaps after Emirates, with hundreds of movies, TV shows, etc. There's even live TV. You should have no problem staying entertained.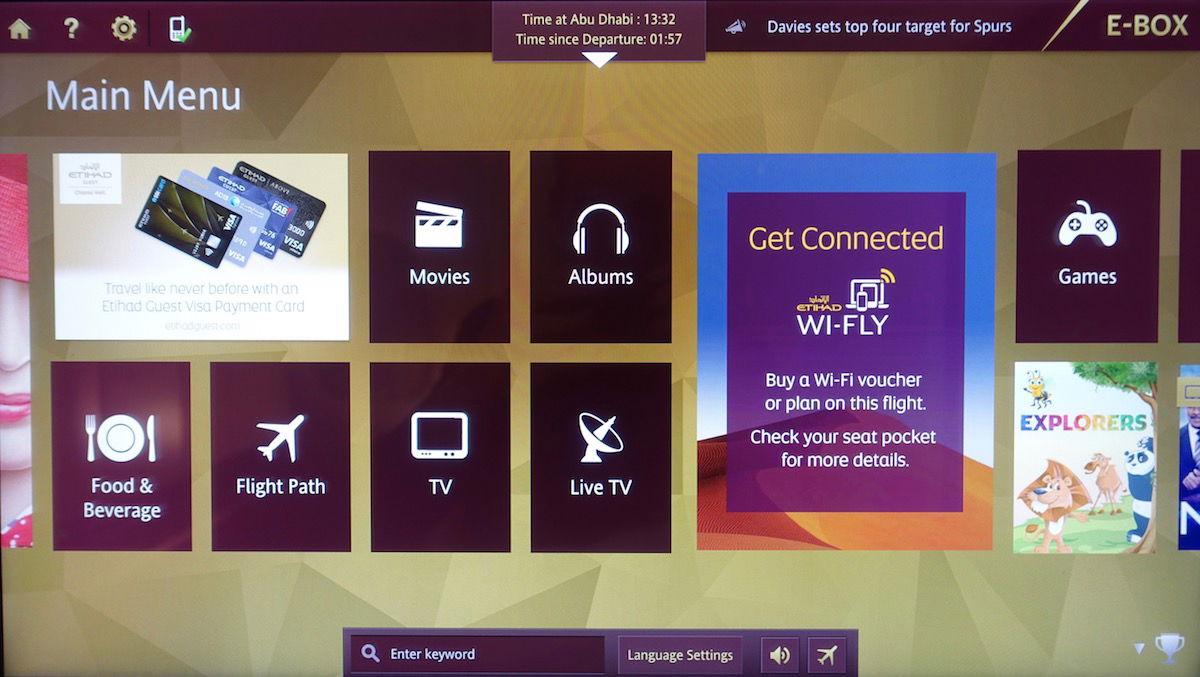 The one area where Etihad has gotten worse is when it comes to Wi-Fi. The airline used to let you buy a Wi-Fi pass for the entire flight for $20, though a couple of years back they started charging based on data usage, and now you only get 180MB of data for $20. That's still not a bad deal, though not as good as before.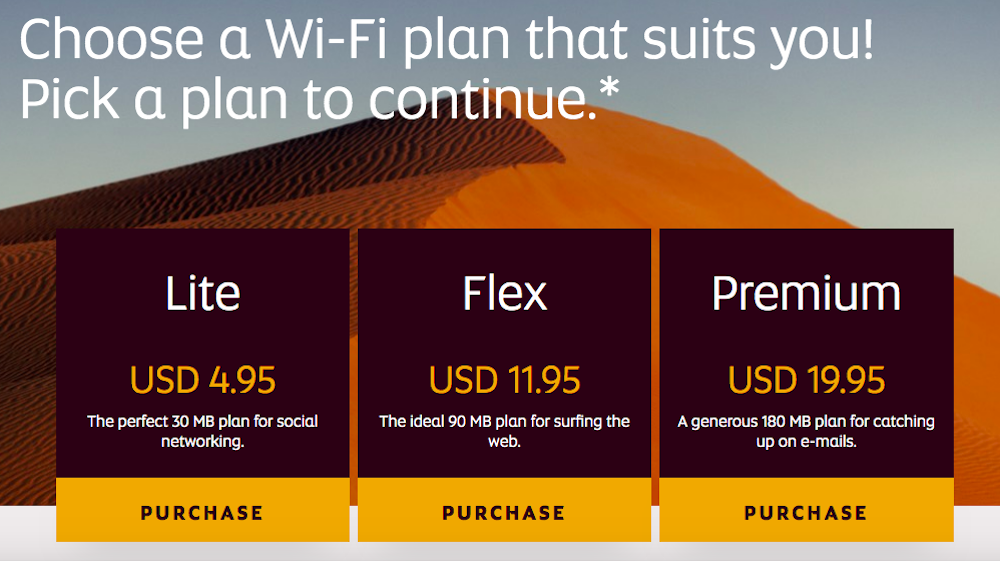 First class passengers do get 90MB of free data, which is a nice touch.
Etihad first class service
This is where I usually struggle with Etihad, because I find they have among the most inconsistent service of any airline. Some crews are great, while others aren't, though a majority of crews are just mediocre, in my experience.
Well, we lucked out and had an excellent crew on this flight. The food & beverage manager (Albanian-Italian) and first class flight attendant (Filipino) in particular were very good.
They were friendly, attentive, and professional, and I'd say they were among the best Etihad crews I've ever had (with the exception of the time I flew the Residence, of course!).
Etihad A380 first class bottom line
I was pleasantly surprised by how well Etihad A380 first class is holding up. This might have been my best Etihad first class flight yet — the crew was friendly, Etihad added a caviar service, and they didn't run out of food.

My only complaints are how they changed the Wi-Fi to charge based on data usage rather than charging a flat fee for the entire flight.
Oh, and the US Pre-Clearance facility is still a mess. We were delayed on departure nearly two hours because of it. The reason? Initially because "the facility is quite busy today." Don't they have the same four US-bound flights most days?
Then even after that "a passenger who boarded got called back into the facility, so we have to wait for them to return and be cleared." I'll simply never understand the Pre-Clearance concept. Sure, in theory it's nice to clear immigration before boarding your flight. What's not nice is having 500 people wait because one person needs to be questioned, which I imagine is a common occurrence.
Etihad's US-bound flights make American's 767s look operationally reliable by comparison.
So overall I really like Etihad's first class. I'd say I'm sticking to my ranking of the top first class products in the world, and rank this number seven(ish).
If you've flown Etihad's A380 first class lately, what was your experience like?