Yesterday I flew from Kathmandu, Nepal, to Paro, Bhutan, on Drukair. As an aviation geek I was especially excited about landing at Paro Airport, which is supposedly one of the most dangerous airports in the world to land at. I'm not sure if "dangerous" is really the right word, but perhaps more accurately it's one of the most challenging airports to land at, which is why only very few pilots are certified to land there.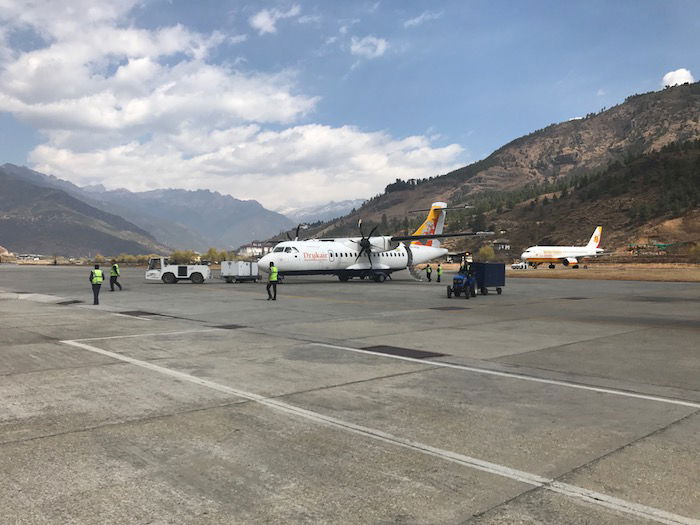 Here's a recent segment that PBS did on the approach into Paro Airport (thanks to reader Dave for pointing this out), which does a good job of explaining what's so challenging about it:
As you can see, only visual landings are possible, and you're constantly having to adjust your heading on approach as you fly through valleys in order to make it to the runway.
Of course I had to videotape the approach, starting when the landing gear was deployed. Here's the video:
I apologize for the quality of the video. I was trying to record the approach with my iPhone while also taking pictures with my camera, so at times it was a bit shaky, and the phone also kept hitting the window. On top of that, the window was dirty, and at times there was glare from the sun. Oops.
Overall it was a fun approach, though it wasn't nearly as "scary" as I was expecting. While there are quite a few turns on the approach, visibility was good throughout (I assume we wouldn't have landed otherwise), and I didn't think the angle was that extreme on our final approach.
Anyway, if you have the chance, I highly recommend flying into Paro Airport, and more importantly, visiting Bhutan, which is one of the most amazing places I've ever been (and I've only been here for a day).
Kudos to the Drukair pilots for their incredible skill. I recently had a conversation with an A380 captain, and asked him how he likes the plane. He said "don't get me wrong, it's a beautiful plane, but I miss flying. I feel like all I do nowadays is manage computers." I imagine that's one complaint the Drukair pilots don't have. 😉