In light of the current pandemic a lot of airlines are planning to shrink, and that involves retiring existing aircraft. However, here's an aircraft retirement I wasn't expecting.
Delta retiring all Boeing 777s
It has today been announced that Delta will retire all Boeing 777s by the end of 2020, as a result of the COVID-19 pandemic. This is part of Delta's strategy of simplifying and modernizing their fleet, while continuing to operate newer and more cost-efficient aircraft.
Delta has a fleet of 18 Boeing 777s, including eight 777-200ERs, and 10 Boeing 777-200LRs. The 777 first joined Delta's fleet in 1999, and was a game changer, since the 777-200LR allowed Delta to operate flights like Atlanta to Johannesburg, which otherwise weren't possible.
What's especially crazy is that just a couple of months ago Delta completed the process of reconfiguring all 777s with new Delta One Suites, as well as with Premium Select, Delta's premium economy product.
As Gil West, Delta's Chief Operating Officer, describes the decision to retire the 777:
"We're making strategic, cost-effective changes to our fleet to respond to the impact of the COVID-19 pandemic while also ensuring Delta is well-positioned for the recovery on the backside of the crisis. The 777 has been a reliable part of Delta's success since it joined the fleet in 1999 and because of its unique operating characteristics, opened new non-stop, ultra-long-haul markets that only it could fly at that time."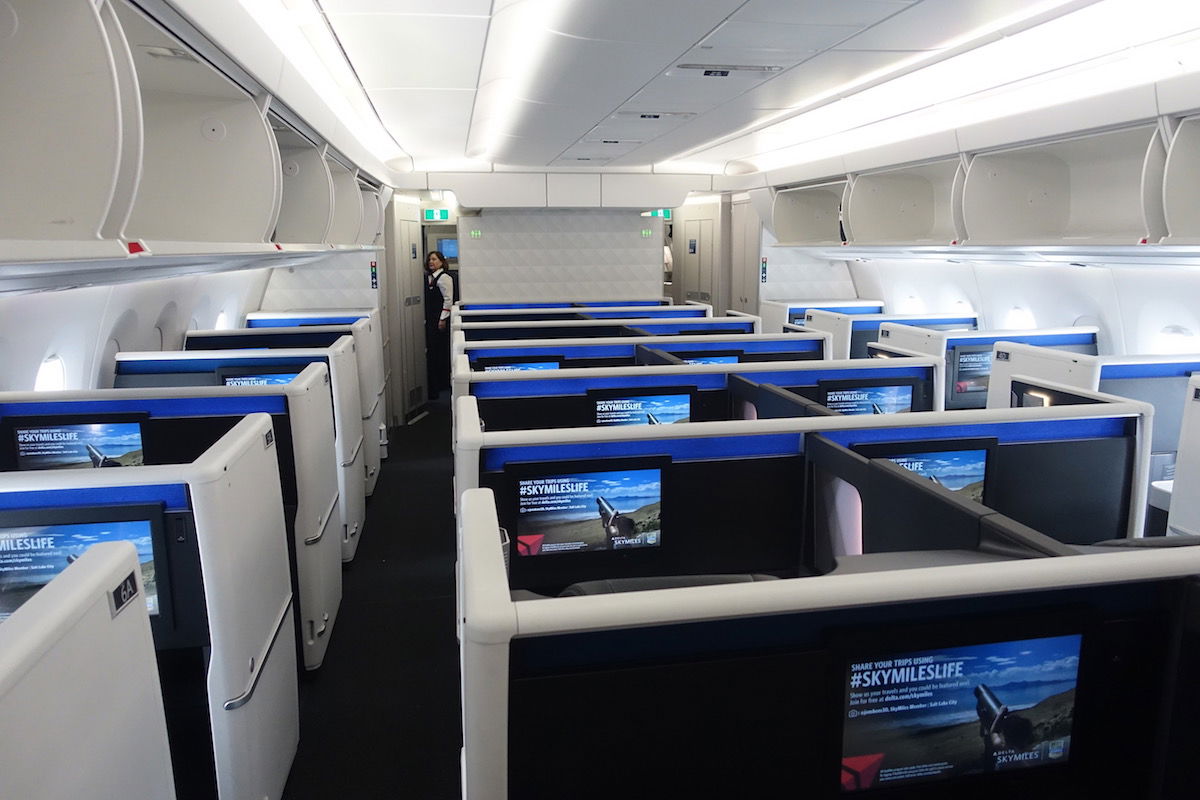 Delta One Suites on A350-900
Delta's future long haul fleet
With this move, Delta's wide body fleet consists of the following aircraft:
13 A350-900s, with a further 26 on order
Five A330-900neos, with a further 32 on order
11 A330-200s
31 A330-300s
56 Boeing 767-300s
21 Boeing 767-400s
In reality the only plane that can provide similar range and capacity to the 777-200 is the A350-900. Delta notes that the A350-900 has fuel burn that's 21% lower per seat than the 777, so the operating costs are definitely better.
Also keep in mind that as part of Delta's investment in LATAM, the airline agreed to take over several A350-900 orders. I'm sure the airline is regretting that deal at this point, but of course no one expected the industry would get this bad.
Delta hasn't announced concrete plans to retire other long haul aircraft — the airline is considering retiring some of their 767s, though exact numbers haven't yet been given. I also wouldn't be surprised to see some A330-200s and A330-300s retired.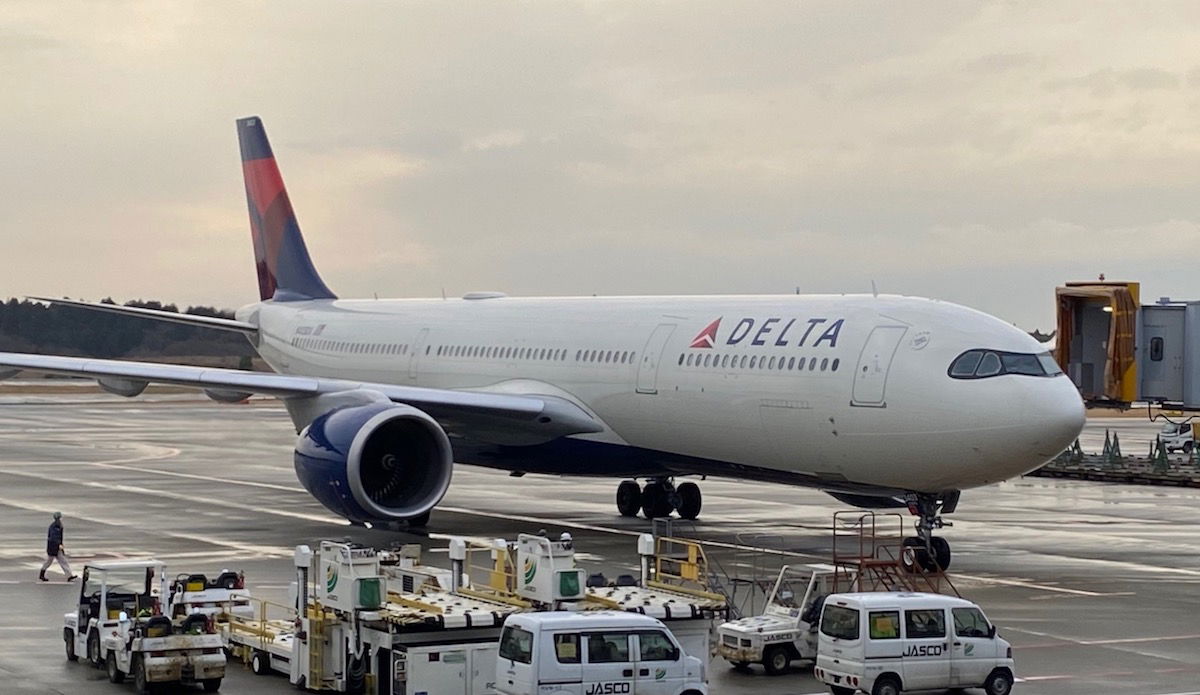 Delta A330-900neo
Is this the end of Atlanta to Johannesburg?
Update: Delta has revealed plans to modify this route, instead flying from Atlanta to Johannesburg to Cape Town to Atlanta.
Delta's longest route is between Atlanta and Johannesburg, as the route covers a distance of about 8,500 miles. While that's "only" the 10th longest flight in the world, the catch is that the flight has significant headwinds in the westbound direction, and Johannesburg Airport is also at a high altitude, limiting takeoff performance.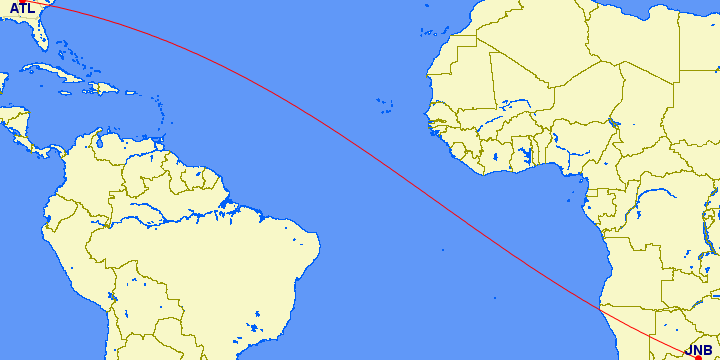 While the A350-900 is also incredibly long range, it's my understanding that only the 777-200LR has been able to operate the route without a significant payload restriction.
If that's the case, I wonder if the retirement of the 777 could also represent the end of South Africa service for Delta. That would be a shame, but also understandable.
Delta retiring all MD-88s & MD-90s
In April Delta had announced plans to retire all MD-88 and MD-90 aircraft by June. Delta has long taken the approach of flying older planes but maintaining them well, though as the airline looks at downsizing, that trend is also being reversed.
Delta had 47 MD-88s and 29 MD-90s operating as of February 2020, so those were among the first 75+ planes Delta retired due to the current situation.
Bottom line
For so long the Boeing 777 has been the workhorse of a countless number of airlines' international fleets. This has been the case for all of the "big three" US carriers.
While Delta has a significantly smaller 777 fleet than American and United, it's still pretty shocking to think that a major US airline won't be flying these anymore. That's especially true when you consider that Delta has just spent tens of millions of dollars fitting these planes with new interiors.
Are you surprised to see Delta retiring their 777 fleet?