Delta Air Lines has just become the first major airline to report its third quarter results, and as you'd expect, they aren't pretty…
How big was Delta's third quarter loss?
Delta has reported:
A GAAP pre-tax loss of $6.9 billion (or $8.47 per share) on a total of $3.1 billion in revenue
An adjusted pre-tax loss of $2.6 billion (or $3.30 per share) on a total of $2.6 billion in revenue
Just for some context on that, here's a reminder of Delta's second quarter losses:
A GAAP pre-tax loss of $7.0 billion (or $9.01 per share) on a total of $1.5 billion in revenue
An adjusted pre-tax loss of $3.9 billion (or $4.43 per share) on a total of $1.2 billion in revenue
As you can see, things are moving in the right direction, though Delta still has a really long road to profitability.
As Delta CEO Ed Bastian describes these results:
"While our September quarter results demonstrate the magnitude of the pandemic on our business, we have been encouraged as more customers travel and we are seeing a path of progressive improvement in our revenues, financial results and daily cash burn. The actions we are taking now to take care of our people, simplify our fleet, improve the customer experience, and strengthen our brand will allow Delta to accelerate into a post-COVID recovery."
Highlights from Delta's earnings report
Rather than rehashing the entire earnings results, I figured I'd share some of the numbers and statements I find to be most interesting:
Delta's daily cash burn continues to decrease; in the third quarter it averaged $24 million per day, and for the month of September it averaged $18 million per day (that's $750,000 per hour); as a point of comparison, in the second quarter Delta averaged $43 million per day in cash burn
$4 billion of Delta's losses include special charges due to coronavirus, including fleet-related restructuring, charges for voluntary separation and early retirement packages (partly offset by the CARES Act), and more
Operating expenses in the third quarter decreased by $5.5 billion (or about 52%) compared to the same period last year
At the end of the third quarter, Delta had $21.6 billion in liquidity
Delta has managed to "restructure" its Airbus and CRJ aircraft order books, reducing aircraft purchase commitments by more than $2 billion in 2020, and by more than $5 billion through 2022
Delta leadership believes it may be two years until there's a "normalized revenue environment"
Delta will retire 383 aircraft between now and December 2025 (shown below in a chart)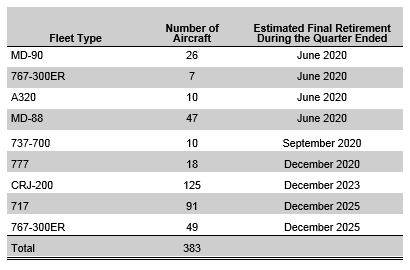 Bottom line
The third quarter was yet another very rough quarter for Delta. On the plus side, most metrics improved compared to the previous quarter, including reductions in operating costs and cash burn.
Many of Delta's one-time charges this quarter should lead to improved results in the future, including paying for early retirement and voluntary separation packages (then again, CARES Act funding helped offset that).
While things are moving in the right direction, it's pretty clear that we're still a very long way from a recovery. Even the world's most profitable airline (historically) is far from safe here…
What do you make of Delta's Q3 results?