As much as I give the program a lot of crap, there are many great uses of Delta SkyMiles, and in many ways I think SkyMiles are more valuable than several years ago, at least comparatively.
Do I find SkyMiles to be the most valuable currency? Of course not.
Would I prefer to fly first class? Absolutely.
The reality though, is that for many of the places people like to travel, SkyMiles are an effective way of getting there. And while we've redeemed hundreds of millions of miles for clients over the years in just about every currency out there, over a quarter of those awards have been through Delta. SkyMiles are comparatively easy to accrue, so lots of people have large balances that they struggle to use, which is a large part of why the program gets so much (well-deserved) criticism.
One of the major challenges with actually redeeming SkyMiles is the pricing engine. Like United and many other carriers, Delta has a computer that prices out award tickets to determine the miles required. Unlike other carriers, Delta employees seem to have no authority to override the computer if the pricing doesn't make sense. Combined with the broken award calendar and the lack of low-level availability on Delta metal, it's a recipe for frustration
Given that, I thought it might be helpful to go through the rules Delta uses to determine the price of an award ticket. Knowing how many miles should be needed for your trip and the process of how the system prices things should hopefully help with maximizing the value of SkyMiles. I also want to thank my friend and colleague Mac for helping put the notes together on this, as he's better at redeeming SkyMiles than just about anyone.
Delta lists prices as one-ways for a reason
And surprisingly, that reason is not just to drive people crazy. All SkyMiles awards are comprised of two one-way trips, so that one-way price actually matters.
That's because each direction prices separately, and the combined price is what you'll pay for your award redemption.
So if you have all low level space in one direction, and mid level space in the other, the final mileage cost should be the averaged cost of the two
Similarly, one way in business class and the other in economy will price at the average price of the two
If you don't have a return flight to average with, Delta will simply double the price of the outbound to determine the total cost
As an example, let's say you want to fly from New York to Venice, and return from Rome, and feel very strongly about flying direct.
The outbound flight is available on Delta at the mid-tier price of 200,000 miles — which is really just the 100,000 mile one-way price multiplied by two.

For the return, there is space on Alitalia at the low-tier price of 125,000 miles — again, this is just double the one-way price of 62,500.

When you combine the flights into a single itinerary, Delta correctly identifies one direction as "mid" and the other as "low" and comes up with the price of 162,500 miles per person.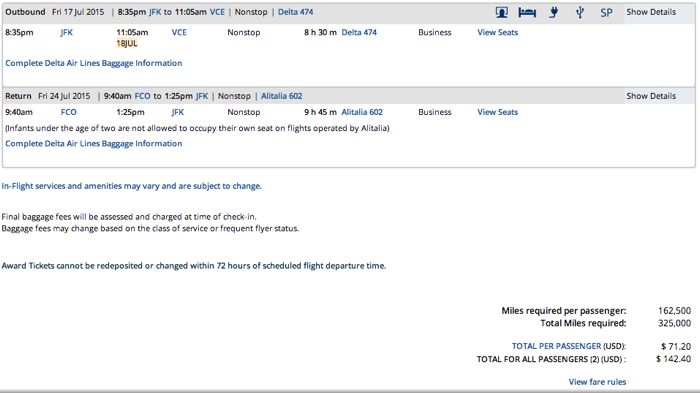 Similarly, let's say you're really just interested in a one-way ticket. Delta won't begin pricing true one-way awards until 2015, but you can still reduce the cost by adding a fake return flight. Delta will default to "doubling" the price of the outbound if you don't select a return, so this is a way to make the pricing system work in your favor.
So if you were looking at booking Virgin Atlantic from New York to London, you'd pay 125,000 for a one-way in business class — the same price as a low-level round trip award.

However, if you add a return in economy (again, at the low-level), the Delta pricing engine will combine the two prices: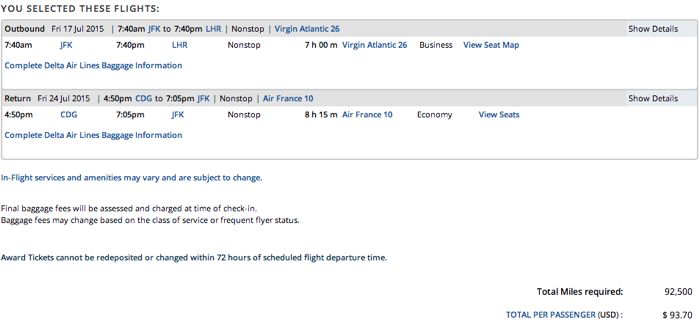 Stopovers and Open-jaws
Delta allows one stopover AND an open-jaw on award tickets, which can lead to some interesting routings. You're also allowed a maximum of four segments in each direction, regardless of your stopovers.
This is complicated by the fact that Delta's computer determines your destination, regardless of where you might logically think it is.
As an example, my last SkyMiles redemption over New Years looked like this:
New York > London [Stopover]
London > Paris > Prague [Destination]
Prague > Rome > Boston > Seattle [Open-Jaw from New York]
Meanwhile, my friends who were also on the trip booked the following:
San Francisco > London [ Destination / Open-Jaw]
Edinburgh > Paris > Prague [Stopover]
Prague > Paris > San Francisco [Return]
Now, don't ask me why their trip priced the way it did, but this is a great example of how the Delta computer trumps any "rational" routing rules. The stopover point is technically supposed to make sense for the routing, and I can't think of a much more nonsensical way to get from Edinburgh to San Francisco than via Prague and Paris (twice!), but there you go.
Conversely, while my routing seemed straightforward it took me several tries, and I ultimately had to route via Boston and return to Seattle to get around MPM restrictions.
As far as the open-jaw is concerned, it's worth mentioning that Delta will even allow an open-jaw between regions, provided the "unflown" portion is the shortest leg of the trip. It doesn't have to be the shortest segment, just the shortest portion when compared to the routing as a whole.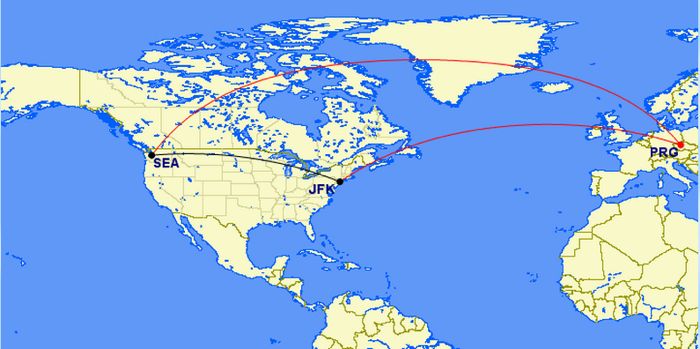 For my trip, the distance between New York and Prague (my destination) is 4,082 miles, while the distance between Prague and Seattle is 5,233 miles. So the open-jaw between Seattle and New York, which is only 2,421 miles, is allowed.
Because Delta prices itineraries as the combination of two one-way awards, you can potentially get really creative here.
Maximum Permitted Mileage and Published Routings
In order for a routing to be legal, it has to either:
Be within the maximum permitted mileage (MPM) for a city pair
Be a routing that the airline publishes, even if it exceeds the maximum permitted mileage (this is why in many cases you can route from the US to Australia via Asia on Korean Air or China Southern)
Mid and High Level Delta awards don't play nicely with partners
This is where many people run into trouble, but hopefully I can explain how this works somewhat. To recap briefly:
Awards are priced as the combined price of two one-ways
The computer determines where the stopover point is versus the destination
Open-jaws have to be the shortest leg of the trip
Routings have to be within a given MPM or a published routing
When it comes to pricing mid and high level awards, the computer effectively considers them to be a separate type of award. This isn't uncommon, as American doesn't allow "AAnytime" awards to be combined with partner awards either but because Delta doesn't really communicate that it adds to the confusion.
In practice, this means that if you have a mid-level award in one direction, all on Delta metal, you're fine, and the award will price correctly. However, if you try and add a mid-level domestic segment to a transoceanic low level segment, the entire award will price at the mid level.
Similarly, if you have a mid-level transatlantic flight, you can't add connections on a partner without breaking the fare. This will cause your itinerary to price as two separate awards, and since awards price at double the one-way price, a short economy segment between Frankfurt and Amsterdam can easily add 30,000 miles to the cost of your SkyMiles award.
Bottom Line
Delta SkyMiles awards are too complicated even for me to understand, and I just about do this full time. So hopefully the above helps clarify the absolute basics.