Update: Cathay Pacific has reached out to provide the following statements regarding this:
— Regarding dine on demand: "Regarding the 'Dine on Demand' concept, which we conducted for a trial period in May and June 2017, we are currently in the process of analysing both passenger and crew feedback. We will share more updates on the new Business Class dining service once available."
— Regarding buy on board meals in economy: "The media report is categorically inaccurate. Cathay Pacific is a premium, full-service airline and there are no plans for what was rumoured."
Cathay Pacific has been struggling financially the past few years, as they've faced increased competition from Gulf carriers as well as ultra low cost carriers in Asia, which has brought downward pressure on their yields. Their CEO has also warned of continued turbulent times ahead, so it doesn't look like things will change overnight.
Historically Cathay Pacific has tried to differentiate themselves as a premium carrier, though they haven't necessarily been able to command the revenue premium that they were hoping for with that. For example, they'll soon start reconfiguring their 777s with 10 seats per row rather than nine. It looks like we may see a pretty radical change coming to Cathay Pacific's short-haul service soon.
Cathay Pacific to introduce buy on board food on short-haul flights
FlyerTalk user percysmith shares some updates about Cathay Pacific's service. Perhaps most interesting is that Cathay Pacific will be introducing buy on board food on select short-haul flights. While we don't know the exact start date or details, based on what we know, buy on board menus will be introduced on all flights to Manila, Cebu, and Ho Chi Minh City, as well as redeyes to Jakarta, Osaka, Seoul Incheon, Singapore, and Tokyo Narita. We'll have to wait and see if they'll still offer free drinks and "just" charge for food, or whether they'll match British Airways completely, and charge for everything.
With the amount of competition they have from low cost carriers on some of these routes, a move like this isn't surprising. Not only could they save a lot of money by not having to serve free food and drinks, but they can also generate quite a bit of additional revenue from the sales.
One could argue that the free services is what differentiates Cathay Pacific from ultra low cost carriers, though if there's one trend we've seen lately, it's that full service carriers and ultra low cost carriers are starting to meet in the middle in terms of the products they offer. Clearly full service airlines can't command sufficient premium revenues, and this is also why Singapore Airlines is introducing new unbundled economy fares (though they're not as restrictive as the "basic economy" fares offered by US airlines).
Cathay Pacific won't introduce dine on demand in business class
Earlier this year Cathay Pacific trialed offering dine on demand in business class on their routes to Chicago and London Gatwick. While Cathay Pacific has long had an industry leading first class product, their business class hasn't impressed nearly as much. So they're trying to improve their business class product to become more competitive, and dine on demand in business class seems like a logical way to accomplish that, especially given how many late night flights they have.
While passengers seemed to like the dine on demand service, rumor has it that it was extremely unpopular with flight attendants. So we haven't heard more about this offering expanding up until now, and it looks like we now know why. The same source suggests that Cathay Pacific has canceled their plans to introduce dine on demand in business class, and will instead introduce a new service flow and equipment in 2018. We'll have to wait to see all the details of that.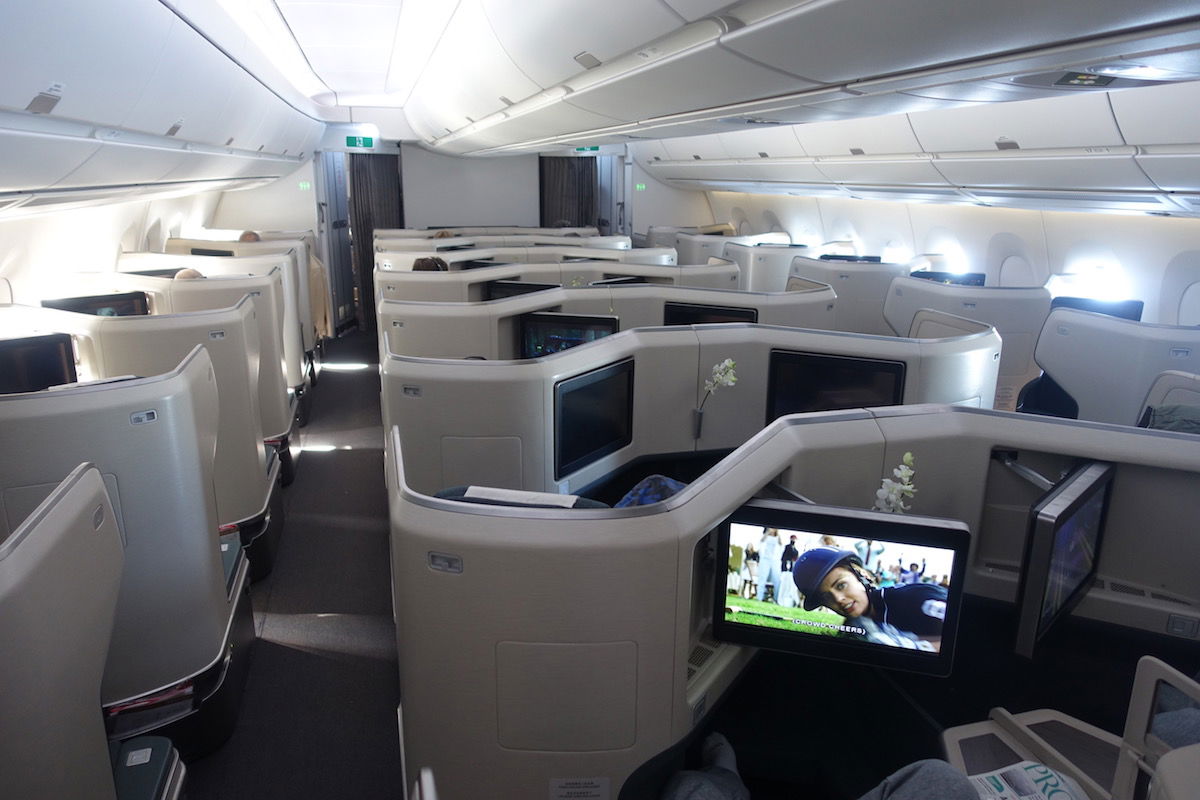 Cathay Pacific's A350 business class
Bottom line
It's not surprising to see Cathay Pacific looking to cut costs in economy, given the competition they face, and the lack of a premium they can command. This seems to be the story of most full service airlines nowadays. We'll have to wait and see the full details, and whether Cathay Pacific continues to offer free drinks in economy, or whether all food and drinks on the above routes will only be available for purchase.
As far as their business class service goes, if they couldn't get a good service flow with dine on demand, then I don't blame them for not implementing it. There are plenty of decent alternatives to dine on demand, so at a minimum I hope they give passengers the option to have their entire meal at once at a later point in the flight, which should be less work for the crew than a full dine on demand menu.
Are you surprised to see Cathay Pacific allegedly introducing buy on board in economy?
(Tip of the hat to View from the Wing)