Cathay Pacific has been struggling financially lately, as they face increased competition from both Gulf carriers and low cost carriers. This has brought their yields way down. The fact that they have pretty sparsely configured planes doesn't help either (though that's soon changing).
Just how bad are things? Cathay Pacific today revealed their results for the first half of 2017, and they're significantly worse than expected. Per the South China Morning Post, Cathay Pacific reported a 2.05 billion HKD loss for the first half of the year (262 million USD), compared to a profit of 353 million HKD during the same period last year (45 million USD).
The airline had forecast a loss of 1.2 billion HKD for the period, though they even performed significantly worse than that. This is the company's first time having a loss in the first half of the year since 2012, and as a result, the airline won't be paying any dividends to shareholders.
While total revenue is up marginally, their costs are up significantly, and their yields (the amount passengers pay per flown mile) are down by 5.2% compared to the same period last year. Cathay Pacific's chairman (who just got the job as of May 2017), is expecting that the second half of the year won't be much better, meaning that the airline will see losses for two years in a row for the first time ever (in 2016 they lost 575 million HKD, or 73 million USD).
Here's what Cathay Pacific's chairman, John Slosar, said about the prospects for the airline:
"We do not expect the operating environment in the second half of 2017 to improve materially. In particular, the passenger business will continue to be affected by strong competition from other airlines and our results are expected to be adversely affected by higher fuel prices and our fuel hedging positions. However, the outlook for the cargo business is good and we expect robust demand and growth in cargo capacity, yield and load factor in the second half of this year. We expect to see the benefits of our transformation in the second half of 2017, and the effects will accelerate in 2018.

"We are addressing the industry challenges through our corporate transformation and by expanding our route network, increasing frequencies on our most popular routes and buying more fuel-efficient aircraft. This will help us to increase productivity and to reduce costs while improving the quality of our services to customers. We continue to enhance our high standards of customer service and are proud of the quality, dedication and professionalism of our staff.

"The new management team is acting decisively to make Cathay Pacific and Cathay Dragon better airlines and stronger businesses, delivering more to customers with improved productivity. We are confident that we are on the right track to achieve strong and sustainable long-term performance, with a leaner, more competitive business, while enhancing the brand and the quality of services that our customers deserve and expect. These services are always delivered by our people, who remain dedicated in these volatile times. I would like to thank them for their hard work and commitment.
In addition to decreased yields, the airline largely attributes their losses to increased fuel costs:
Total fuel costs for Cathay Pacific and Cathay Dragon (before the effect of fuel hedging) increased by HK$2,871 million (or 33.4%) compared with the first half of 2016, reflecting a 31.5% increase in average fuel prices and a 1.6% increase in consumption. Fuel is the Group's most significant cost, accounting for 30.4% of total operating costs in the first half of 2017 (compared to 29.1% in the same period in 2016). Fuel hedging losses were reduced. After taking them into account, fuel costs increased by HK$1,678 million (or 12.7%) compared with the first half of 2016.

There was a 2.8% increase in non-fuel costs per available tonne kilometre. Excluding fuel and one-off items, the increase was 0.5%. Cost savings offset higher aircraft maintenance, depreciation and finance costs.
There are a few other things they blame for the losses:
Several special factors affected the results in the first half of 2017. In March, the European Commission issued a decision finding that a number of international air cargo carriers, including Cathay Pacific, had agreed to cargo surcharge levels prior to 2007 and that such agreements infringed European competition law and imposed a fine of Euros 57.12 million (equivalent to approximately HK$498 million) on Cathay Pacific. Although an application has been made to the General Court of the European Union to annul the decision which led to the fine, the full amount of the fine has been recognised.

In March, Air China announced the completion of the issue of 1.44 billion A shares. As a result, Cathay Pacific's shareholding in Air China was diluted from 20.13% to 18.13% and a gain of HK$244 million was recognised on the deemed partial disposal. In April, Cathay Pacific disposed of its entire interest in Travelsky Technology Limited at a profit of HK$586 million. In the first half of 2017, Cathay Pacific commenced a three-year corporate transformation programme intended to address the fundamental challenges that it is facing in the current airline industry environment. In May, as part of this programme, we announced a reorganisation of our head office. The amount of the associated redundancy costs (HK$224 million) has been recognised in staff expenses.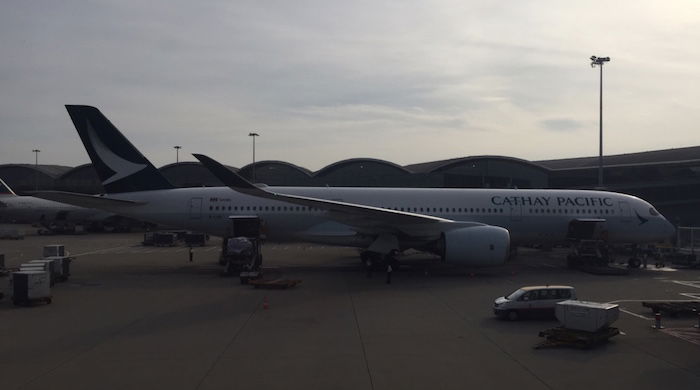 Bottom line
While Cathay Pacific is cutting some jobs and making fairly minor changes, I suspect we'll soon see a more radical transformation, because it's clear their current strategy isn't working very well. While I don't think they'll go as far as Malaysia Airlines has in transforming, clearly there's a lot more work to be done on the road to profitability.