I love a good premium fare deal, and have posted about what I believe to be some especially good deals over the past few months. A couple of days ago I came across an excellent business class deal on Gulf Air, first published by Head For Points.
This offer was for return flights from London to Bangkok for as low as £1,150.
While this price is not that unusual for Europe to Bangkok in business class on sale, this fare interested me for two reasons: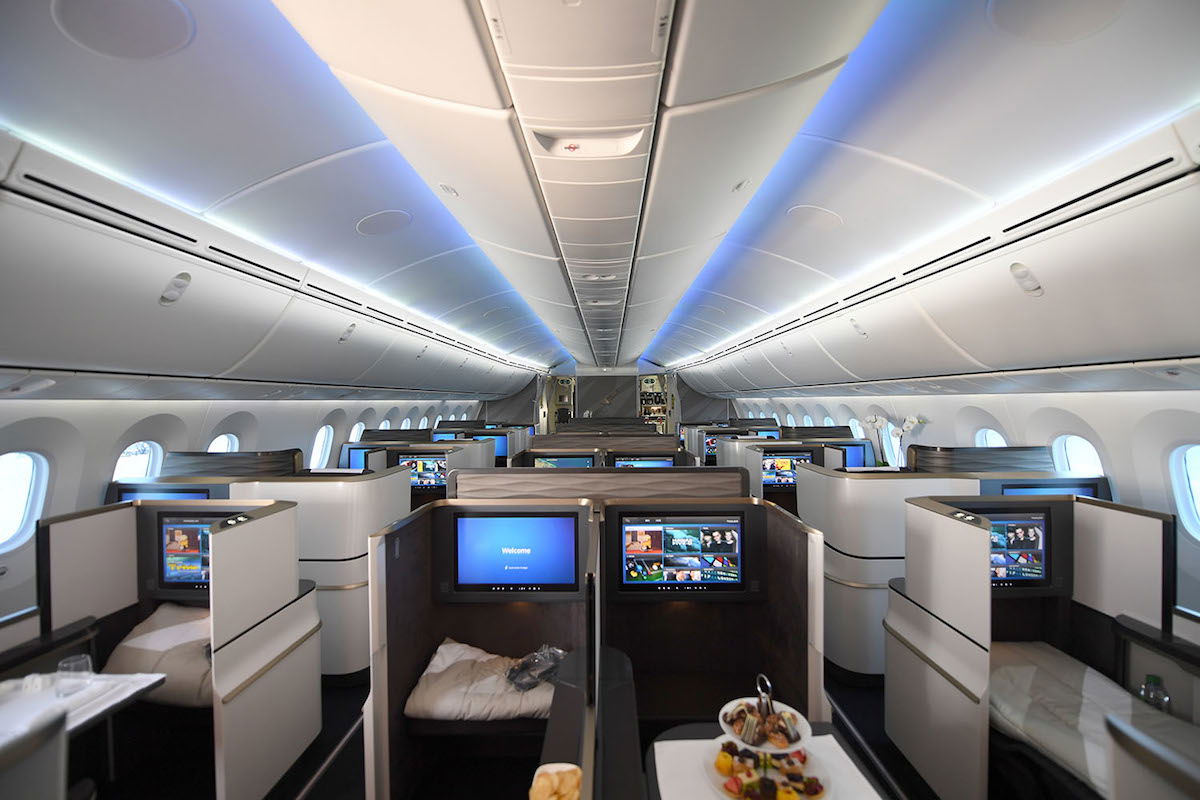 Google Flights
So, I went to Google Flights as I do every single day, set Gulf Air as a filter, and looked for availability to then use as a screenshot to write a post for you guys showing the price, timing and availability.
But I could not find that price anywhere. This was the cheapest price I could find through to the end of schedule.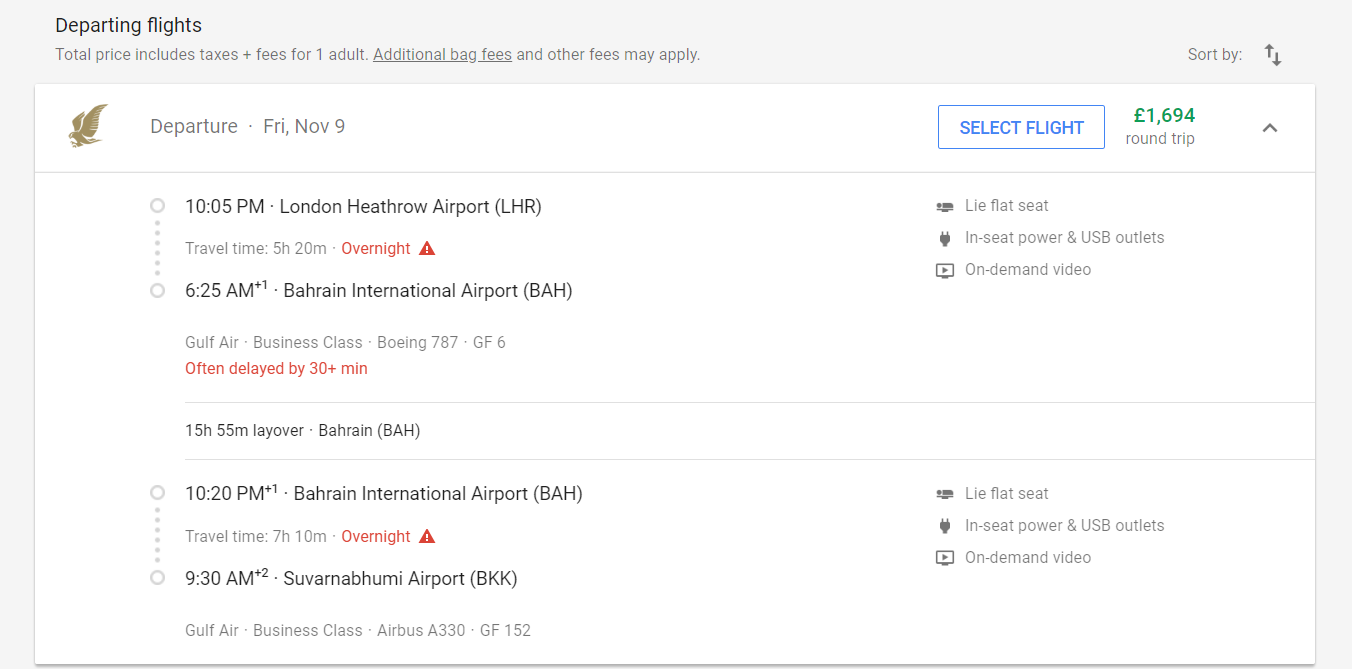 Hmmm….
Skyscanner
So then I went to Skyscanner, to see if they had any different prices. I don't really use Skyscanner since discovering Google Flights but occasionally it throws up something different.
Not only did Skyscanner have much lower prices, they were even lower than the £1,150 price Head For Points had publicised.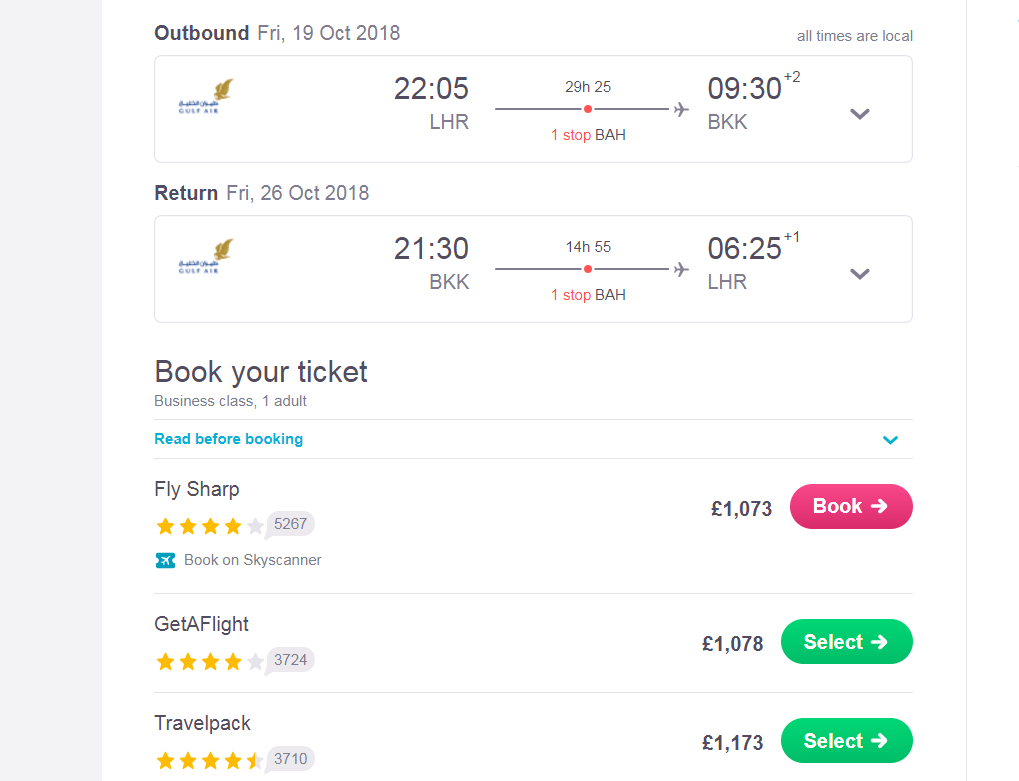 Now, £1,073 return from London on what looks like an incredible product to Bahrain, and then on to Bangkok is an AMAZING price.
But I have never heard of any of those three Online Travel Agencies (OTA) offering the three cheapest prices.
Much like bricks and mortar travel agents (some of which still survive), there are some large, very well known online travel agencies like Expedia or Opodo. There are then much smaller, lesser known ones like these three offering the cheapest Gulf Air fares.
So should you book through them?
Here's the steps I would go through to make my decision.
Step One: Check the airline's website
Where possible, I would always recommend booking directly on that airline's website. There are endless benefits of doing this.
I went to the Gulf Air website, but the best price I could find was about 50% more than the Skyscanner prices.
This matched the Google Flights price.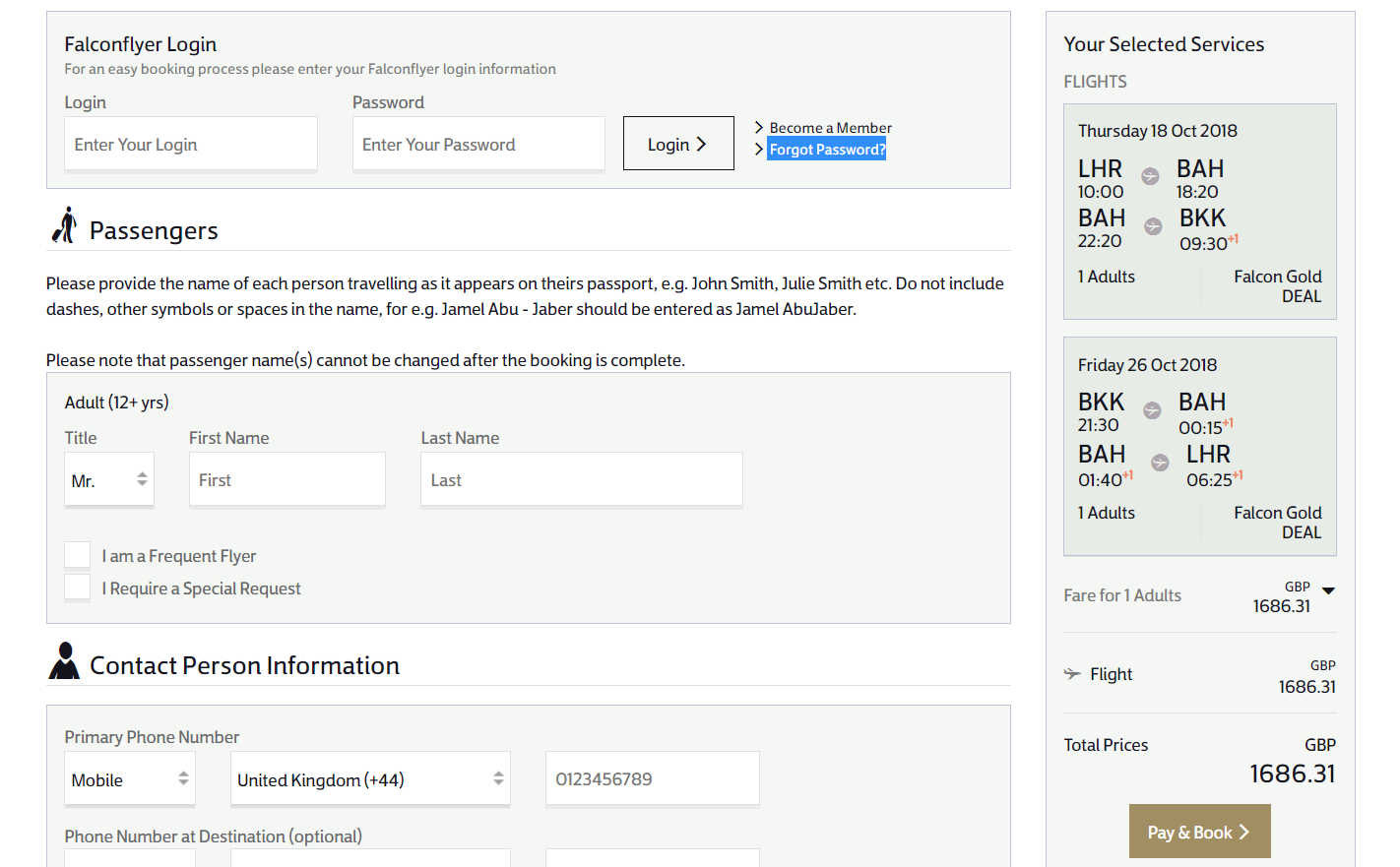 50% is a LOT more to pay, so that hasn't made the decision for me.
Had the price been only 10% or 20% higher, I would recommend paying that and booking through the airline directly, for the peace of mind.
Step Two: Research the OTA
I have never heard of Fly Sharp, so I googled 'Fly Sharp Reviews' and the first result was a TrustPilot page, which gives Fly Sharp an alarming 2.7/10 approval rating from 63 customers.
One review says:
I am only giving one star as zero stars is not an option.

These guys are the most useless company I have ever had to deal with, I had a problem with my booking and needed to amend. I was told 4 different options to amend, non of which was possible. Each time you call you speak to someone who does not understand you and then gives you a different answer.

In the end I cancelled my flight, waiting for the taxes to be refunded they have not paid them after the 4 weeks they advise it can take. Called and they can not tell me how much the refund will be for only that I have to check if it has been paid in the next week and if not call back again.

They may have cheap flights but really would not trust them as far as I could throw them.
Now I would not take a 2.7/10 rating to mean that only 27% of their customers are happy with them.
These review websites are notorious for only attracting people with an axe to grind who want to vent. I don't leave reviews for anything unless it is particularly good or particularly bad. 90% of the time companies I deal with are fine, but forgettable so I don't feel the need to review.
I suspect Fly Sharp has plenty of customer who had a fine experience, but didn't bother reviewing it.
Nonetheless the themes of the negative reviews reveal some alarming common business practices:
Charging customers additional amounts for luggage already included in their premium class fare; the airline sets the baggage allowance, not the travel agent
Increasing advertised prices after booking (and paying)
Booking incorrect dates, and then charging large change fees to correct their own errors
Setting their own change or cancellation fees that do not match the airlines change or cancellation fees
These shady business practices are synonymous with some companies preying on inexperienced travelers, advertising prices lower than their competitors to lure in new business (sometimes at a loss), and then making up their own rules to extract profits from their new customers.
Some larger, more experienced travel agents have been accused of this.
These numerous red flags mean I would not book with Fly Sharp, regardless of the price.
Step Three: Consider the lowest 'trusted seller' price
There's a huge variance between the Fly Sharp price (which seems too good to be true), and the GulfAir.com price, which seems too high. So I'm keen to understand if there are any prices in between, with OTAs I would be comfortable with.
Opodo is pricing these flights up at £1,214.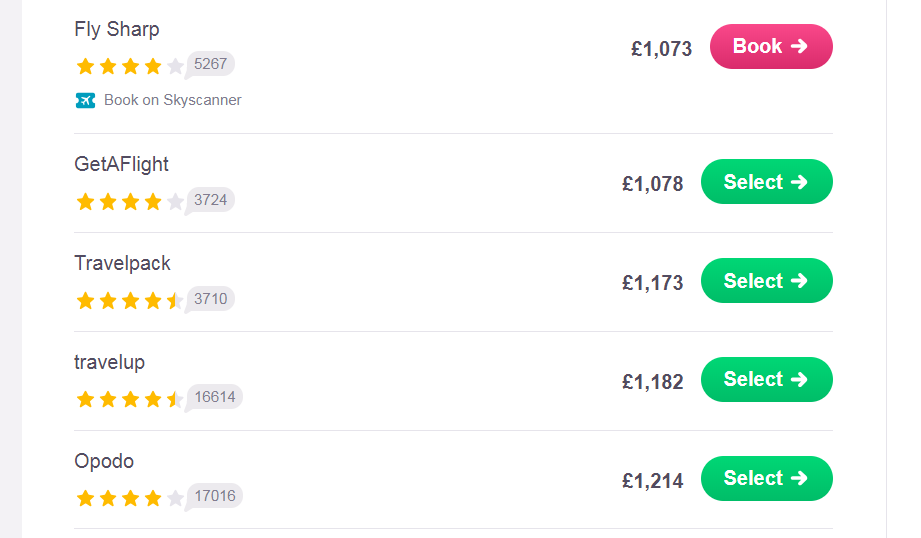 While this is significantly higher than the Fly Sharp price, Opodo is a large and trusted online travel agency. In comparison to Fly Sharp, their TrustPilot score is 7.3/10 with over 10,000 reviews.
Now, Opodo won't be perfect, and a review website is not a definitive measure of a company, and I'm sure some of you may have had negative experiences with them.
So I'm not saying they are a fool-proof solution to booking this fare cheaply.
But for me, I would be comfortable booking this fare with Opodo, rather than GulfAir.com given the price variation. Opodo's price is not a lot more than Fly Sharp but is still much less than the GulfAir.com price.
My risk tolerance is that I am willing to risk what I would consider to be a relatively low risk of having an issue with Opodo, in exchange for saving around £450 by booking with them, rather than GulfAir.com.
I've also booked flights with Opodo in the past without issue so would be comfortable doing so again.
Bottom line
The biggest problem you may have with Online Travel Agencies is likely to be if you need to change your flights. If you think it is likely you will need to change them, I would always recommend booking a flexible fare directly with the airline wherever possible, so there are no surprises about your rights and the associated costs. Although it is not ethical, OTAs can charge their own change and cancellation fees, over and above what the actual airline will charge.
I love a good deal, but I'm always wary of booking with companies I've never heard of. In this case I would not book with Fly Sharp, but be comfortable with Opodo, triple checkig all the details, and assuming that I do not need to change the booking down the track.
There are no perfect companies, OTAs or otherwise (some people have issues with companies like Apple or Google), so no definitive answer on which OTAs you should or shouldn't book with.
However in summary as a general guide:
Book with the airline where you can
Do your homework on the cheapest price if you cannot
Be comfortable with your risk tolerance, balancing the amount you are saving with the likelihood of issues with the OTA
Have you booked through an Online Travel Agency you hadn't previously heard of?