Confession time — prior to yesterday, I've never before been in a London black cab. In London I've relied almost exclusively on public transportation, along with the occasional Uber ride to supplement it. And it has worked out quite well.
It's no secret that I avoid taxis as much as possible. While there are some great taxi drivers out there, the taxi industry as a whole has done so little to innovate over the past couple of decades, and thanks to technology that lack of innovation has finally caught up with them, thanks to the growth of the ridesharing economy. Beyond that, I seem to consistently have really bad luck with taxis for those times I do take them, from Abu Dhabi to Dubai to Frankfurt to Las Vegas to Warsaw.
I've always had respect for London cab drivers, because they're the most well educated in the world. Becoming a London taxi driver requires going to school and passing a tough test, as you need to memorize the 25,000+ streets in London. It has always been my understanding that London cabbies are a proud bunch, and are understandably frustrated by Uber, since they're not just clueless and rude drivers, but rather are well educated and knowledgable.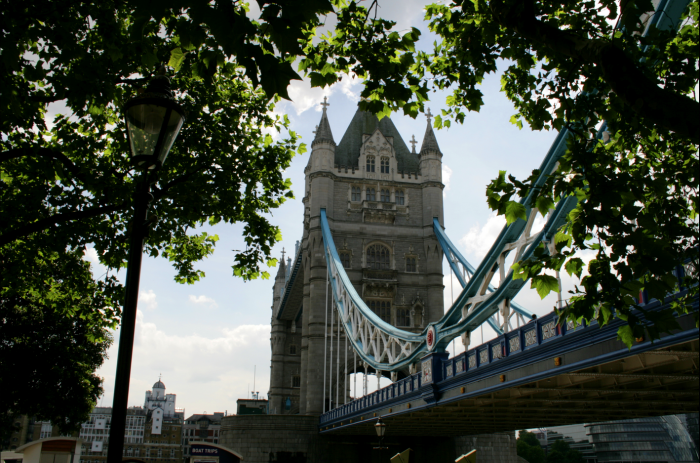 Heck, the slogan for London black cabs is "the finest taxi service in the world."
So yesterday I met up with Ford and his mom at Heathrow, and we took a taxi to the InterContinental The O2 (because we were going to see Adele, d'oh!). I know, a black cab is a super expensive way to get to East London, though we had a lot of luggage, and that's what they preferred, so please save the judgment on the use of a taxi. Like I said, it was my first time ever using one in London.
The driver seemed nice, and when I told him "InterContinental Hotel The O2" he acknowledged it. I hadn't ever taken a London taxi before, and we asked to confirm that London taxis accept credit cards — "London cabs take credit cards, right?"
"Yes!"
Throughout the ride he apologized several times that it was taking forever, which was nice. He was over the top, because it wasn't his fault so he certainly didn't owe us an apology, but that didn't stop him from apologizing. Over and over. And over. And over.
"We're almost there, I promise."
Moments later we pulled up to a Holiday Inn Express.
"Sorry, we're going to the InterContinental The O2, and not a Holiday Inn Express."
"Oh yeah I heard that, but this is the only hotel I know of in the area."
So he knew we weren't at the right place, but dropped us there anyway? You'd think he could have just asked for clarification instead, or, you know, looked it up on his phone?
We were only a mile or two from The O2, and it's quite easy to identify, so I pointed to the hotel. He then stood there as he phoned dispatch to ask how he could get to the InterContinental. While it's a fairly new hotel, I expect a London cab driver to at least tell me if they don't know where they're going, rather than just trying to drop us off somewhere random.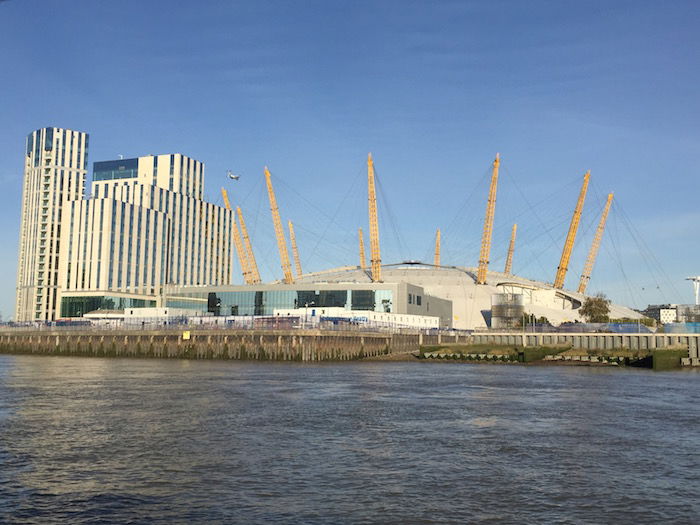 The O2 and the InterContinental
Then we got to the hotel and asked to pay by credit card, and he said "my machine is broken, but you can go inside and exchange money."
"But we asked about credit cards?"
"You asked generally, you didn't ask specifically for this ride."
Seriously?
Bottom line
Maybe it's heartless on my part, but I have little sympathy for the taxi industry dying a slow death, and this ride is a perfect example of why. You'd think they'd be on top of their game given the competition from Uber, and would do what they can to use technology to improve the experience.
But instead my first London cabbie was completely in the dark when he didn't know where we were going, while a clueless driver who is in London for the first time could have done better, given that he could have just followed the GPS. It's one thing if the driver didn't know where he was going, but the fact that he had to call dispatch and wait on hold while they directed him rather than using a GPS is beyond me.
And let's not even talk about the conveniently "broken" credit card machine…
Did I just have a bad experience, or are London taxis as bad as everywhere else, and just more expensive?