This post has nothing to do with whether or not Delta SkyMiles has a decent elite program. Instead this post is purely about the best ways to redeem SkyMiles, whether you've accrued them through flying, or through credit card spend.
Why SkyMiles are becoming comparatively more valuable
Personally I value Delta SkyMiles at 1.3 cents each, which is marginally less than I value American AAdvantage miles (1.5 cents) and United MileagePlus miles (1.4 cents).
So yes, I do think they're slightly less valuable than American and United miles, but they're far from worthless, and I've actually found myself redeeming quite a few of them lately, mostly points I transferred from Amex Membership Rewards.
Why do I think the value of SkyMiles has increased comparatively?
As American and United have devalued their award charts over the past couple of years, the sweet spot of redemptions has become business class rather than first class. That puts Delta at less of a disadvantage, since those miles can't be redeemed for international first class, but rather only business class.
The quality of SkyTeam business class products has improved considerably over the past couple of years, especially for transpacific flights. Just take a look at the excellent products offered by China Eastern and China Airlines on their new 777-300ERs.
I'd note that there are some things which aren't ideal about SkyMiles:
Delta doesn't publish award charts, so there's not much transparency when it comes to award pricing.
There are fuel surcharges on some awards, though those can easily be avoided and minimized by redeeming strategically.
Virgin Australia used to release a ton of business class award space, and was by far the best option for redeeming miles between the US and Australia. While they still release some space, they're not nearly as generous.
You can't cancel or change an award ticket within 72 hours of departure (though they certainly make exceptions, when circumstances warrant it).
My favorite uses of Delta SkyMiles
With the above out of the way, I figured I'd share what I consider to be five of the best uses of Delta SkyMiles. There are a lot of other great options as well, but these are opportunities which I like the most:
1. Transpacific Awards In China Eastern Business Class
China Eastern has brand new 777-300ERs with reverse herringbone seats and Wi-Fi. Reverse herringbone seats are among my favorite business class configurations, and wifi is among my most valuable business class amenities, so I'd probably choose them over a vast majority of other airlines for transpacific flights.
Fortunately award availability in China Eastern is excellent year-round, whether you're booking a few days out or when the schedule opens. For example, here's availability between New York and Shanghai nonstop on China Eastern in a couple of months: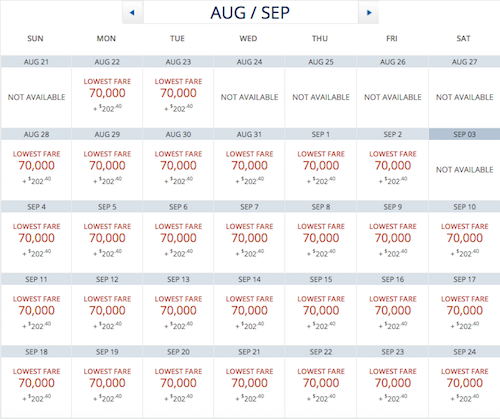 For the same award price you can include connections within Asia. For example, soon I'll be flying from Los Angeles to Shanghai to Colombo in China Eastern business class, which I booked using Delta SkyMiles. There are some fuel surcharges, but they're not too terrible for a transpacific flight, in my opinion.
2. Transpacific Awards In China Airlines Business Class
Perhaps it's a SkyTeam revolution, but around the same time that China Eastern released their new business class product, so did China Airlines, which is based in Taipei. They also have a new reverse herringbone seat, with incredible transpacific award availability.
For example, here's how many dates have nonstop business class award availability between Los Angeles and Taipei in a couple of months: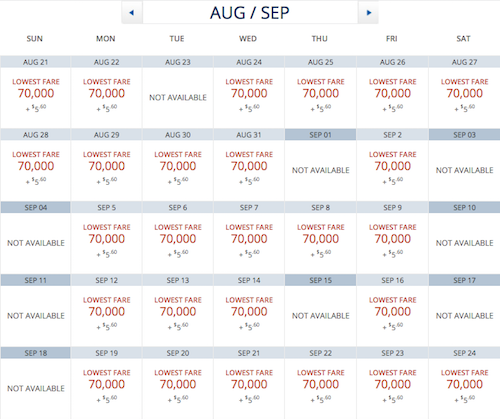 I would note that there are no fuel surcharges for travel on China Airlines in most markets, which is awesome.
3. Transatlantic Awards In Air France Business Class
Delta doesn't have access to all Air France business class award availability, but there's one "secret weapon." Delta SkyMiles members have access to Air France award space before FlyingBlue members do. So Delta has access to Air France award space 331 days out, while Air France's own members have access only 305 days out.
As a result, take a look at how good nonstop award availability is next year between Los Angeles and Paris, which is otherwise a really tough flight to book on miles: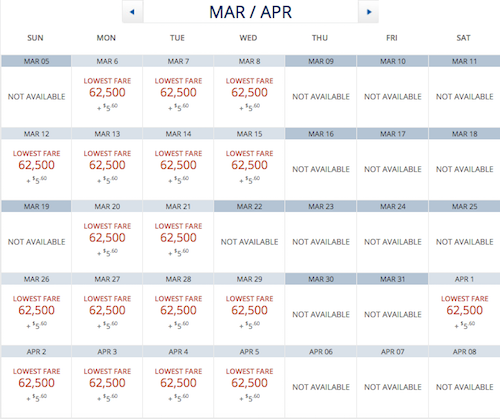 Air France has a great business class product as well, assuming you can get their new seat. It's one of my favorite transatlantic business class products all around, actually.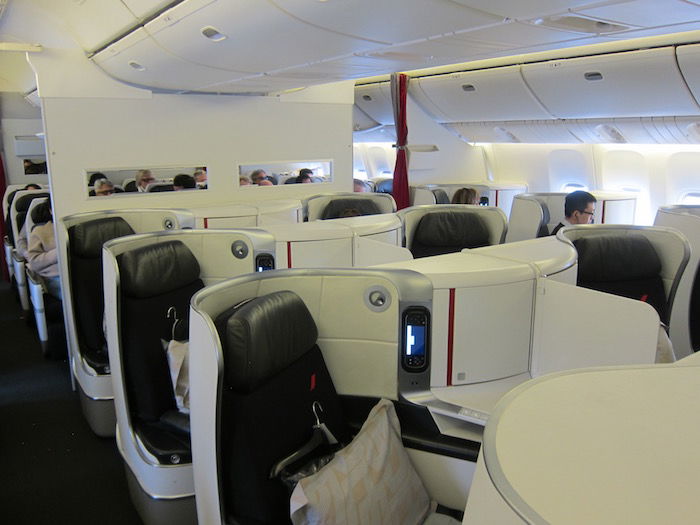 Air France's new business class
4. Transatlantic Awards In Virgin Atlantic Upper Class
I love Virgin Atlantic. They're such a fun airline, and they have among my favorite business class lounges in the world. SkyMiles members can book Virgin Atlantic Upper Class awards without any fuel surcharges when originating in the US, and availability is generally quite good.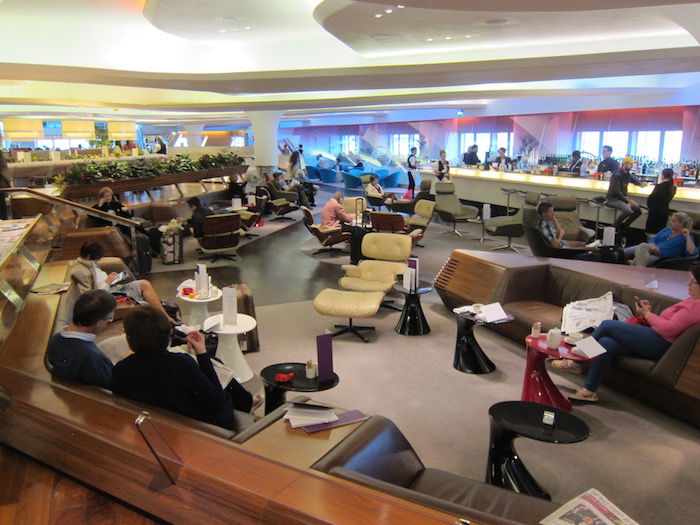 Virgin Atlantic Clubhouse London Heathrow
For example, take a look at nonstop availability next year between San Francisco and London: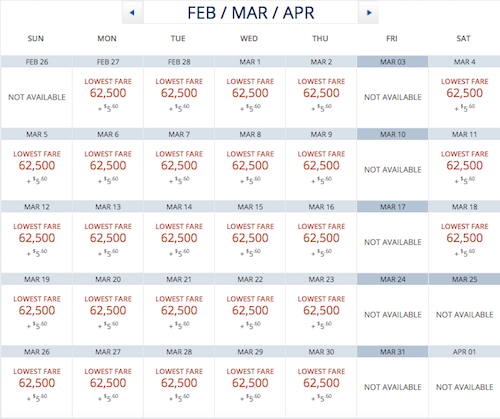 5. Awards Within The US
Delta SkyMiles is motivated to go revenue based on the redemption side, so their domestic awards price at all kinds of different rates. In many cases they represent an excellent value. For example, take the below flights between San Francisco and Seattle, which are available for just 7,000 SkyMiles one-way: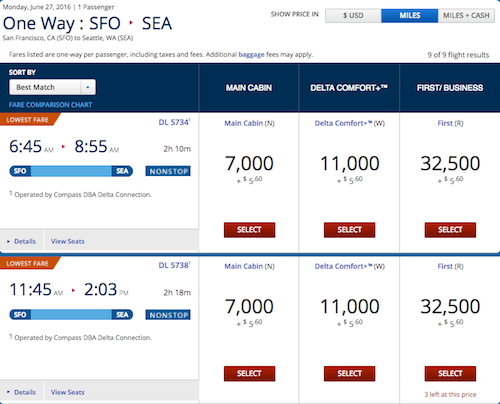 The revenue cost would be $144, on the other hand: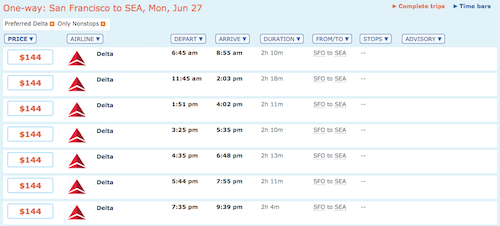 Two things which make Delta miles great for domestic redemptions are that they don't charge any close-in ticketing fees, and also that Gold Medallion members and up receive complimentary upgrades on domestic tickets, which is great.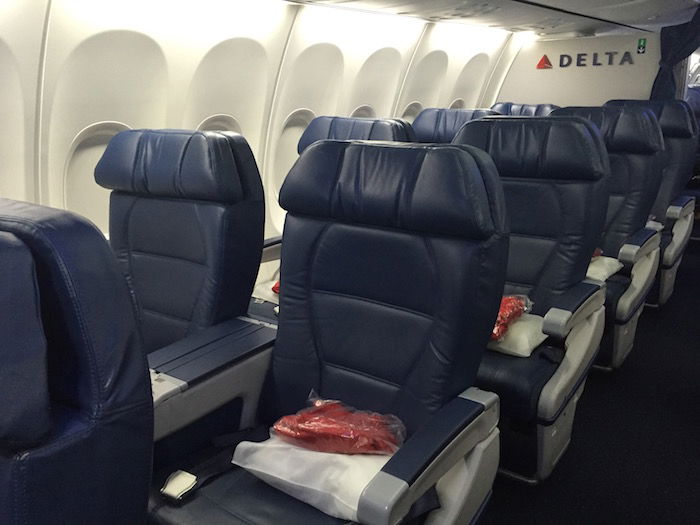 You can be upgraded to first class as a Gold Medallion on a Delta award ticket
Redeeming SkyMiles Bottom Line
Delta SkyMiles aren't perfect. No mileage currency is. I even value Delta miles a bit less than American AAdvantage and United MileagePlus miles.
But there are still fantastic uses of these miles, whether you're looking to travel transpacific in a reverse herringbone product, or are looking to travel from the West Coast to Europe nonstop in a great business class product. I redeem a good number of SkyMiles, and it's one of the reasons my balance of Membership Rewards points is low at the moment, since I've been transferring a lot of them there.
If you don't yet have some of the following cards, I'd seriously consider applying for them:
What is your favorite use of Delta SkyMiles?