For me this is a week of travel planning.
Earlier I shared the details of the trip that I booked to Sri Lanka, which includes travel in business class on Japan Airlines, SriLankan Airlines, and KLM. I'm excited about all the new products I'll be able to review.
Now I wanted to share the details of another trip that I'm just finalizing today, which I'd also love some feedback on.
A trip to the Middle East…
Ford and I are trying to plan a few trips with family this year, and in this particular case we'll be taking Ford's mom. While I've been to the Middle East dozens of times before, Ford's mom has never been, so I have something I'm finalizing.
Planning for this actually started several months ago. I had a bunch of Etihad Guest miles that were about to expire (while other mileage currencies can be extended with any activity, Etihad Guest miles have a "hard" expiration date).
I found a date with three A380 first class award seats from Abu Dhabi to New York on Etihad, so I locked those in. So up until now I've had a return booked from Abu Dhabi to New York, but haven't had any sort of outbound booked, and didn't know where we'd go.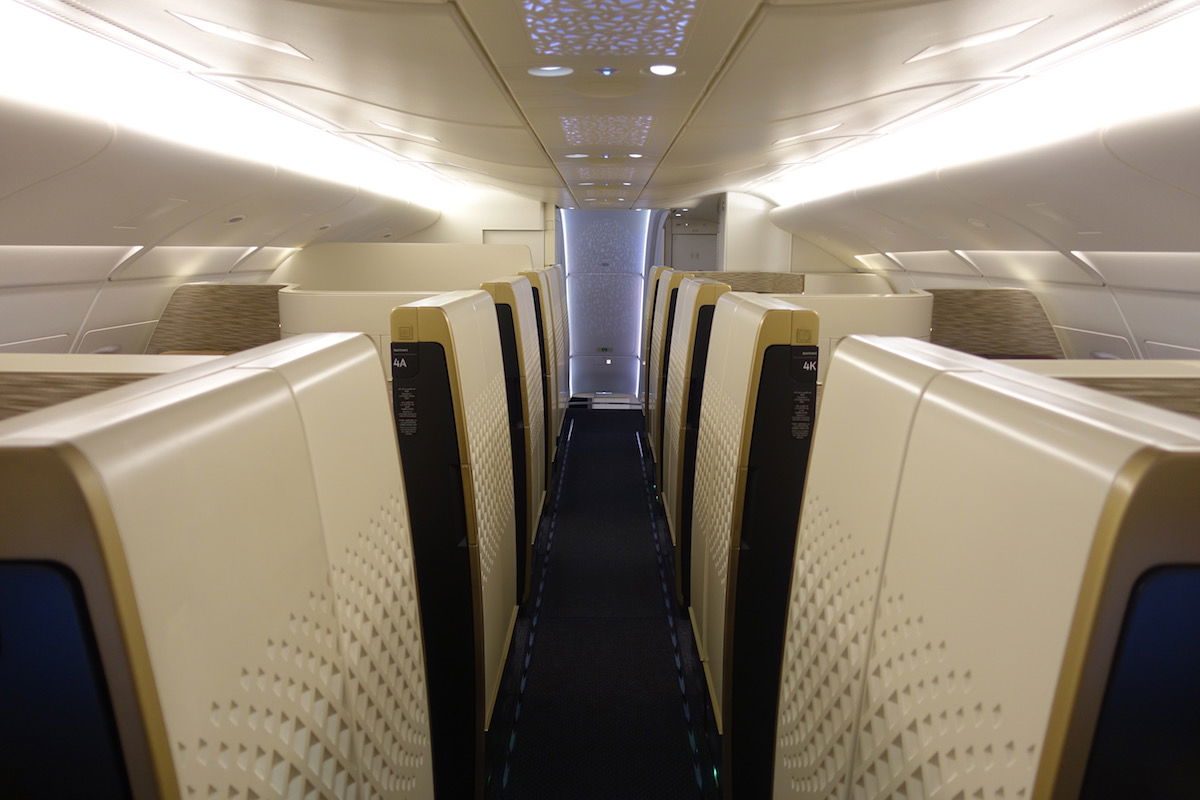 Since she has never been to the Middle East before, I do think the UAE is worth seeing for a few days, but I was trying to decide where to take Ford and his mom before that.
I had narrowed it down to Amman, Jordan, Muscat, Oman, or Beirut, Lebanon.
In the end I decided on Lebanon. As much as I love Oman, we'll be traveling in April, so it'll start to be warm that time of year there. I've also been to Amman, while I've never been to Beirut, so perhaps my choice was partly motivated by that.
Booking an outbound flight
As you guys know, my goal is always to review new products. This is easy to do when I'm traveling alone, since I can basically fly on whatever flight I'd like, no matter how roundabout the routing. However, this gets significantly more complicated when I'm traveling with Ford, and even more complicated when traveling with a parent.
So I wanted to find an outbound option that was both direct and interesting.
After doing some searching, I managed to find three business class award seats on Air France's 787-9 from Detroit to Paris, and three business class award seats on Middle East Airlines' A330 from Paris to Beirut. Awesome, as those are both new products for me.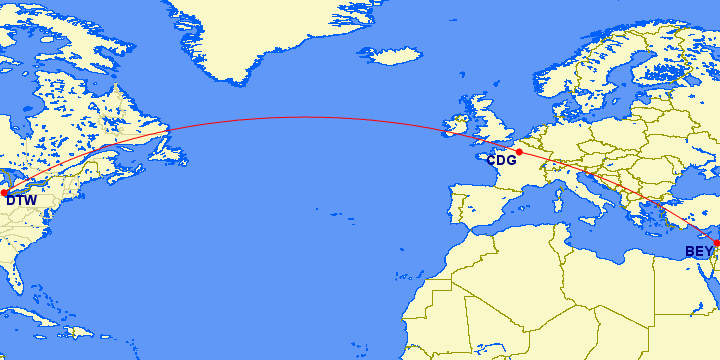 The catch is that this availability was only there through Flying Blue. I would have preferred to book through Delta SkyMiles to avoid the carrier imposed surcharges, but they didn't have access to that space.
So instead I redeemed 97,500 Flying Blue miles per person plus carrier imposed surcharges for the tickets.
Getting from Beirut to Dubai
As I mentioned earlier, I'll be avoiding Middle East Airlines from Beirut to Dubai. For that matter, it's not like they had award availability on our date anyway.
Fortunately I found a pretty cost effective way to fly in comfort on that route. While Emirates' award rates are generally quite high through their own Skywards program, upgrade costs are sometimes more reasonable.
So I could book the flight for $300 in economy and then it's just 15,000 miles per person to upgrade to business class, which I can transfer over from Amex Membership Rewards. I've also never reviewed Emirates' 777 business class, so that seems like a good opportunity.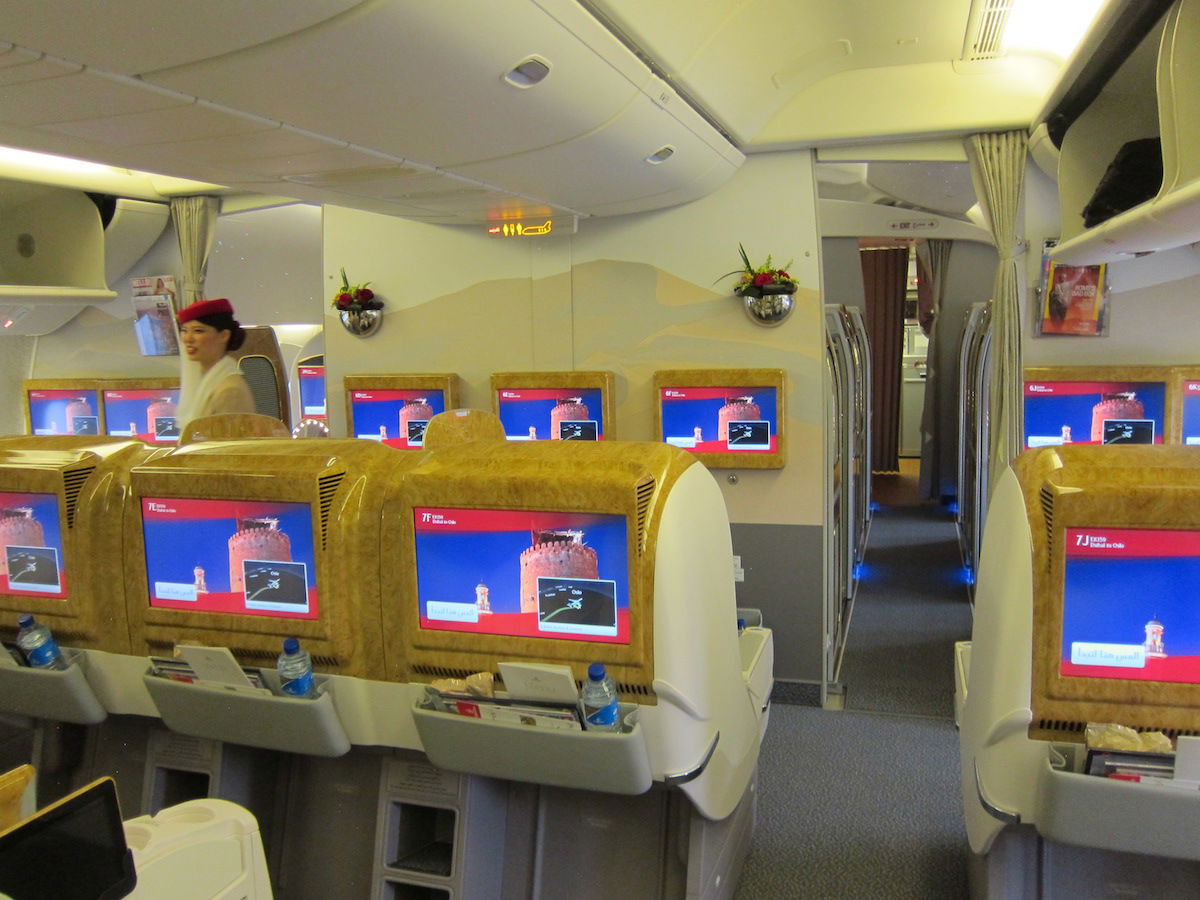 Emirates' 777 business class
I'll write a separate post about my experience upgrading an Emirates ticket, because it was my first time ever doing so.
Looking for advice
I've never been to Beirut before, but I can't wait. I love Lebanese food, and in general have found Lebanese people to be kind and hospitable. With that in mind, I want to make sure I make our three day stay as good as possible, and would love tips from anyone with an opinion:
What's the best place to stay in Beirut? As far as I can tell, the two best hotels are the Four Seasons and Hotel Albergo Relais & Chateaux (they're both fairly reasonably priced), though I'm also intrigued by Grand Hills, a Luxury Collection property outside the city. Will we regret staying outside the city, as I'd love to stay at a points hotel if possible, or what's the best option?
Any amazing restaurants in the city or sights outside the city that we can't miss?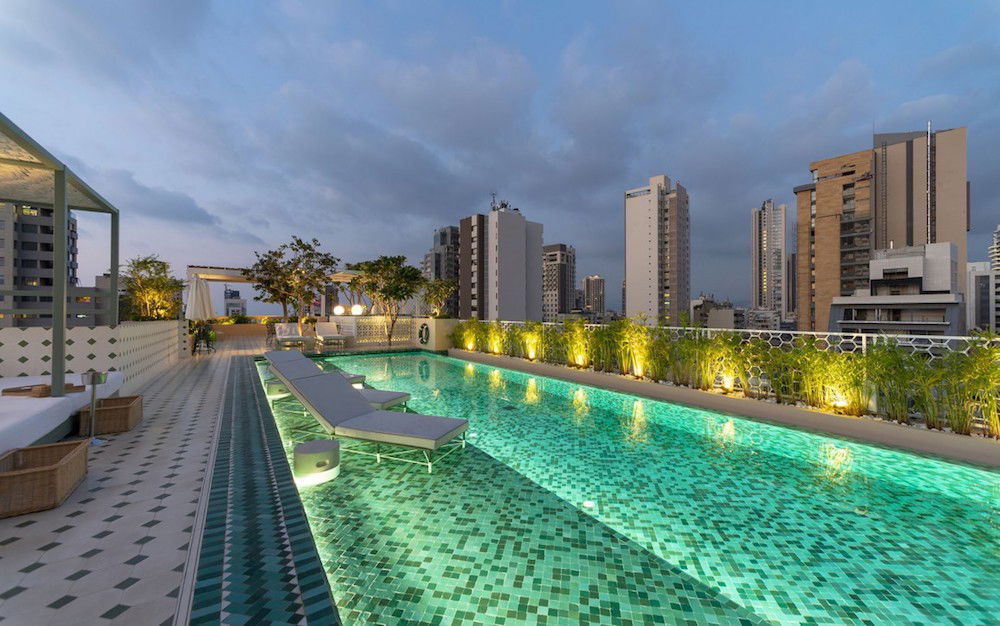 Hotel Albergo, Beirut
The second area where I'd love general feedback is probably more me talking out loud than anything.
I'm extremely familiar with Dubai, and people email me all the time to ask where they should stay. Dubai is a city where I feel like there's rarely a right answer, other than "it depends," given how spread out the city is. Like I said, I'd like my mother-in-law to have a great time, so I want to pick somewhere nice.
Our plan is to just stay at one hotel the entire time we're in the UAE (personally I'd probably split time between Dubai and Abu Dhabi, but we decided staying in one place will be more relaxing).
I feel like the great points options are fairly limited:
I like the Park Hyatt, but don't love the location (unless it's for a quick overnight near the airport), and also think it could use a refresh at this point.
Unfortunately the St. Regis was recently rebranded as the LXR Habtoor Palace, so it's now a Hilton. That's not a deal breaker, but I'd be more likely to stay here if it were a St. Regis.
Dubai has a bunch of non-affiliated luxury hotels, but the pricing of some of them is more than I'm willing to pay in Dubai. It's crazy to me that many of these go for over $1,000 per night, given how much capacity Dubai has.
So the general hotels I'm considering are:
The Waldorf Astoria Palm Jumeirah, as I've never stayed on The Palm before, though for that matter I don't particularly love the location. The hotel is bookable on points and looks really nice.
We could stay at Habtoor Palace LXR, as it's also bookable with Hilton points, and I do find it has a central location. I stayed here when it was a St. Regis, though, so I feel like that's not all that interesting.
The Ritz-Carlton Dubai might be worth considering, but then again I generally avoid Ritz-Carlton since they don't include breakfast for Platinum members
I'd love to try the BVLGARI Dubai. BVLGARI is technically a Marriott brand, but you can't earn or redeem points at those hotels, which is BS (and sums up what annoys me about Marriott, in a nutshell). The rate is $1,000+ per night, so I don't think that's happening.
Then there are non-points properties like Address, Armani, and Four Seasons, though they don't seem worth the price.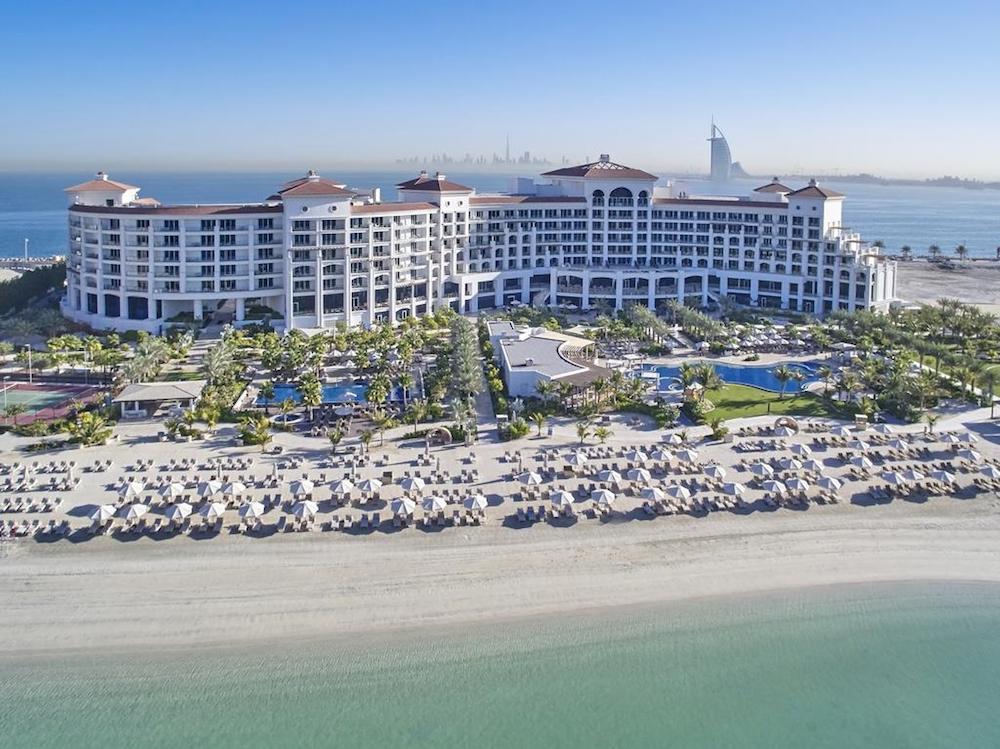 Waldorf Astoria Palm Jumeirah
So if you guys have any experience with the Waldorf-Astoria or any other thoughts, I'd certainly welcome them!
Bottom line
This is obviously different than a traditional review trip for me, given that I'll have two travel companions. I am nonetheless excited to review Air France's 787 business class and MEA's A330 business class, and I'm also curious to see how Etihad's A380 first class is holding up (for example, they've added caviar since I've last flown them).
I'm also looking forward to finally visiting Beirut, and hopefully checking out a couple of cool hotels.