In the interest of full disclosure, OMAAT earns a referral bonus for anyone that's approved through some of the below links. These are the best publicly available offers (terms apply) that we have found for each product or service. Opinions expressed here are the author's alone, not those of the bank, credit card issuer, airline, hotel chain, or product manufacturer/service provider, and have not been reviewed, approved or otherwise endorsed by any of these entities. Please check out
our advertiser policy
for further details about our partners, and thanks for your support!
Friday Travis posted about "status runs," i.e., mileage runs you might take solely for the purpose of qualifying for the next tier or elite status in a given airline program.
Travis concluded that status runs were really only useful at the margins. That's true… if you're gunning for status on United or American. If you're aiming for Medallion status on Delta, status runs are a bit different, because the Rollover Mile is your friend.
What's A Rollover Mile?
Delta is unique among global carriers for giving its members "rollover miles." While Delta's SkyMiles program gets a lot of flak around here for being (allegedly) consumer unfriendly, Delta's rollover miles policy is uniquely generous, and distinguishes Delta from the pack in a good way.
On United or American, if you finish the year with 99,900 miles, you end up 100 miles short of Premier 1K or Executive Platinum status, respectively. You'll qualify for Premier Platinum or Platinum status, as the case may be — the 75,000 mile threshold, in other words — but those 24,900 miles you flew will disappear into thin air when the new calendar year begins. So it's certainly incentive to fly those extra 100 miles, and not a mile more (since any mile above that threshold also disappears the next year). There's a certain art in trying to hit your target milestone without going much over — "The Price Is Right" rules, as it were.
Delta banks those surplus miles for you, however. They automatically roll over into your next year's account as Medallion qualifying miles already in the bank. (The caveat being you have to have more than 25,000 Medallion qualifying miles in your account to begin with — so if you end the year with 23,000 MQMs as a non-elite, nothing will roll over.)
So in the case above, at 99,900 miles, you'd start the next year off with 24,900 MQMs in your account right off the bat — 100 MQMs away from qualifying for Silver Medallion. This makes achieving mid-to-high tier Medallion status substantially easier.

The Benefits Of Not Hitting Top-Tier
Delta may be the only airline where elite fliers may do the math and decide there's a benefit to coming just close enough (but no cigar) to the next highest tier. And Delta fliers do this, regularly. Why?
Well, let's use the example of Diamond Medallion status, which requires 125,000 MQMs. Platinum Medallion, the next highest tier, requires only 75,000 MQMs.
Some Diamond Medallions wouldn't give up Diamond status if you put a gun to their heads. But by and large, Delta treats both its Platinum and Diamond Medallions very well — quite a bit better than its Gold and Silver Medallions.
Platinum Medallions get regional upgrade certificates, decent chances at complimentary domestic upgrades, a highly efficient dedicated phone line, and the ability to select "Comfort +" (i.e., economy comfort seating, with free drinks and food) seats at booking, among other perks. Being Platinum Medallion is pretty great.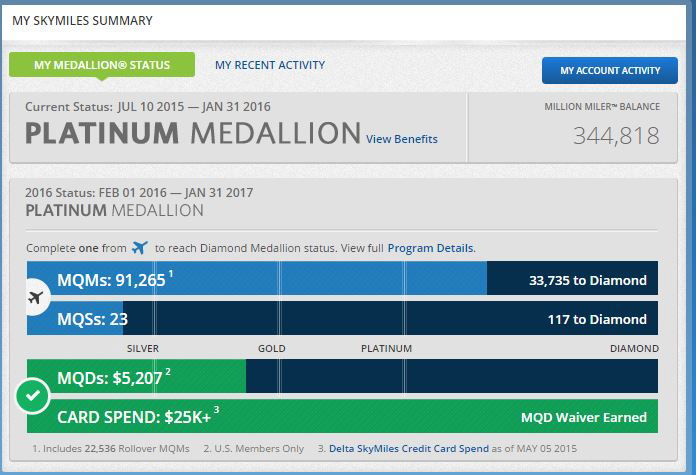 So let's say you're a Platinum, and you love it. Let's say you have 120,000 MQMs in your bank in November. You have two options:
Do an easy status run to get Diamond Medallion status and end the year at (say) 126,500 MQMs. You'll be treated like a king the next year and your status will come with more perks. At the same time, you'll start the following year with only 1,500 MQMs in your account… so to keep your status, you'll need to find a way to generate 123,500 MQMs the following year, which is daunting, to say the least.
Do everything you can do to keep your MQMs under 125,000 for the year. This can mean, in some cases, crediting miles on necessary flights to Alaska or Air France simply to avoid hitting Diamond. Let's say you do this and end the year at 124,000 MQMs. You're still "only" Platinum, but you start the next year with 49,000 MQMs already in your bank. You're just 1,000 MQMs away from Gold Medallion, and you need to earn just 26,000 MQMs in the following calendar year to re-qualify for Platinum Medallion — which is a walk in the park.
And in the latter case, you still stand a pretty strong chance of making Diamond Medallion the next year, since you'd need "just" 76,000 MQMs to reach that goal, rather than 125,000.
In my case, I did just that last year. I'd vacillated back and forth between Silver and Gold Medallion status for the last few years, and I was within easy reach of Gold Medallion at the end of last year, but I held back after doing the math.
At the beginning of this year, I started with 22,500 MQMs in my account already, which was a huge head start. Yeah, it "sucked" to be Silver Medallion for the first few months of the year knowing I could have been Gold and I could have had the benefit of better upgrades and Sky Priority status at the airport.
And then I flew to Madrid and got ~20,000 MQMs in my account. Added to the few short-haul trips I'd already made that year, suddenly I was Gold in March.
Add a 15,000 MQM bonus from the Delta SkyMiles® Reserve American Express Card, and another ~17,000 MQMs or so from a trip to London.
All of a sudden, I'm well over my threshold to qualify for Platinum and it's only halfway through the year.
Had I aimed for Gold last year, I'd have skipped over the couple months of "slumming it" as a Silver, but I'd also still be Gold, and in fact be some 15,000 MQMs short of Platinum.
In this case, "holding back" on the next tier up actually propelled me to an even higher tier, faster, the following year.
What This Means For You
This year, it's my goal to make Diamond Medallion — even if it leaves me with just a few thousand rollover miles in the bank for 2017. Personally, it's what I value for next year, and ultimately whether you choose to gun for the top tier or keep comfortably in the middle is your choice.
But what this means is that, unlike on United and American, Delta is an airline built for status runs.
If you see a cheap business class airfare to Europe, grab it: there's up to 20,000 MQMs in your pocket, either to use or to save for a rainy day.
It means you don't have to do the math and worry about spending money and going over a threshold, or ending the year just under a threshold. It means you can tie your vacations and travel into MQM-maximizing fares, knowing at the end of the day these are MQMs that will benefit you no matter what.
Bottom Line
Delta is the only U.S. airline (and only airline, period, as far as I'm aware) to offer its frequent flyers the ability to roll over unused MQMs to the following year. It's an amazing benefit, and a key reason I love being a Medallion member.
While American and United loyalists are frantically doing the math to make sure they get as close as they can to their top-tier threshold without going too much over, Delta Medallions benefit from a system that rewards every mile of elite qualifying travel they earn.
It's not often that Delta SkyMiles is considered a "generous" program, but the rollover miles policy is really I think where Delta distinguishes itself — and shines.