Basic economy fares are upon us.
Delta has been selling these wretched fares for a few years now, but has recently rolled them out to more and more markets. Then United unveiled the details of their punitive offering last fall and American came out with their slightly-better-than-awful version last week.
I'll be honest, I'm not a fan. Can you tell?
Sure, I get it. The legacy carriers are facing stiff competition from the ultra-low-cost carriers and feel they need to do this to compete. But guess what? They, or at least United and Delta, tried operating a low-cost subsidiary within the framework of a mainline carrier before. I watched that movie — I think it was called Song and Ted's Miserable Adventure — and we all know how it turned out.
But all that notwithstanding, my real concern with these fares is that there's no good way to filter them out when doing searches on Google Flights, which is the tool of choice for most of us here at OMAAT when searching for revenue tickets.
The Real Problem With Basic Economy Fares
Having come of age in the era of ITA Matrix, I was a slow adopter of Google Flights. You know, old dogs, new tricks and all that.
But now I love it to the point that I use it several times per day. It has slowly but surely won me over both for its accuracy — I trust that Google Flights is showing me all the fares in a market, and that the fares are generally bookable — and for its blazing. fast. speed.
The trouble is that these basic economy fares show up in Google Flights the same as any other fare. There's no indication as to which are basic economy fares, and which aren't. For example, here is a fare from Detroit to Fort Lauderdale, a route where Delta goes head-to-head with Spirit. You tell me, which are basic economy?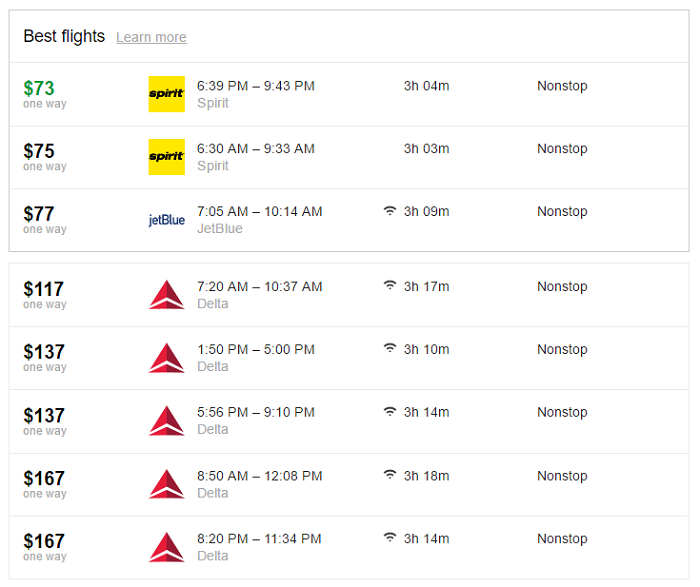 It's easy to know which of the Spirit flights are no-frills, because they're all no-frills. I can easily filter those out of my results by putting an X next to Spirit on the airline filter.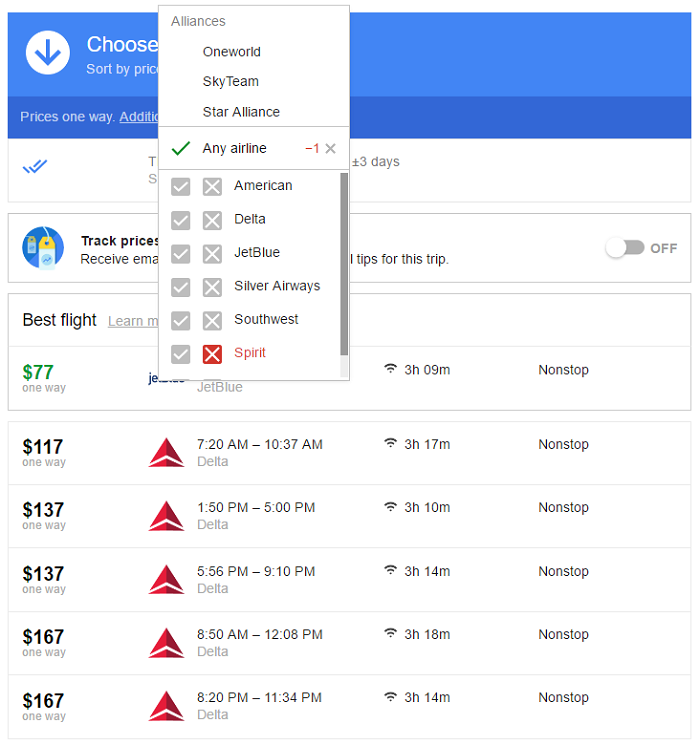 But now we're left with five Delta flights. Which are basic economy and which aren't? Selecting one of the flights doesn't tell us anything more than we already knew.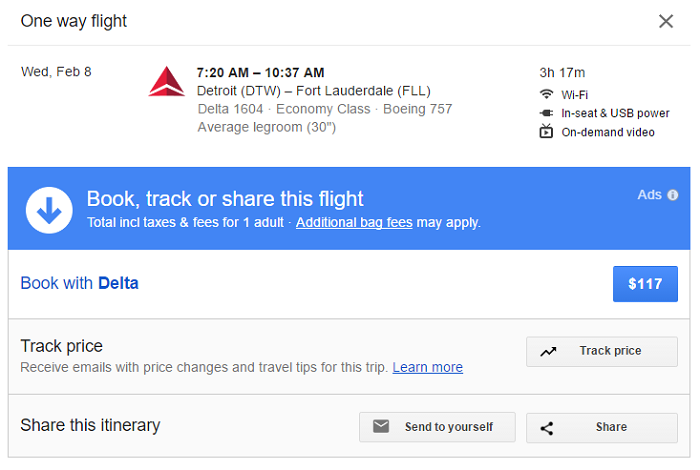 We have to actually click through to the Delta website to find out. Indeed, the $117 fare is basic economy.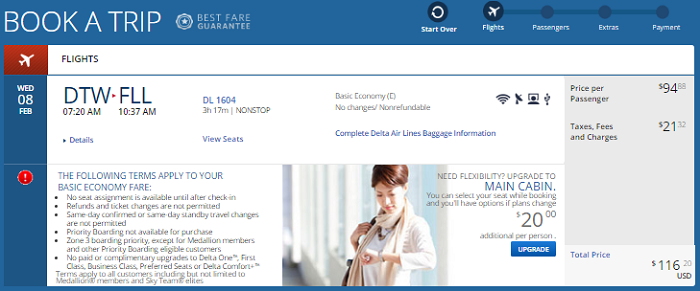 But what about the others? Using Google Flights, we'd have to click through each one of them.
Of course, Delta would probably prefer we just run the search on their website in the first place. If we do that, we see that the $77 flight is the only one that is basic economy. But that kind of defeats the purpose of using Google Flights.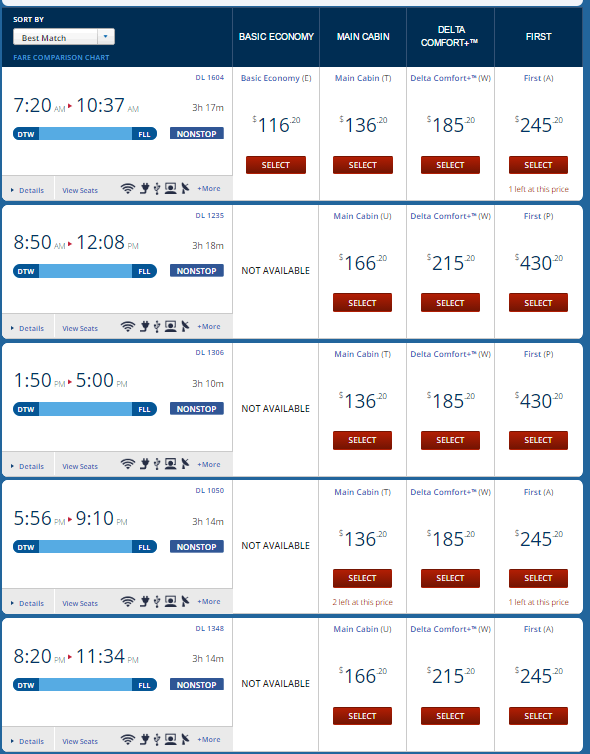 Please Google, Save Us From Basic Economy
As far as I know, each of the legacy carriers is using a specific fare code for their basic economy offerings. On Delta, basic economy maps to E. It has been speculated that United will be using the N fare class, while American seems to be using O.
That means that Google — and the online travel agencies for that matter — have all the information they need to decode whether a fare is basic economy or not. They just need to expose it to the end-user.
To be fair, ITA Matrix offers this feature, but you basically need to be a LISP programmer in order to use it. And even then, you can only tell it to return fares from a certain class, but you can't actually exclude them. [Edit: Actually, Matrix can exclude them. Use a ~ to negate, so /f ~bc=e in the example below.] Here's how you would set up the query to only return basic economy fares on Delta.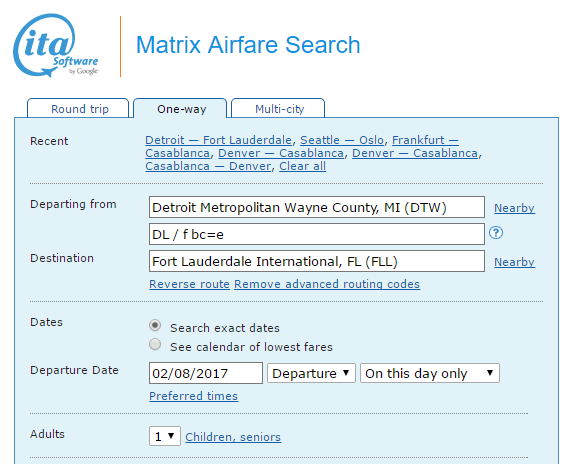 Matrix confirms that only one of the five Delta flights that day is pricing in basic economy.

Ah, ITA Matrix, you were so awesome.
But alas, Google has been more or less telling us for years that they don't want to support Matrix anymore. And they've gotten us all addicted to Google Flights in the process.
So please Google, add a feature to Google Flights that allows us to filter out basic economy fares. I don't think it would take one of your developers more than an hour. Heck, I'll even offer to write the code for you!
Bottom Line
I'm not a fan of the basic economy fares being offered by the legacy carriers. But my biggest concern is that they are almost impossible to identify when searching for fares anywhere other than on the airlines' own websites. This is a bad thing for consumers.
Google has the necessary data to identify basic economy fares, they just need to expose it to the user. Then at least it will be easier for us to make an informed decision about the product they are about to buy.
Would you like to see Google Flights be able to filter out basic economy fares?