A few weeks ago we learned about Bamboo Airways' plans to launch flights between Vietnam and the United States. That's now one step closer to becoming a reality, as the airline has filed with the Department of Transportation (DOT) for permission to operate these flights.
Bamboo Airways' rumored LAX & SFO service
Several weeks ago there were reports of Vietnam's Bamboo Airways intending to launch regularly scheduled nonstop flights between Vietnam and the United States as of September 2021. It was suggested that Bamboo Airways intends to fly from Ho Chi Minh City to both Los Angeles and San Francisco using Boeing 787-9 aircraft.
Specific flight times were even referenced at the time:
The 8,169 mile flight between Ho Chi Minh City (SGN) and Los Angeles (LAX) would land at LAX at 9:30AM and depart again at 12:30PM
The 7,838 mile flight between Ho Chi Minh City (SGN) and San Francisco (SFO) would land at SFO at 10AM and depart again at 1PM
Now, I think it's important to note that we've heard talk about airlines in Vietnam wanting to fly nonstop to the USA for a very long time: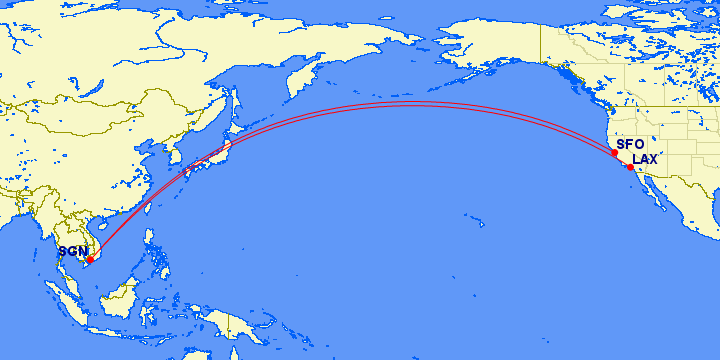 Bamboo Airways requests USA regulatory approval
Bamboo Airways has now filed with the DOT for much broader authority to serve the United States, with the airline officially hoping to launch flights in the third quarter of 2021. The airline has requested permission to:
Operate service between Hanoi and/or Ho Chi Minh City and the United States via intermediate points of Nagoya, Osaka, and/or Taipei (it's noted that the airline wouldn't be able to carry passengers between Japan and the United States, but that's not stated for Taiwan)
Operate flights to Los Angeles, San Francisco, New York, Seattle, and Dallas
Operate even further connecting service between the United States and Canada, to Vancouver, Montreal, and Toronto
It seems highly likely to me that the airline is simply requesting more permission than it will actually need, because as filed, these plans seem bizarre. A Boeing 787-9 can fly nonstop from Ho Hi Minh City to both Los Angeles and San Francisco, which seem like the most likely routes.
A stop would be needed for Dallas and New York service, for example, but I have a hard time imagining that route will become a reality (since in that case the airline doesn't have a competitive advantage over other airlines offering one-stop service).
Then the concept of offering connecting service to Canada is even stranger. What kind of a routing are we talking about here — Ho Chi Minh City to Osaka to New York to Montreal, for example?
Bamboo Airways Boeing 787-9
While I'd absolutely love to see these routes launch, personally I wouldn't consider this a sure bet until the inaugural flight takes off. That's especially true for service to Dallas and New York, as well as for connecting service to Canada.
What is Bamboo Airways, anyway?
For those of you not familiar with Bamboo Airways, it's a privately owned and ridiculously fast growing Vietnamese airline that was founded in 2017. The airline already has dozens of planes, including brand new Airbus A321neos and Boeing 787-9s.
The airline initially operated regionally, and then in early 2020 announced plans to launch its first long haul route to Prague. As you'd expect, that didn't happen quite as planned due to the pandemic.
Frankly I can't fully wrap my head around the economics of this airline. Admittedly many costs (including labor) are lower in Vietnam, and the country is also growing fast and very pro-business. But still, the carrier's growth is… unconventional.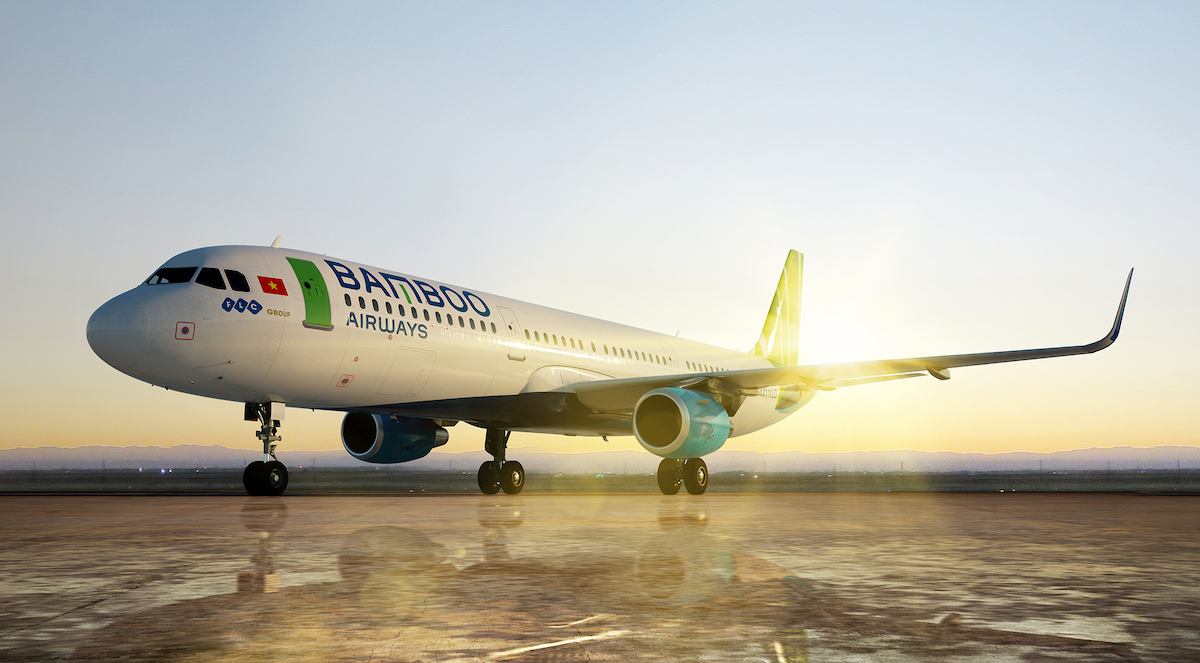 Bamboo Airways also flies Airbus A321neos
What are Bamboo Airways' Boeing 787-9s like?
Bamboo Airways would use Boeing 787-9s for flights to the USA. The airline already has three of these in its fleet, with a further 11 on order. Bamboo Airways has reverse herringbone seats in business class, which are competitive.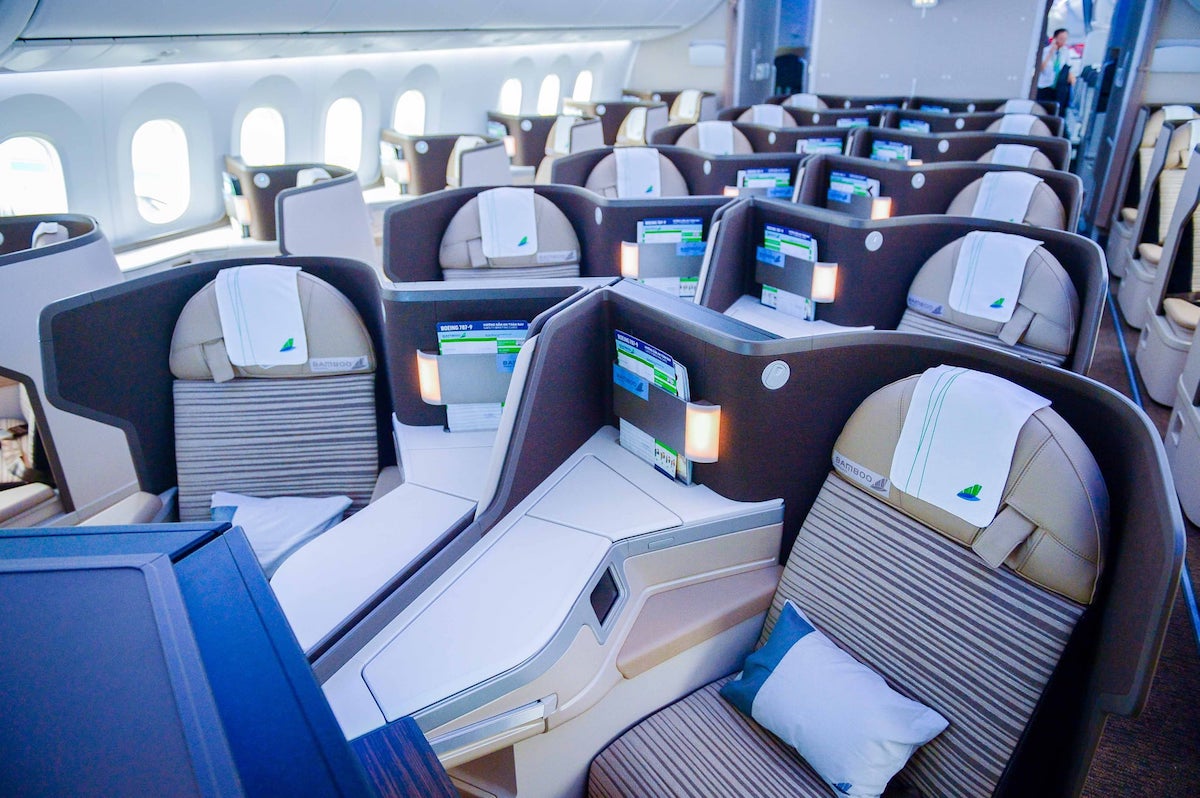 Bamboo Airways 787-9 business class
On top of that, the airline has premium economy and economy seats on Boeing 787-9s.
Bamboo Airways 787-9 premium economy
Perhaps most intriguing is that some of Bamboo Airways' future 787 deliveries will allegedly feature first class suites, so I wouldn't be surprised to see those eventually offered on flights to the United States. We don't know exactly what kind of a product the airline would offer, though.
Bottom line
Bamboo Airways intends to launch flights to the United States in the third quarter of 2021. While initial reports suggested that the airline would fly nonstop from Ho Chi Minh City to both Los Angeles and San Francisco, the airline is requesting permission to route via intermediate points in Asia, and to offer connecting service to Canada, both of which are hard to make sense of.
One thing is for sure — as an airline and passenger experience geek, I'd love to give Bamboo Airways a try. While the airline is offering an intriguing status match campaign, I sure wish Bamboo Airways would have useful airline partnerships for earning & redeeming miles.
Do you think Bamboo Airways will follow through with offering USA service?