A few weeks ago I wrote about how Vietnam's most ambitious airline will be launching long haul flights this spring. Well, the schedule for those flights has now been published, and they're also on sale.
What is Bamboo Airways?
Bamboo Airways is a privately owned Vietnamese airline that took delivery of their first Boeing 787-9 in late 2019.
The airline was founded in 2017, but has huge growth aspirations. Up until a couple of months ago the airline had fewer than 20 planes in their fleet. Now they're expanding significantly, as they take delivery of 30 Boeing 787-9s and 50 Airbus A321neos.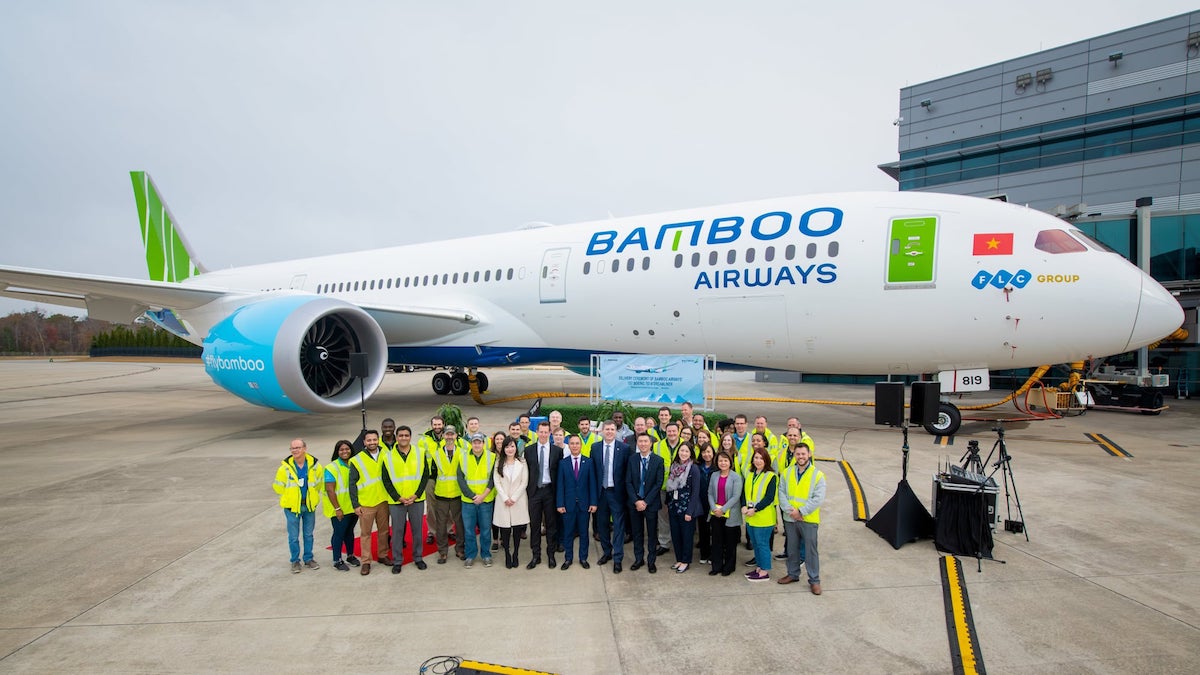 Bamboo Airways 787-9
The airline plans to use the 787-9s to fly to Europe and North America. Heck, the airline has had some pretty bizarre ways they've considered growing.
In June 2019, Bamboo Airways' CEO said that the company was considering leasing A380s so they could fly nonstop between Vietnam and the US as of early 2020. That's a market that's questionable with the 787, let alone the A380.
Bamboo Airways launching Prague flights
Bamboo Airways will be launching 2x weekly Hanoi to Prague flights as of March 29, 2020. The flight will operate with the following schedule on Sundays and Wednesdays:
QH602 Hanoi to Prague departing 9:20AM arriving 4:00PM
QH601 Prague to Hanoi departing 6:05PM arriving 10:40AM (+1 day)
The flight covers a distance of 5,179 miles in each direction. It's blocked at 11hr15min westbound and 11hr35min eastbound, which seems odd, since there's a tailwind heading east.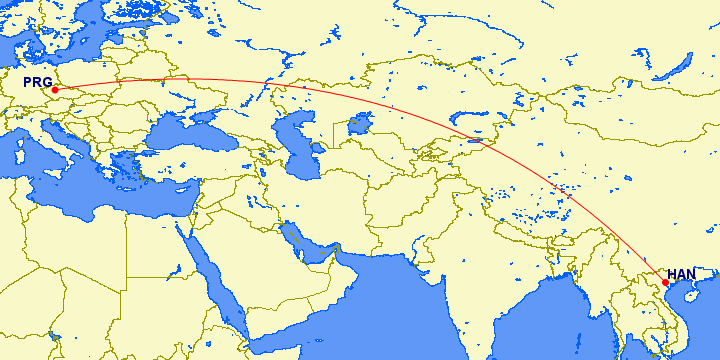 This route might seem random on the surface, though the way the airline sees it:
The Czech Republic has a large Vietnamese population, of around 70,000 people
100,000 people per year already fly between Vietnam and the Czech Republic
There's increasing trade between the two countries
How expensive are Bamboo Airways tickets?
Bamboo Airways tickets between Hanoi and Prague are already on sale, and two things immediately stand out:
Business class fares are outrageously expensive, with no sale so far
Roundtrip fares are the same whether you're originating in Hanoi or Prague (which is rare, since airlines often price differently based on the market you're originating in)
Before taxes and fees, one-way business class fares are more than 10x as expensive as one-way economy fares.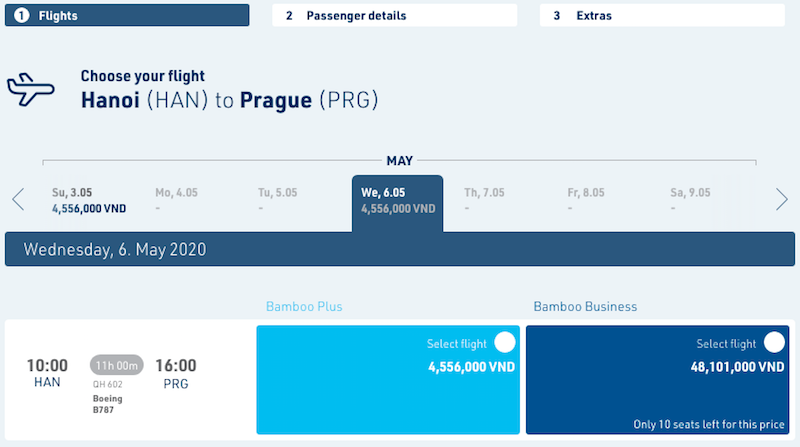 It looks like the cheapest roundtrip economy fare is 16,625,000VND, or about 715USD.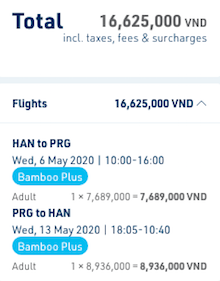 Meanwhile the cheapest roundtrip business class fare is 102,527,000VND, or about 4,410USD.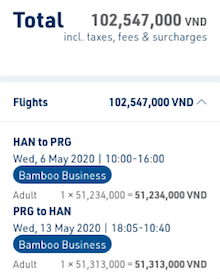 That business class pricing seems awfully steep for what's a new leisure airline launching long haul flights next month.
Bamboo Airways' 787-9s
The airline currently has four Boeing 787-9s, which they're just using to operate domestic flights within Vietnam.
Bamboo Airways' 787-9s are really nice-looking, with reverse herringbone seats in business class.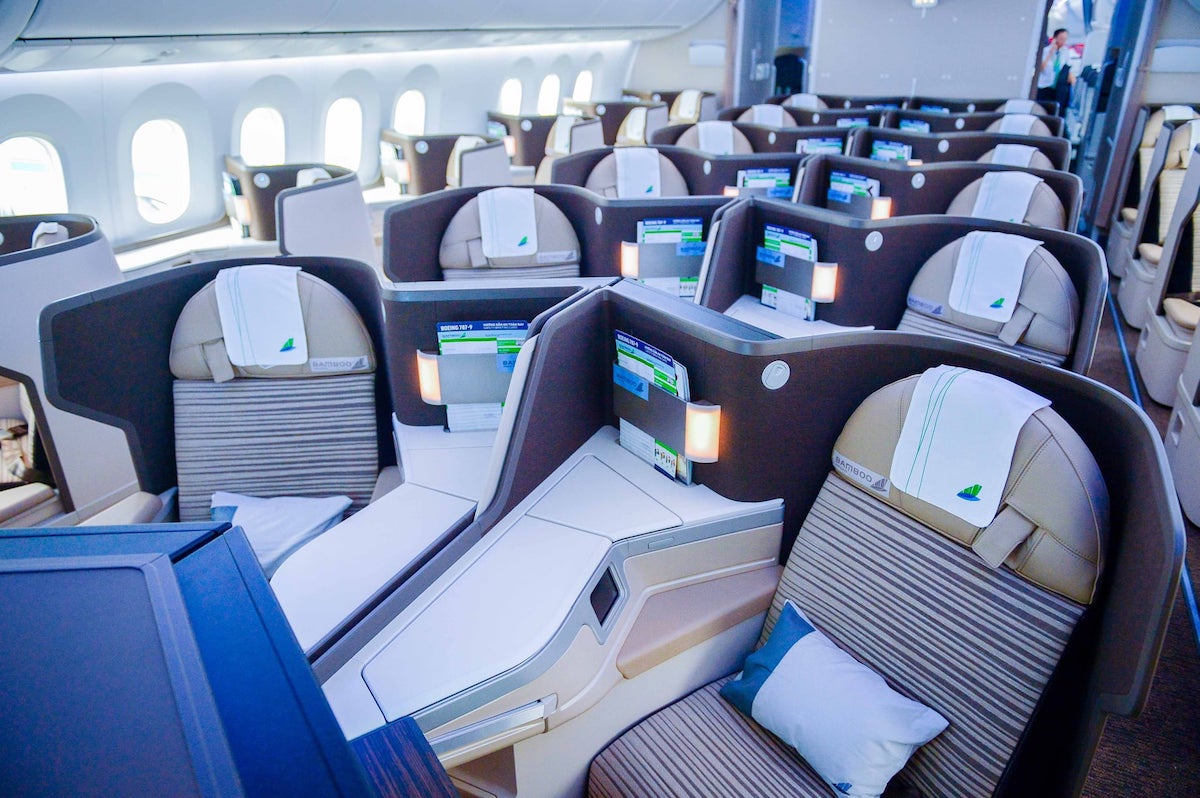 Bamboo Airways business class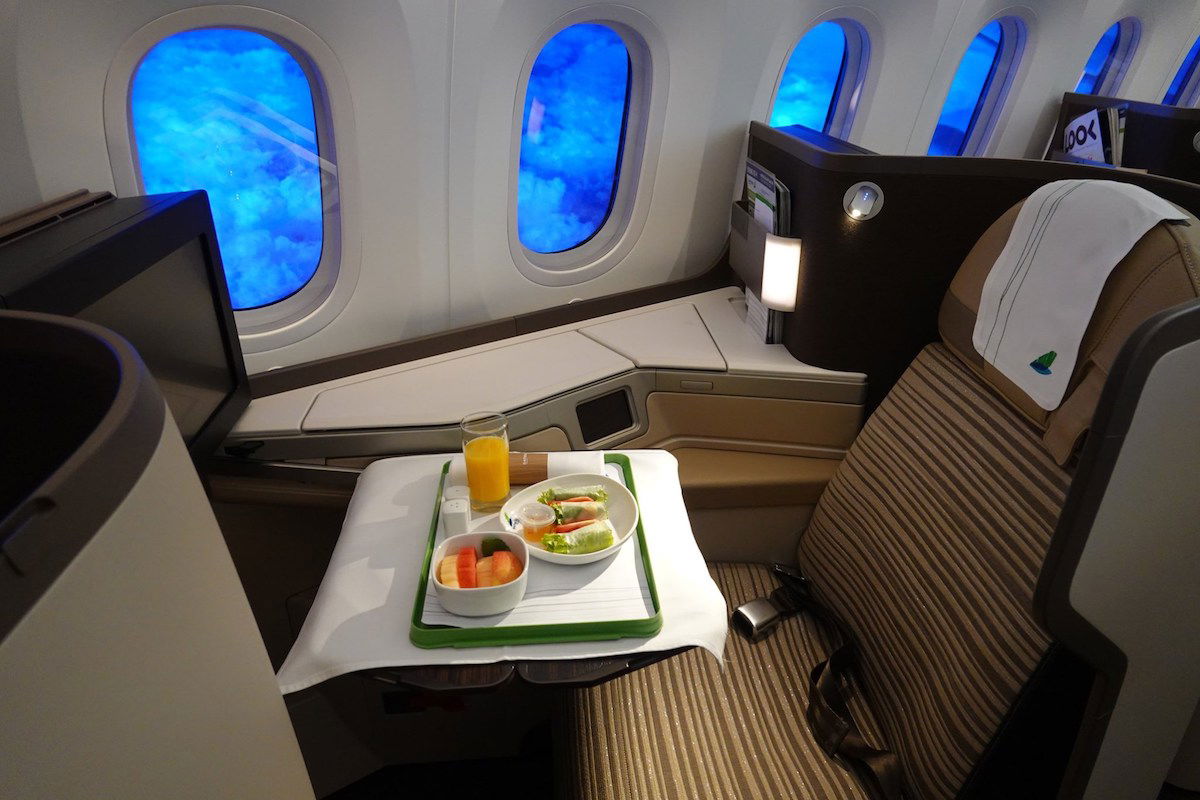 Bamboo Airways business class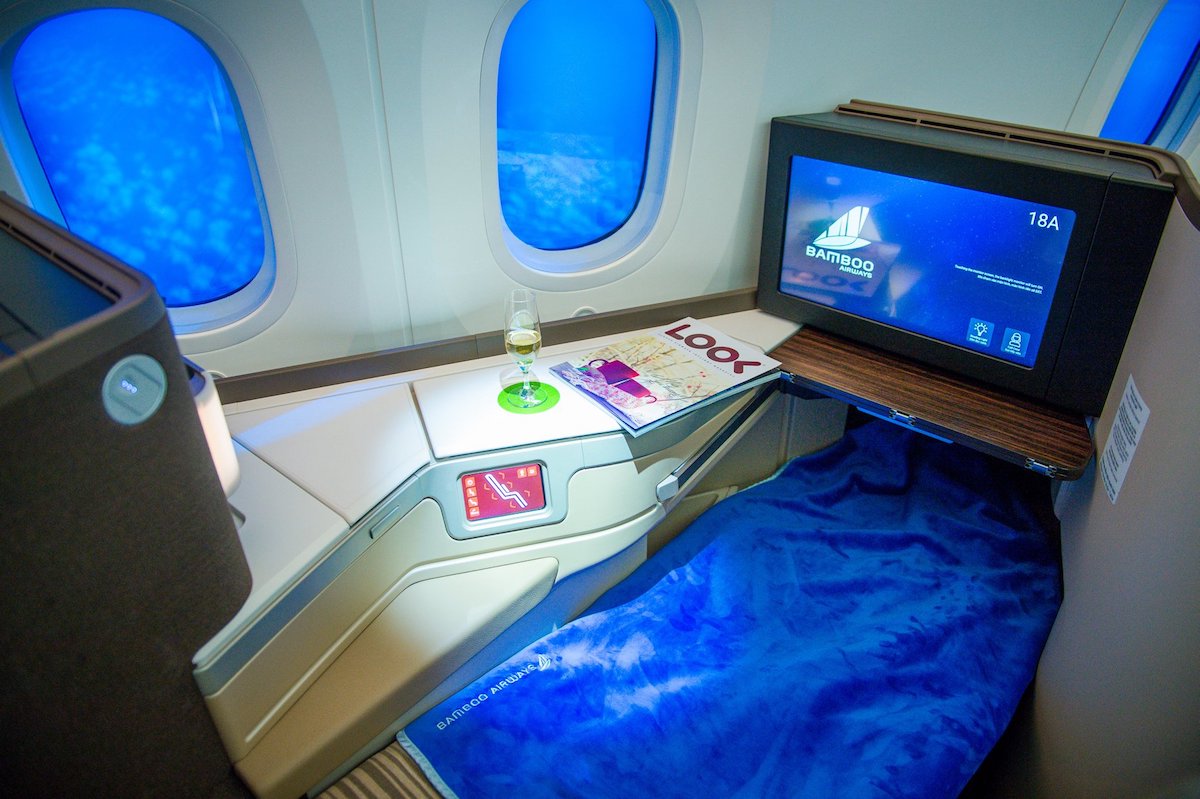 Bamboo Airways business class
When the airline first took delivery of the 787-9 it was believed that these planes would also feature first class. However, as it turns out, their first few 787s won't have first class, while the ones delivered later on allegedly will.
I'm still curious what their first class will look like, since pictures and details haven't been revealed, other than that there will be four seats.
Bottom line
Bamboo Airways will be launching flights to Prague as of late next month, which will mark their first long haul route. That's an exciting development, though their premium fares seem rather high, given the circumstances.
I hope to try Bamboo Airways eventually, and I'm curious to see how their big expansion goals work out. Vietnam is a low yield, largely leisure, destination, so the concept of another long haul airline from there seems puzzling on the surface.