---
I got to LAX at around 7AM for my 10:15AM flight to Bogota (I figured I'd arrive a bit early to try and beat rush hour, since I had a lot of stuff to get done before the flight anyway). Avianca departs from Terminal 2 at LAX, which nowadays seems to be the secondary international terminal, after Tom Bradley International Terminal.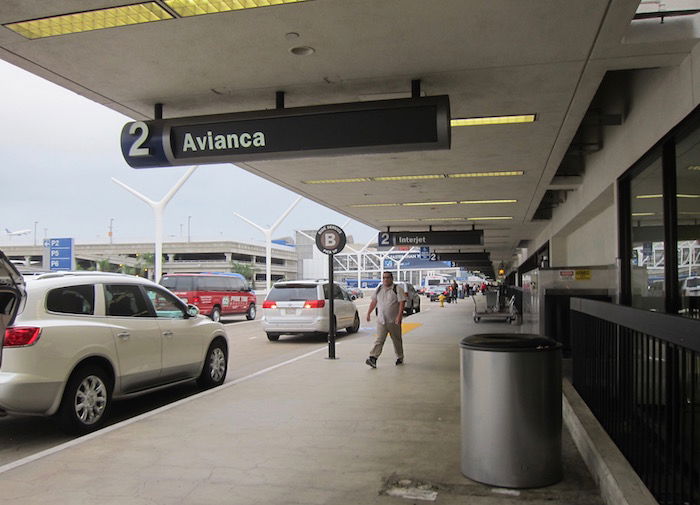 Avianca check-in at LAX Terminal 2
Avianca's check-in was located towards the far end of the terminal, and since I arrived quite early, it was still fairly empty.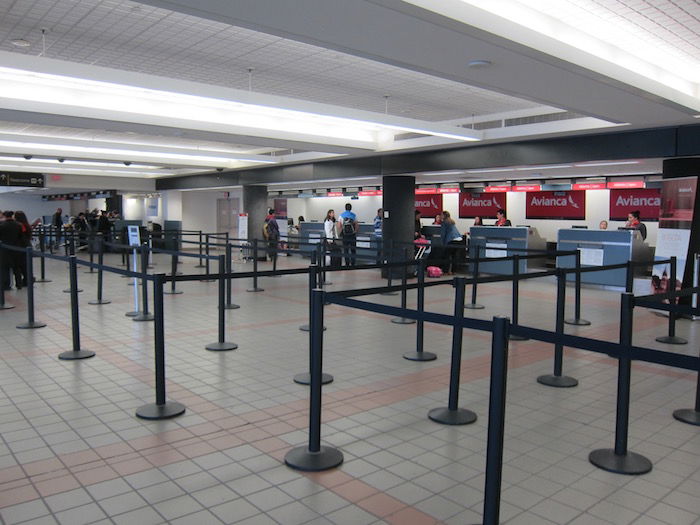 Avianca check-in at LAX Terminal 2
The premium check-in was located at the far left, and there was no queue as I arrived.
"You fly on da plane to Bogota today?"
"Yep!"
"Where your final destination?"
"Madrid."
"In eh-Spain?"
"Yes ma'am."
"And you fly to da Bogota first?"
"Yes."
She raised her eyebrow at me.
"How many bags you check?"
"I just have hand luggage."
"Please put it on da scale."
In this case I was just traveling with a weekender bag, so it seemed to arouse even more suspicion with her.
"You're traveling to Madrid with just that bag?"
Soon enough I had my boarding passes all the way to Madrid, and was informed that I could use the Air Canada Lounge.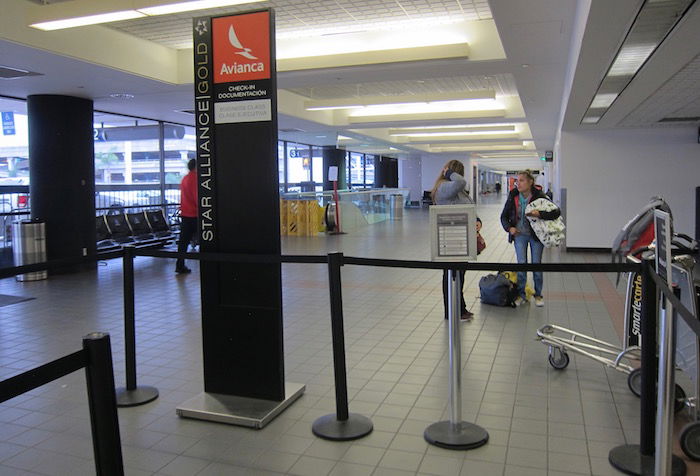 Avianca business class check-in at LAX Terminal 2
Security took a while, though fortunately there's a premium queue. However, you have to specifically ask in order to access it, which I knew to do based on the past flights I've taken out of Terminal 2.
LAX has done a nice job with Terminal 2 renovations, as it's now a beautiful terminal.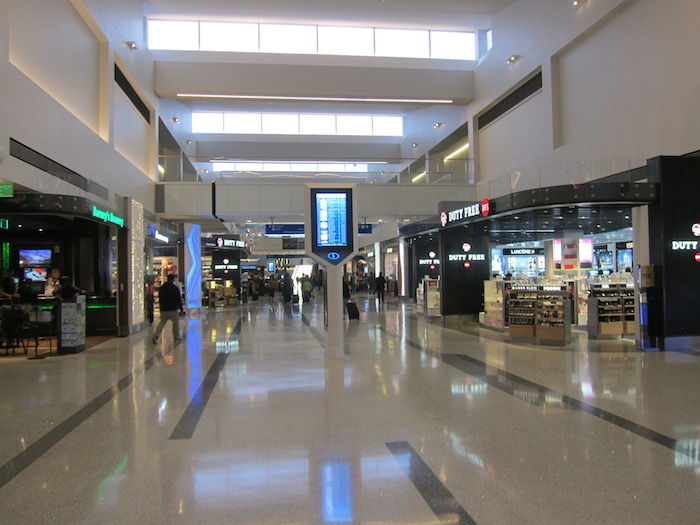 LAX Terminal 2 airside
I headed up to the Air Canada Lounge, which is the biggest lounge in Terminal 2. It's the lounge used for all premium passengers departing out of the terminal, except those on Virgin Atlantic, as they have their own lounge. But all other premium passengers, along with Priority Pass members, can use the Air Canada Lounge. I've reviewed it before, so won't be reviewing it again. Fortunately it was quite empty when I was there, as the Avianca flight departs before the noon rush.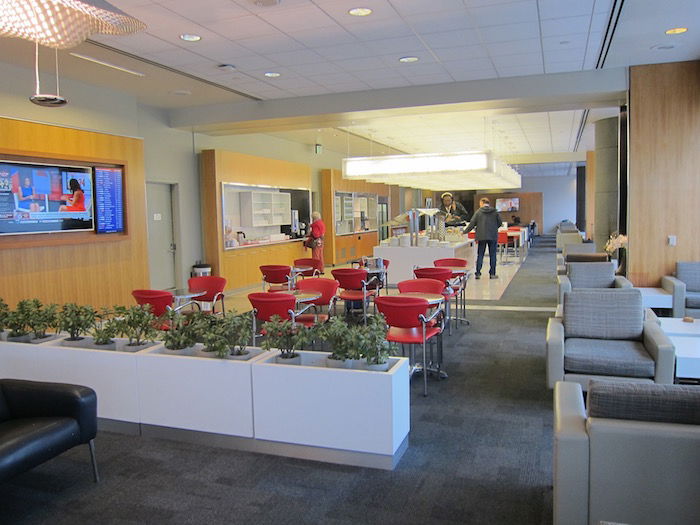 Air Canada Lounge LAX Terminal 2
As I was in the lounge I saw the Avianca 787 I'd be taking to Bogota being towed to the gate. The flight from Bogota arrives the night before, so the plane overnights at LAX. It's towed over to a remote part of the airport overnight, and then towed to the gate about 90 minutes before departure.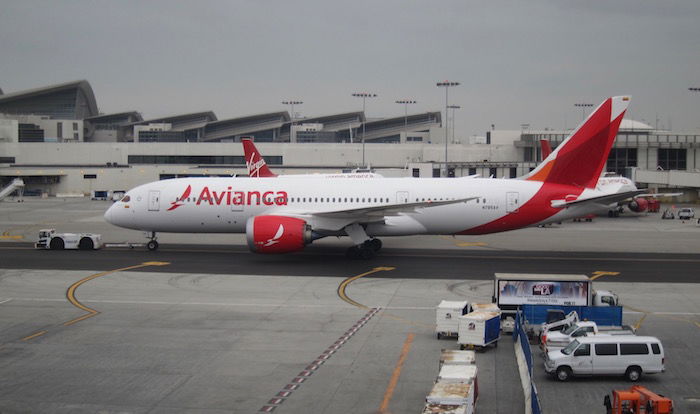 Avianca 787 LAX
I headed down to the departure gate at around 9:15AM, which was the boarding time published on the boarding pass. That seemed a bit early, as it was a full hour before departure. Boarding finally commenced at around 9:25AM, which was 50 minutes before departure.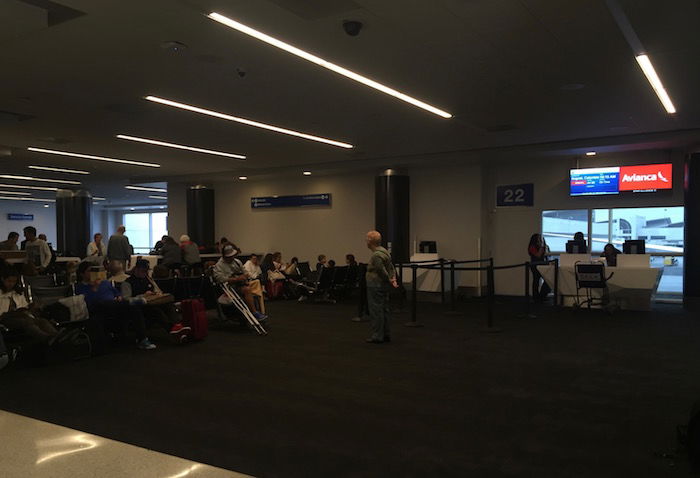 Avianca departure gate LAX Terminal 2
My flight was being operated by N785AV, a 787-8 which was delivered to Avianca in October 2015.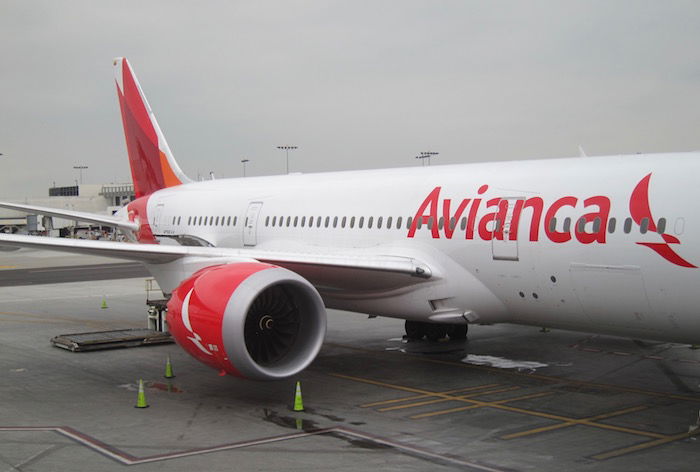 Avianca 787 LAX
Avianca 85
Los Angeles (LAX) – Bogota (BOG)
Tuesday, May 10
Depart: 10:15AM
Arrive: 7:30PM
Duration: 7hr15min
Aircraft: Boeing 787-8
Seat: 3K (Business Class)
I boarded through door L2, where I was greeted by the flight attendants and pointed left and towards the far aisle, where my seat was located. Avianca's 787 business class consists of a total of 28 seats, spread across two cabins. The forward cabin (between the first and second door) has a total of five rows, while the rear cabin has two rows (stay tuned for the next installment, as I sat in the mini-cabin on the Bogota to Madrid flight).
Avianca has reverse herringbone seats in business class on the 787, which is among my favorite business class hard products.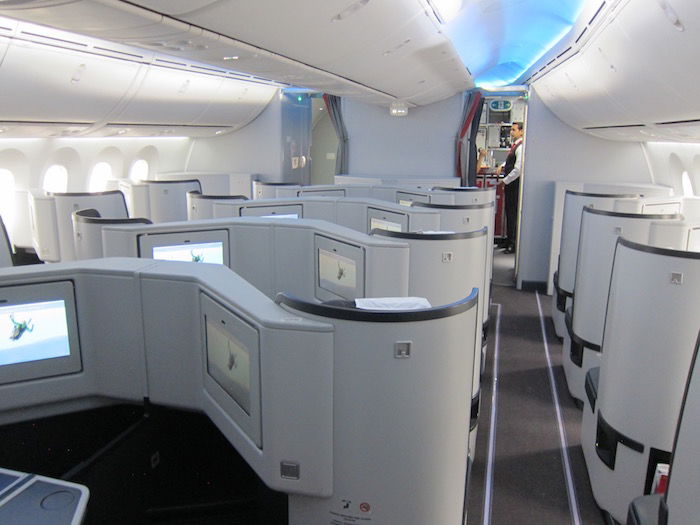 Avianca business class cabin 787
While reverse herringbone seats are pretty common nowadays, every airline has slightly different finishes. Overall I'd say Avianca's cabins are quite bland, at least in terms of the color patterns.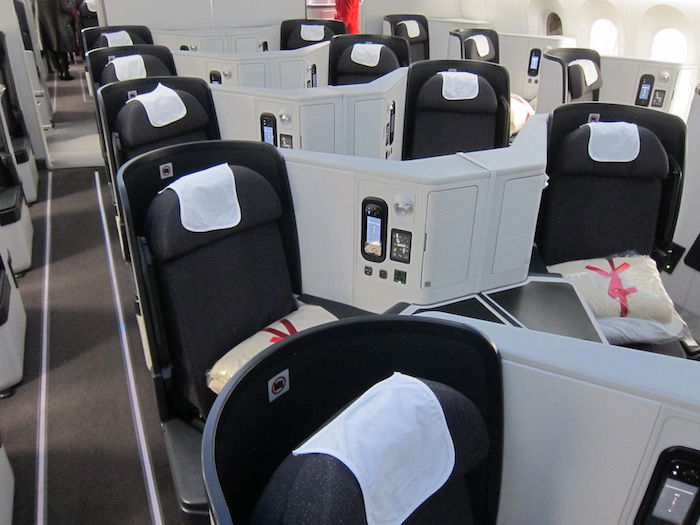 Avianca business class cabin 787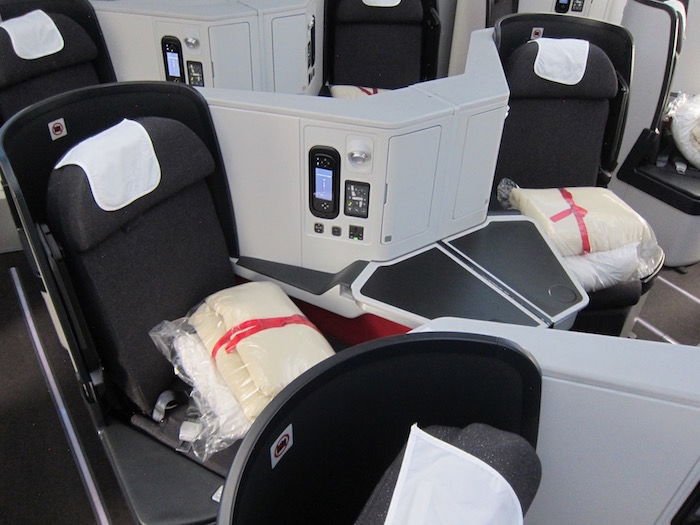 Avianca business class seats 787
As stated above, I had assigned myself seat 3K, a window seat in the third row on the right side.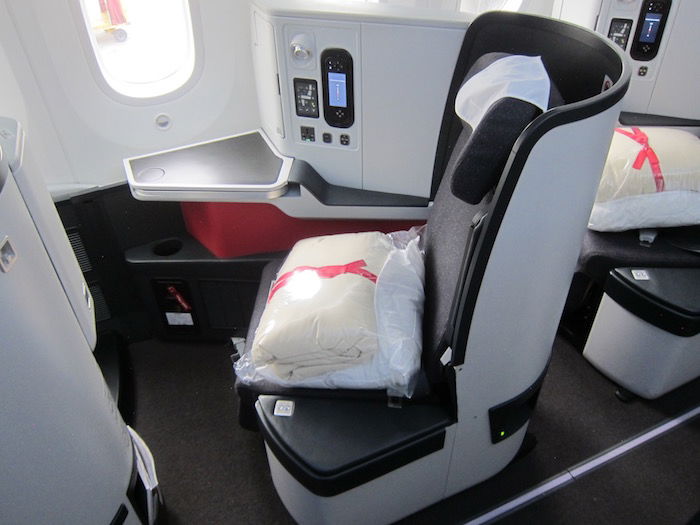 Avianca 787 business class, seat 3K
As is the norm with reverse herringbone seats, the video monitor folded out from the seat in front.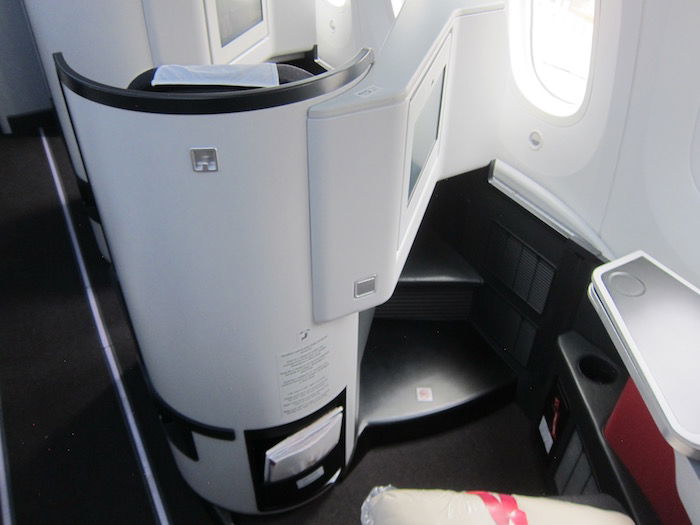 Avianca 787 business class, seat 3K
The ottoman at the seat was fairly large, in the sense that I could place my feet there without feeling too constrained. Overall it's a very nice configuration, in my opinion.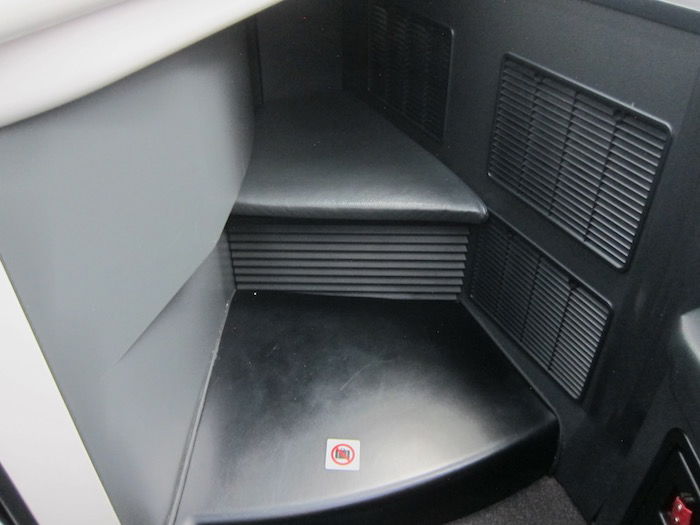 Avianca 787 business class legroom
On the right side of the seat were the easy to use seat controls, entertainment controls, and a reading light. There were also power ports (both USB and 110v), as well as the headphone jack.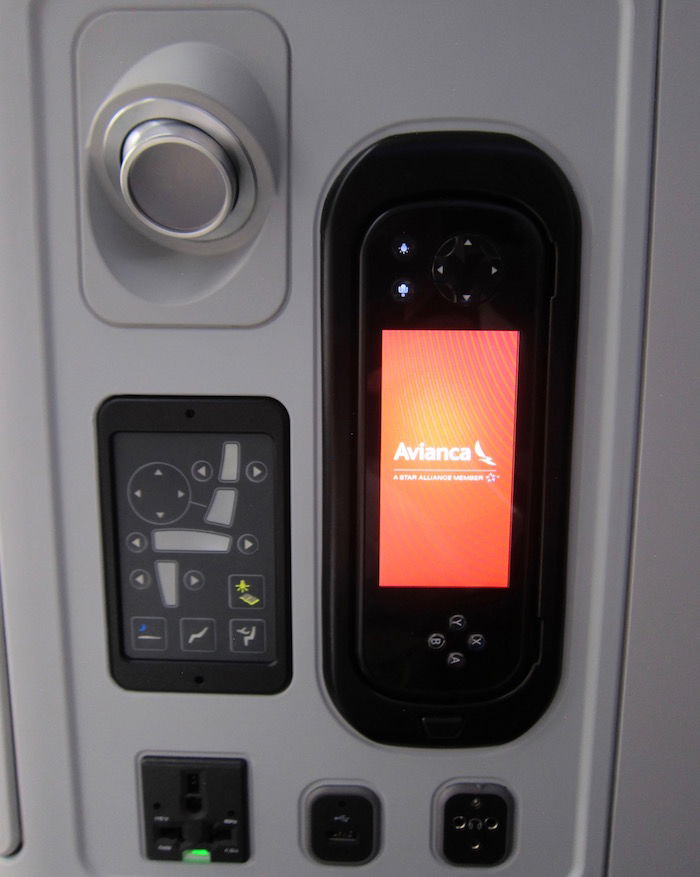 Avianca 787 business class seat & entertainment controls
Just past that was a small storage compartment, which is where the headphones were located.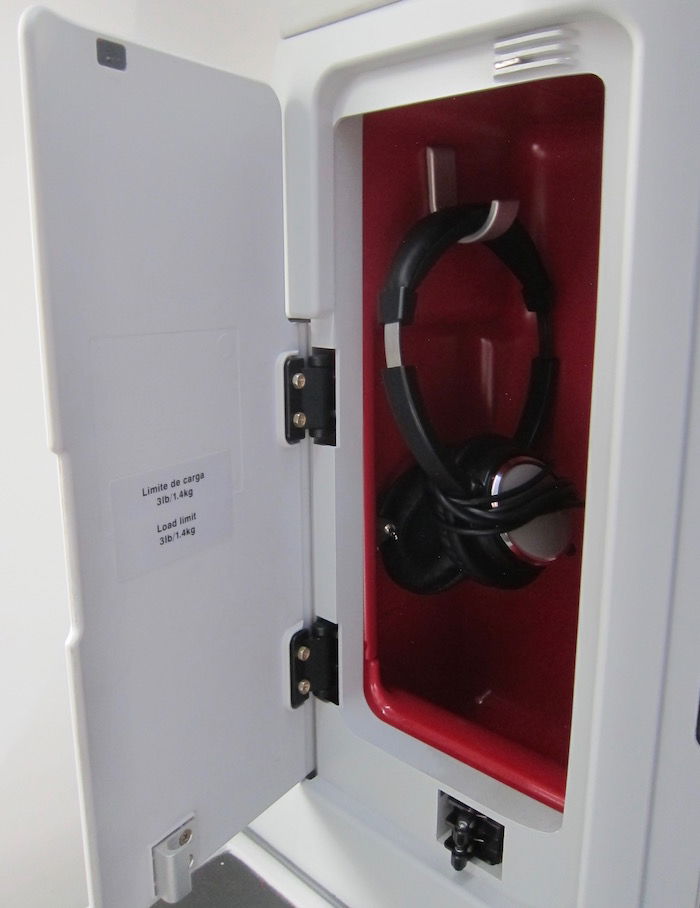 Avianca 787 business class headphones & storage
The headphones were pretty crappy quality, both in terms of the noise cancelling capabilities, and also in terms of comfort. Then again, it's sometimes surprising which airlines do and don't have good headphones. For example, American business class has Bose headphones, which is better than what you'll find in Emirates first class.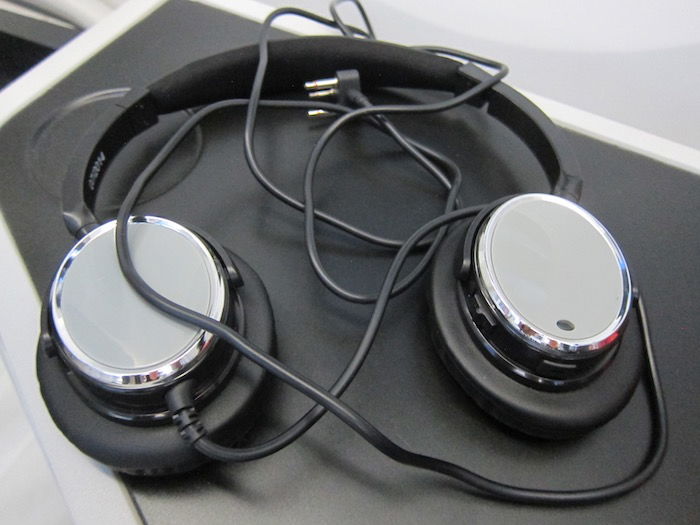 Avianca 787 business class headphones
Below the storage compartment for headphones was a good size table, which was big enough to store my laptop during the flight.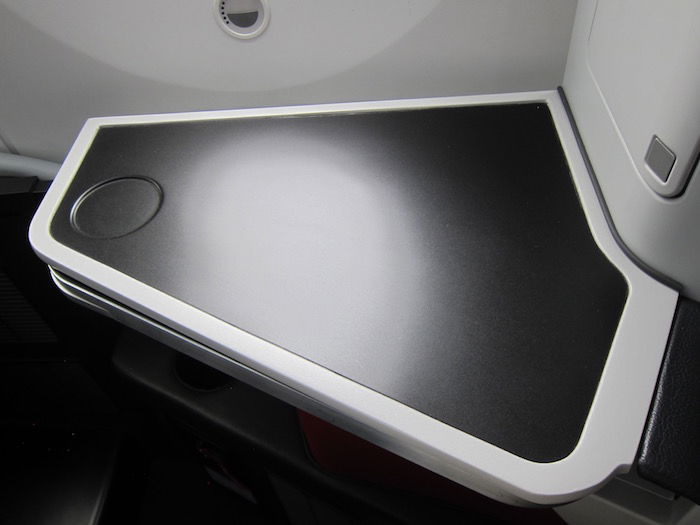 Avianca 787 business class side console
Below the window-side table was a cupholder.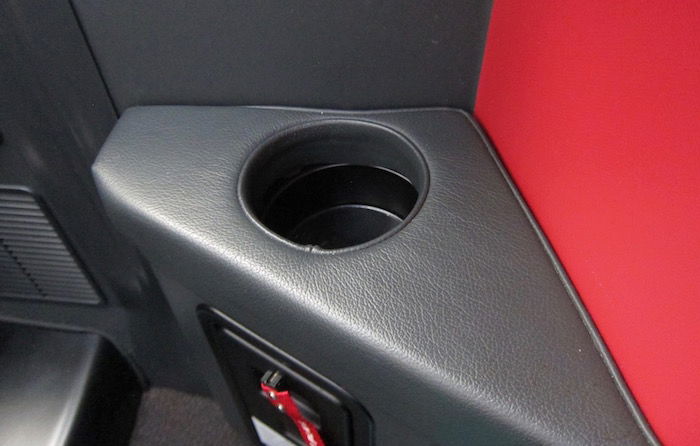 Avianca 787 business class cupholder
One unique feature of this seat was that it had a legitimate armrest on the aisle-side of the seat. Typically reverse herringbone seats have a pop-up console, which can turn into an armrest. In Avianca's case they have an armrest which you have to lower (it has to be up for takeoff), and then below it they have a storage compartment.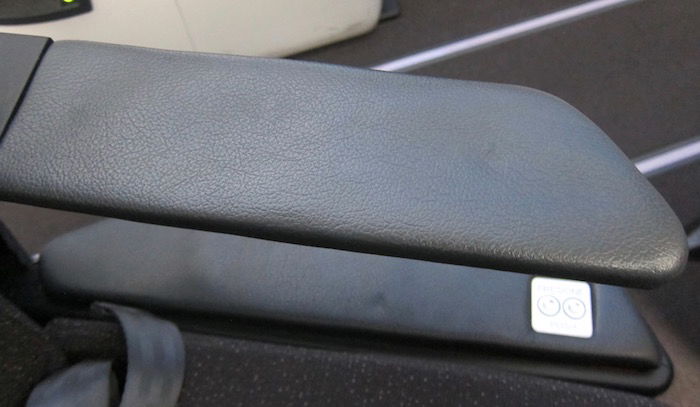 Avianca 787 business class aisle side armrest
I thought that was well designed, because reverse herringbone seats don't otherwise have many closed areas where you can store belongings.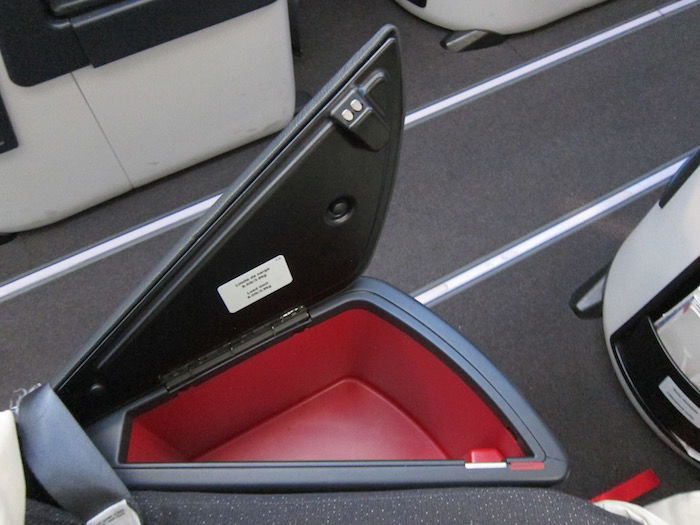 Avianca 787 business class storage
On the seat in front was a magazine rack.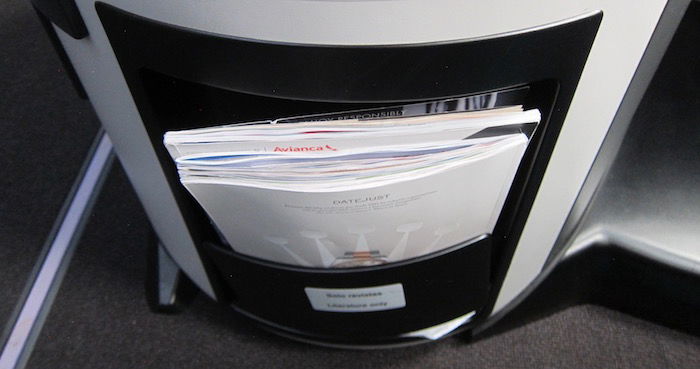 Avianca 787 business class magazine rack
Now that the hard product is covered, let's talk about the soft product.
Waiting at my seat on boarding was a package with a great pillow and blanket. The pillow was huge and comfy, while the blanket was plush. I thought it was cute that the blanket came with a ribbon, though oddly the ribbon couldn't easily be removed, as it was stitched into the blanket, so I left it on throughout the flight.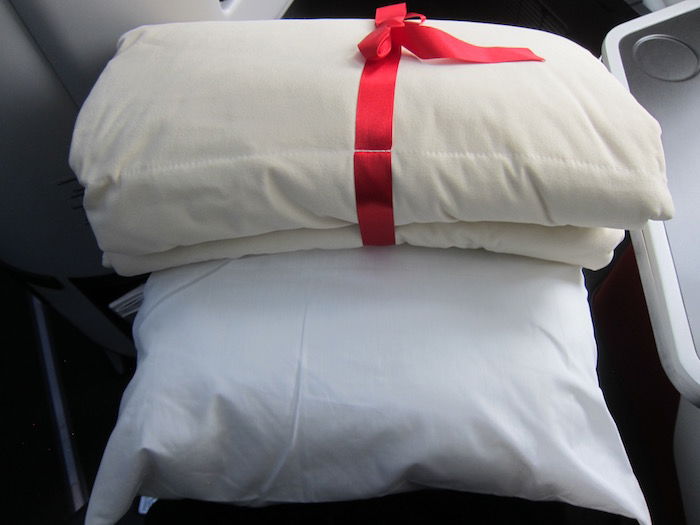 Avianca business class pillow & blanket
About five minutes after settling in a flight attendant came by with pre-departure beverages — the choices were between water and orange juice. The flight attendant who served me had zero charm or expressions on her face. She held out the tray, said nothing, and didn't move her face. I chose a glass of water.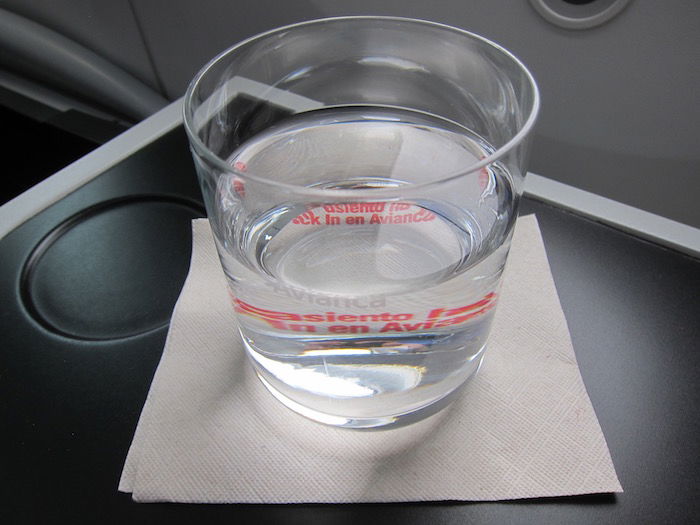 Avianca business class pre-departure water
A few minutes later she returned with a shoe bag and an amenity kit. Again, she didn't say anything, but just held them out for me to take.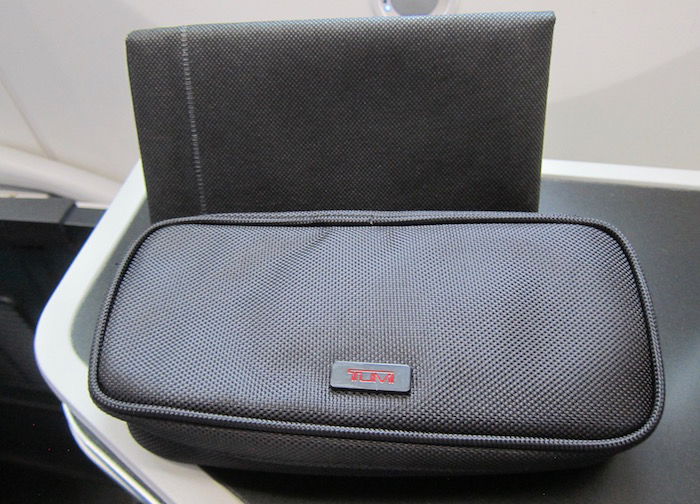 Avianca business class Tumi amenity kit
It's pretty cool that Avianca offers Tumi amenity kits, much like Delta does in business class. The kit was fairly well stocked, with eyeshades, socks, earplugs, tissues, a pen, toothpaste, a toothbrush, lip balm, hand cream, and more.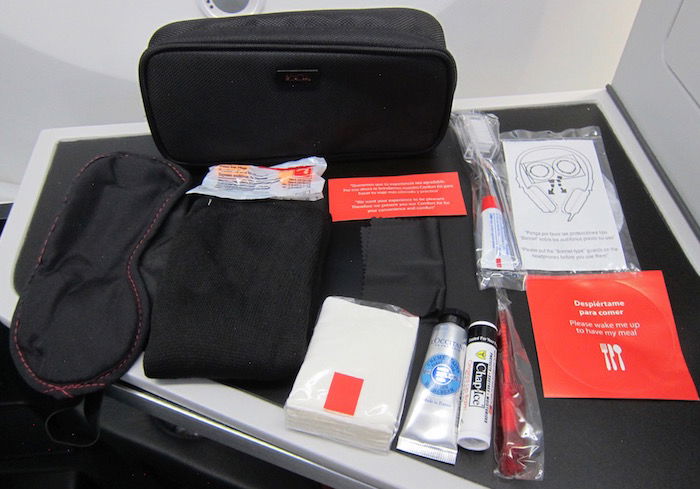 Avianca business class Tumi amenity kit contents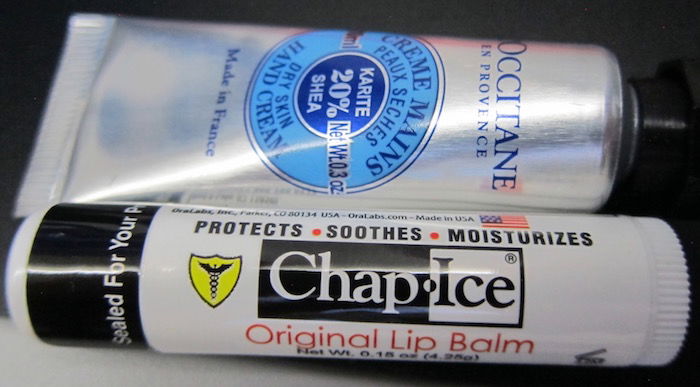 Avianca business class Tumi amenity kit lip balm and hand cream
About 15 minutes after being offered the amenity kit, another flight attendant (who was slightly friendlier) came around with the menu for the flight.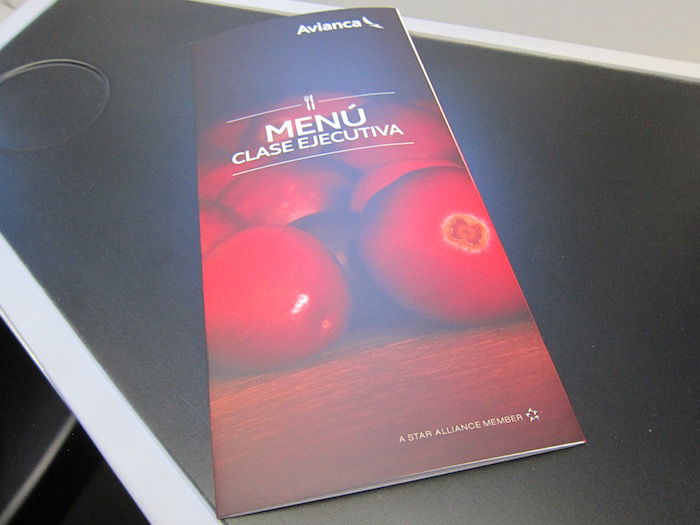 Avianca business class menu
I should note that Avianca has an annoying boarding video, in my opinion. It's sort of upbeat and repetitive elevator music while showing all kinds of destinations. It's similar to this video, but at least based on my recollection, significantly more annoying:
https://www.youtube.com/watch?v=6g9FGHBciPQ
The cabin filled up as boarding continued, and eventually all but a few seats were taken. Avianca seems to offer a lot of day of departure upgrades, because the day before departure the flight showed wide open in business class.
At around 10AM captain Don came on the PA to introduce himself and first officer Alejandro, who would be flying us to Bogota. He seemed rather chipper, and informed us of our flight time of 6hr30min, and that we were expecting nice weather enroute. He also said "we invite you to pay attention to the crew's instructions."
Interestingly all the crew's announcements came in that form. For example, the flight attendants announced that they "invite passengers to return to their seats when the seatbelt sign is on." Quite a contrast from the US, where you're basically threatened.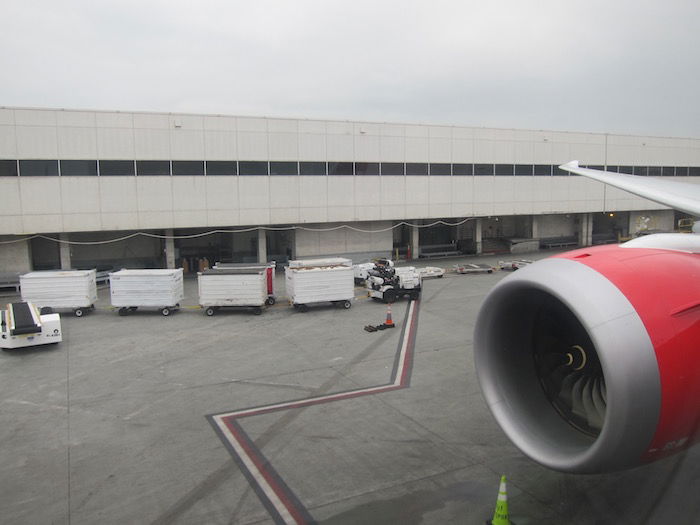 Avianca 787 pushback LAX
Shortly after 10AM the safety video began to play, while we were still at the gate. It was a rather boring video, though at least wasn't cringeworthy.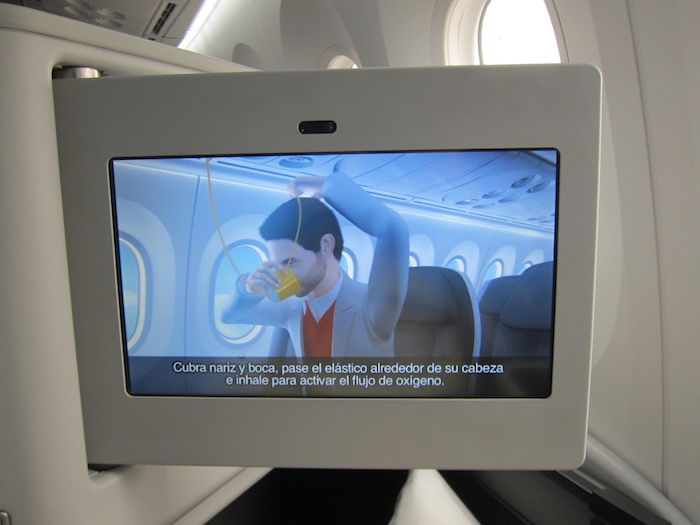 Avianca 787 safety video
The 787 doesn't have window shades, but instead has built in dimmers. I was having issue with my dimmer at the gate, which seems to be a common problem for me, as it kept dimming automatically.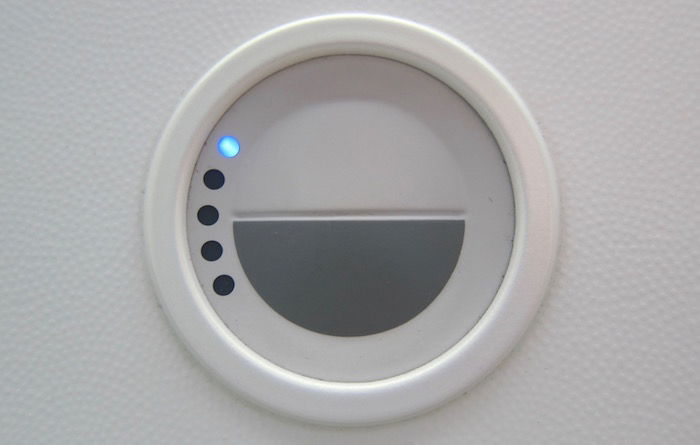 Avianca 787 window shade dimmers
We began our pushback at 10:10AM, a bit ahead of schedule.
We had some cool views as we taxied out. First we had views of the Virgin America planes at the terminal next to us.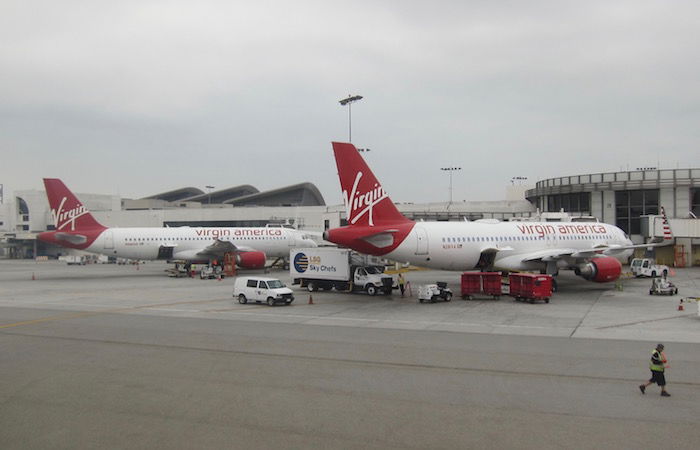 Virgin America planes at LAX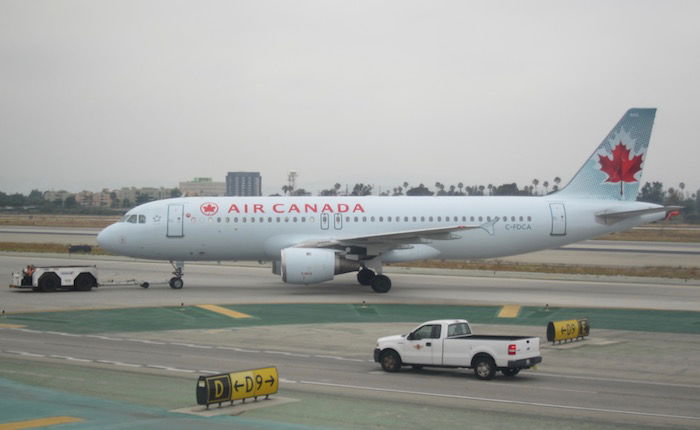 Air Canada A320 LAX
The good thing about Terminal 2 is that it's right by runway 24L, so our taxi took less than five minutes. The flight attendants were fairly thorough with their safety checks, and interestingly told me that I couldn't use my blanket during takeoff, but rather had to place it on the floor.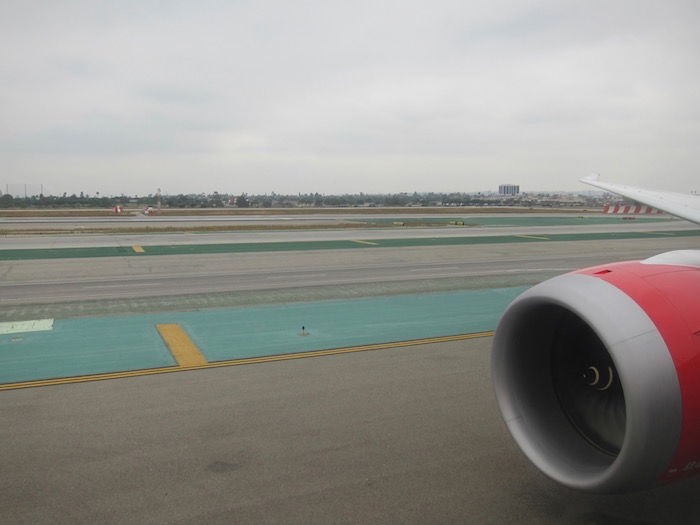 Taxiing LAX
As we taxied east we had good views of Terminals 1 & 2, including of the tower, a Hawaiian A330, and lots of Southwest 737s (if you can call that a "good view"). 😉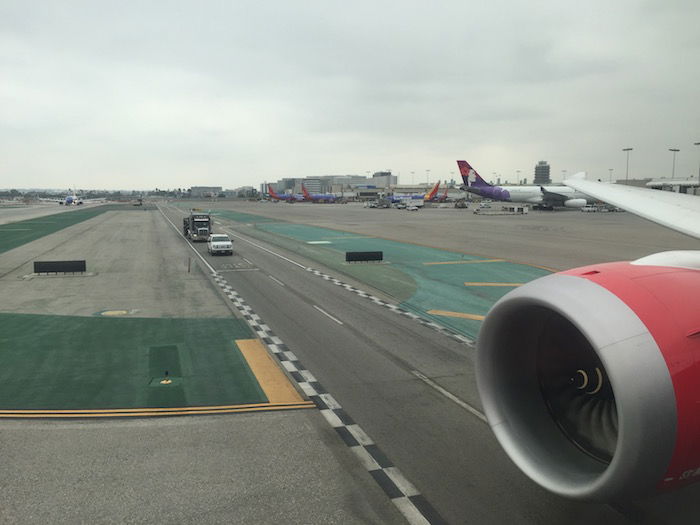 Taxiing LAX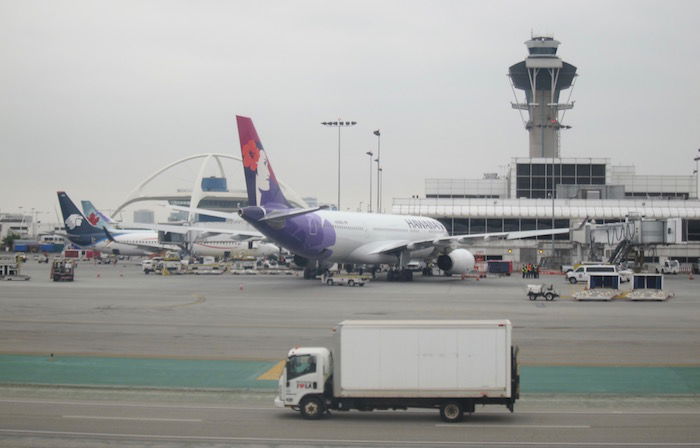 Hawaiian A330 LAX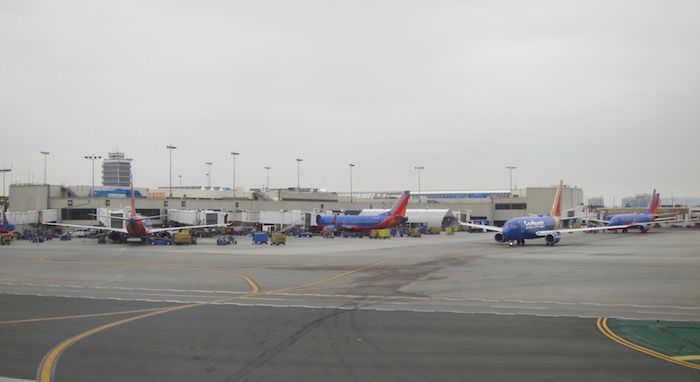 Southwest Terminal 1 LAX
By 10:20AM we were cleared for takeoff, as we were number one when we got to the runway.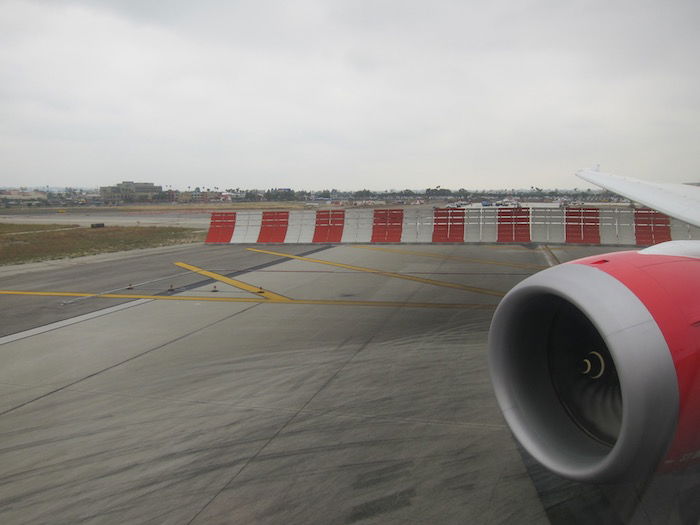 Taking off LAX
Our takeoff roll was pretty quick, and initial climb out was smooth.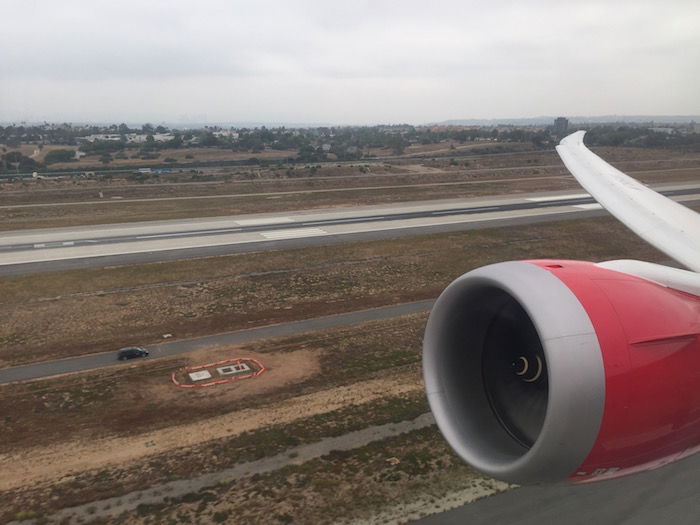 View after takeoff from LAX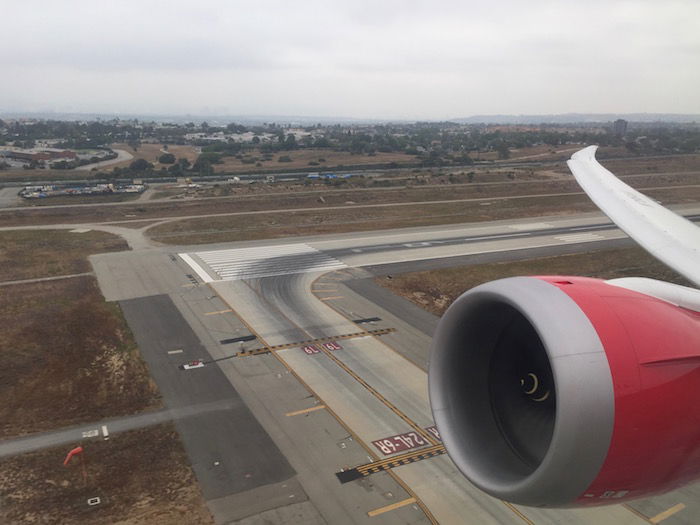 View after takeoff from LAX
The views of the coastline are usually beautiful as you leave LA, though the weather was sort of crappy — June gloom has come early to LA this year.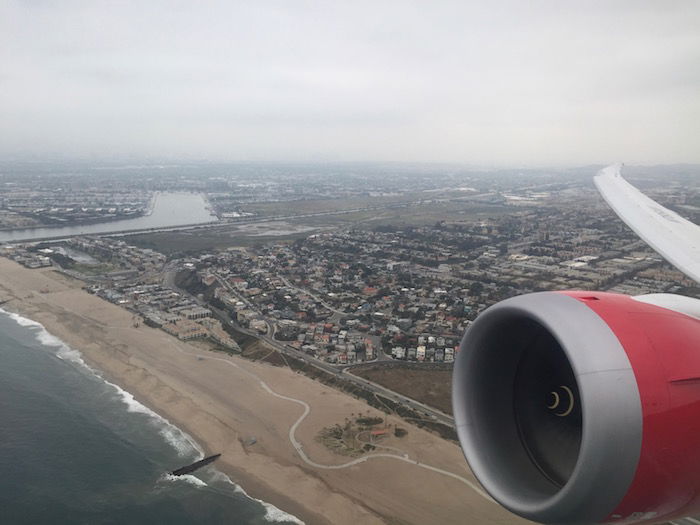 View after takeoff from LAX
As usual, it was a beautiful day above the clouds.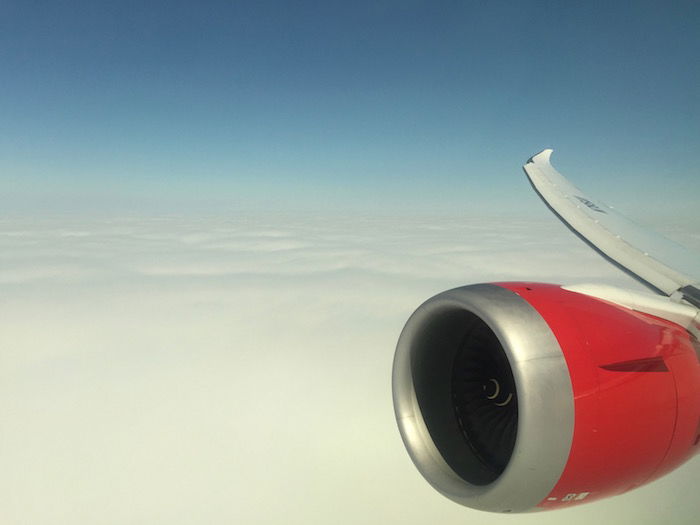 Climbing out
Despite a smooth climb out, the seatbelt sign wasn't turned off until 25 minutes after takeoff. And the seatbelt sign was strictly enforced in the meantime — two announcements were made on the climb out to remain seated.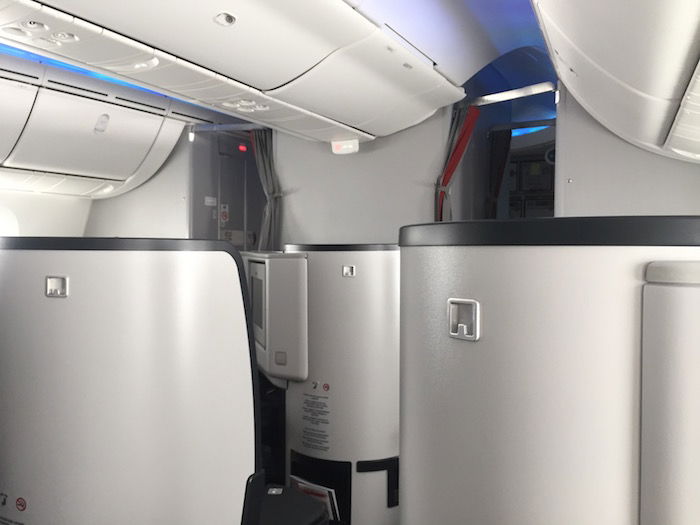 Avianca 787 business class cabin after takeoff
As we climbed out I turned on my personal television and browsed my options. The system was responsive, which I liked — I hate when there's a huge delay between inputs and when the system displays your selection.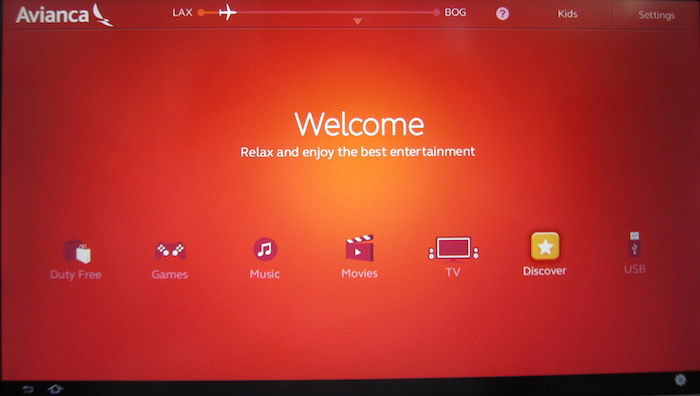 Avianca 787 entertainment system
I started with the airshow.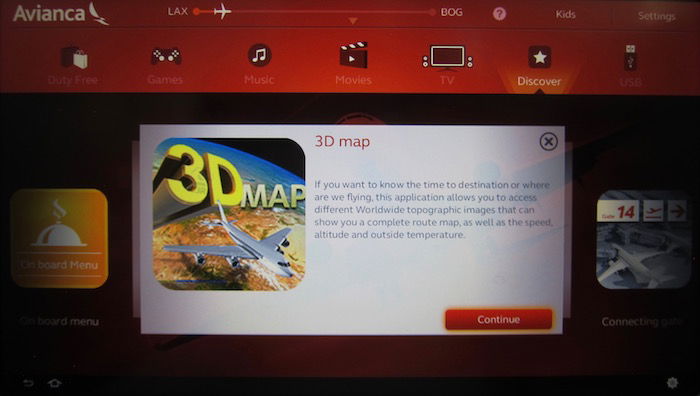 Avianca 787 airshow
Avianca's airshow is one of those systems which is constantly changing between different views, so it can be quite fun to watch.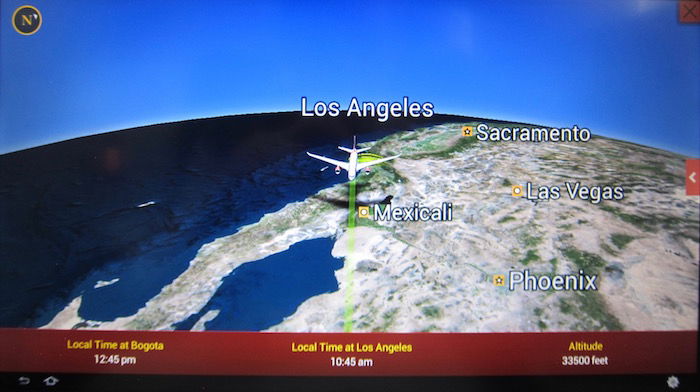 Avianca 787 airshow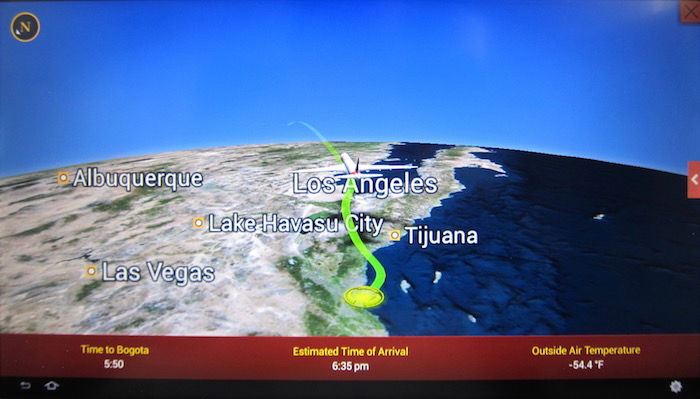 Avianca 787 airshow
Then I browsed the entertainment selection, which exceeded my expectations, both in terms of movies and TV shows. They had a good variety, though I wish for TV shows they had more than just a couple of episodes of each. I love when airlines have whole seasons, for example.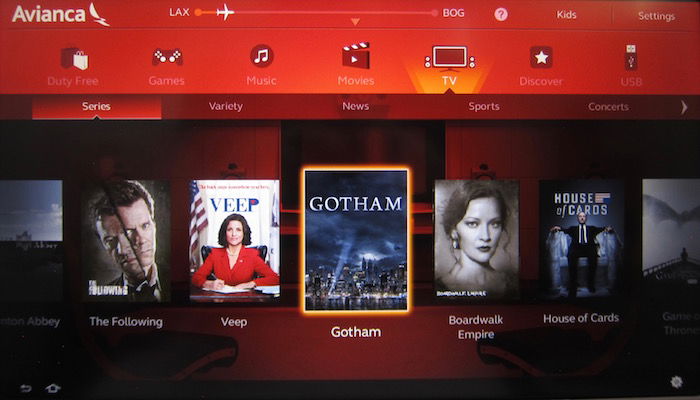 Avianca 787 entertainment selection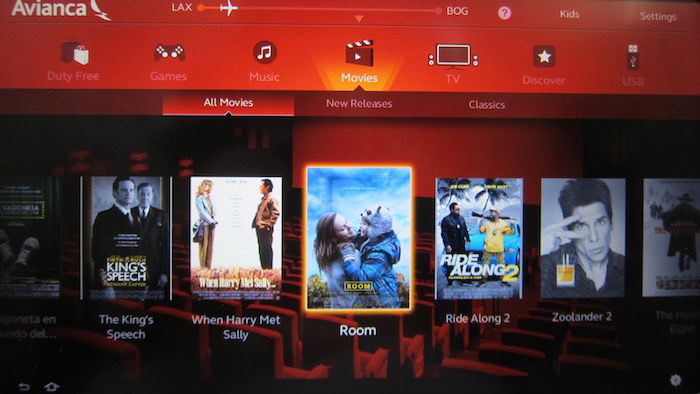 Avianca 787 entertainment selection
I ended up watching "Beyond Magic with DMC." This particular episode was about mentalism, and fascinating to watch.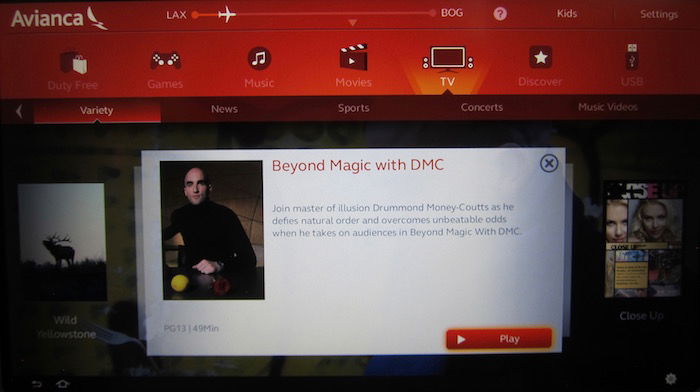 Avianca 787 entertainment selection
Once the seatbelt sign was off I checked out the lavatory. While some airlines have nice lavatories in 787 business class between the two cabins, Avianca just has two lavatories in the front of the cabin, which were small. I wasn't impressed by the setup.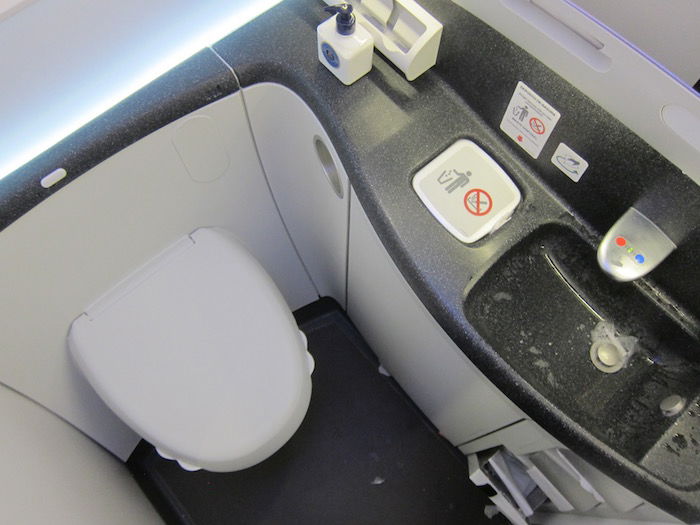 Avianca 787 business class lavatories
On the plus side, they did have L'Occitane hand lotion.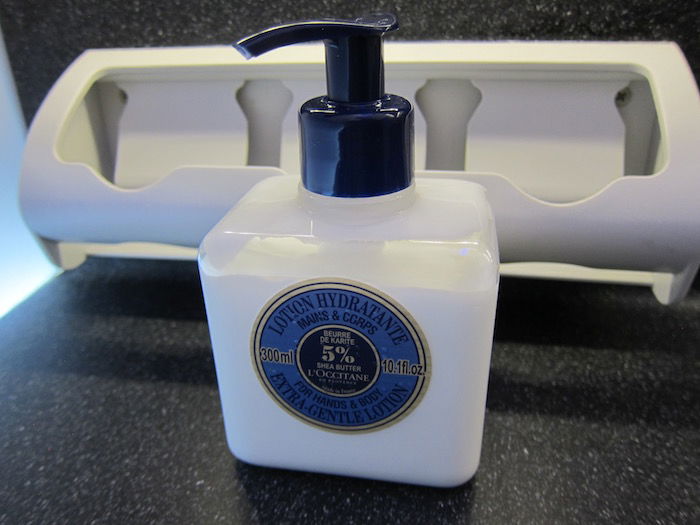 Avianca 787 business class lavatories
About 40 minutes after takeoff the flight attendants came through the cabin with hot towels.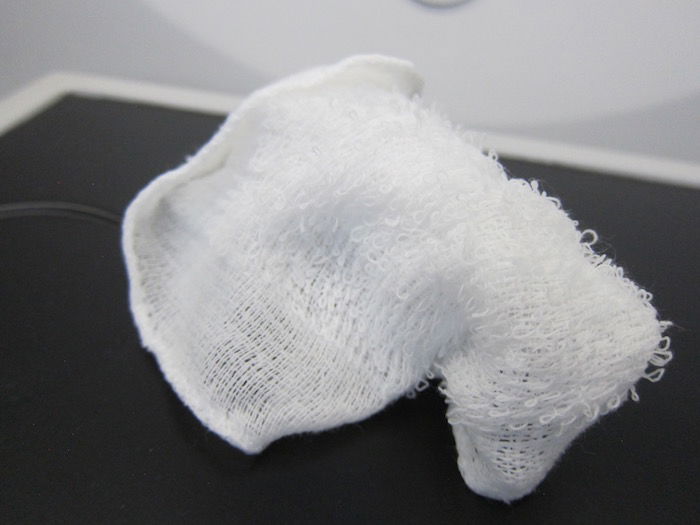 Avianca business class hot towel
Shortly thereafter they brought around tablecloths. I should note that the trays in Avianca's 787 business class are quite small, at least compared to some other airlines.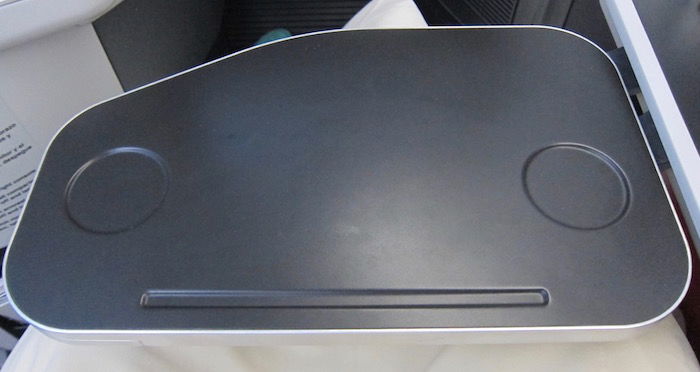 Avianca business class tray table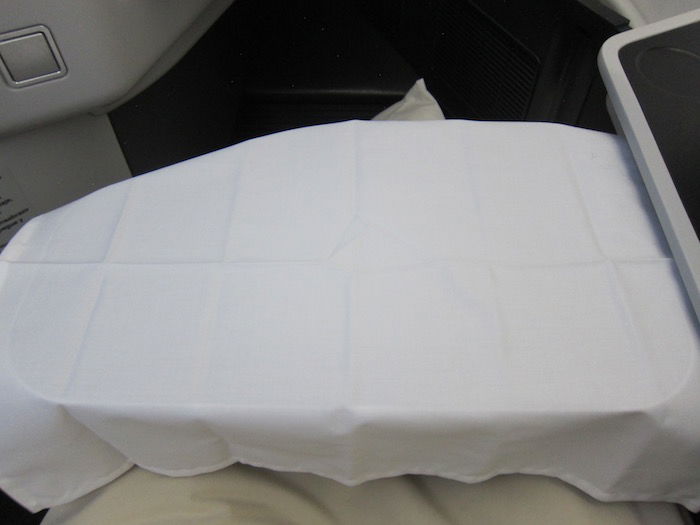 Avianca business class table setting
At that point the meal service began, or so I thought. I was rather hungry, since I didn't have breakfast. When I get on a daytime flight I always expect the main meal to be served shortly after takeoff. That was confirmed by the menu, which indicated there was a lunch service, and then a snack service as well.
The menu and beverage list read as follows: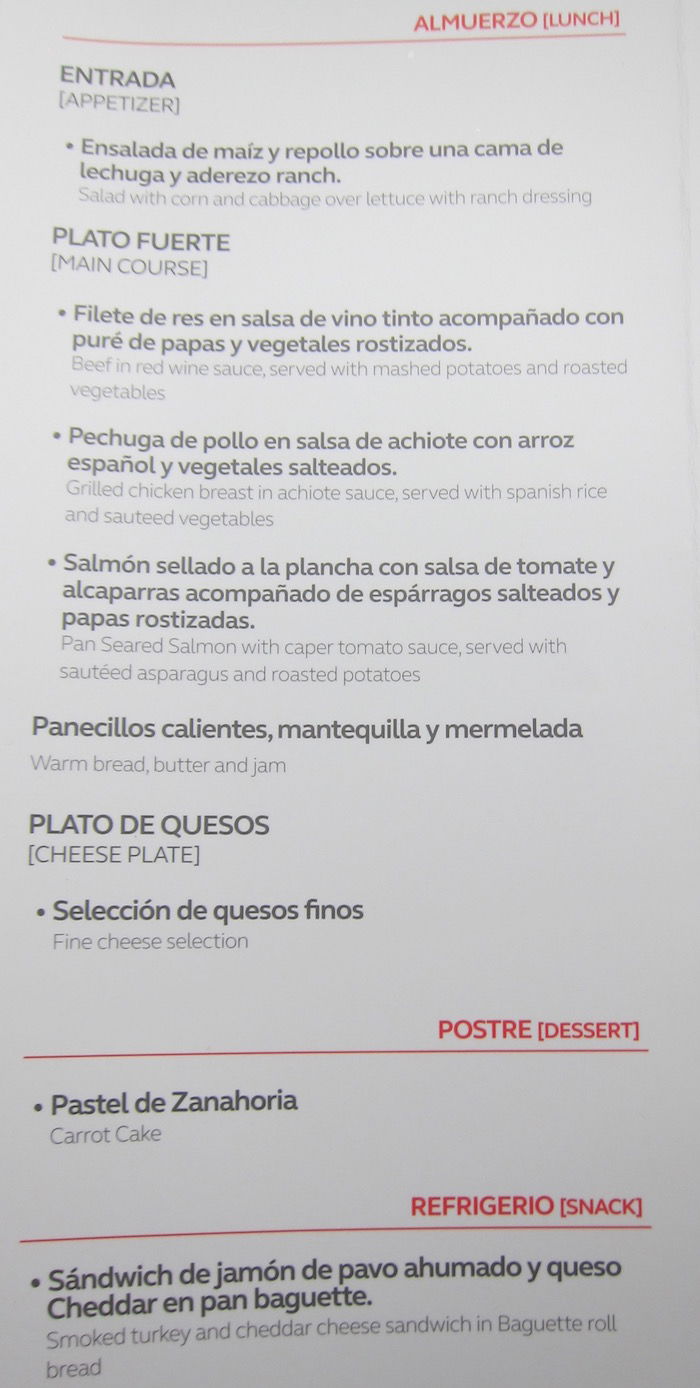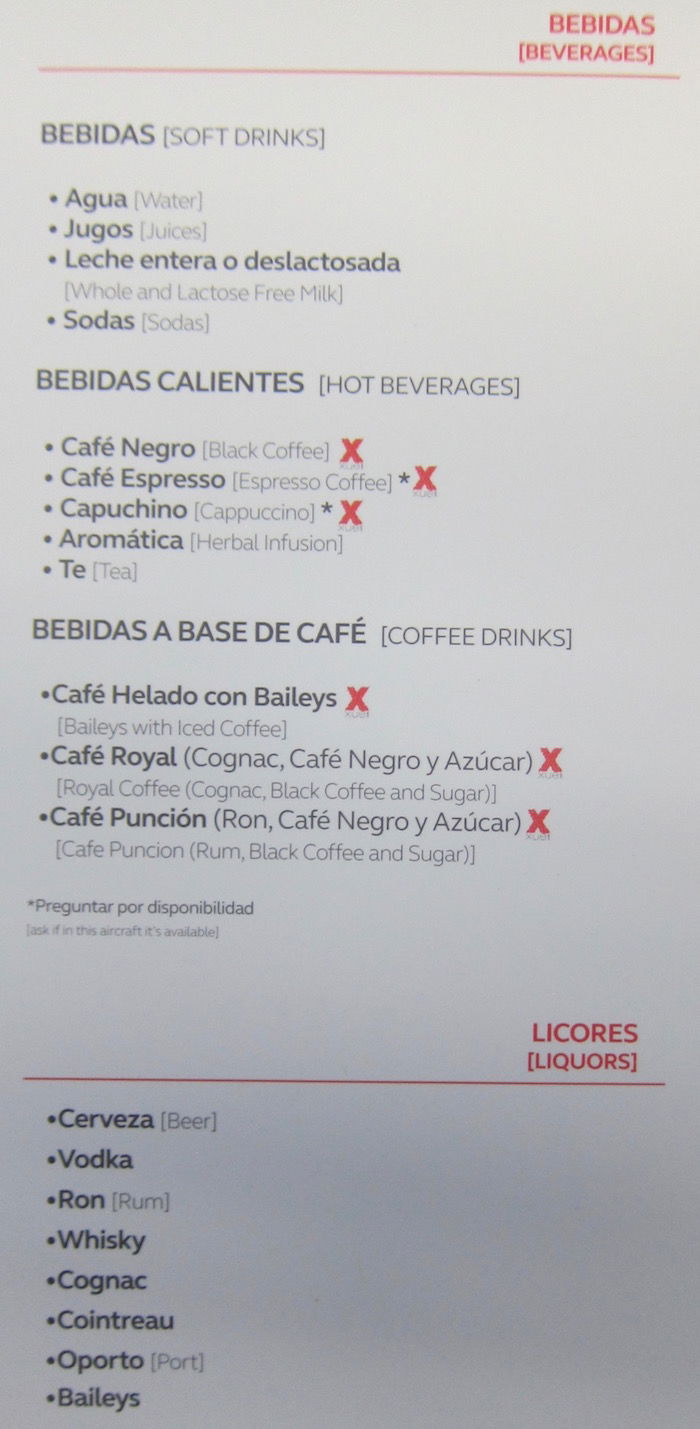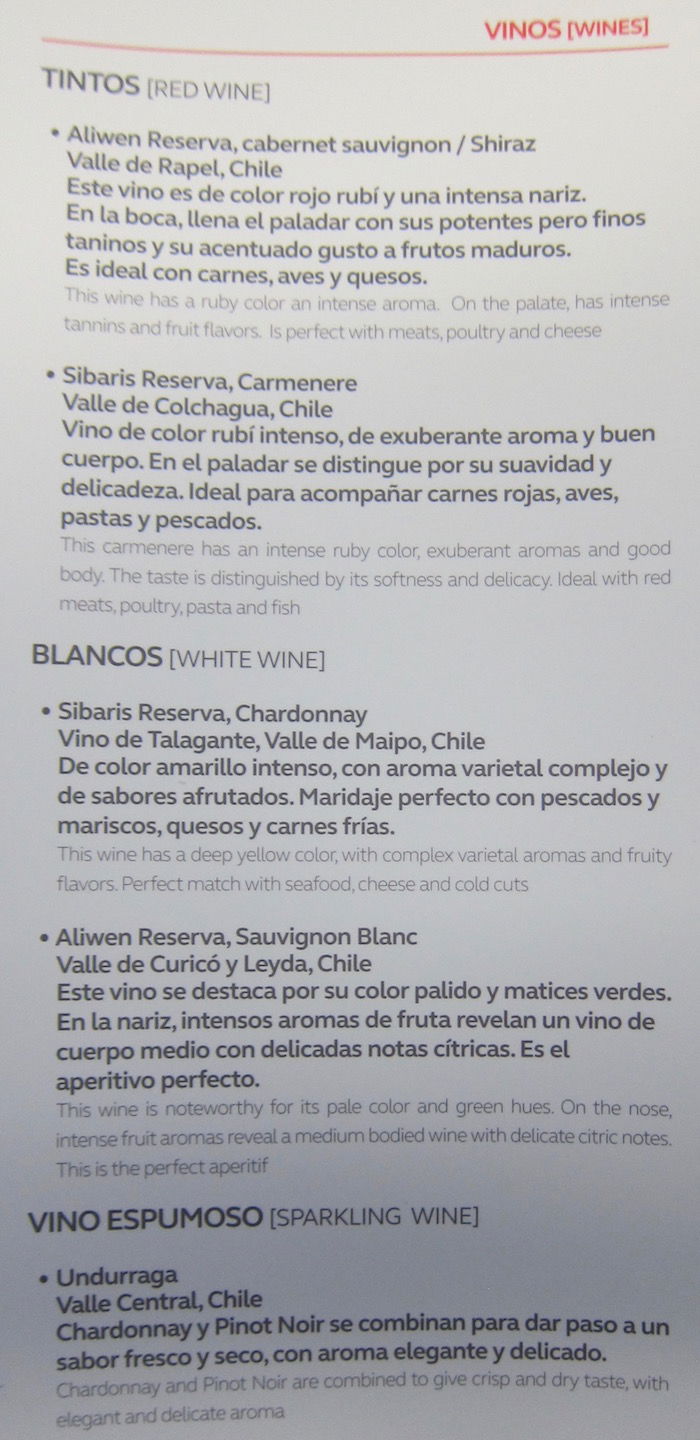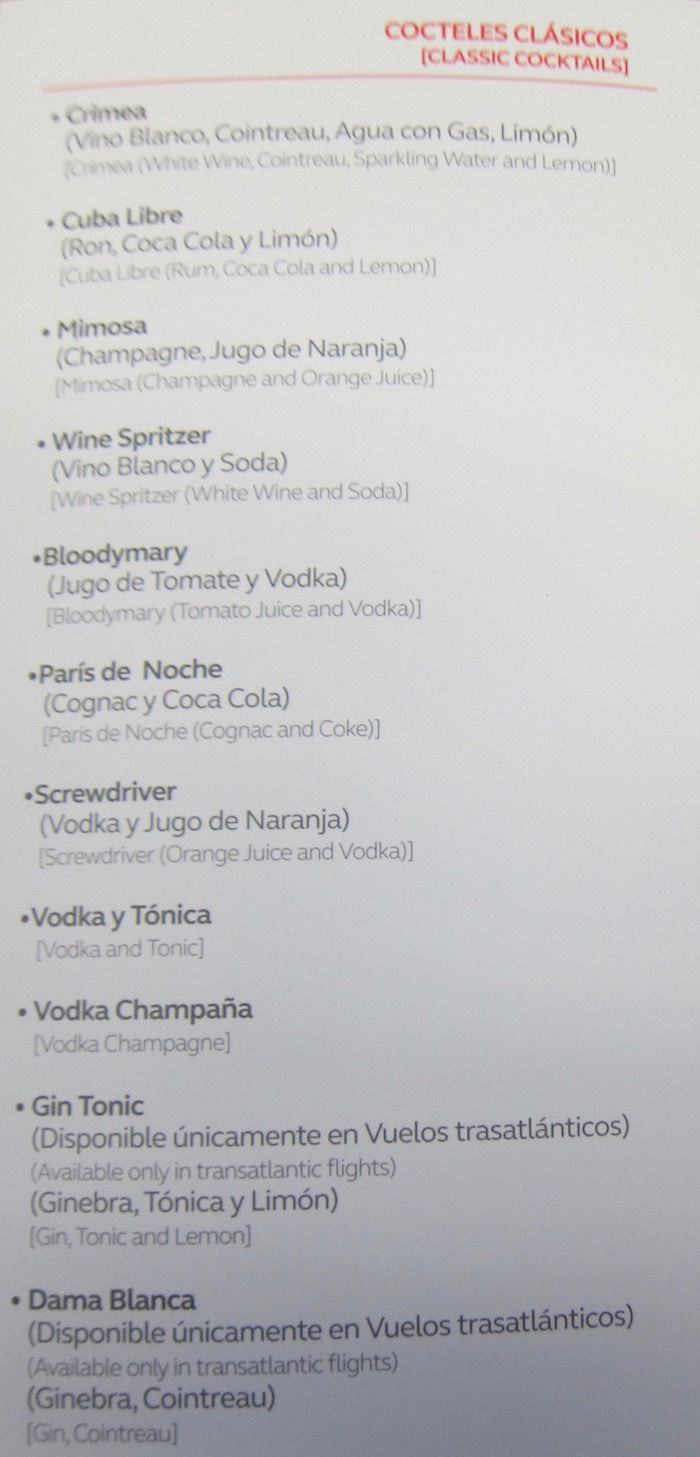 The flight attendants served drinks off a nice trolly with tablecloths rather than your typical cart, which I thought was a classy touch you don't see often enough. It makes such a difference in terms of the overall appearance.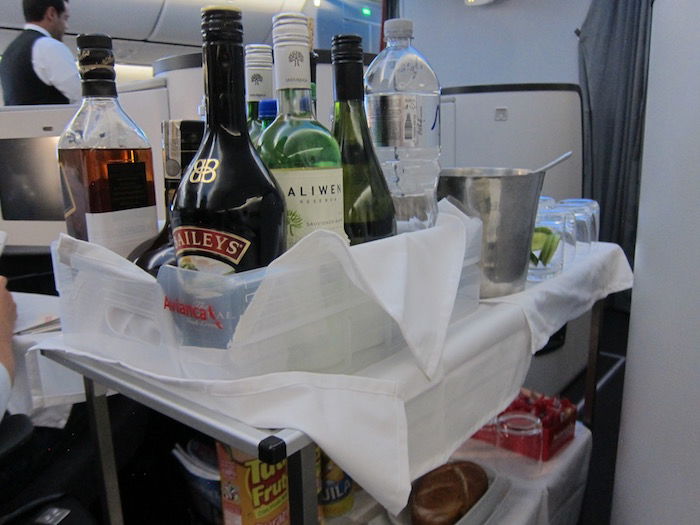 Avianca business class beverage service
Unfortunately it doesn't make up for the crappy service the crew provided.
Rather than asking me what I wanted to drink, the flight attendant just looked at me. I asked for a glass of white wine, which I was quickly served. I was also offered the turkey sandwich, which I thought was being served before landing.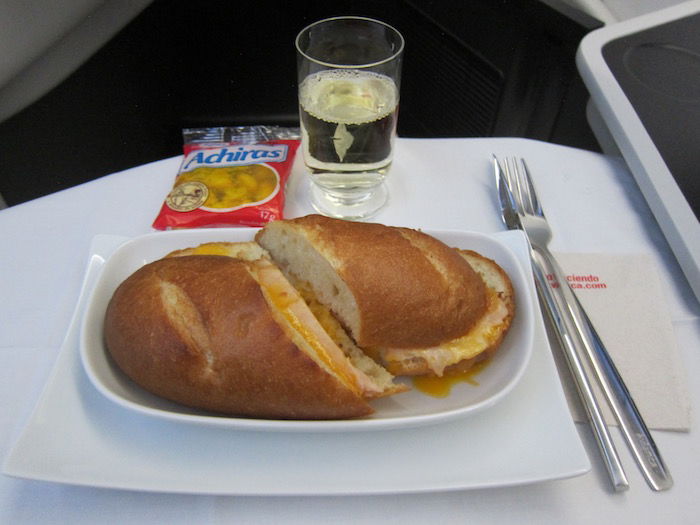 Avianca business class sandwich and wine
The sandwich was quite good for what it was, given that it was warm and had melted cheese. But it was still far from gourmet.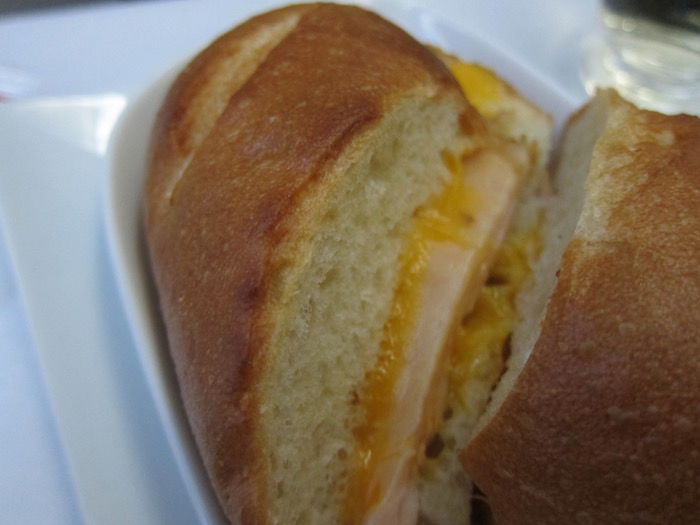 Avianca business class sandwich
After I finished my turkey sandwich they came and cleared my tray. It appears as if the main meal on this flight is served before landing, which I really don't understand:
On a daytime flight, the main meal is always served after takeoff, which makes sense, since people are rushing to the airport, and typically haven't had time to eat
If that's not the case, you'd think they would explain the order of meals to passengers, especially given that it contradicts the order in which things are listed on the menu
When my turkey sandwich was cleared my glass of wine was also empty. Rather than offering me a refill she simply took it. When I said "could I please have another glass of white wine and some more of those snacks?" she audibly huffed and rolled her eyes. Classy.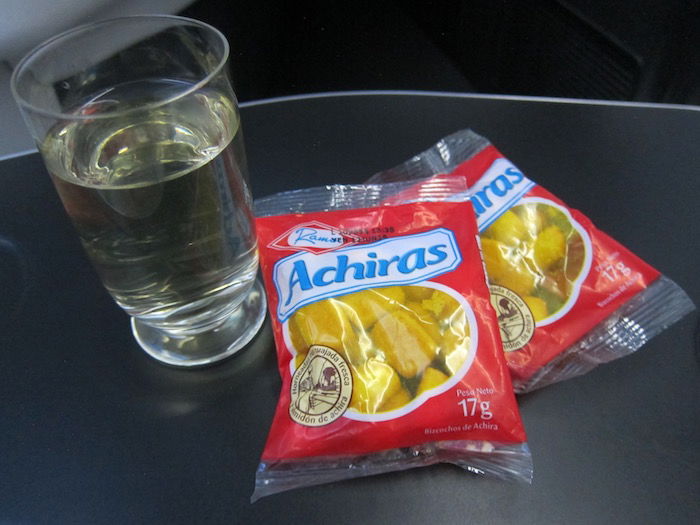 Avianca business class wine and snacks
About 70 minutes after takeoff all the cabin lights were dimmed, and water bottles were distributed.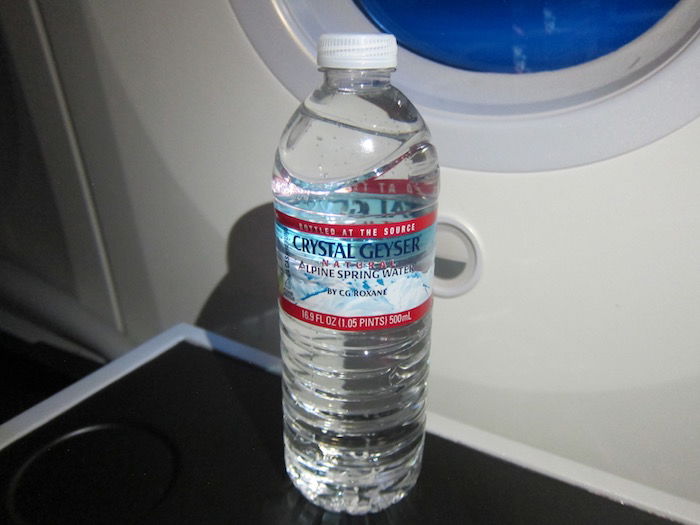 Avianca business class bottled water
I decided to rest for a bit. I ended up napping for about an hour, at which point we were flying over Mexico.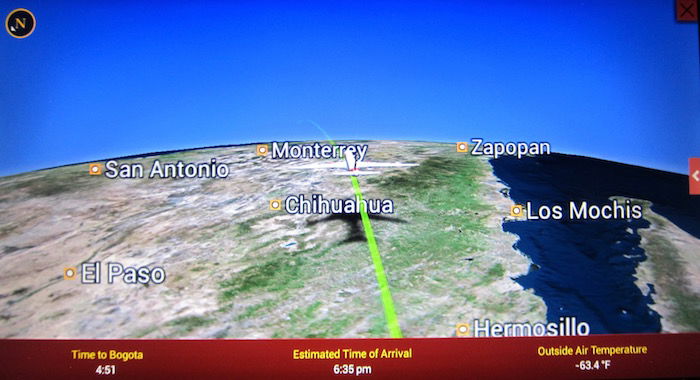 Airshow enroute to Bogota
I saw that there were cappuccinos on the menu, so I decided to order one at that point. That required pushing the call button, since the crew were never passing through the cabin. Fortunately the call button was answered by the one male flight attendant, who was the friendliest of the bunch, which isn't saying a whole lot.
I have to say that the cappuccino was excellent.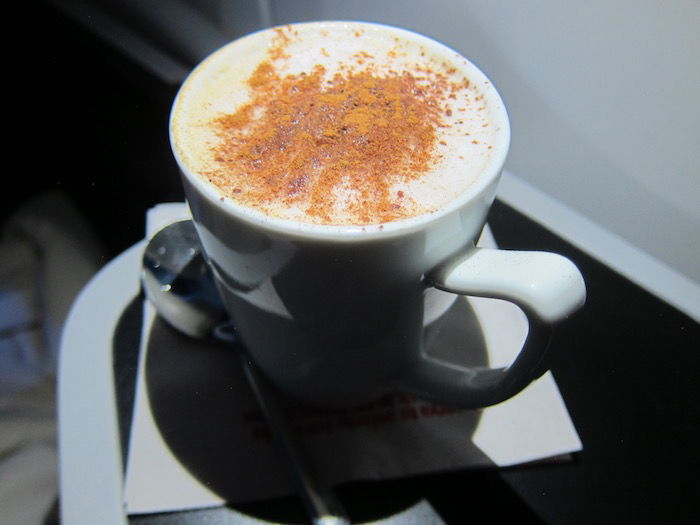 Avianca business class cappuccino
I then started binge watching TV shows, starting with "The Middle."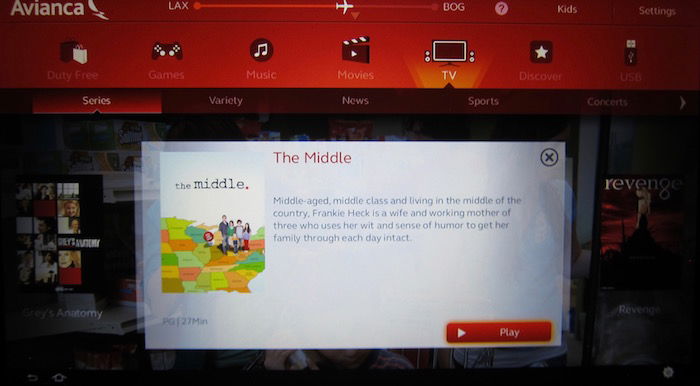 Avianca business class entertainment selection
I followed that up with an episode of "Two and a Half Men."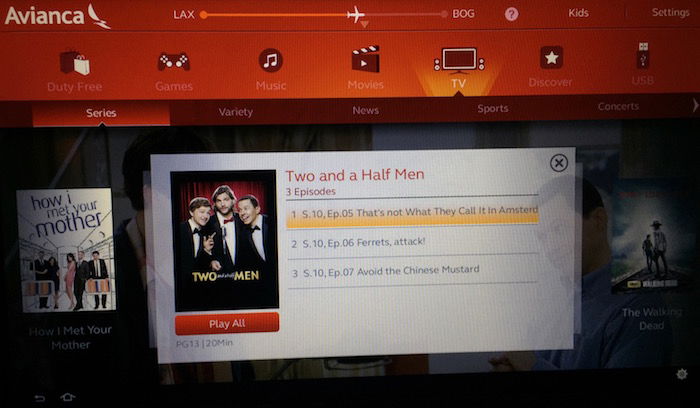 Avianca entertainment selection
Then "Brain Games 3."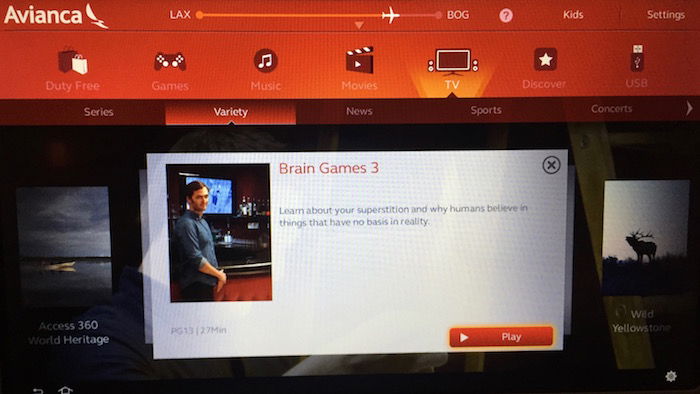 Avianca entertainment selection
And then an episode of "Parks and Recreation."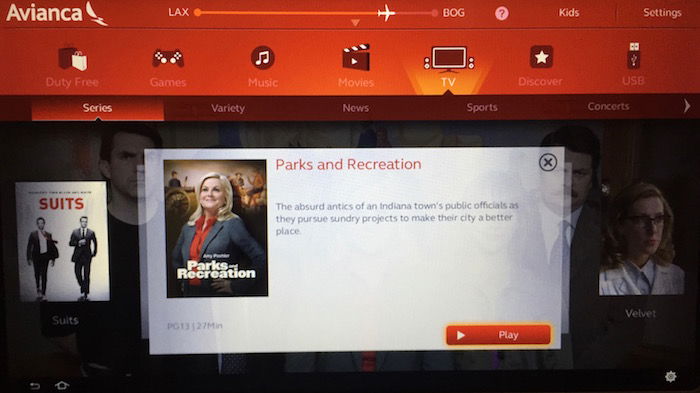 Avianca entertainment selection
There was a small drink setup in the galley between the two business class cabins, with soft drinks and chips available.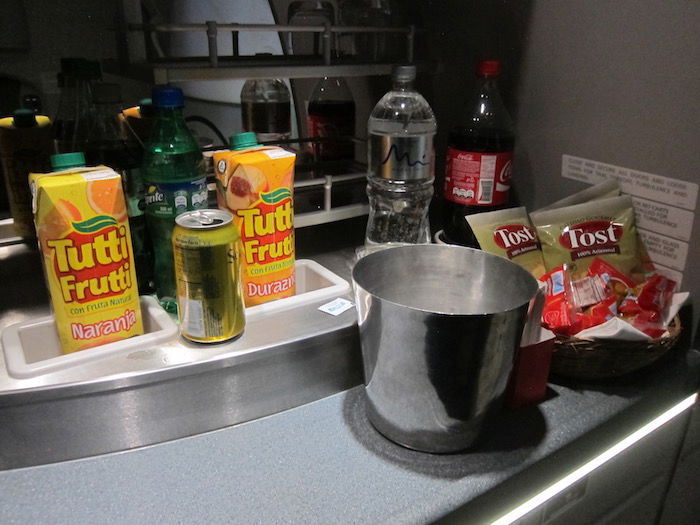 Avianca business class snack bar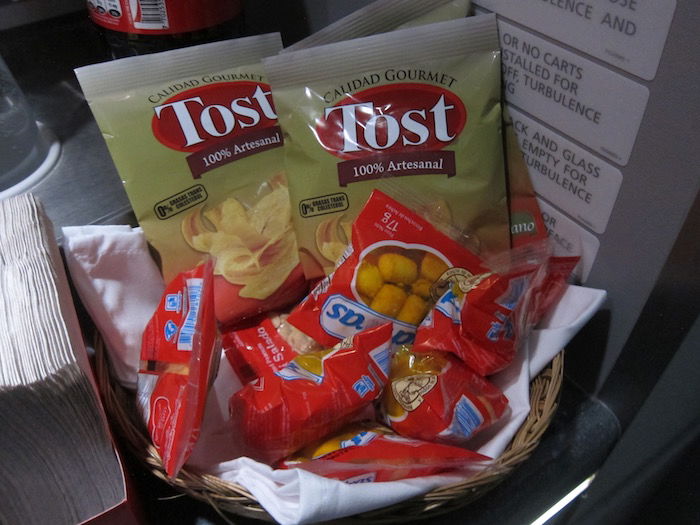 Avianca business class snack bar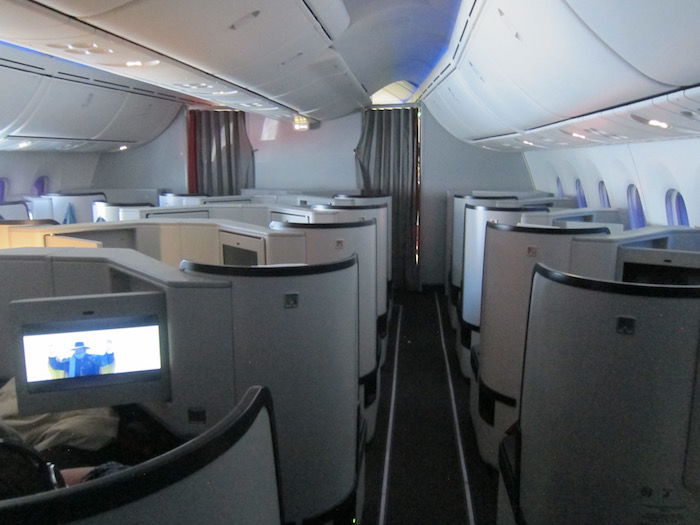 Avianca 787 business class cabin
About 90 minutes before landing the cabin lights were turned up so that the "lunch" service could begin. First hot towels were once again offered. Then everything else was served on one tray, including a salad, cheese plate, and main course.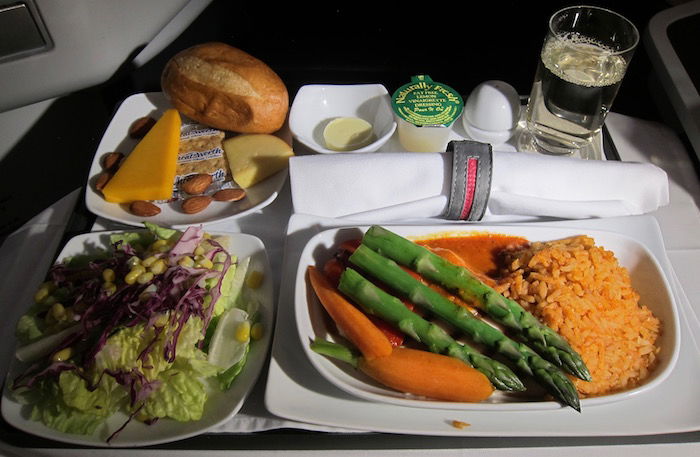 Avianca business class dinner service
The cabbage and corn salad was a bit unusual, and while I appreciated it was different than usual, it wasn't actually very good.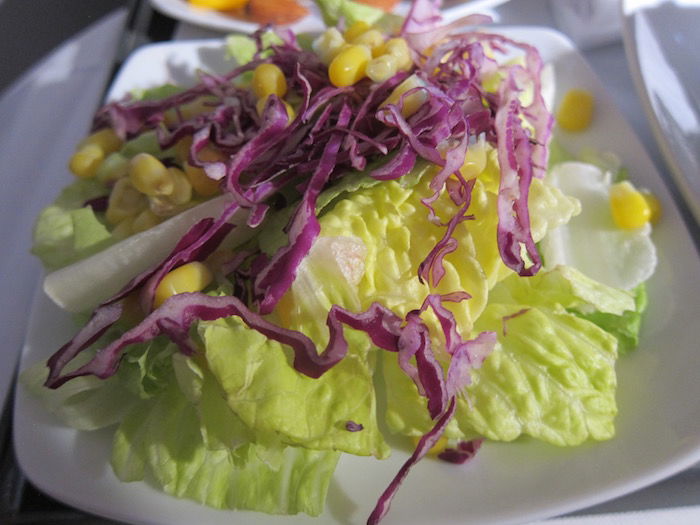 Avianca business class lunch — salad with corn and cabbage over lettuce
I think Avianca is taking quite a few liberties by calling the two small pieces of cheese they offer with lunch a "fine cheese selection," but whatever.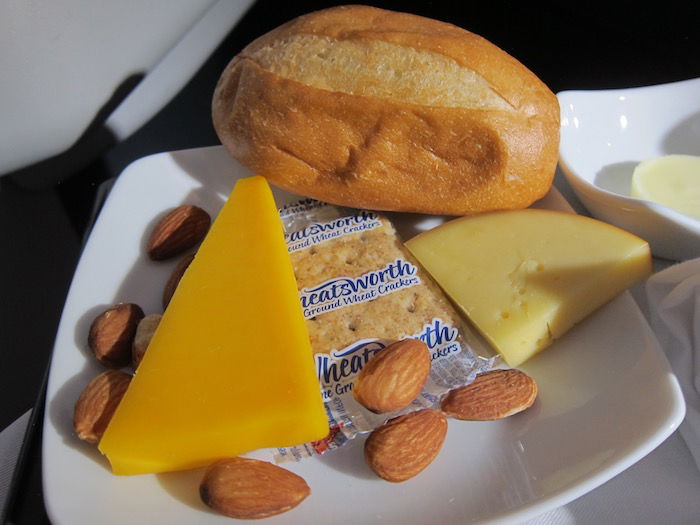 Avianca business class lunch — cheese selection
For the main course I chose the chicken. While the veggies and spanish rice were fine, the chicken itself was gross. It was the same low quality chicken you get on many domestic flights, were the chicken is white as could be, and looks more like a burger patty than a chicken breast.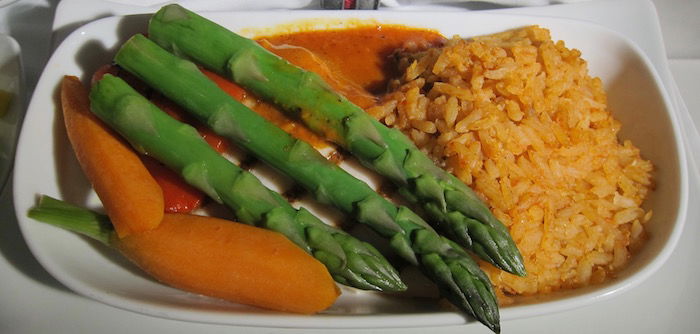 Avianca business class lunch — grilled chicken breast with spanish rice and vegetables
To drink I had more wine, as well as some water. My go to drink is usually gin & tonic, though oddly Avianca only serves those on transatlantic flights. That seems rather bizarre in business class, in my opinion.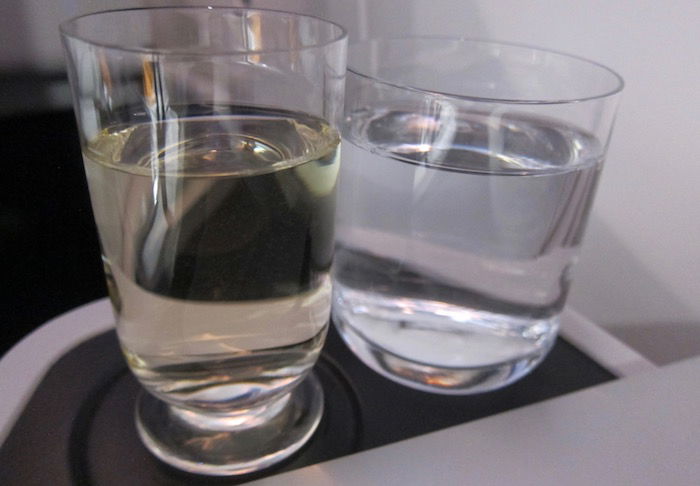 Avianca business class drinks — white wine and water
The only redeeming quality of the meal was the dessert, which was a delicious carrot cake. I had a cup of coffee to go along with it. I would have ordered a cappuccino, but I can only imagine how many huffs I would have gotten for that request.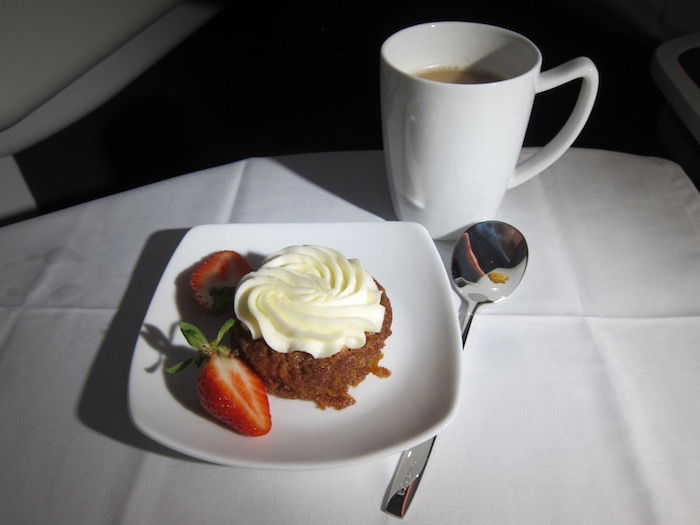 Avianca business class lunch — carrot cake and coffee for dessert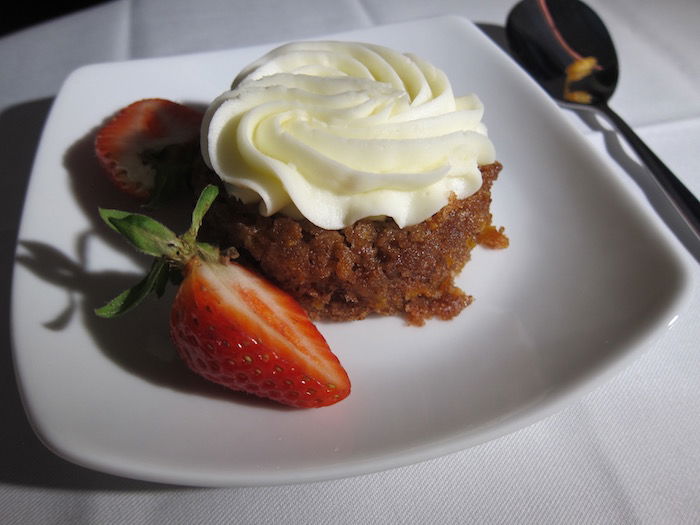 Avianca business class lunch — carrot cake
About 40 minutes before landing the captain came on the PA to provide us with updated arrival information, expecting we'd be landing early.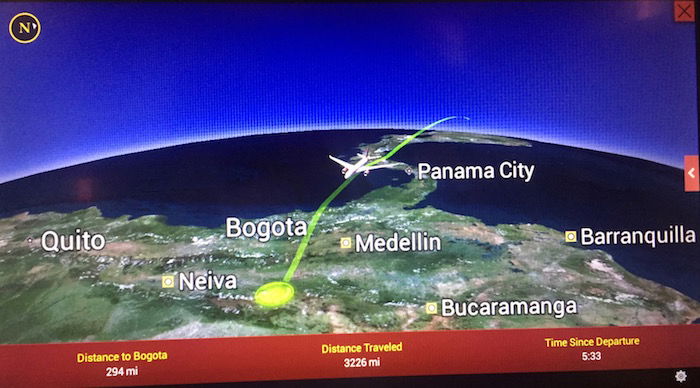 Airshow approaching Bogota
Shortly thereafter a video was played explaining the arrival process in Bogota:
https://www.youtube.com/watch?v=8Ez4d-5RxlA
We started our descent at 6:20PM, which was only 15 minutes before landing. The reason we started it so late is because Bogota is at a high altitude (~8,300 feet), so there's not that much descending required.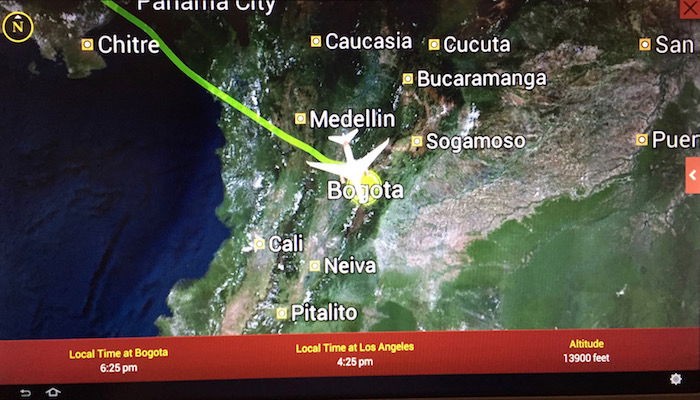 Airshow approaching Bogota
It was pitch dark when we approached, though the crew didn't dim the cabin lights for landing, which is usually a standard procedure for nighttime landings.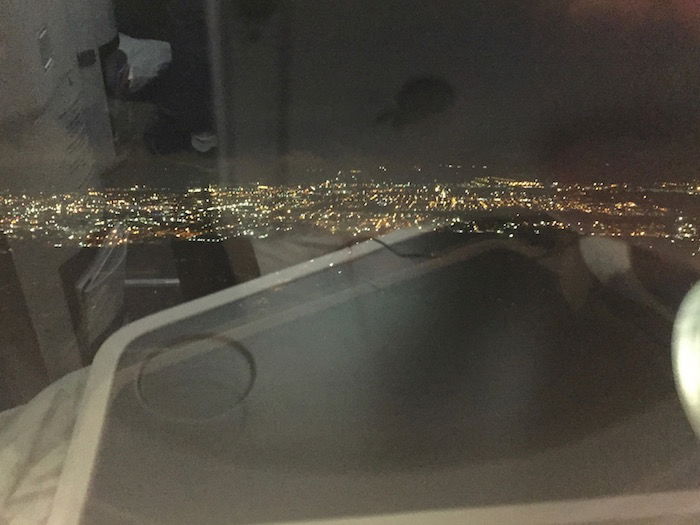 View on approach into Bogota
We had a smooth touchdown at 6:35PM (come and think of it, the flight on the whole was extremely smooth), and had a roughly 10 minute taxi to the gate.
Upon deplaning the chief purser said to me Mr. Schlappig, there's someone waiting for you…"
Avianca business class bottom line
Overall I was extremely impressed by Avianca's hard product, which is fantastic. Avianca is the only airline in Latin America with reverse herringbone seats in business class, so they score lots of points for that. Furthermore, the Tumi amenity kit was nice, the pillow and blanket were plush, and the entertainment selection exceeded my expectations.
Every other aspect of the experience left me disappointed, however.
The crew would have been hard pressed to seem less interested in their jobs. They were actively rude.
The food quality was disappointing, and even more so, the order of meals and lack of communication about that was unfortunate. I don't understand the drink selection either — when I visited Colombia earlier in the year I had several fantastic gin & tonics, yet somehow Avianca doesn't even stock gin in business class?
Based on this flight I thought Avianca business class had a lot of potential, though unfortunately they failed miserably with the details.
Fortunately I had another flight on which to sample them and see whether that was the exception or the norm.