Introduction: The Long Way To Spain
Review: Avianca 787 Business Class Los Angeles To Bogota
Review: Avianca Diamond Lounge Bogota Airport
Review: Avianca 787 Business Class Bogota To Madrid
Review: Marriott Madrid Airport Auditorium Hotel
Review: Sala VIP Cibeles Terminal 1 Madrid Airport
Review: Aeromexico 787 Business Class Madrid To Mexico City
Review: Aeromexico Lounge Mexico City Airport
Review: Amex Centurion Lounge Mexico City Airport
Review: Aeromexico 787 Business Class Mexico City To Los Angeles
---
Boarding was announced at 8:50PM, starting with passengers who needed extra time boarding, followed by business class. That ended up being a bit of a mess, because they boarded the groups right after one another, even through the cabin crew wasn't ready for passengers yet. So we ended up waiting for about ten minutes on the jet bridge before we were able to board.
Avianca 10
Bogota (BOG) – Madrid (MAD)
Tuesday, May 10
Depart: 9:43PM
Arrive: 2:25PM (+1 day)
Duration: 9hr42min
Aircraft: Boeing 787-8
Seat: 6A (Business Class)
On this flight the entire plane boarded through the forward left door, meaning everyone walked through the main business class cabin, consisting of five rows.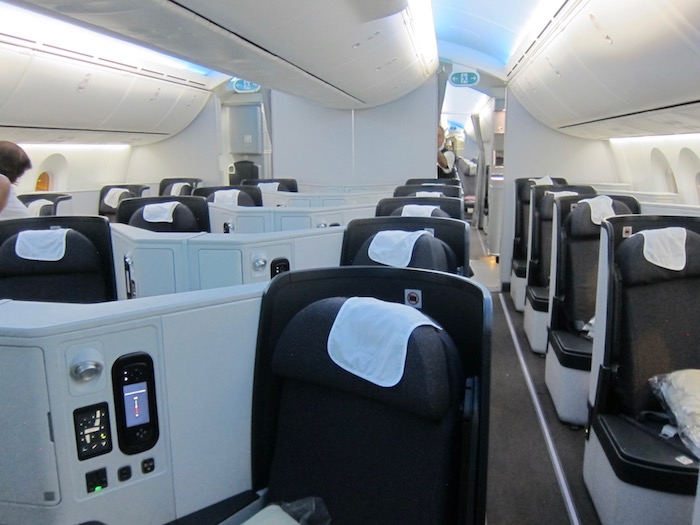 Avianca 787 business class cabin
However, on this flight I had reserved a seat in the mini cabin, which consists of a total of eight seats, spread across two rows, in a 1-2-1 configuration. In general I prefer mini cabins, especially those towards the back of business class with the lavatories and galleys in front of them, since they have the least foot traffic.

Avianca 787 business class mini cabin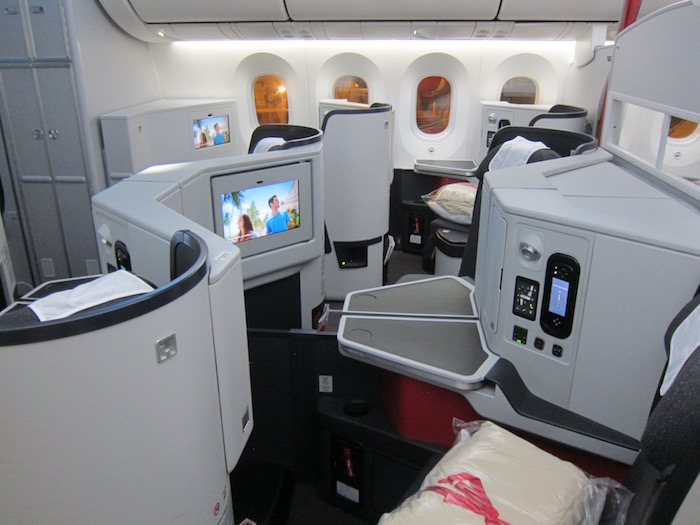 Avianca 787 business class mini cabin

Avianca 787 business class mini cabin
I also took a quick glance at the economy cabin. While 787 economy cabins are tight (they're in a 3-3-3 configuration), the cabin otherwise looked pretty decent.
I had assigned myself seat 7A, the window seat in the last row of business class.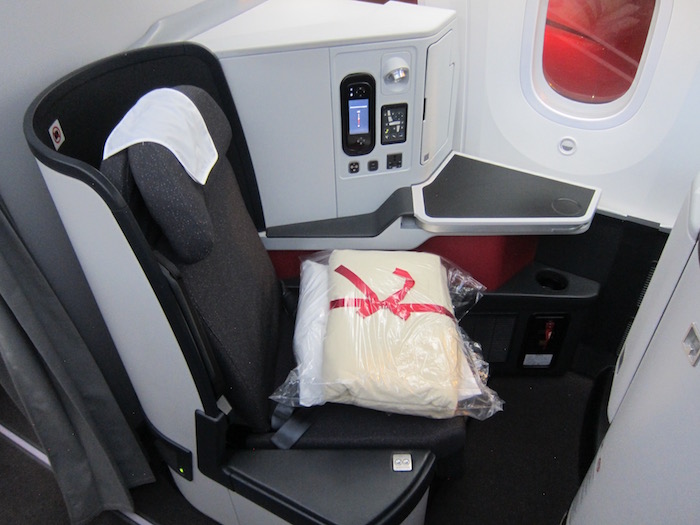 Avianca 787 business class, seat 7A
The legroom was the same as on my previous flight, and I quite liked being in the very back, since it meant there was no foot traffic once boarding was complete.

Avianca 787 business class, seat 7A
About 10 minutes after I settled in a Colombian guy came up to me and asked if I wouldn't mind switching to seat 6A, since his travel companion was in seat 7D. That actually worked out great, since seat 6A looked even better than 7A.
The business class bulkhead seats are probably my favorites in this configuration. For one, it's considerably easier to get in and out of the seat, since you have a huge open area.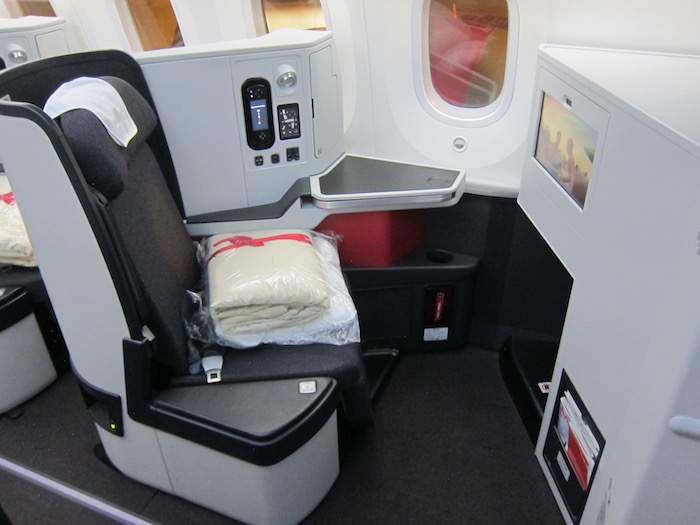 Avianca 787 business class, seat 6A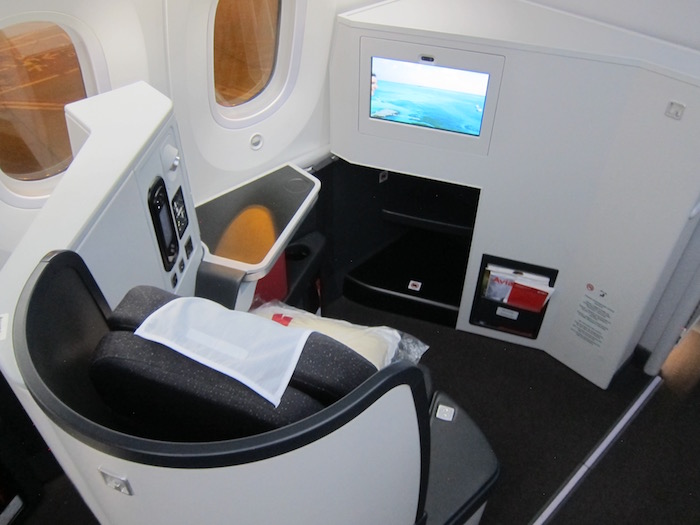 Avianca 787 business class, seat 6A
Furthermore, the TV faces you directly, rather than being attached to the seat in front of you, where you have to fold it out. This made it much easier to watch TV during taxi, takeoff, and landing. In the future row six would be my first choice in Avianca's 787 business class.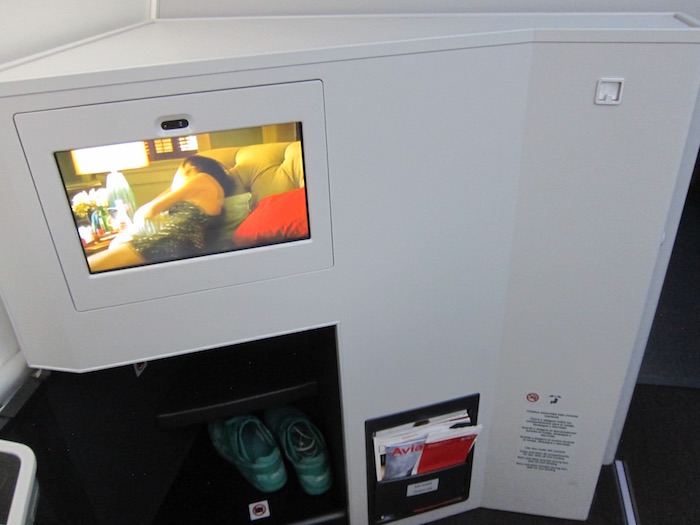 Avianca 787 business class, seat 6A
Moments after settling in, one of the friendly flight attendants came by to offer me a pre-departure beverage. I had a choice between champagne and coconut lemonade. I selected the former. That was served with a small ramekin of nuts.

Avianca business class pre-departure champagne and nuts
I should note that while service was pitiful on the last flight, it was quite good on this one. Three of the four flight attendants in business class were older guys, and they were all rather charming and attentive, in a laid back sort of way.
After being offered pre-departure beverages, I was also offered a duty free magazine, menu for the flight, amenity kit, and shoe bag.

Avianca business class menu, amenity kit, show bag, and duty free magazine
Boarding was taking quite a while, though fortunately Avianca's entertainment system already works on the ground, so I browsed the movie selection, and decided to watch "How To Be Single," starring the always hilarious Rebel Wilson.

Avianca inflight entertainment selection
The passengers on this flight were an interesting mix. Every business class seat ended up being taken, and at least half the passengers seemed to be older Colombian men with ridiculously hot female travel companions (not my thing, but…).
During boarding the captain came into the cabin seemingly to make sure that one of his friends got a business class seat, because the guy was moved up during boarding, and the captain gave him a "thumbs up." In the end every seat in business class was occupied.
At 9:35PM the door closed, at which point captain Julio welcomed us aboard on behalf of himself and first officers Carlos and Antonio. He announced the flight time would be 8hr50min, and that we should arrive on time. However, he said it would be another 10 minutes (or so) until we were ready for pushback.
Shortly thereafter the cabin purser added his welcome aboard, and then screened the safety video.
At 9:55PM we finally began our pushback.
The taxi to the runway took a while, and at 10:20PM we finally began our takeoff roll.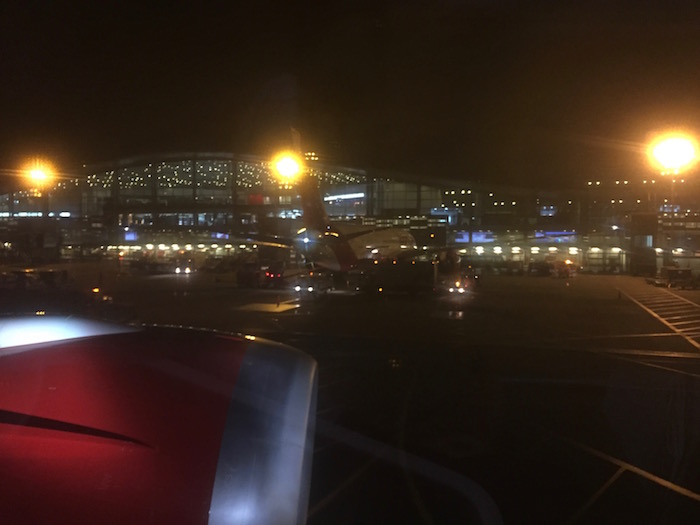 View after pushback at Bogota Airport
The takeoff roll took a really long time, which shouldn't come as a surprise given that Bogota is at an altitude of 8,000+ feet above sea level. The initial climb out was gradual, though very smooth.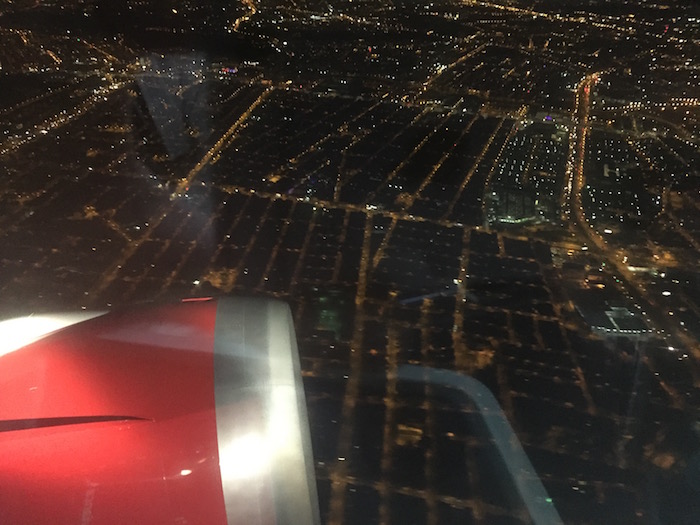 View after takeoff from Bogota
As we climbed out I switched to the airshow briefly, and observed how we'd be flying over the Caribbean, and then basically be making a straight transatlantic crossing — that's a long flight without a diversion point!
About 20 minutes after takeoff the cabin crew came through the cabin with hot towels and then tablecloths, in preparation for the dinner service.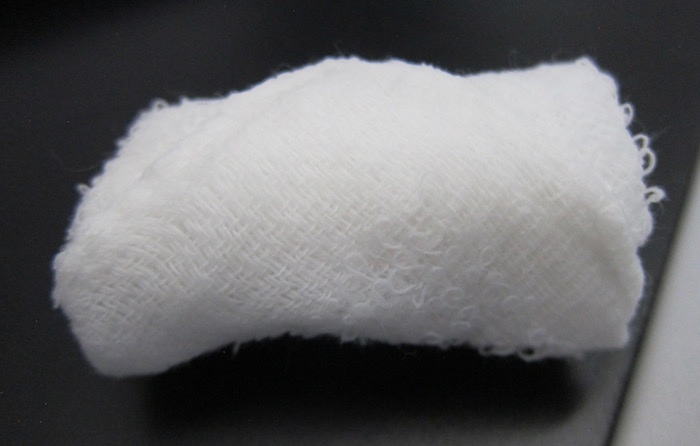 Avianca business class hot towel
The dinner menu and beverage list read as follows: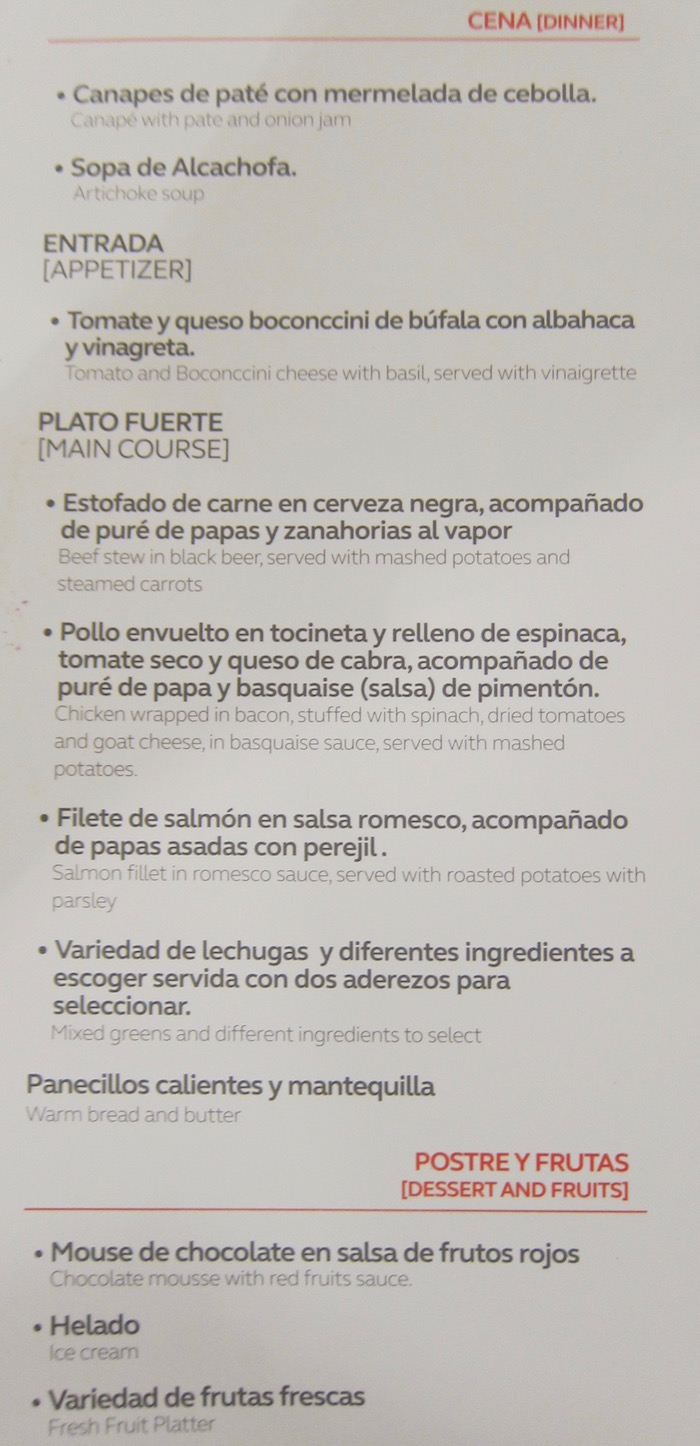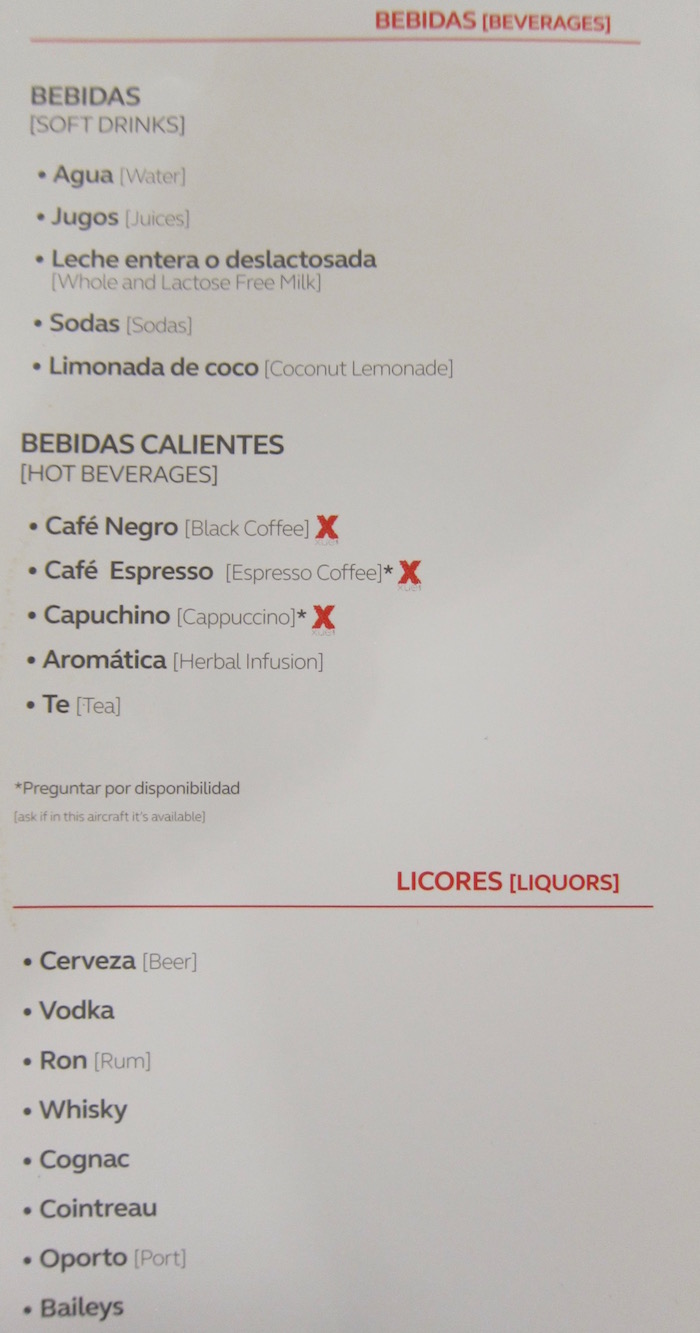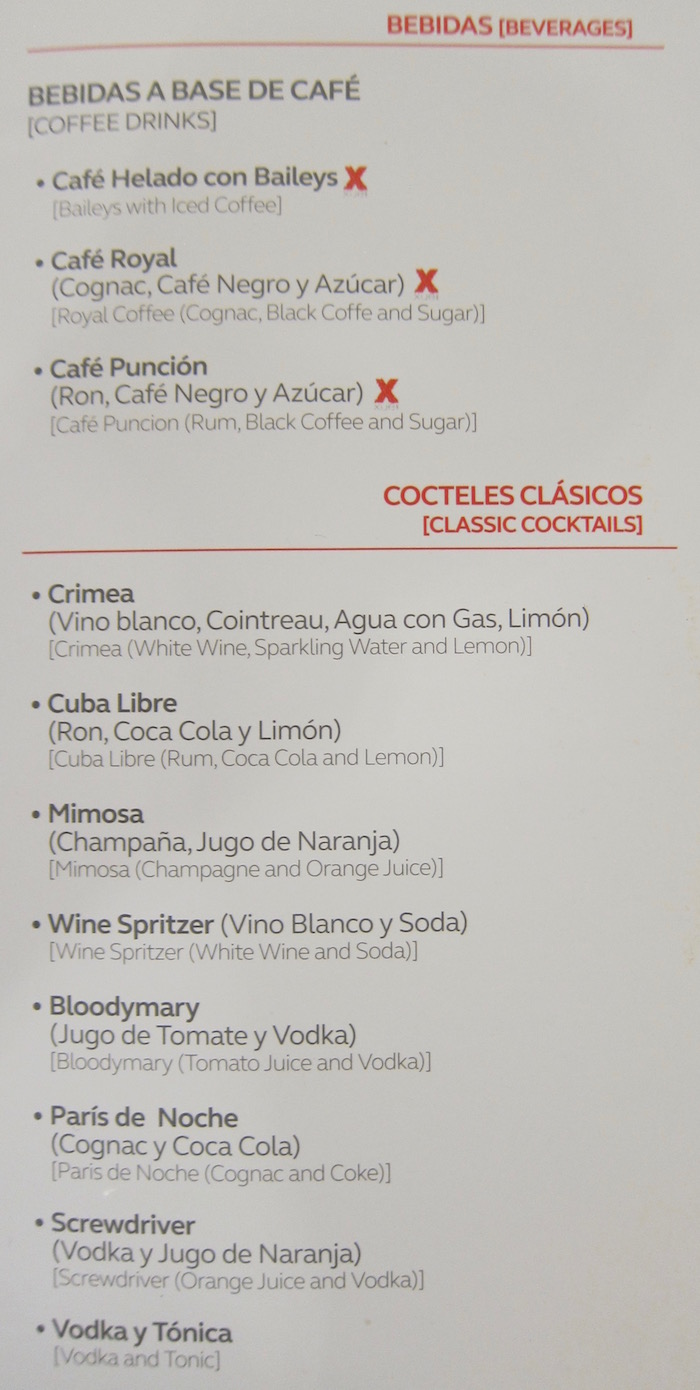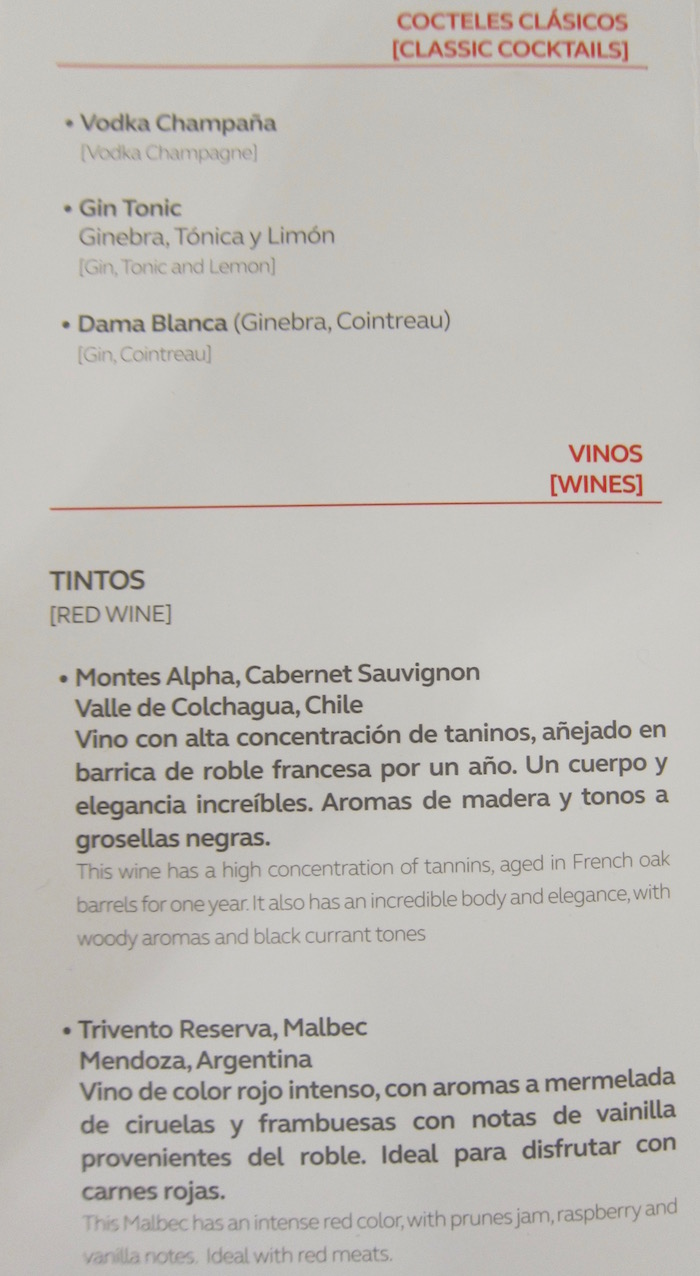 The service began with an amuse bouche, consisting of an artichoke soup, which was tasty.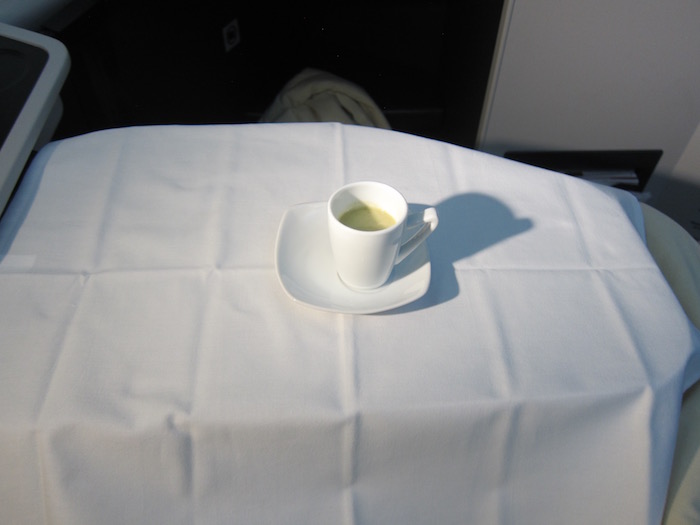 Avianca business class dinner amuse bouche — artichoke soup

Avianca business class dinner amuse bouche — artichoke soup
After that a cart was rolled through the aisle with the food and drink service. I appreciated that the appetizer and main course were all on one tray, given that this was a fairly late night departure for a quick transatlantic flight.
The flight attendant working my aisle, Rodrigo, was super friendly. Every time I said "thanks" he said "my pleasure," which is more than I can say about the previous crew.
The meal consisted of a couple of appetizers and a main course.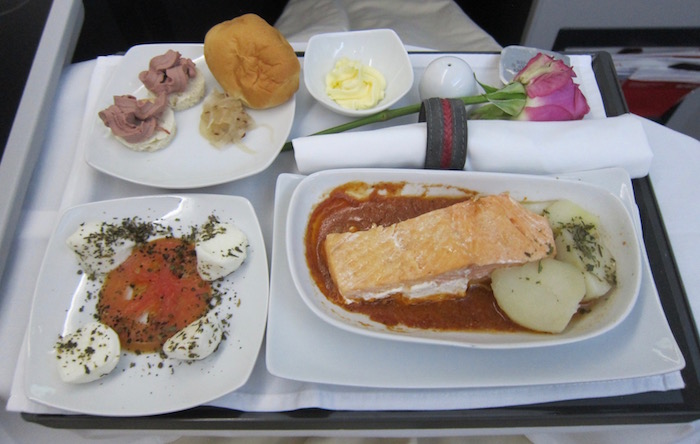 Avianca business class dinner — appetizers and main course
One appetizer consisted of cheese and tomatoes, which was decent enough.

Avianca business class appetizer — tomato and boconccini cheese with basil
I'm not usually into pate, but the other appetizer was quite good as well.

Avianca business class appetizer — canape with pate and onion jam
For the main course I ordered the salmon. While the sauce was flavorful, unfortunately the salmon itself was quite dry.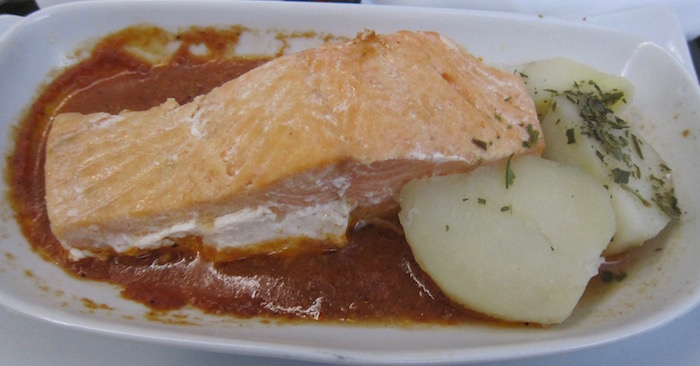 Avianca business class main course — salmon fillet in romesco sauce with roasted potatoes
I liked that they had a rose on the tray, which added a nice element to the presentation.
To drink I had a gin & tonic (Avianca only has gin on transatlantic flights), along with a coconut lemonade.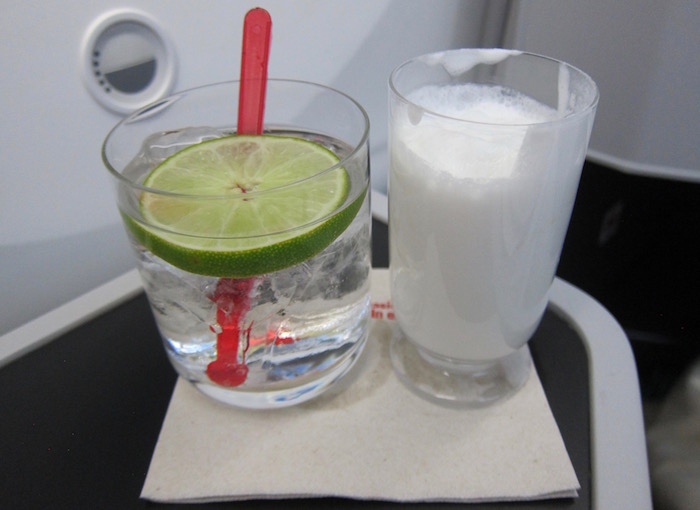 Avianca business class coconut lemonade and gin & tonic
The coconut lemonade was fantastic, and I wish I had known about it earlier. It was extremely tasty.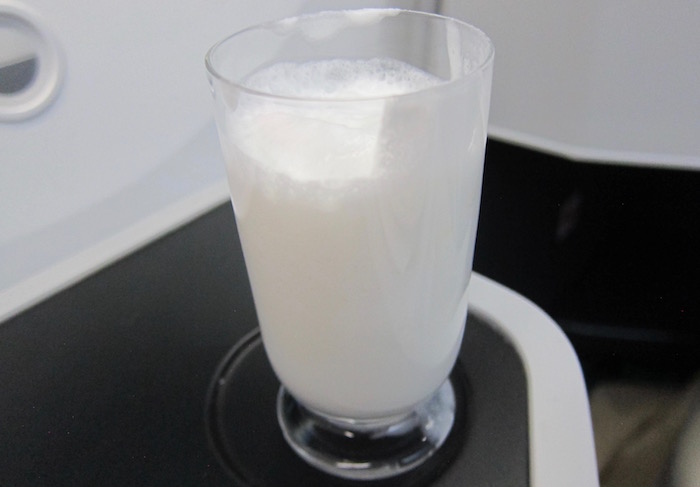 Avianca business class coconut lemonade
Appetizers and mains were cleared pretty quickly, at which point a trolly was rolled around with dessert. I asked for both the ice cream and chocolate mousse; they were happy to oblige. I also ordered a coffee with milk.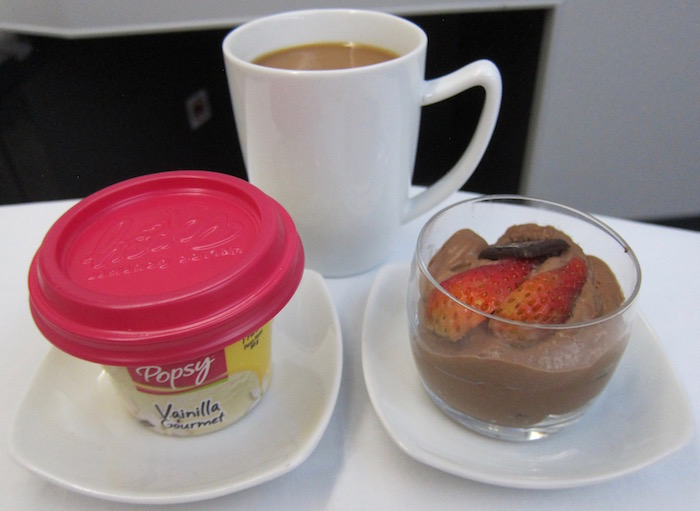 Avianca business class dinner dessert — chocolate mousse and vanilla ice cream
The ice cream was just okay.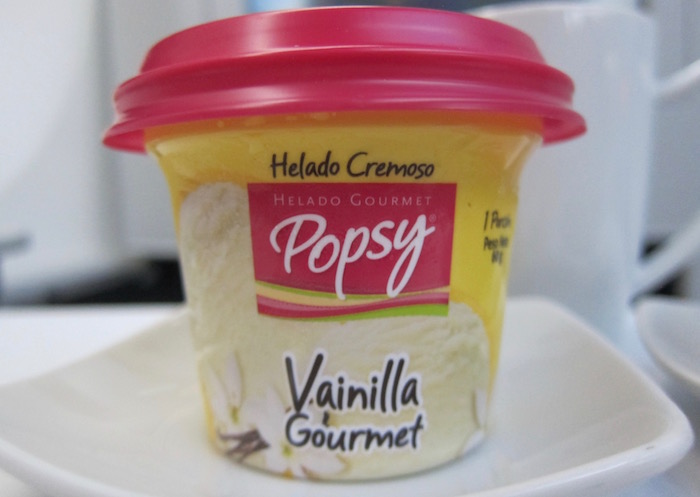 Avianca business class dinner dessert — vanilla ice cream
However, the chocolate mousse was excellent.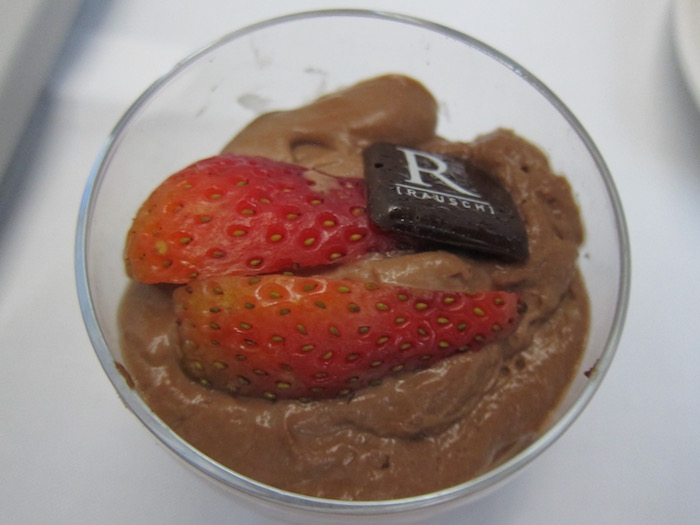 Avianca business class dinner dessert — chocolate mousse with strawberries
The meal service was done about 75 minutes after takeoff, around the same time I finished my movie. The crew gave each passenger a water bottle, and then dimmed the cabin lights.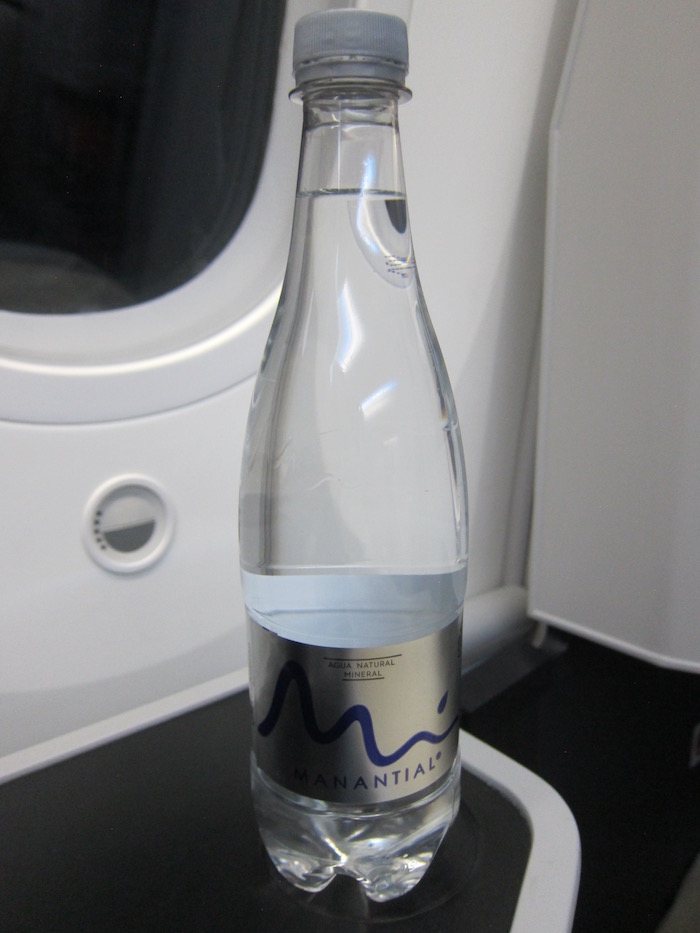 Avianca business class bottled water
They had a small snack setup in the galley with chips and soft drinks.
At that point it was time for me to finally sleep. I reclined my seat into the fully flat position, and realized that I love row six even more than I had thought. One downside to reverse herringbone seats is that they can be a bit tight if you bend your knees, since your knees will hit the seat in front of you due to how they're configured. However, row six has unlimited space around your knees, so it's great for a side sleeper who bends their knees, like me.

Avianca business class fully flat bed
I woke up about 2hr30min before landing, meaning I got almost five hours of sleep. It was excellent sleep, among the best sleep I've gotten on a transatlantic flight in a while.
As soon as I woke up I ordered a coffee, and decided to watch a couple of sitcoms.

Avianca entertainment selection

Avianca entertainment selection
1hr50min before landing the cabin lights were turned up and hot towels were distributed.
Bizarrely the couple across from me "cuddled" in a single seat once the cabin lights were turned on. The lady came over to the guy's side and spooned with him, which seems like a rather tight fit to me.
About 20 minutes later the crew came through the cabin with breakfast.
The breakfast menu read as follows: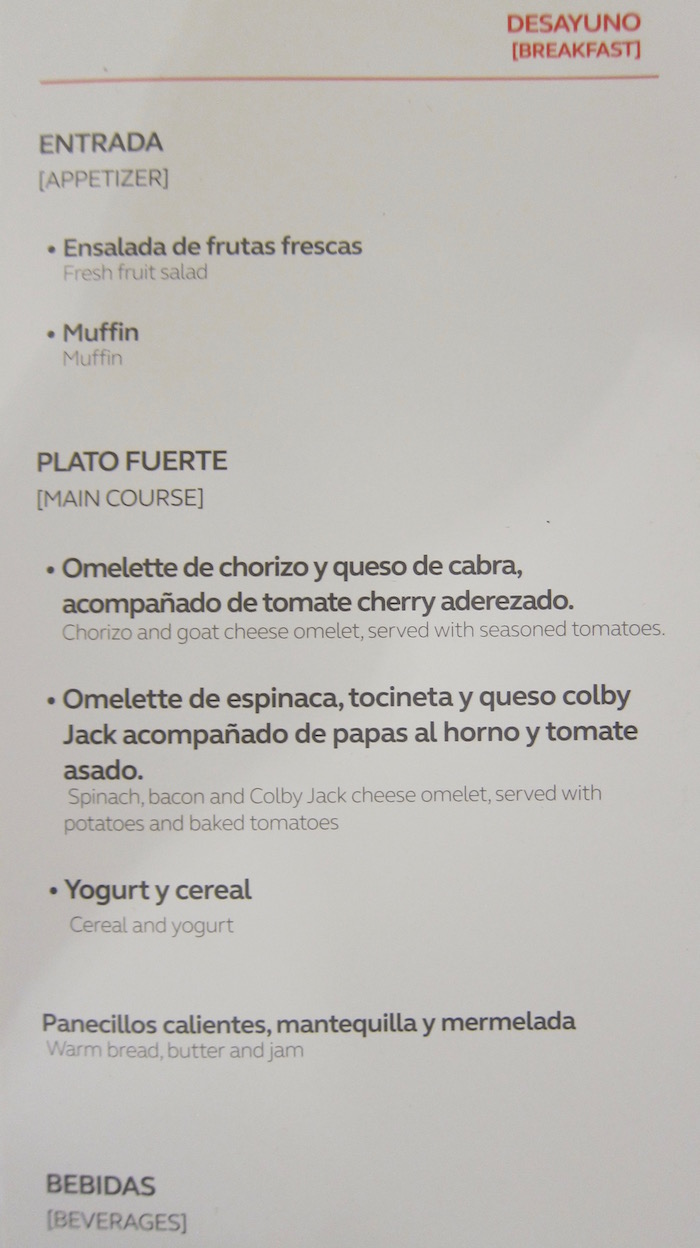 I chose the omelet for breakfast, which wasn't good at all.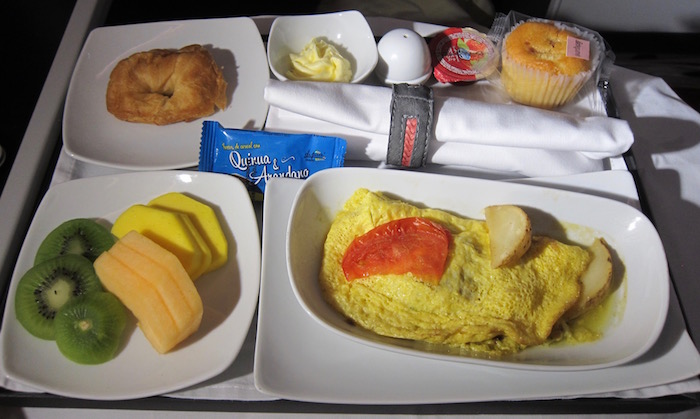 Avianca business class breakfast
The omelet was swimming in oil, and it tasted very rubbery (not that I expect great omelets on planes, but this one was especially bad).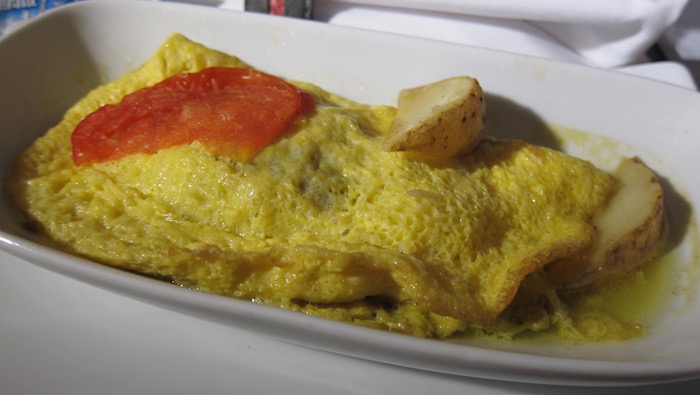 Avianca business class breakfast — spinach, bacon, and cheese omelet
The side of fruit was good, though, as I especially like kiwi.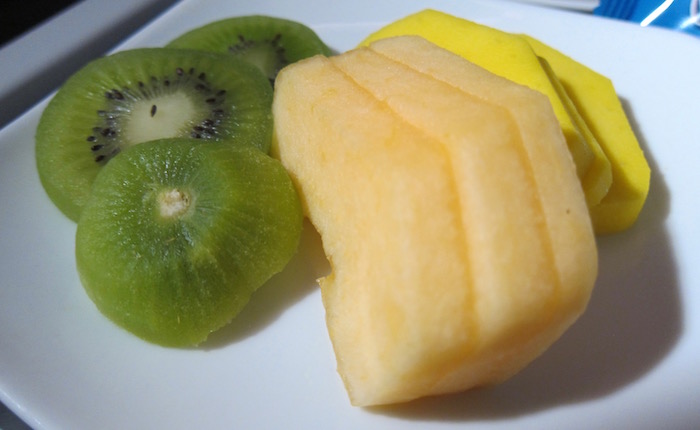 Avianca business class breakfast — fresh fruit salad
The croissant from the breadbasket was fine as well.

Avianca business class breakfast — croissant
I don't really understand why they offer packaged muffins. In a premium cabin you'd think they would expand the breadbasket with freshly warmed pastries, rather than packaged ones, no? Or perhaps at least take the muffins out of the package?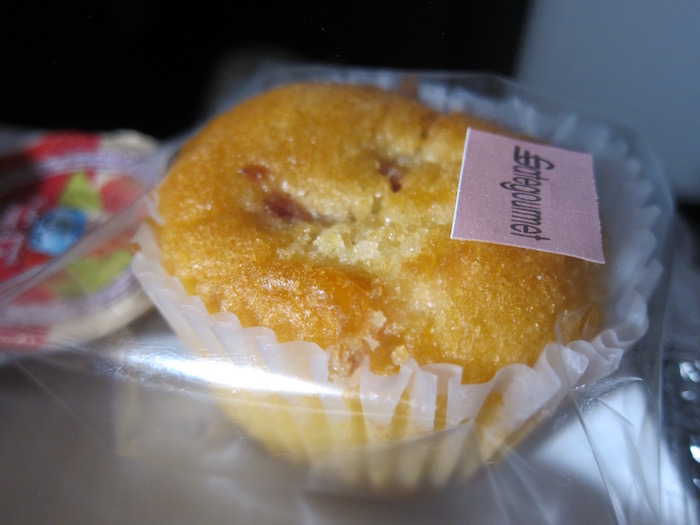 Avianca business class breakfast — muffin
The coffee was excellent, however.

Avianca business class breakfast — coffee
Once the breakfast service was done the crew came around with chocolates, which was a nice touch.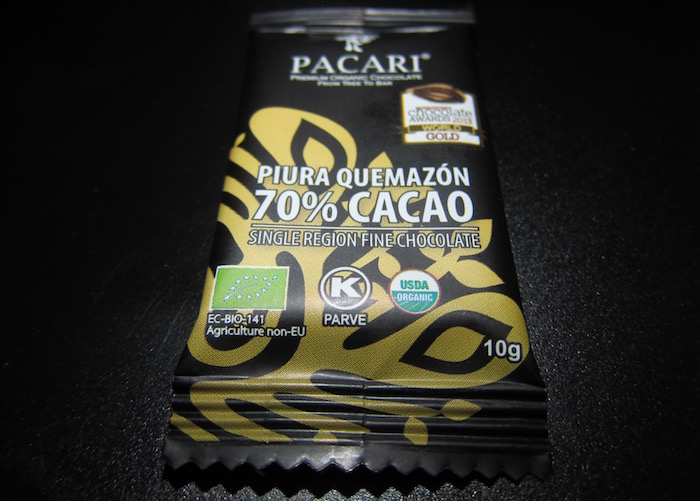 Avianca business class breakfast — chocolate
Shortly thereafter they distributed packs of Colombian coffee, which I think is a really cute gift to give premium passengers. Colombia is known for their coffee, so why not let passengers take home something which will remind them of the country and the airline.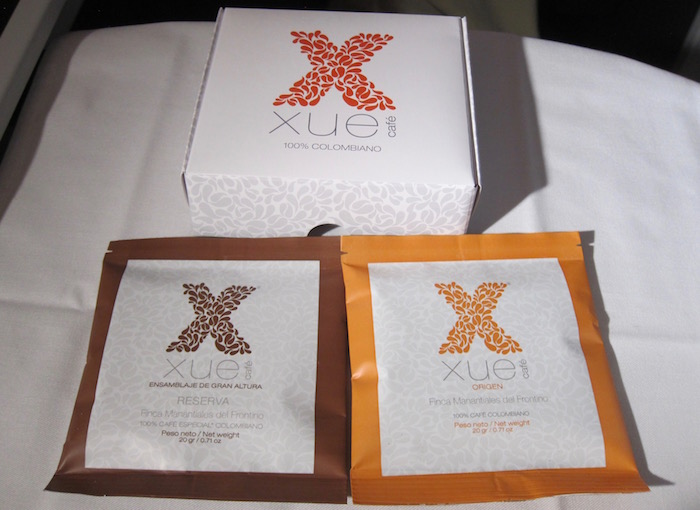 Avianca business class Colombian coffee gift
I worked a bit on my laptop after breakfast, and my coffee cup stayed full throughout.
At 1:30PM we began our descent over a rather cloudy Spain.
The seatbelt sign was turned on about 15 minutes before landing, at which point safety checks were once again done, including having to once again place blankets on the floor, which I find to be such a strange policy.
The entire flight was extremely smooth, and the first bumps we hit were on our final approach.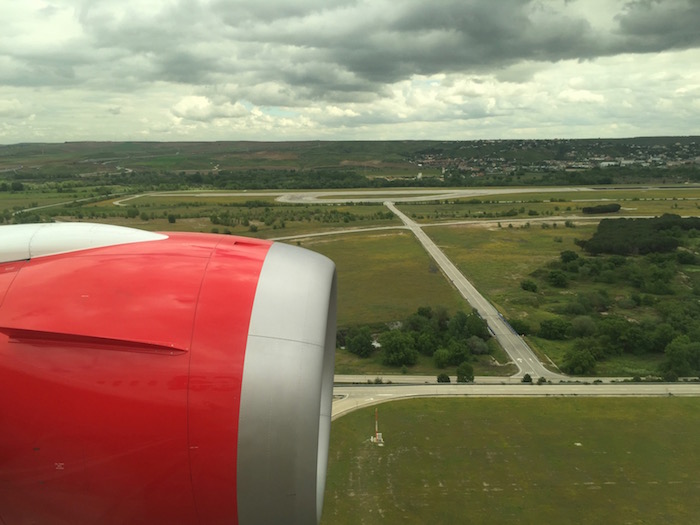 View on final approach into Madrid
We had a smooth touchdown at 2PM, at which point most people in economy clapped. It has been a while since I've been on a flight where passengers have clapped on landing.
Our taxi to Terminal 4 took about 10 minutes, where we pulled in next to a Qatar Airways 787.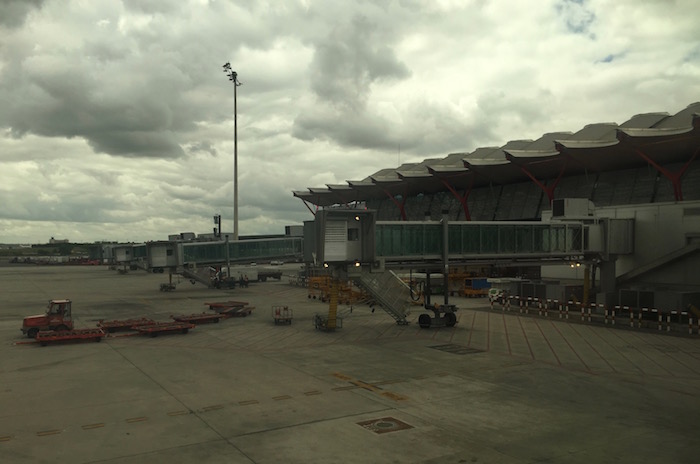 Pulling into gate at Madrid Airport
We arrived a bit early, and from there I made the haul to immigration, which took about 15 minutes.
Avianca 787 business class bottom line
Let's start with the positives. Avianca has a great hard product, and I especially liked row six, given the extra space it offers. I got a great night of sleep, partly due to the seats, and partly due to the great pillow and blanket.
The crew on this particular flight were great as well. Were they the most attentive flight attendants I've ever had? No. But they were friendly and quickly accommodated all requests. That reflects my previous experiences in Colombia, where I found the people to be very friendly on the whole. Unfortunately that wasn't the case on my previous flight.
The catering on this flight was better than on the previous one, but still not very good. Avianca has a long way to go with their food offerings.
Still, overall Avianca offers a solid product, and is the only airline in Latin America to offer reverse herringbone seats in business class. Business class is all about the seats, and that's an area were Avianca excels. I wouldn't hesitate to fly with them again.