Update: American Airlines will retire all 767-300s by May 2020.
Back in January American unveiled the seatmaps for their newly reconfigured Boeing 767-300ER aircraft, which people seemed to come across through random searches on aa.com.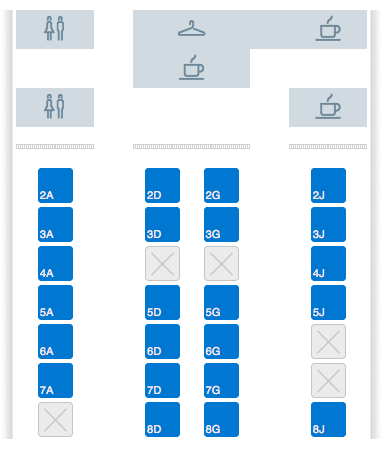 While they revealed the seatmaps, oddly they didn't announce what type of seat they'd actually have.
As I said at the time:
For the most part this looks good to me. The business class capacity is only dropping by two, going from 30 seats to 28 seats. Meanwhile they are losing a row of Main Cabin Extra. That's not good, but at the same time I'd rather they cut some Main Cabin Extra than drastically reduce business class capacity.

So what will the new business class product look like? I think it's safe to assume it will be different than American's 777-300ER business class, which features reverse herringbone seating. I can't imagine there's any way to fit four across reverse herringbone seating in the cabin of a 767. Cathay Pacific and Delta have four across reverse herringbone seating on their A330s, though that cabin is three feet wider.

American did say each seat would have direct aisle access, so between that piece of information and the seatmap, it really narrows down the type of product it could be — I imagine they'll have a staggered business class product, similar to what Austrian, Brussels, Delta, etc., have on much of their fleet.
And it looks like I was correct — American will put fully flat staggered business class seats on their 767, all of which will feature direct aisle access. Below are some pictures of the new product: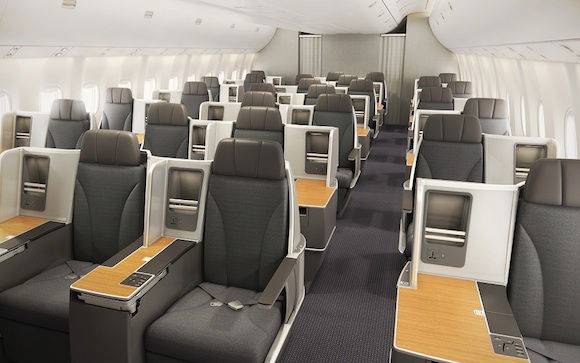 American 767-300 new business class cabin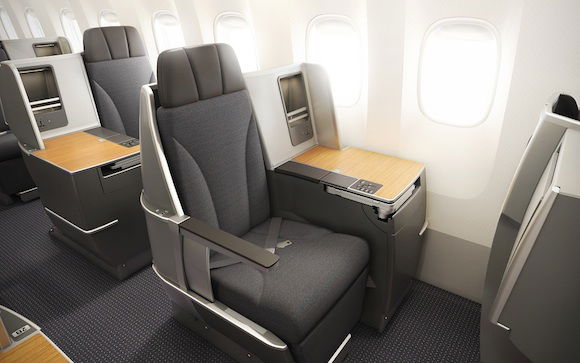 American 767-300 new business class seat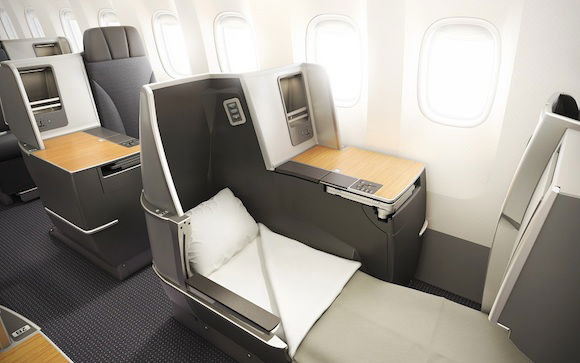 American 767-300 new business class seat (reclined)
Ultimately I do prefer the reverse herringbone seats they have on the 777-300ER, though even this product is a massive improvement over their old business class product, which was angled and really tight. My one complaint with fully flat staggered seats is the small "foot cubby" these seats have, which can be restrictive for your feet and legs when trying to sleep.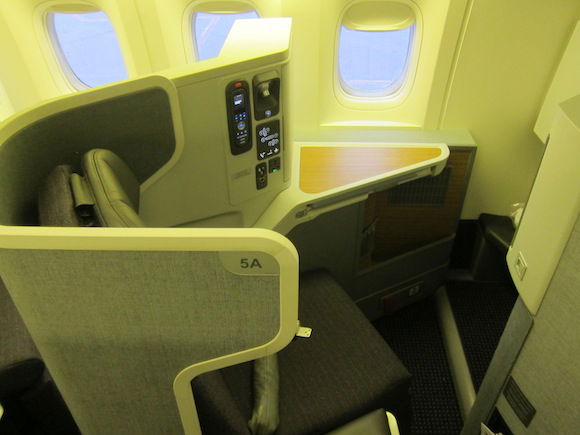 American 777-300ER reverse herringbone business class seat
American's first retrofitted 767-300 will take its inaugural flight between New York's Kennedy Airport (JFK) and Zurich Airport (ZRH) on April 1, 2014. As of now the reconfigured 767 is schedule to operate the route between New York and Zurich through the end of the schedule. Of course as they make progress with the reconfigurations they'll also expand the product to more markets.
In terms of American's 767-300 retrofit schedule, they'll only be reconfiguring roughly half of their 58 767-300 aircraft. They hope to complete the retrofits on half of the fleet by the end of 2015, while they plan on retiring the remainder of the 767 fleet.
Can't wait to try the new product!
(Tip of the hat to Scott)