Of the "big three" US airlines, American has the worst IT, in my opinion. I find their website to be fairly usable, though too basic. Their app is even worse, and trails the apps offered by both Delta and United. The lack of functionality of both the website and app can be frustrating as a passenger.
There's one aspect of American's app experience that I consistently receive the most comments about from readers, though. I've written about this in the past, though it's still something that I get a question about on a near daily basis.
I'm talking about American's upgrade & standby lists, which can only be accessed through the app within four hours of departure. As a point of comparison:
United shows these lists starting 24 hours out to all passengers
Delta shows these lists starting 24 hours out to passengers booked on that flight
Why American's upgrade & standby lists confuse people
American's upgrade and standby lists often don't clear in the correct order, and it's understandable that this causes people to think that gate agents are breaking the rules in how they clear upgrades and standby passengers. If you have a numbered list, you expect that #1 clears first, #2 clears second, etc.
That's often not the case, though, and it leaves some people feeling bitter when they feel the upgrades weren't cleared correctly.
Perhaps surprisingly, in a vast majority of cases American is clearing the list correctly, and this isn't a case of employees just helping out their friends (though I'm sure that happens once in a while). Rather this is just bad IT.
What's really going on?
Let's use the example of yesterday's flight AA20 from Dallas to London. There were 15 people on the upgrade list — #1-5 cleared, and then #15 cleared, but #6-14 were skipped.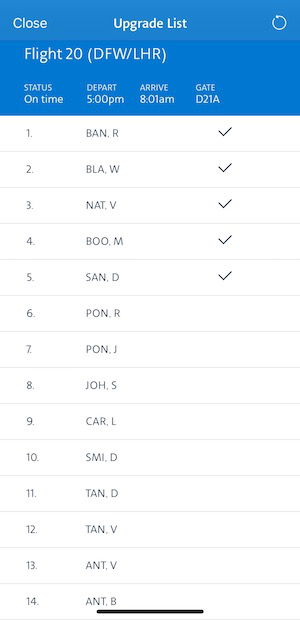 The main issue is that American displays a single upgrade list and a single standby list for customers.
What could cause American to not clear an upgrade list in the correct order?
American has premium economy and international first class on some planes, so it could be that you show #1 and are trying to upgrade from economy to business, while #10 on the list is the first person on the list looking for an upgrade from business to first, and they clear (in this case, #1-9 aren't eligible for that upgrade)
The same is true for planes with premium economy, where someone can be upgraded to premium economy, while you're looking for an upgrade to business class
Sometimes the upgrade list doesn't correctly display the priority for those passengers traveling with companions, and as a result the companion may be cleared in an order that isn't reflected on the public list
A similar situation is true for standby. For example, non-rev passengers are typically at the bottom of the standby list, so it could be that you're standing by for economy, while a non-rev employee is waitlisted for economy, business, or first class. If there are only first class seats available, they'd get the seat and not you (we can save the merits of that system for another post).
Circling back to the above example of the Dallas to London flight, that flight was operated by a 777-200 with economy, premium economy, and business. My guess is that #1-5 on the upgrade list were upgrading to business class, while #15 was the only person waitlisted for premium economy.
How American could fix their upgrade & standby list problems
As a non-IT person, the fix here seems pretty obvious. Or at least we know how other airlines do it, and it works.
American needs to have separate upgrade lists for each class of service on a given flight, because then everyone would know where they stand.
For example, this is something that United does well. Take today's flight from Newark to Hong Kong, which features economy, premium economy, and business. As you can see, they have separate lists for those upgrading to premium economy and those upgrading to business: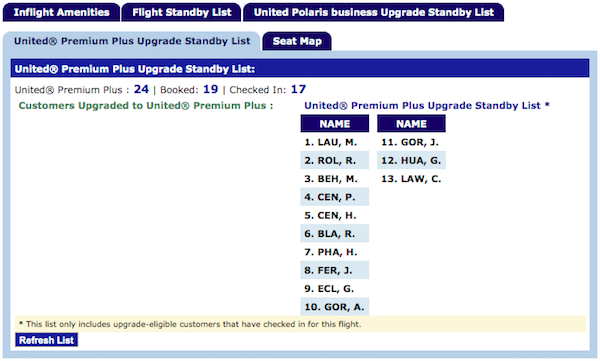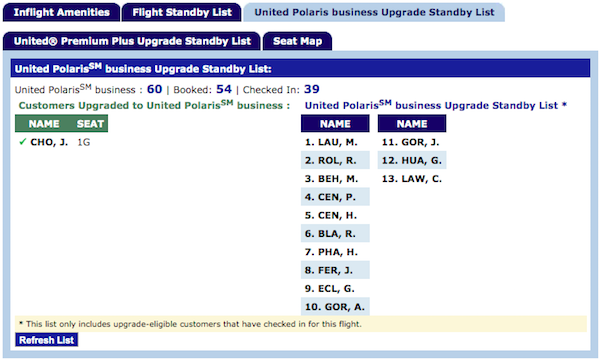 Bottom line
Of the "big three" US carriers, American does the worst job with displaying upgrade and standby lists. This causes confusion for passengers all the time. I have faith that a vast majority of the time upgrades are being processed in the correct order, but the optics are really bad if you're on a standby or upgrade list and get beaten by someone who is listed behind you.
I'm pretty bad with technology so I can't say how easy of a fix this would be, but it's something on my IT wishlist for them. It's certainly something that readers contact me about all the time.
Has anyone else experienced this issue with American's upgrade and standby lists?