American Airlines has announced some updates to how they'll be cleaning their planes, and also to how they'll be protecting passengers and crews.
American flight attendants will be required to wear masks
Starting May 1, 2020, American Airlines flight attendants will be required to wear face masks during every flight. The airline has added a drawer in galleys on every flight containing personal protective equipment, including masks for flight attendants and pilots, and other sanitizing items.
American has come a long way regarding this, because up until several weeks ago the airline specifically prohibited employees from wearing masks. American is the third major US airline to require flight attendants to wear masks, after JetBlue and United.
American will offer passengers masks
Starting in early May, American will start the process of distributing face masks and either sanitizing wipes or gels to passengers. This offering will expand to all flights as supplies and operational conditions allow.
This is a step in the right direction, though this needs to be taken a step further. For the time being all passengers on flights should be wearing masks, whether that comes as a government directive or an airline policy.
I don't understand why that's not the case, because the CDC recommends masks when social distancing isn't possible, so why aren't masks becoming mandatory on planes? We've seen so many stories about outrage over full flights, and this seems like something that needs to happen.
American will clean planes more thoroughly
Starting in early May, American will be expanding the cleaning procedure that's currently used during longer stops to every mainline flight. This new procedure will use disinfectant approved by the Environmental Protection Agency (EPA), and will include thorough cleaning in the following areas:
In customer areas, tray tables, seatbelt buckles, armrests, window shades and seatback screens; it also includes wiping door and overhead bin handles
In team member areas, enhanced galley cleaning, jumpseats and crew rest seats; the new enhancements add cockpit surfaces as well
These build on cleaning procedures that American added in early March, including additional touchpoints in the cabin, increased provisioning of hand sanitizer and sanitizing wipes for crew members, and expanded fogging with an EPA-registered hospital-grade disinfectant in all public areas of the aircraft.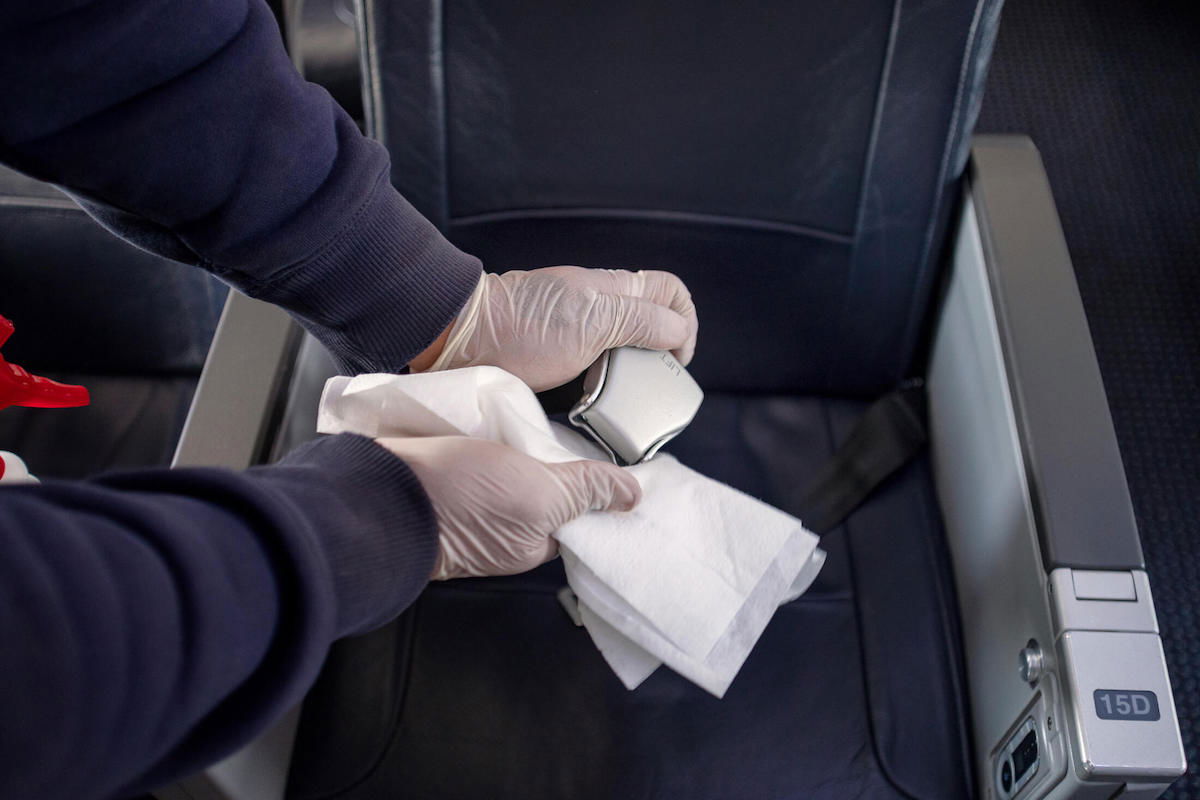 Bottom line
These are all positive developments from American Airlines — planes will be cleaned more thoroughly, flight attendants will have to wear masks, and passengers will be offered masks and sanitizer.
Now the next step just needs to be that masks are mandatory for passengers for the time being.