This makes perfect sense when you think about it, though it's probably something that most people wouldn't even consider.
More airlines are offering masks & hand sanitizer
Airlines are going great lengths to make people feel more comfortable about flying again. This comes in many forms, from requiring passengers to wear face masks, to introducing new cleaning protocols, to providing passengers with hand sanitizer.
We've seen some airlines introduce hygiene kits for passengers, containing items like hand sanitizer, face masks, disinfecting wipes, and more.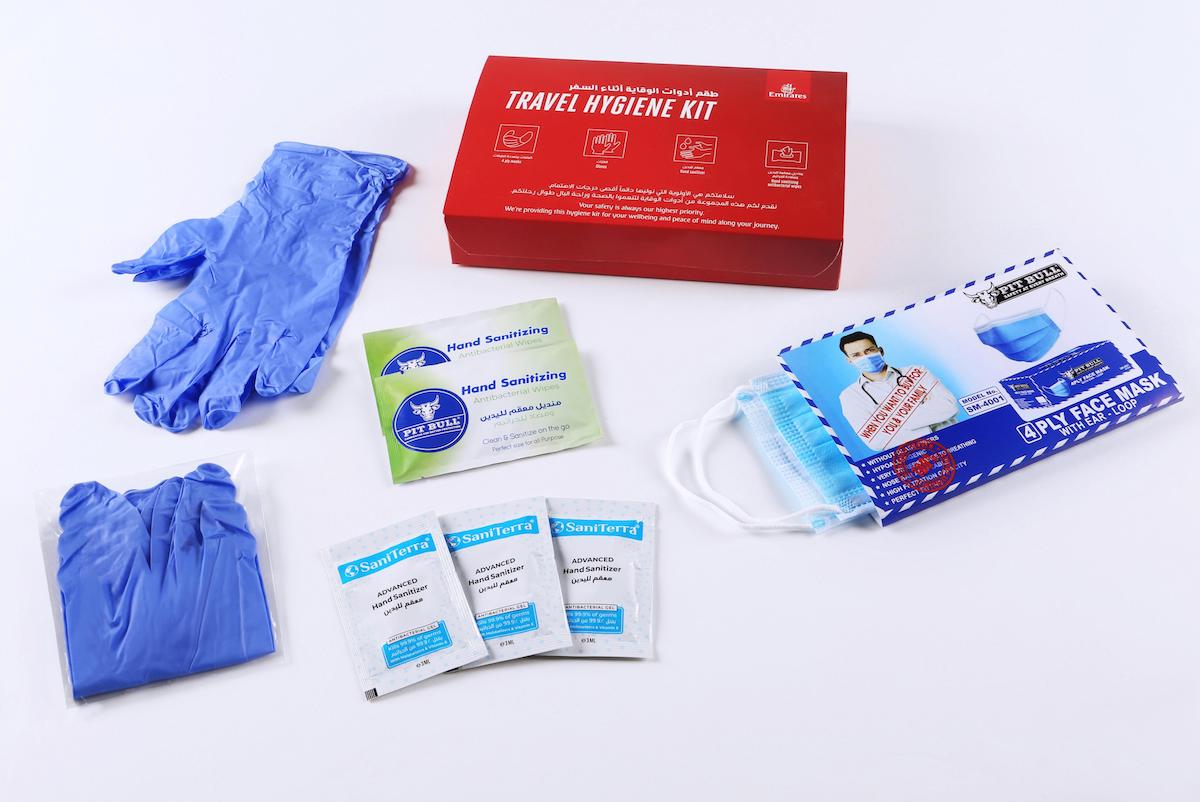 Emirates' new travel hygiene kit
What many people may not realize is that US airlines offering some of these amenities goes beyond just cost considerations and procurement logistics — it also requires permission from the DOT.
Why airlines need permission for hand sanitizer
A May 19 letter from the Department of Transportation to American Airlines' Certificate Management Office shows the process that airlines have to go through in order to get permission to distribute hand sanitizer gel and sanitizing wipes to customers.
What this comes down to is that alcohol-baed sanitizers (whether gel or wipes) are classified as flammable liquids, and that comes with many restrictions when it comes to air transport. In small quantities this shouldn't be an issue, though precautions still have to be taken, with considerations like storage, quantity, packaging, and more.
Just to give a sense of what the considerations are, here are the first two paragraphs of the letter from the DOT to American Airlines:
This letter is in response to your submission, dated May 19, 2020 in which you requested approval to provide personal use quantities of hand sanitizer gel and sanitizing wipes to customers prior to boarding and/or distributed during flight. The wipes/sachets consist of less than 1 ounce (28 grams) of hand sanitizing gel containing 60-70% alcohol (depending on manufacturer) per wipe/sachet. Members of your team met with inspectors in the American Airlines (AA) Certificate Management Office (CMO) and the Office of Hazardous Materials Safety assigned Principal HazMat Inspector on May 14, 2020 and May 18, 2020 to discuss the14 CFR part 5 required safety risk assessment that AA calls a Risk Management Worksheet (RMW) for these changes.

49 CFR §175.10 provides passengers and crewmembers with the ability to carry certain dangerous goods in personal use. 49 CFR §173.150(g) provides shippers with exceptions for retail products containing up to 70% alcohol by volume for up to 0.125 gallons (0.47 liters) for liquids and 1 lb. (0.45 kgs) for solids. 49 CFR §175.8 (a)(4) provides that other items of company hazardous materials may be carried and used by the operator with approval of the Administrator of the Federal Aviation Administration. AA has specified that it will not transport case quantities of hand sanitizer for replacement in the cabin but that longer flights may have double quantities provisioned for use on the return flight. AA has further provided information that shows all quantities will be prepared in accordance with the CFR limitations noted above and are to be dispersed throughout the catering carts to minimize concentration in any one location.
As you can see, some of the main considerations are that they don't store unnecessary amounts of these on planes, that they spread out storage of them throughout the plane, and that they keep the quantities limited.
Based on the inspection, it was decided that American Airlines mitigated risk appropriately, and that the process described meets FAA requirements. If any changes are made to the process, American will once again need permission for that.
Now, in fairness, American is a bit behind the curve here, and this is supposed to be a pretty quick approval process. The airline only went through the approval process in mid-May, arguably well over two months after it was obvious that this might become necessary.
Delta's amenity kits have featured "hand cleanser" for a long time.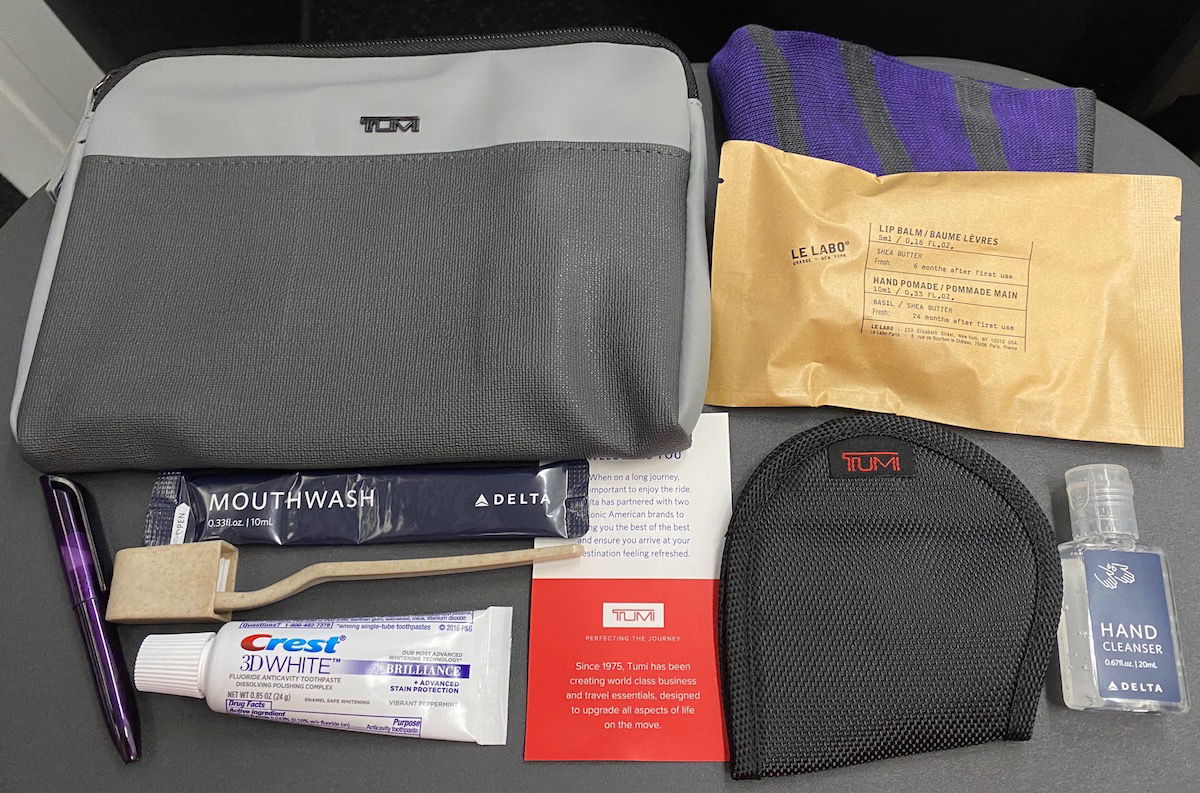 Delta's amenity kit (with hand sanitizer)
It's my understanding that this contained less than 50% alcohol, so didn't need the same permission. Delta has also had to get updated permission to offer hand sanitizer on a more widespread basis.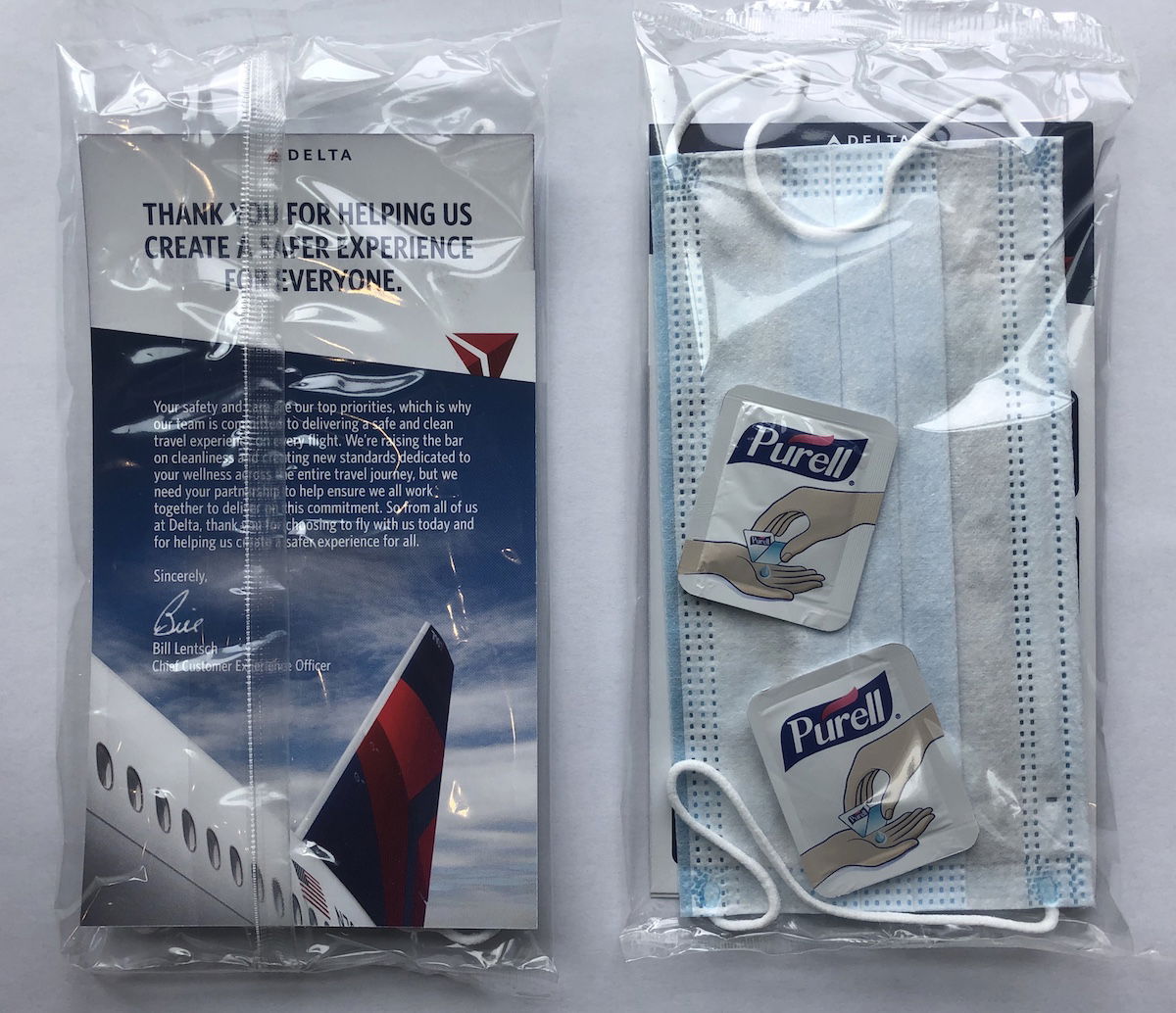 Delta's new care kits
While a bit more extreme, let me just give an example of when something flammable that was brought onboard a plane became an issue. In 1999 a Uni Air MD-90 had an explosion on landing, as a passenger had been carrying bottles of flammable liquid, which ignited with a motorbike battery in a nearby overhead bin. Again, that's not exactly the same thing, but it gives you an idea of the risk that can be posed by flammable items in the cabin.
Bottom line
It makes perfect sense that airlines would need to have protocols for alcohol-based hand sanitizer approved, even if it's something we might not otherwise think about.
While this is unlikely to pose a threat in small quantities, you're better safe than sorry. After all, you don't want airlines storing an unnecessary amount on planes, and that potentially leading to problems…
(Tip of the hat to View from the Wing)