Generally speaking I find American Airlines' domestic first class catering to be pretty bad. Not only do the meals mostly taste really low quality, but my issue is how unhealthy most of the dishes are.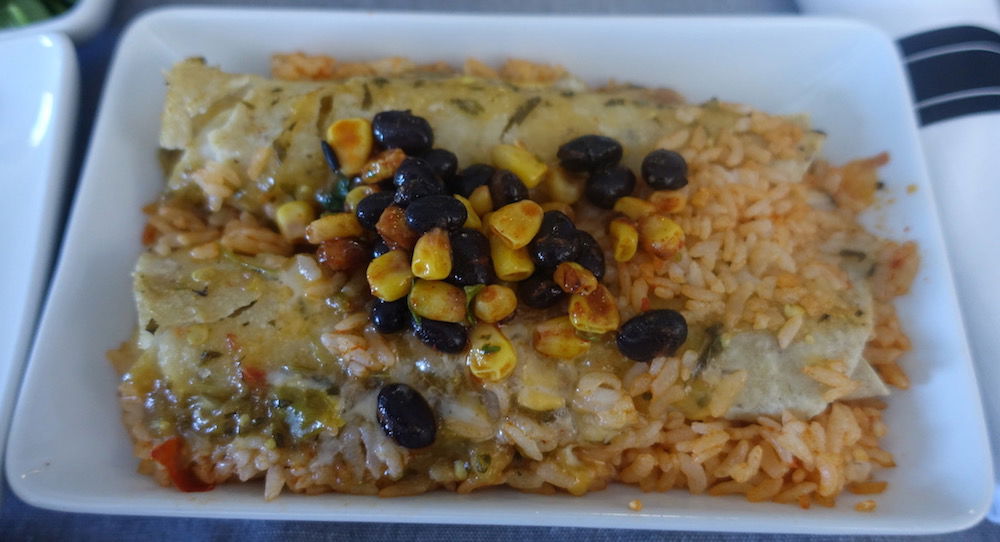 Don't get me wrong, I like a tasty and unhealthy meal as much as the next person, but if I'm going to have a 2,000 calorie meal, I'd like it to at least taste good. It blows my mind how much low quality cheese American puts into just about all of their dishes, whether breakfast, lunch, or dinner.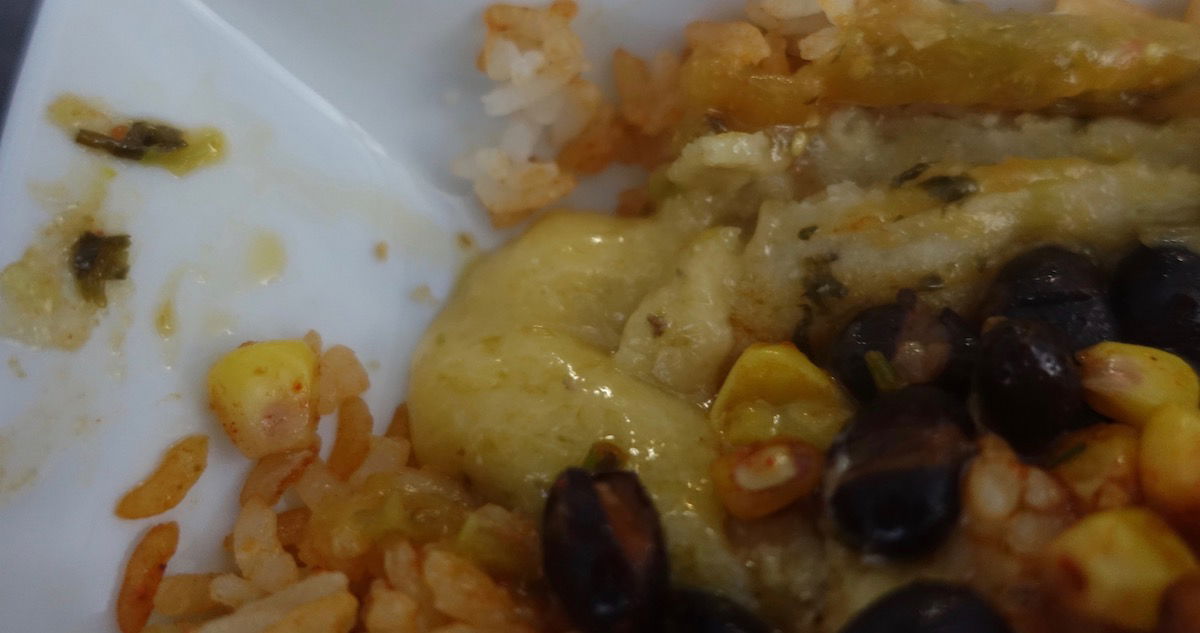 So while I'm generally not a fan of American's domestic food, the great thing is that they let you order special meals on most flights that serve meals. Some of these are really, really, really good. Like, restaurant quality good, and as far as I'm concerned it's better than just about anything else you'll be served on a domestic flight (save for JetBlue Mint).
I've written extensively about my love for American's Asian Vegetarian meals. While these are fairly consistently good, my absolute favorites are the ones catered out of JFK.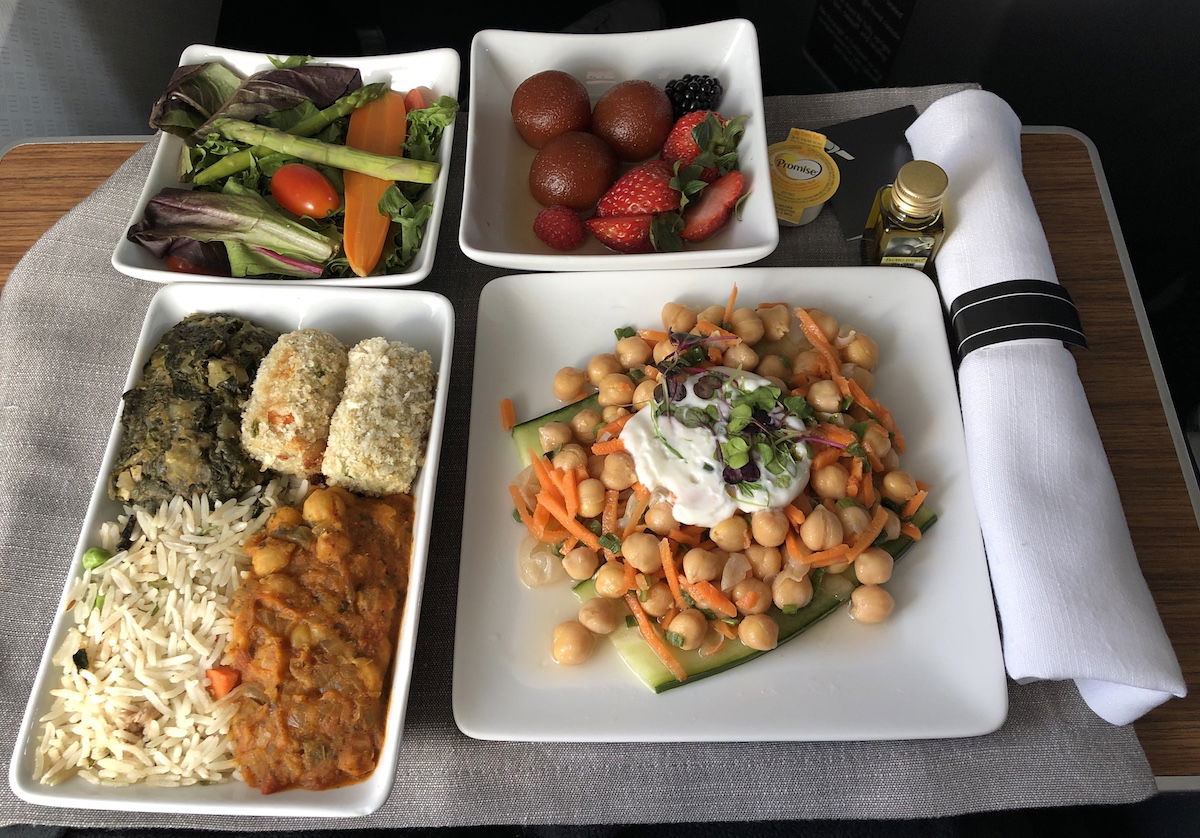 The catch is that the Asian Vegetarian meals are typically only great for lunch and dinner, but not so much for breakfast.
In this post I wanted to share a tip for getting the best breakfast you can on American. I always order Kosher meals for breakfast on American, and while I've written about it in passing in the past, it occurred to me I never fully explained why, and shared pictures of what's offered.
My issue with American's breakfasts is that usually their omelets are disgusting. They're filled with highly processed cheese, and they usually come with some sort of pork on the side (I don't eat pork, not due to any dietary needs or religious beliefs, but because I like pigs).
And that's why American's Kosher breakfasts are so great. Here's how the American Airlines Kosher breakfast is served: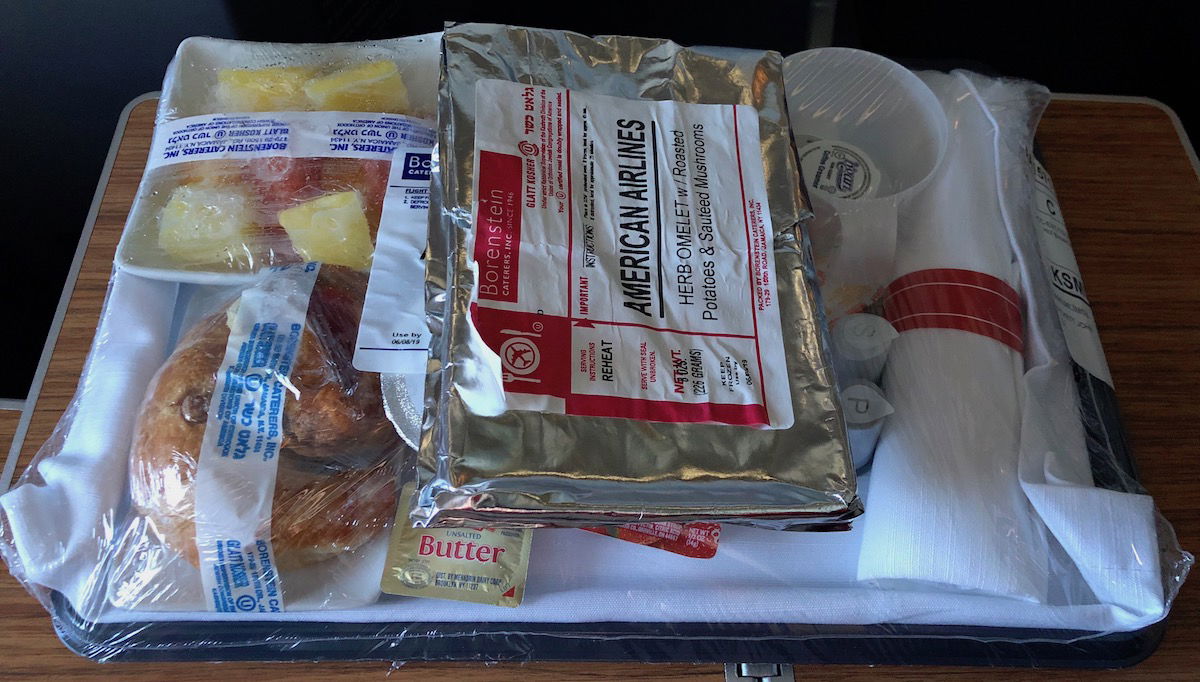 As you can see, it's fully wrapped, in accordance with Kosher guidelines.
If that's not something you actually need, the downside is that you'll be doing a lot of unwrapping. It's not just getting the aluminum and wrapping off each dish, but they're also "tied" together with a sticker, which can be tough to remove.
So the side of your seat will look something like the below.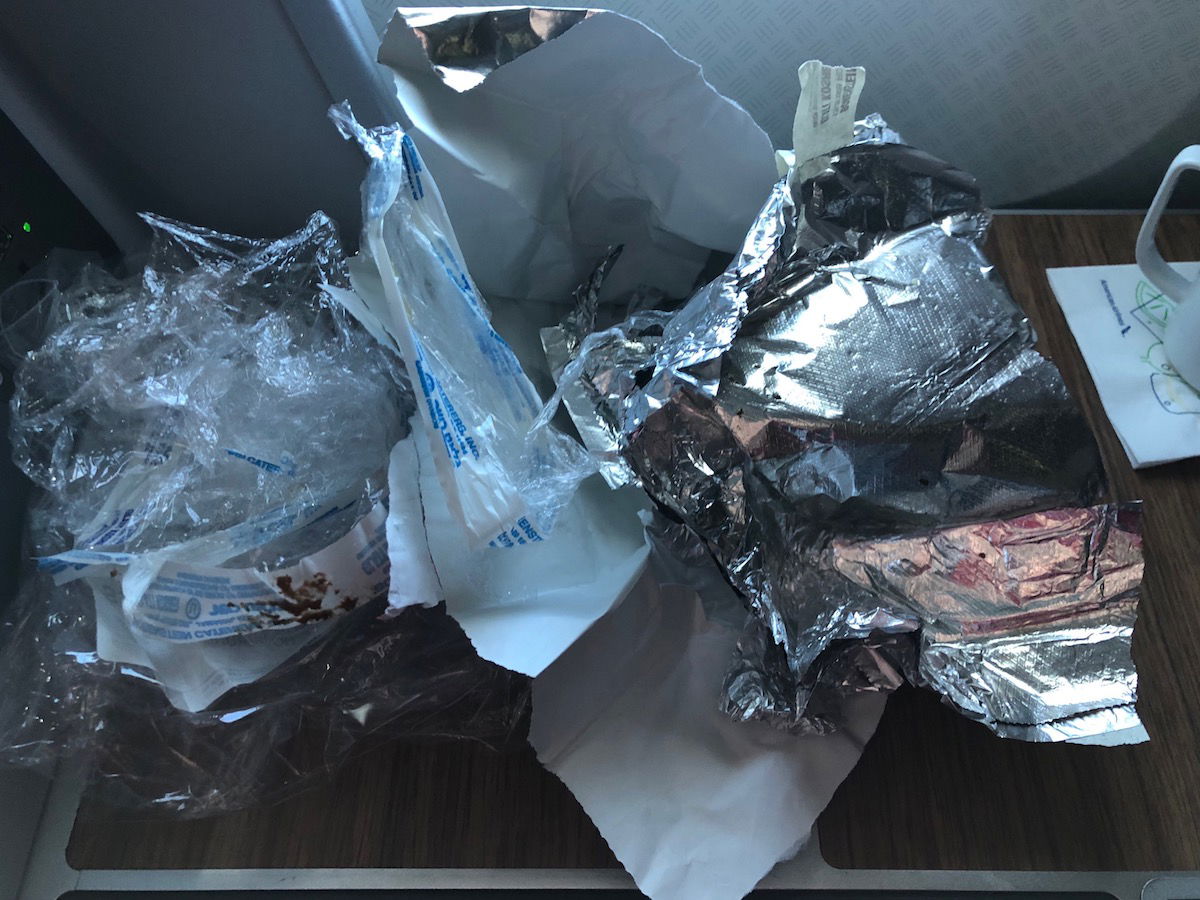 But the food is actually really good.
On the most basic level I like American's Kosher meals because it seems to be the only way to just get a plain old omelet. I don't want cheese or sausage or anything, so this meal is always a plain omelet with mushrooms and potatoes.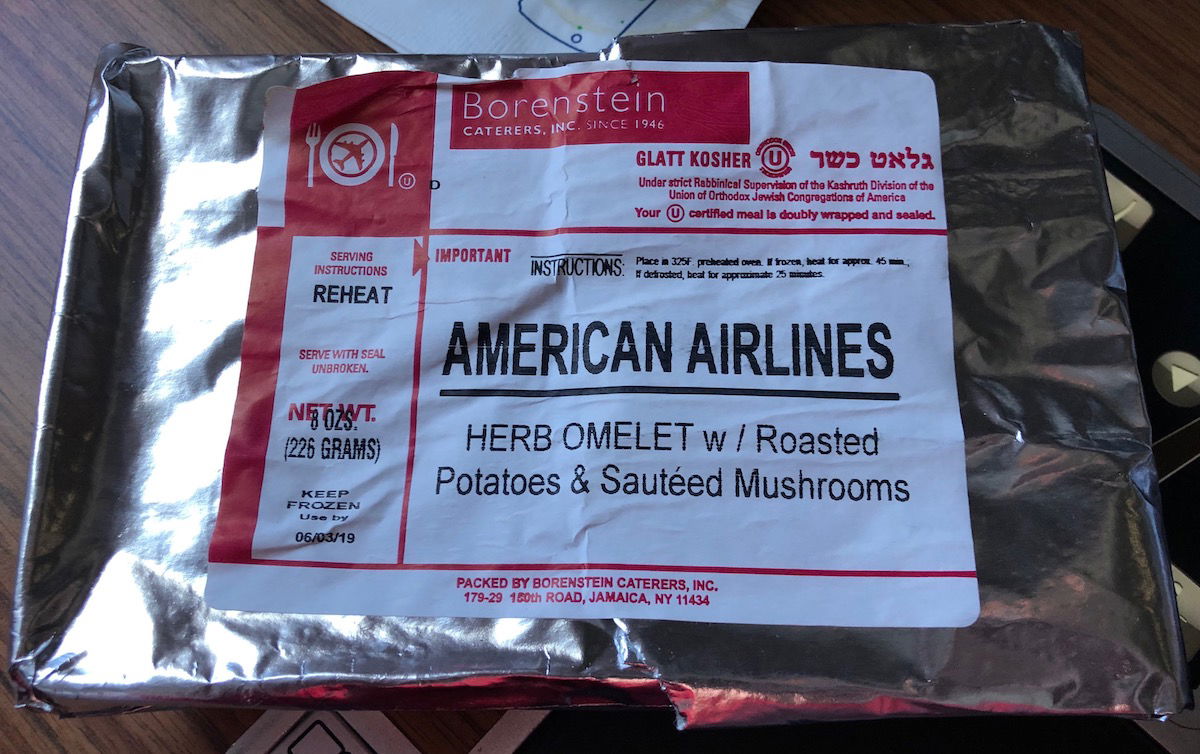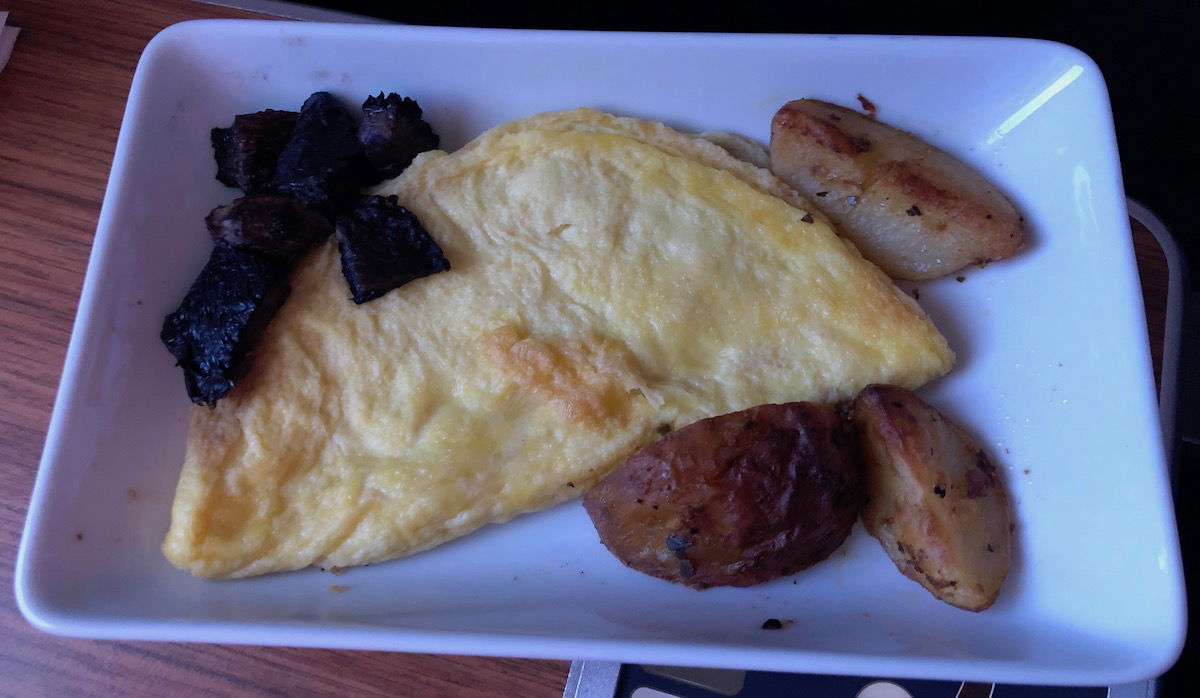 The sides are actually pretty delicious as well. There's a side of fruit, which is good enough, but then it comes with a bunch of sweets as well. The cherry pastry is consistently very good, as is the pineapple cherry cake.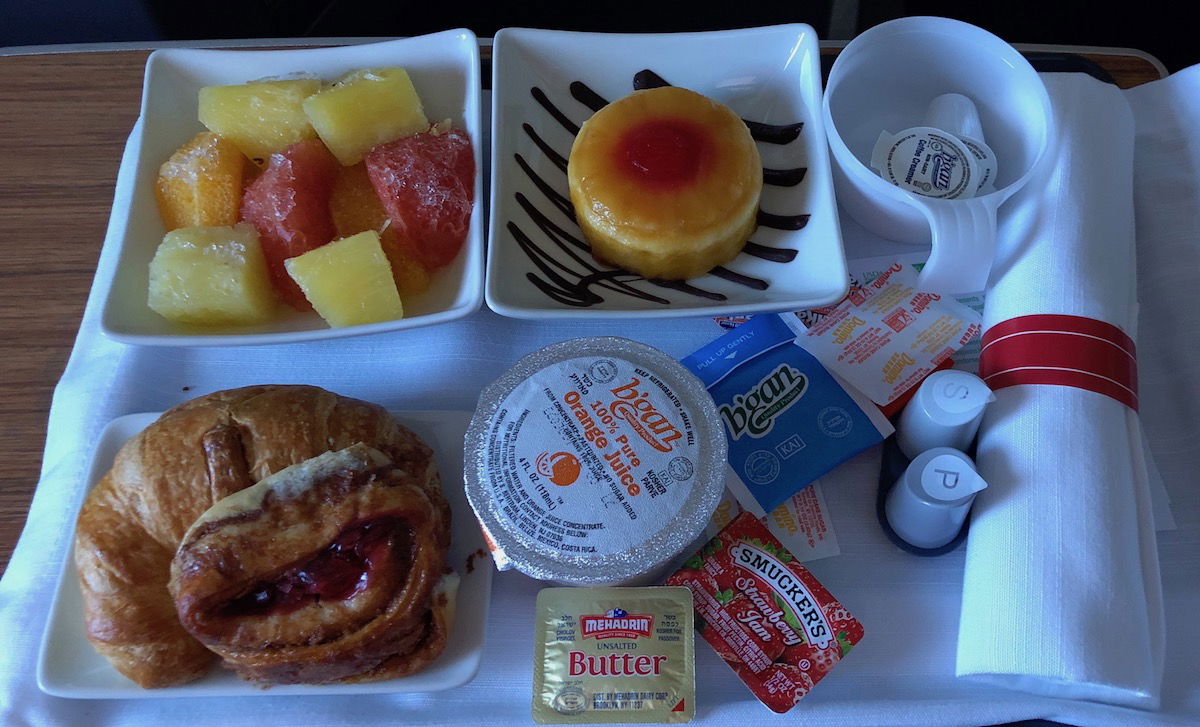 I don't know why there's a need for a croissant, a danish, and cake with breakfast, but it does give you a nice selection. 😉 So much for trying to eat healthy… oh well, at least these things taste good!
Bottom line
The ability to order special meals in domestic first class on American has really changed my impression of their catering.
For breakfast I love ordering a Kosher meal, so I can get a plain omelet, while for lunch and dinner I love the Asian Vegetarian meals, which are almost always delicious.
Anyone else enjoy using special meals to improve your American dining experience? 😉