This week American Airlines has rolled out new menus on their flights within North America.
There are eight lunch choices and eight dinner choices, and you should expect to see them cycled throughout the coming year, with different routes getting different meals.
The menu is designed by Dallas chef Julian Barsotti. When I say "designed by," my guess is that they simply paid him some amount of money to put his name on (not even) glorified cafeteria food.
American Airlines' new first class menu options
As noted by View from the Wing, you can expect for there to be eight new lunch choices and eight new dinner choices.
The lunch choices will be as follows (with the first four being salads, and the last four being hot options):
American Chopped Salad
TexMex Salad
Mezze Trio Plate
Chinese Chicken Salad
Spinach Ricotta Raviolini
Chow Mein Noodle Bowl
Cheese Enchiladas
Classic Cheeseburger
Then for dinner you can expect the following eight options:
Grilled Chicken Breast with Lemon Artichoke Risotto, Asparagus and Herb Butter
Short Rib with Hatch Chili Mac and Cheese and Haricot Vert
Grilled Chicken with Shiitake Mushroom Sauce and Twice Baked Potato
Beef Filet with Cauliflower Mash and Broccolini
Lasagnette Pasta with Mushrooms, Tomatoes and Kale Ragu
Falafel Plate with Orzo and Quinoa
Three Bean Chili with Polenta Cake
Southwest Lasagna
My first experience with American's new first class menus
I took an American Airlines lunch flight on the first day that these new menus were in place. For whatever reason I wasn't able to pre-order my beloved Asian Vegetarian meal (there were no special meal choices), so Ford and I got to sample the two options.
I ordered us one of each of the options. I have to give American credit, they've really improved their catering. Here's what we were served: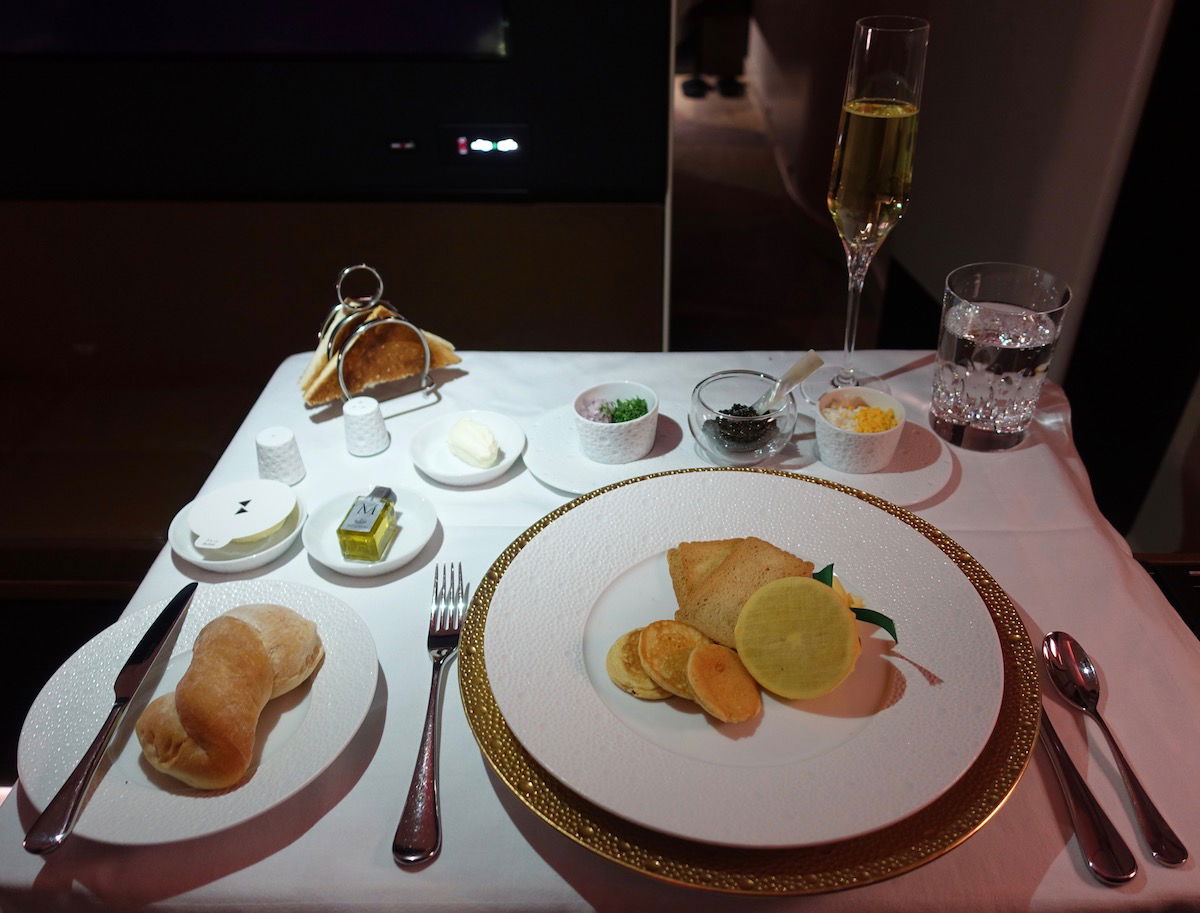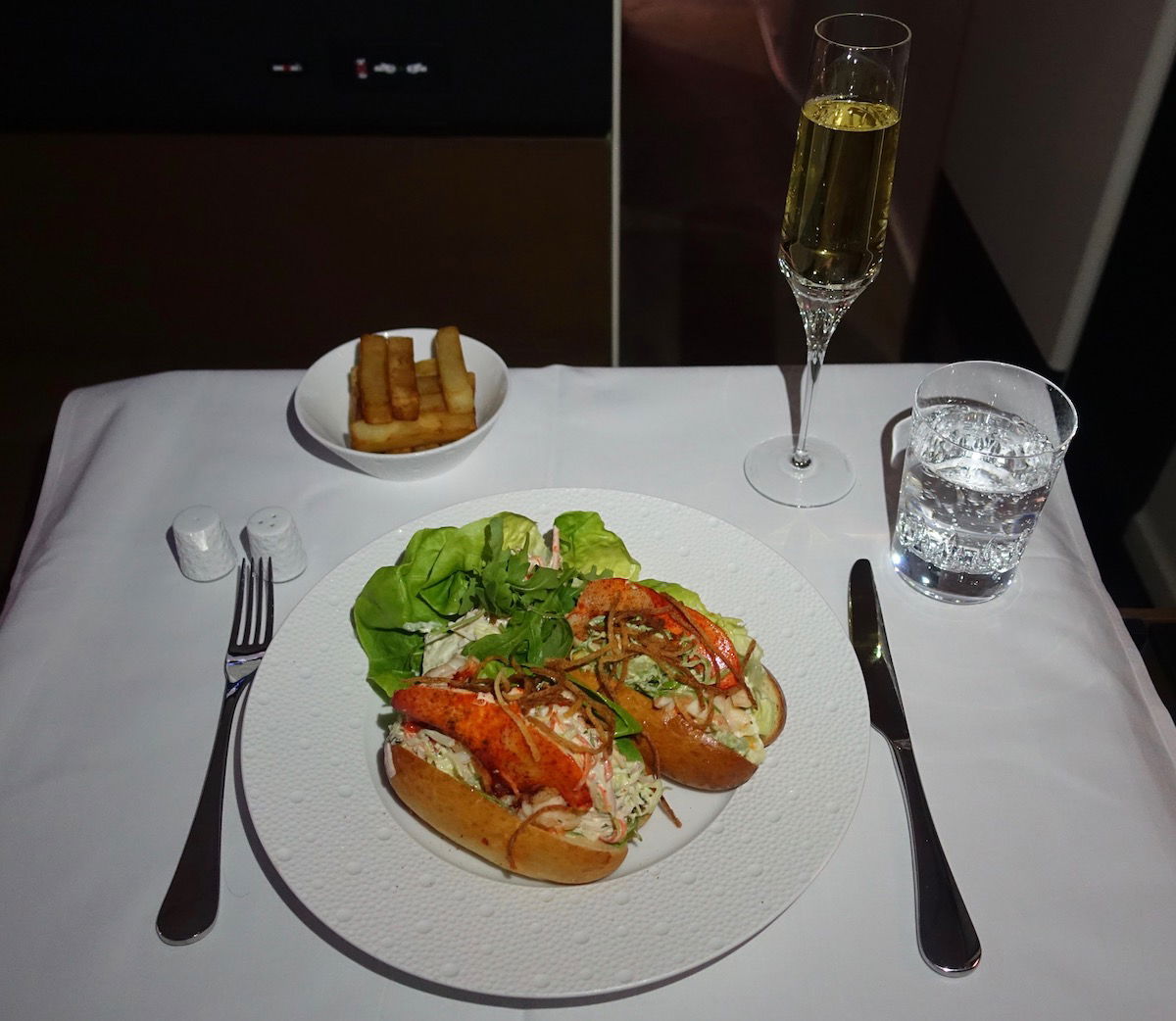 Just kidding, of course. Instead I was served this equally delicious meal: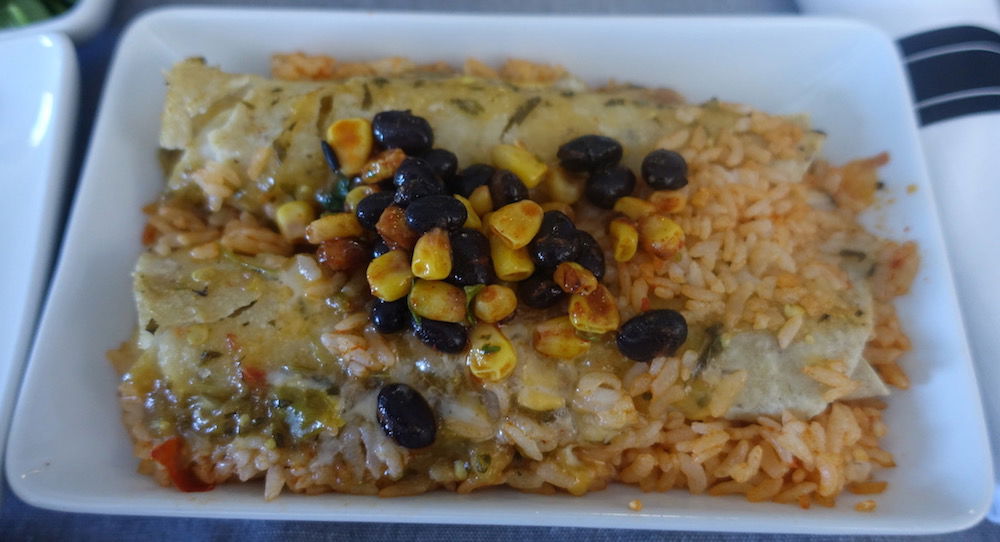 Okay, in all honesty, as usual service began with warm mixed nuts.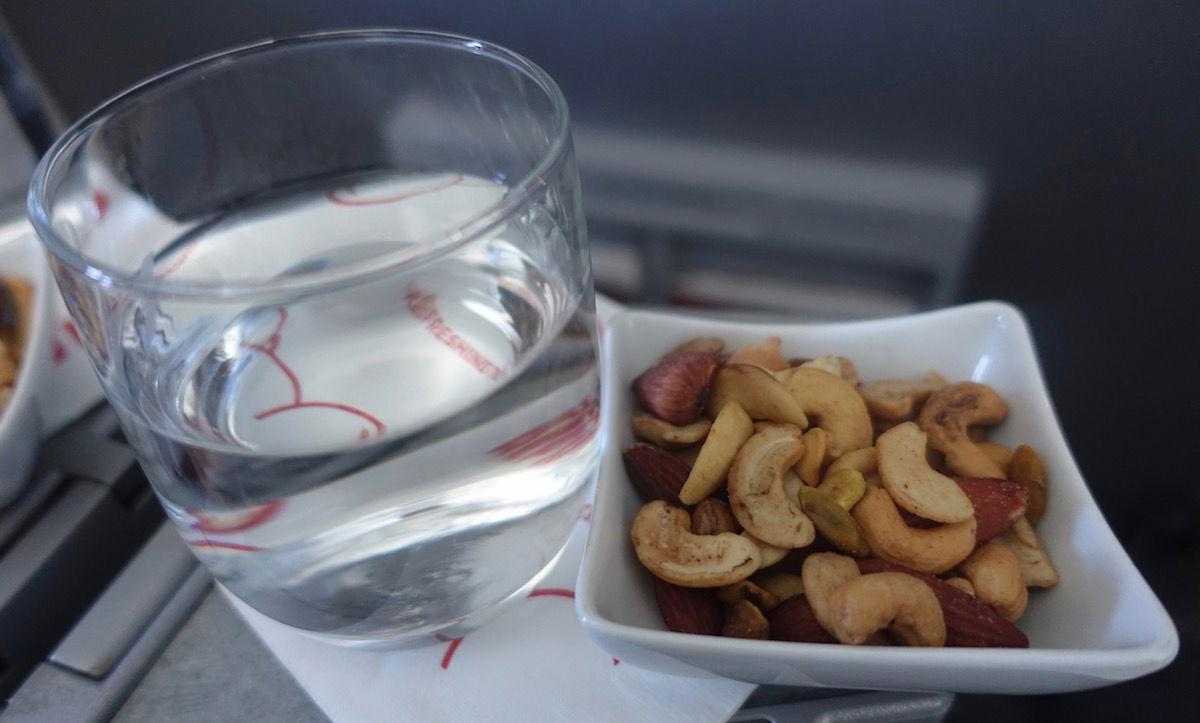 One option was the mezze trio with a side of chicken. This was actually not bad at all, and one of the better non-special meals I've had on a domestic American flight in a long time.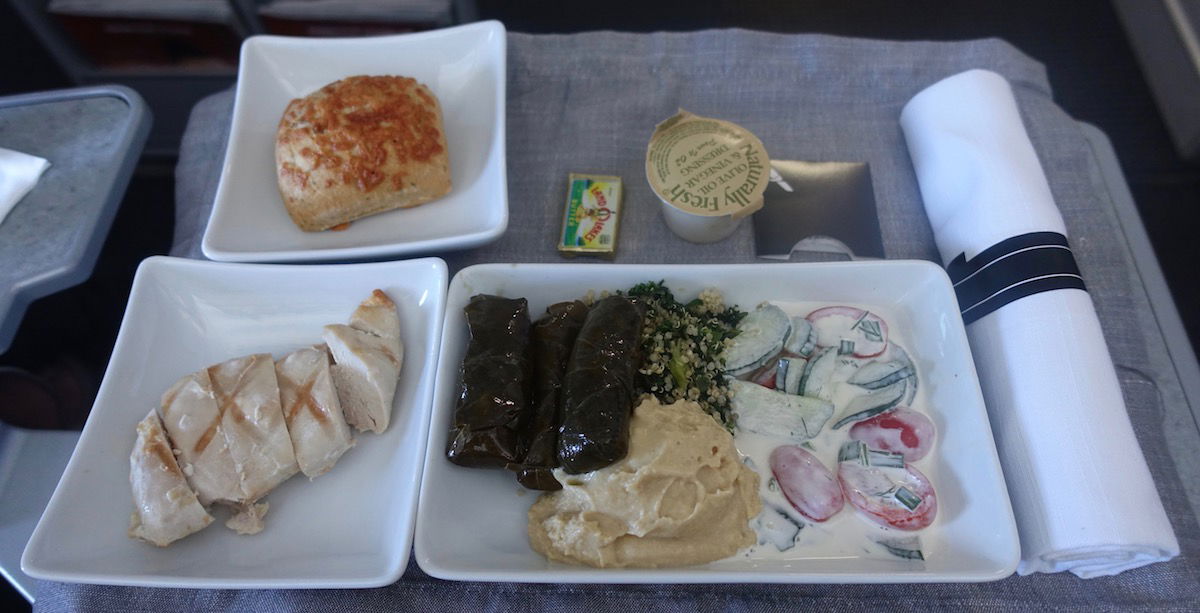 The same can't be said for the hot meal. I just really can't wrap my head around how the one hot option they choose to serve is a cheese enchilada.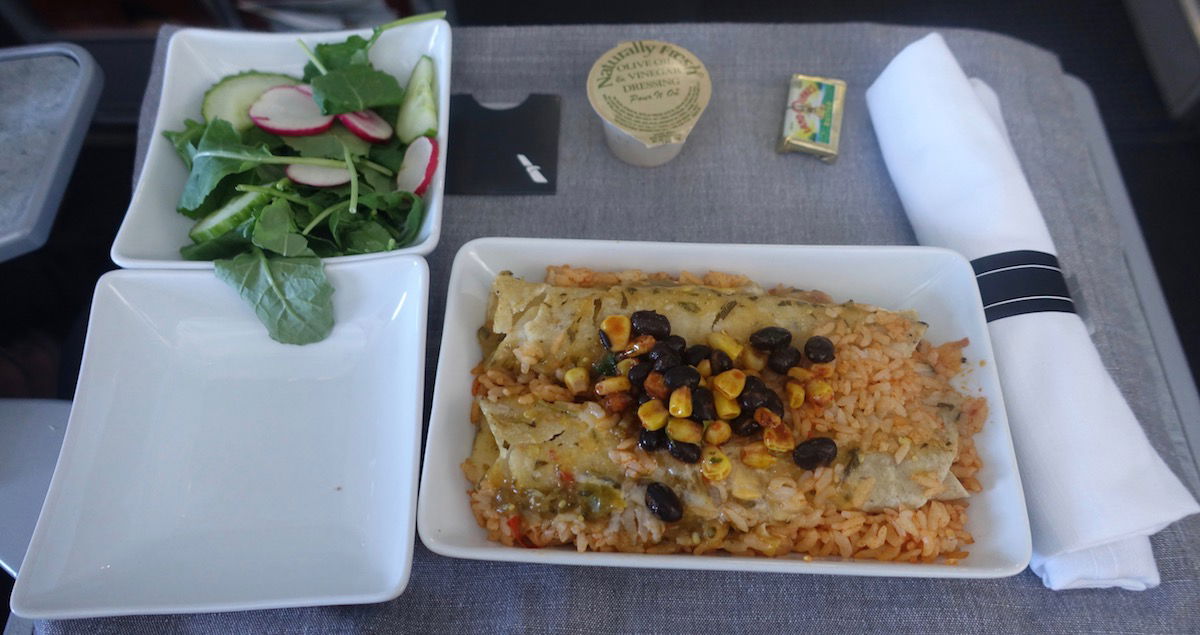 Look, I'm far from the healthiest eater in the world, but I had two bites of this (to try it), and I had a stomach ache for the rest of the flight. Just ugh.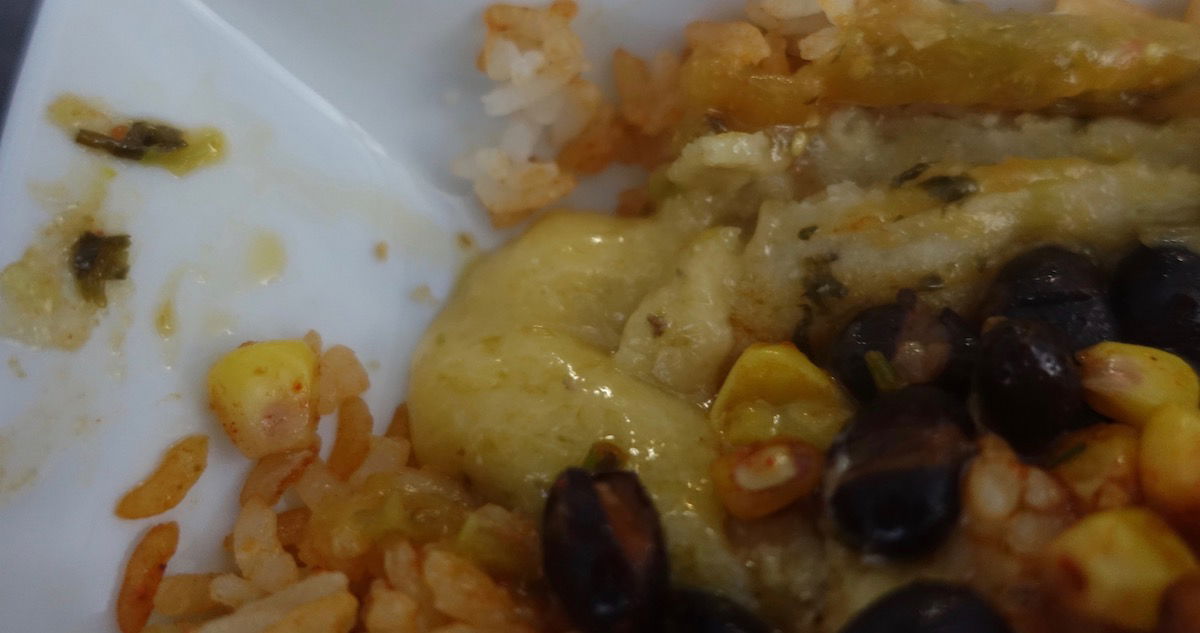 Then for dessert there was the choice of two types of cookies — chocolate chip or snickerdoodle.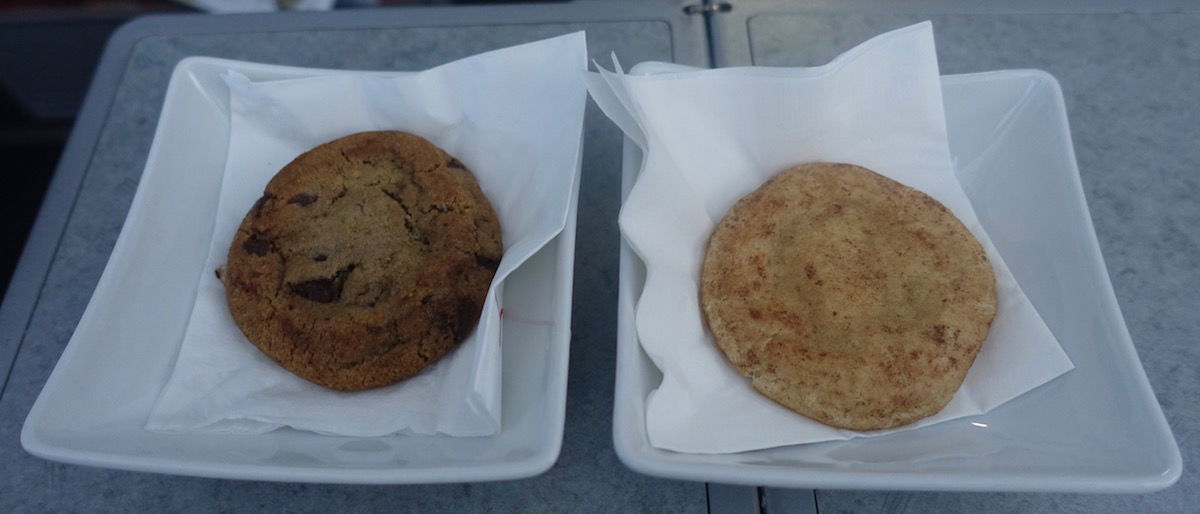 Bottom line
Perhaps the most exciting thing about American's new meals is that they're different than the old ones, so they provide a bit of variety. Personally the four lunch salads sound pretty decent to me, so I wouldn't hesitate to order those.
However, the four hot lunch options seem mostly unappealing to me.
I'll keep ordering Asian Vegetarian meals when they're available.
If you've tried American's new menu, what was your experience like?