For my own travel patterns, the increase of inflight Wi-Fi is the single greatest innovation we've seen to flying in the past decade. I realize I'm in the minority in feeling that way, but I could only do a small fraction of the flying I do if it weren't for inflight Wi-Fi.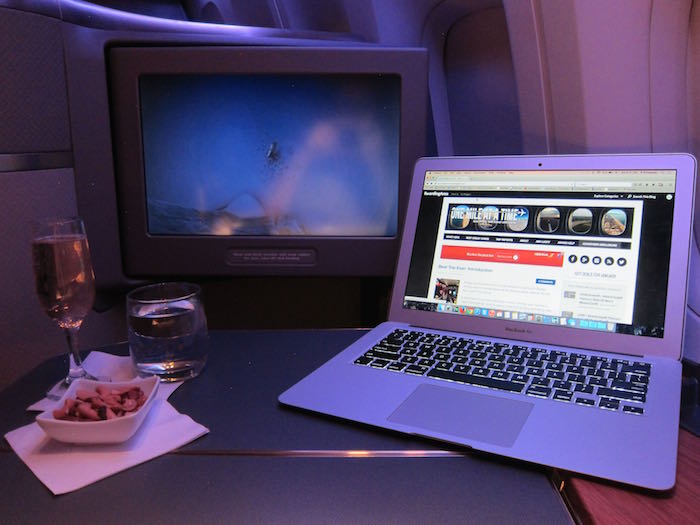 While Wi-Fi speeds aren't as good as what you'll find on the ground, in many ways that's a blessing. It means I spend more time working and less time browsing YouTube for cat videos.
As much as I love Wi-Fi, there's still a huge variance in the speed and cost among various airlines. Some airlines (like Etihad and Lufthansa) offer very reasonably priced 24 hour passes with no data restrictions, while other airlines (like Singapore and Iberia) charge based on usage, and the costs are ridiculous.
American uses Gogo Wi-Fi for domestic flights, which works out well for me since they offer monthly passes with no data restrictions. So while the Wi-Fi isn't fast, at least I have Wi-Fi on virtually every flight at a reasonable cost.
Well, it looks like we could see some changes to Wi-Fi on American soon, and long term it could be very good news for consumers.
American filed a lawsuit against Gogo, saying they've found a faster internet service. Apparently American's contract with Gogo allows them to renegotiate terms if another company offers better service, which American has apparently found.
Via the Star-Telegram:
"After carefully evaluating the new technology and services in the marketplace, American has decided to exercise its rights under the Agreement and recently notified Gogo that ViaSat offers an in-flight connectivity system that materially improves on Gogo's air-to-ground system," the suit says.

American says ViaSat offers a faster service that is currently installed on United Airlines, Jet Blue and Virgin America planes.
Here's a statement from American regarding the situation:
"American continually evaluates in-flight connectivity service to determine what best meets our customers' needs and wants," American said in a statement on Monday. "We've notified Gogo of a competitor's offering, and we will evaluate all of our options."
And here's a statement from Gogo:
"We have no comment on the merits of this litigation, but we would like to note that American is a valued customer of ours and that we look forward to resolving the disagreement regarding contract interpretation that led to this declaratory judgment action," Gogo said in a statement late Monday night.

"We believe that 2Ku is the best performing technology in the market and look forward to discussing our offer with American," Gogo said.
Delta is in the process of upgrading their fleet with Gogo's 2Ku satellite-based Wi-Fi, which should greatly improve speeds and also increase coverage zones. Here's the infographic they released at the time: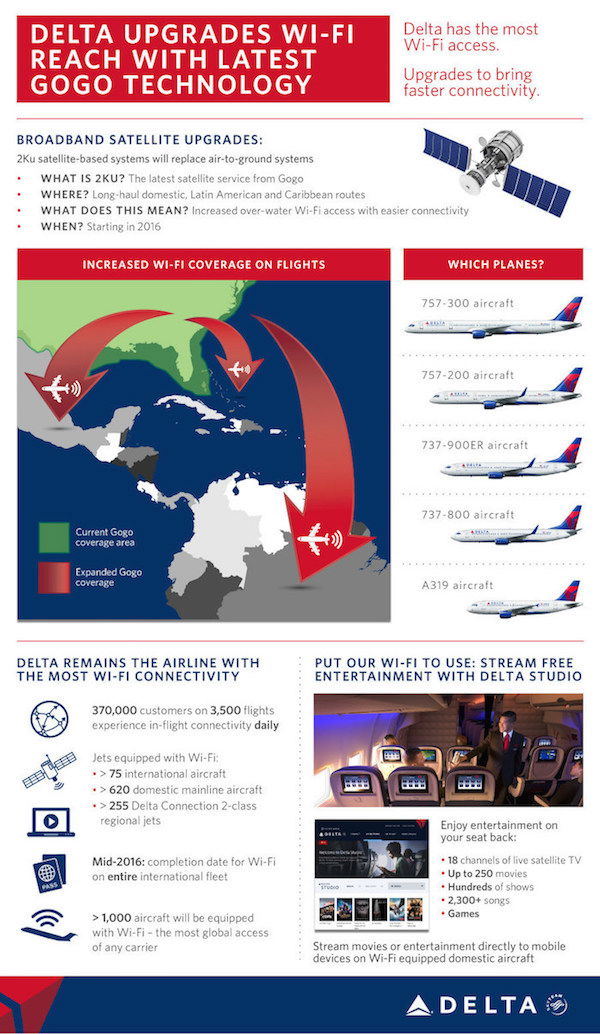 I'm still not sure I get the reason for the lawsuit here. Given that American is using Gogo's less-updated system, you'd think they'd work together to install 2Ku instead. Or perhaps the approach American is taking is more of a threatening bargaining technique to lower the cost and/or increase their margins with Gogo.
Bottom line
I'd certainly welcome American offering improved Wi-Fi, and hope we see this come to fruition. I just hope this doesn't turn into a bigger deal than it needs to be, and ends with a long coverage gap. Right now we're seeing American switch business class seat providers on their 777s and 787s, and the direct result is that planes temporarily aren't being reconfigured, which is bad for passengers. Hopefully this Wi-Fi dispute doesn't lead to a similar situation.
What do you make of American's lawsuit against Gogo?