#ICanSeeRussiaFromMyPlane
I think I've just found another flight to put on my aviation geek bucket list once this is all over…
Alaska Airlines' flight from Anchorage to Adak
As of May 16, 2020, Alaska Airlines will be launching a 2x weekly flight from Anchorage to Adak via Cold Bay. The flight will be operated by a 737 on Wednesdays and Saturdays with the following schedule:
AS184 Anchorage to Cold Bay departing 10:00AM arriving 11:30AM
AS184 Cold Bay to Adak departing 12:15PM arriving 1:00PM
AS187 Adak to Cold Bay departing 2:00PM arriving 4:45PM
AS187 Cold Bay to Anchorage departing 5:30PM arriving 7:00PM
What makes this route so special? Well, just look at a map and I'm sure you'll appreciate how cool this flight is. The journey covers a distance of about ~1,250 miles one-way, and Cold Bay is right near the halfway point.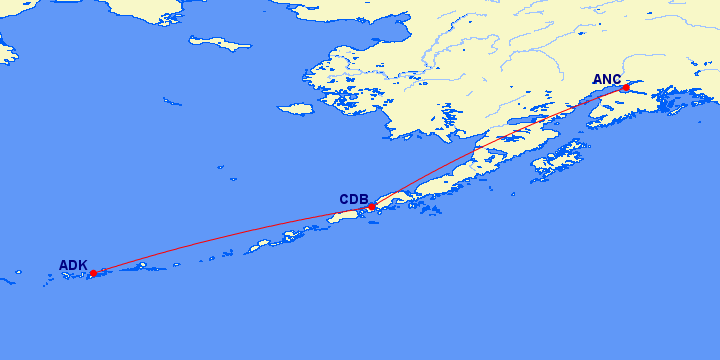 Maybe it's even cooler if you zoom out on the map.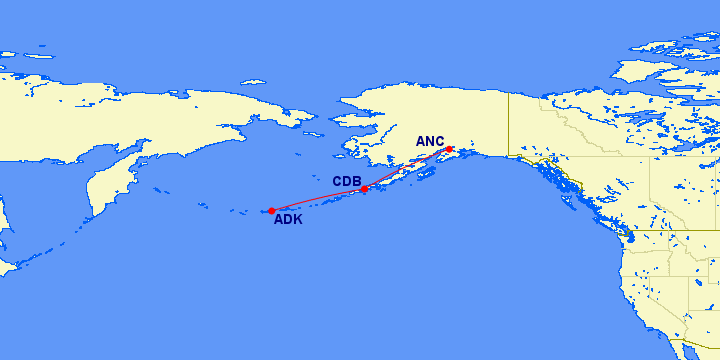 This isn't the first time that Alaska has flown to Adak (which makes up part of the Aleutian Islands), but rather what's new is that the flight will be operating via Cold Bay.
This is happening because Ravn recently went out of business, which was one of the primary airlines providing service within Alaska. That left Cold Bay without a link to Anchorage, which is why Alaska stepped in.
There's so much interesting stuff here
The flight to Adak is operated as part of the Essential Air Service (EAS) program, and the government pays over $2 million per year for the flight to be operated, given how secluded the community is (that's about $10,000 per flight one-way, or $20,000 roundtrip).
These are tiny communities — Cold Bay has just over 100 residents, while Adak has just over 300 residents. These are some of the smallest towns in the world to get Boeing 737 service.
One of the primary motives of providing service to Cold Bay is to give people access to Unalaska/Dutch Harbor, which is a short flight away and has a community of a few thousand people. Unalaska looks gorgeous, by the way…
Has anyone been to Adak, Cold Bay, or Unalaska?
Also, while I realize this is purely my inner avgeek talking and there's no way this is ever happening, how cool would it be if Alaska Airlines flew from Adak to Russia? Best I can tell the closest major airport in Russia would be Ugolny Airport, which is about 900 miles away (though maybe I missed another airport that's closer?).
Petropavlovsk-Kamchatsky is only a little further, and we have seen summer seasonal flights from there to Anchorage.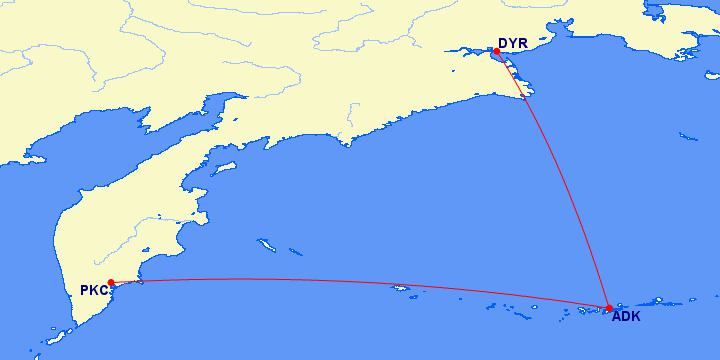 Other cool avgeek flights in North America
This isn't even Alaska Airlines' only really cool flight. Alaska Airlines is well known for "milk runs," one of which operates from Seattle to Juneau via Ketchikan, Wrangell, and Petersburg. Some of those flights are just 30 miles, and circle around glaciers.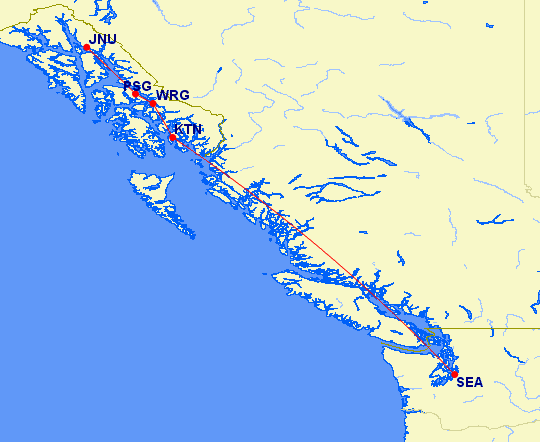 Then there are some really cool flights to the Canadian Arctic on Canadian North, like flying from Ottawa to Resolute Bay via Iqaluit and Arctic Bay.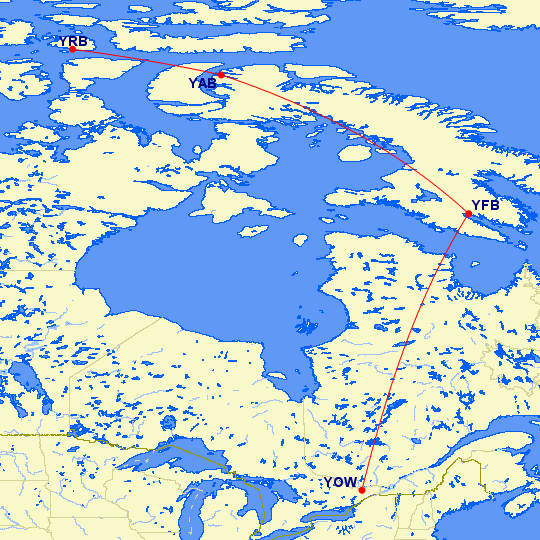 Bottom line
Alaska Airlines' new flight from Anchorage to Adak via Cold Bay has to be another one of the coolest avgeek routes in North America. As I'm increasingly looking at planning more travel within North America in the coming year or so, taking some of these flights is on my radar.
Has anyone actually been to Adak/Cold Bay/Unalaska, and if so, any thoughts on eventually visiting? Anyone find these flights as cool as I do?