In August 2021, the details of a new airline startup in the United States were officially revealed. This might just be the most creative and unusual airline startup we've seen in the United States in a long time.
I've been wondering whether this airline will actually become a reality, and it's increasingly looking like it will. The airline has acquired Boeing 757s, and even held a media event yesterday sharing more details of launch plans. In this post I wanted to go over what we know about the new airline.
Ravn Alaska is a regional airline
Ravn Alaska is a regional airline in Alaska that has historically partnered with Alaska Airlines to offer service in smaller markets. In April 2020, shortly after coronavirus shut down the world, the airline suspended operations and filed for Chapter 11 bankruptcy.
Fortunately by November 2020, Ravn Alaska was able to resume operations, as some investors purchased Ravn Alaska's assets, and got the operation up and running again. A new CEO was appointed, and the airline is even looking to the future, and has signed a letter of intent to acquire 50 hybrid-electric aircraft (whether or not that actually happens is a different story).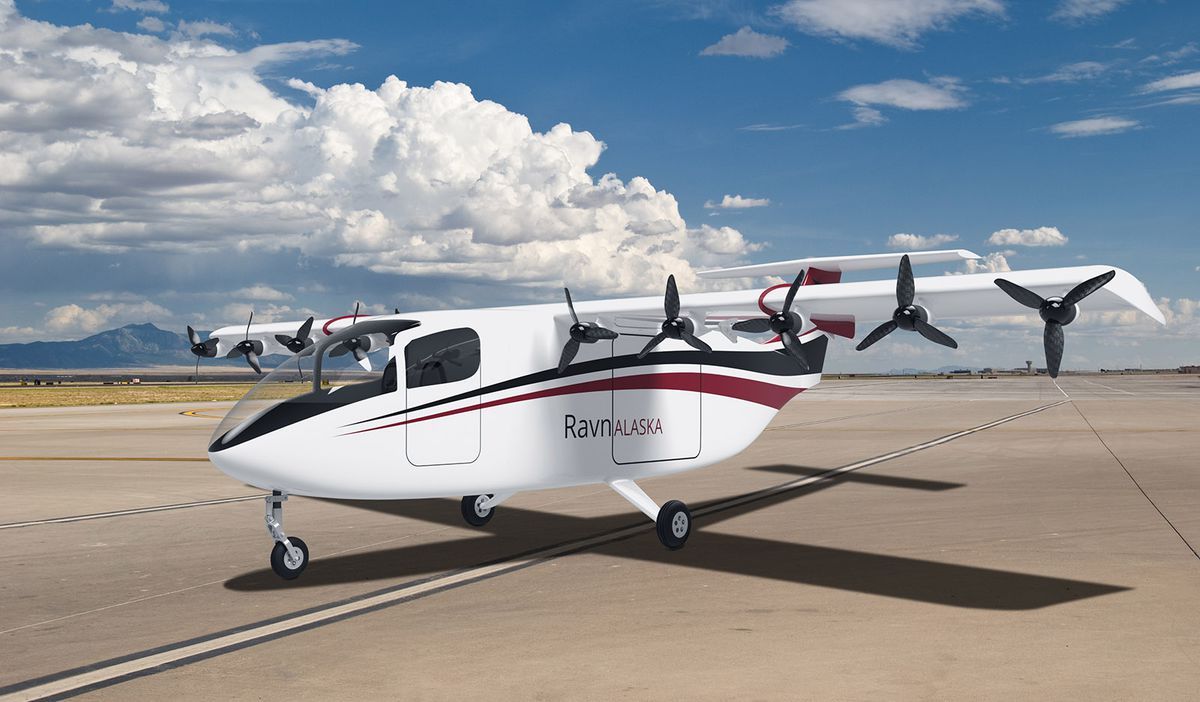 Beyond that, Ravn Alaska is looking an entirely new direction to expand.
Details of Alaska's Northern Pacific Airways
Ravn Alaska CEO Rob McKinney has revealed all kinds of details about Northern Pacific Airways, a new long haul airline being planned by the management of Ravn Alaska. The airline intends to be a long haul airline that will use Anchorage as a hub to connect points in the United States with points in Asia.
Northern Pacific Airways is essentially looking to bring the Icelandair business model to Alaska, in the sense that it will be turning a geographically advantageous place into a hub. The airline also plans to offer stopover packages, to allow people to visit Alaska. This could come in the form of just staying in Anchorage for a couple of nights, or connecting on Ravn Alaska to elsewhere in the state.
Let's cover some of the key details of the airline.
Northern Pacific Airways fleet
Northern Pacific Airways will operate a fleet of ETOPS Boeing 757-200s. There are plenty of secondhand Boeing 757s on the market, so the airline was able to acquire these without taking on much debt. The airline plans to continue to increase the size of its fleet before launching passenger flights, with the goal of initially having a dozen planes.
To start, Northern Pacific Airways has acquired six former American Airlines Boeing 757s, which are an average of about 25 years old. American Airlines recently retired its entire Boeing 757 fleet due to the pandemic.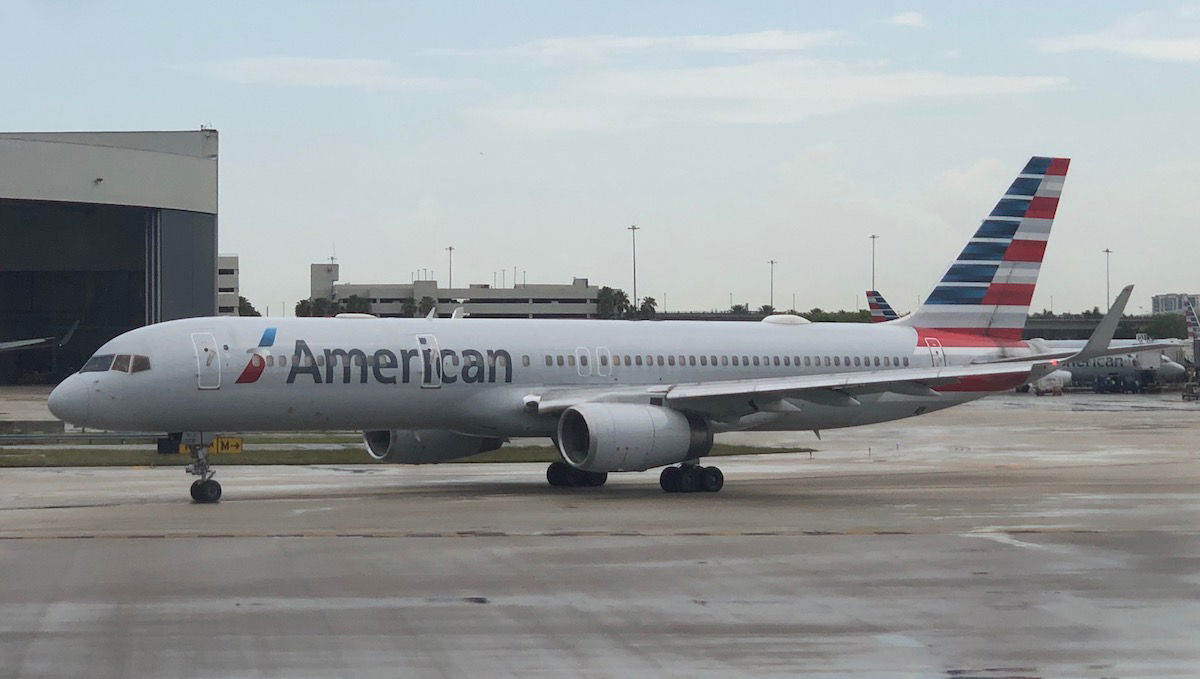 The Boeing 757-200 has a maximum takeoff weight of 255,000 pounds, and can transport over 200 passengers, with a range of just under 4,000 nautical miles.
In the long run, Northern Pacific Airways is considering acquiring newer and more fuel efficient narrow body aircraft, like the Airbus A321XLR or Boeing 737 MAX.
Northern Pacific Airways destinations
Northern Pacific Airways intends to connect Asia and the "lower 48" United States via Anchorage. Specifically, the airline will use the underutilized north terminal at Ted Stevens Anchorage International Airport (ANC).
While exact destinations are subject to change, here's what the planned cities are as of now:
In Asia, Northern Pacific Airways plans to fly to Nagoya, Osaka, Tokyo, and Seoul
In the United States, Northern Pacific Airways plans to fly to Las Vegas, Los Angeles, New York, Orlando, and San Francisco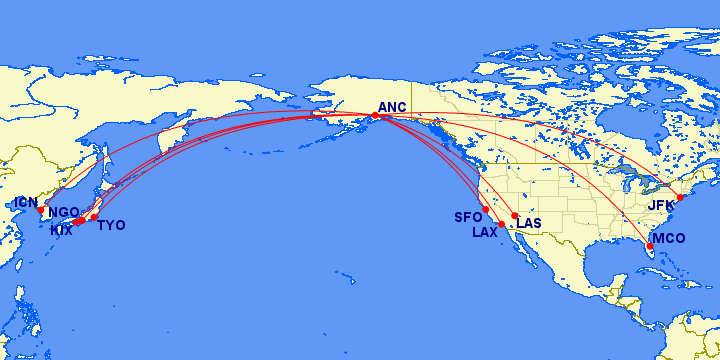 Northern Pacific Airways launch date
Currently Northern Pacific Airways is hoping to launch operations before the end of 2022. The airline is hoping to launch in the third quarter, but that seems highly optimistic at this point, so the fourth quarter seems much more likely.
Personally I'd be surprised if the airline actually started flying in 2022, given how much goes into launching an international airline.
Northern Pacific Airways passenger experience
While the exact cabin layout hasn't yet been revealed, Northern Pacific Airways plans to have premium economy, extra legroom economy, and economy. Below you can see the seats that Northern Pacific Airways has selected.
There will also be a lounge at Anchorage Airport, presumably for premium economy passengers (or something).
Northern Pacific Airways livery
Credit where credit's due, Northern Pacific Airways' livery is gorgeous, in my opinion. This might just be one of my new favorite airline liveries out there. I love the attention to detail, from the black border around the cockpit windows, to the splash of color on the winglets. The 757 is such a sleek plane, and I think this is my favorite 757 livery to date.
Am I the only one who is a fan of this paint job?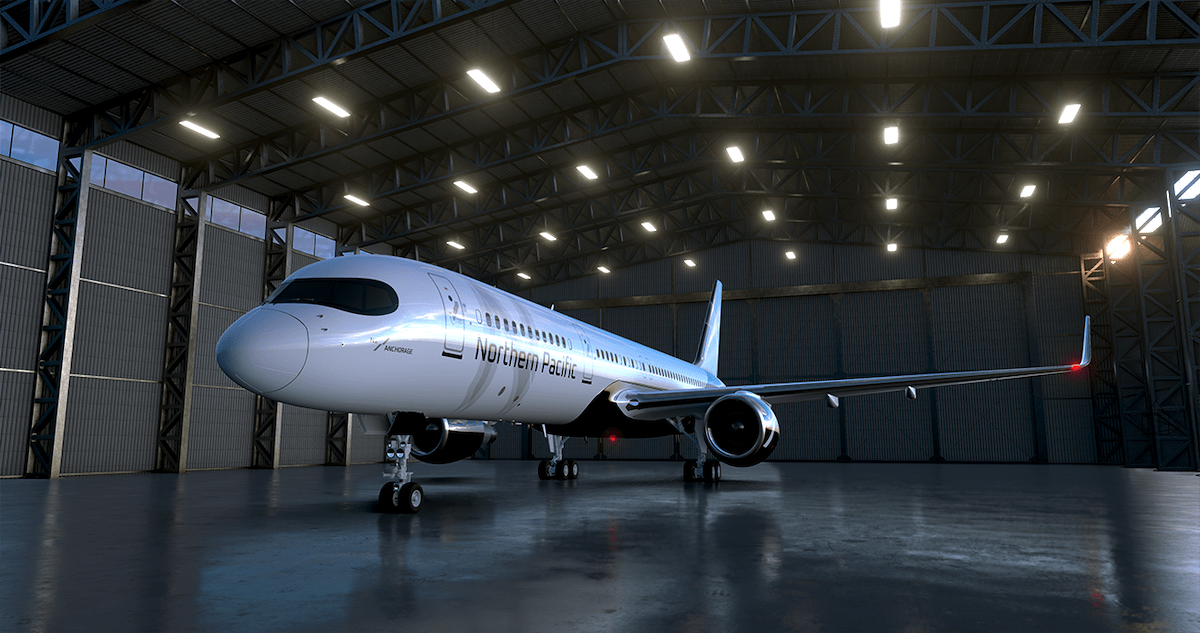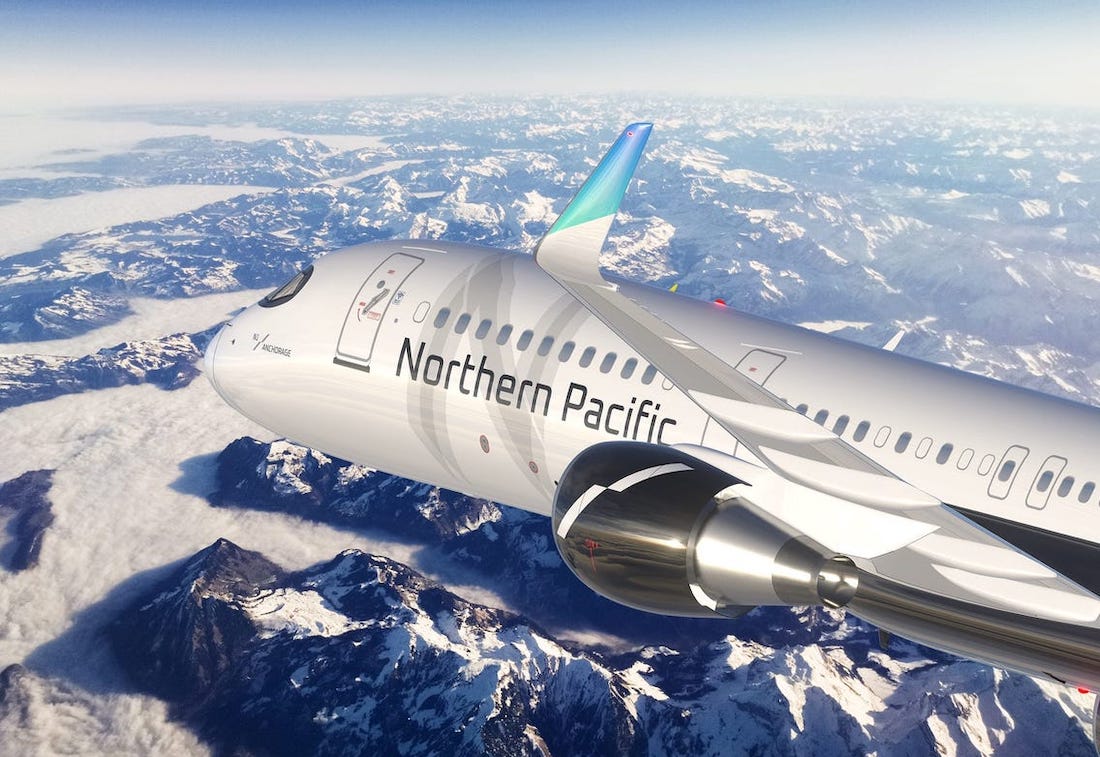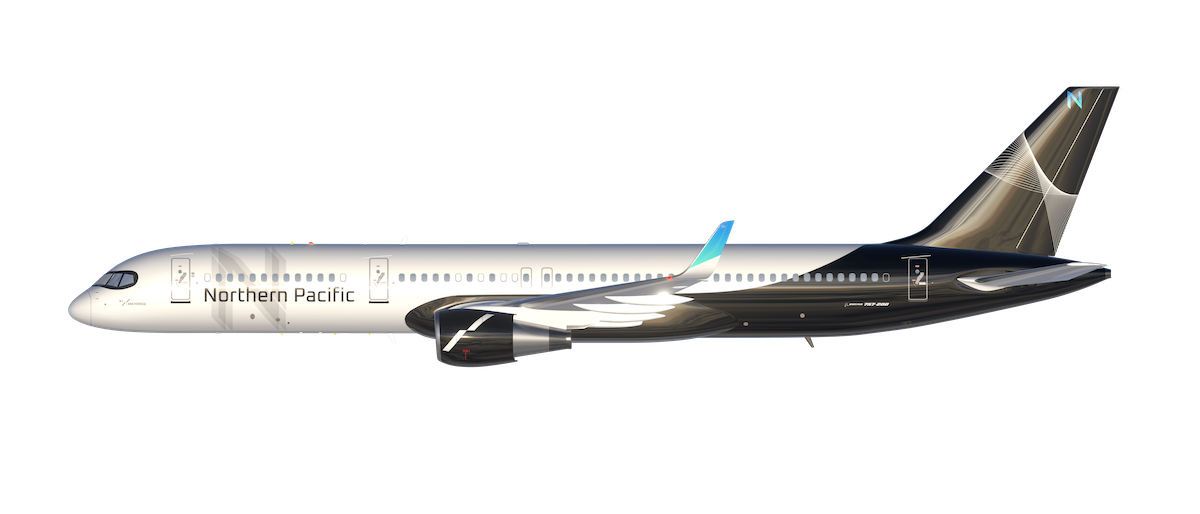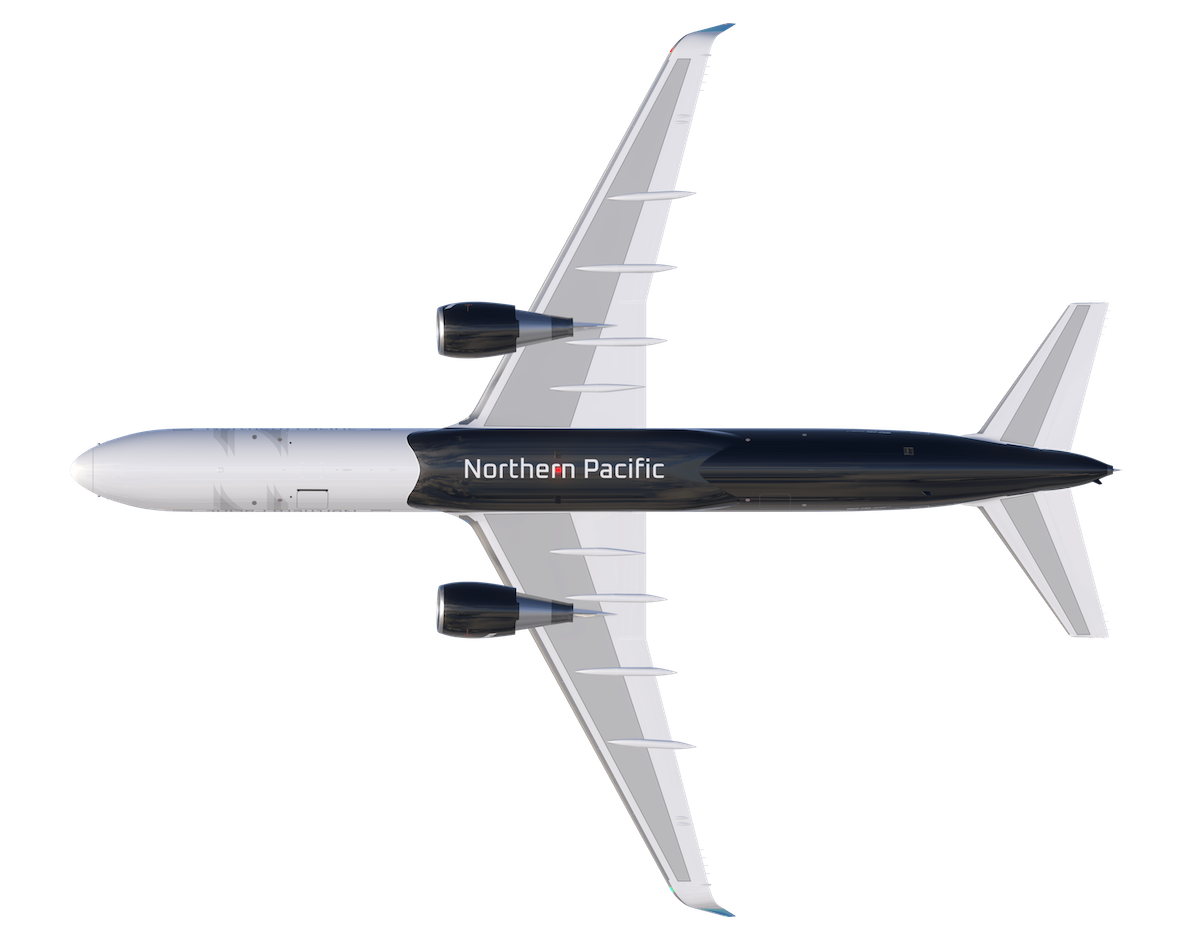 My take on Northern Pacific Airways
As an aviation geek I love the concept of this airline:
Anchorage in theory has great geography as a transpacific hub, and if I were to build a fake airline in some sort of a simulated game where money is no object, I'd totally launch an Anchorage-based Emirates, just for giggles (of course that's different than this, which will be a low cost carrier)
Back in the day Alaska Airlines flew to Russia and beyond, and I'd love so much if that kind of service still existed (again, simply because I'm an avgeek and the routemap would look cool)
On the plus side, I imagine these Boeing 757s are being acquired for very little; any airline startup right now has the huge advantage of there being lots of available used aircraft
At least seasonally there's a big tourist market for Alaska, and there's not much direct service from Asia, or from non-hubs in the lower 48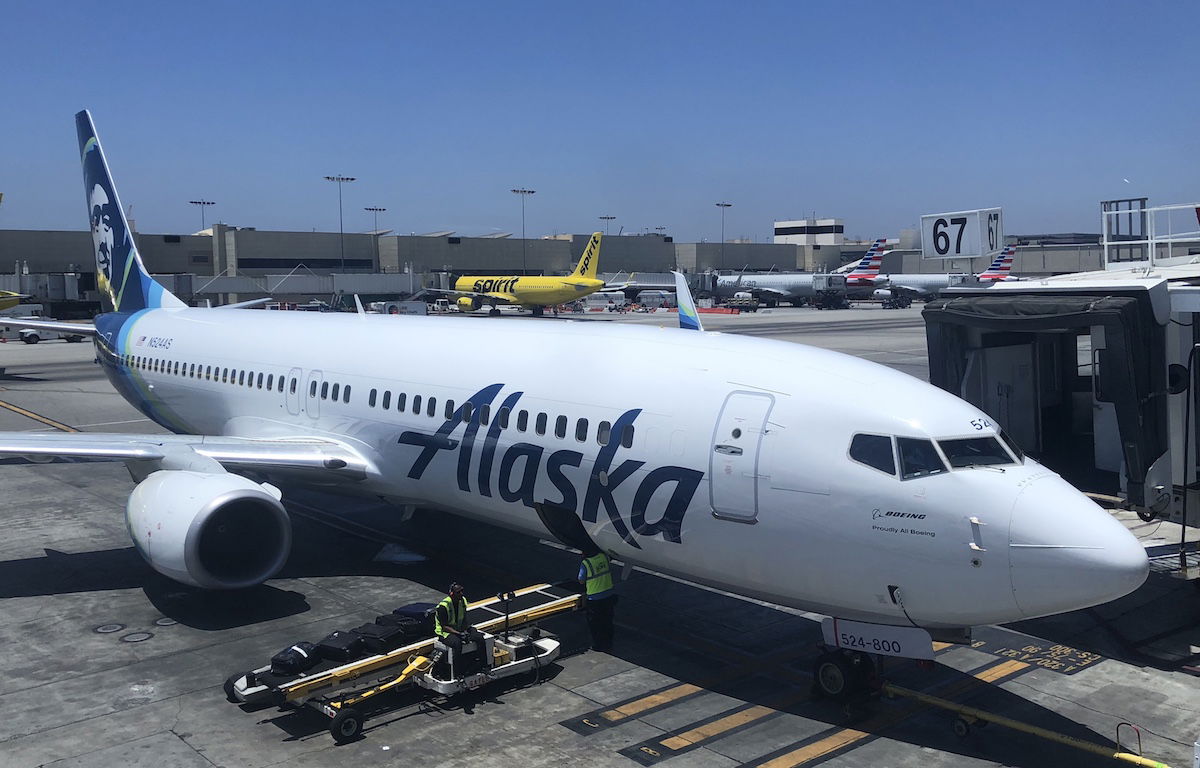 That being said, I can't wrap my head around this otherwise:
Alaska is a highly seasonal tourist destination, so while the airline could probably make money a few months of the year, how will Northern Pacific Airways fill planes in the winter? Yes, there's some winter tourism as well, but in all likelihood not enough to sustain an airline like this
For those just connecting, I don't understand the merit to this business model; airfare from Los Angeles to Seoul or San Francisco to Tokyo is already very reasonably priced, with tons of competition and nonstop options, so how low will Northern Pacific Airways' pricing be to convince people to settle for a worse product and connecting itinerary?
There's a key difference between this and Icelandair — Icelandair connects all kinds of city pairs that otherwise can't be served nonstop (for example, Denver to Oslo, Seattle to Bergen, and Vancouver to Helsinki, just to name a few). Meanwhile with a few exceptions here, most markets are already very well served.
So yeah, this concept will be awesome for those who want a stopover in Alaska, or who want to visit Alaska. But I don't view that as a sustainable, year-round business model.
Bottom line
Regional airline Ravn Alaska is launching a new airline, which will be named Northern Pacific Airways. The airline will fly from Anchorage to both Asia and the lower 48 with Boeing 757s, using a low cost business model. The plan is for operations to launch before the end of 2022.
The airline is moving forward with its plans. Six Boeing 757s have already been purchased, and the first aircraft is in its full livery. We also have more details about what to expect in terms of the onboard product and more.
As much as the avgeek side of me loves this, I don't see where the market is for this, beyond summer seasonal demand. I'm sure the airline could get its costs really low, but still, what happens outside of summer?
What do you make of Northern Pacific Airways?