This all comes as a huge surprise to me. While I knew Canada is a great country with beautiful, varied landscape, I never realized how much commercial service there is to the Canadian Arctic, and that you can even score a great deal on these flights by redeeming miles.
A couple of years ago I had the chance to travel to Svalbard on the island of Longyearbyen, which is the world's northernmost city. It was one of the most memorable places I've ever visited, and the 24 hours of daylight there in summer screwed with my mind (though I'll certainly take it over the 24 hours of darkness that they have in winter).
Most of the Canadian Arctic is sparsely populated, and if I'm being honest, the extent of my knowledge of it up until this point was what I saw on airshows when taking transatlantic flights.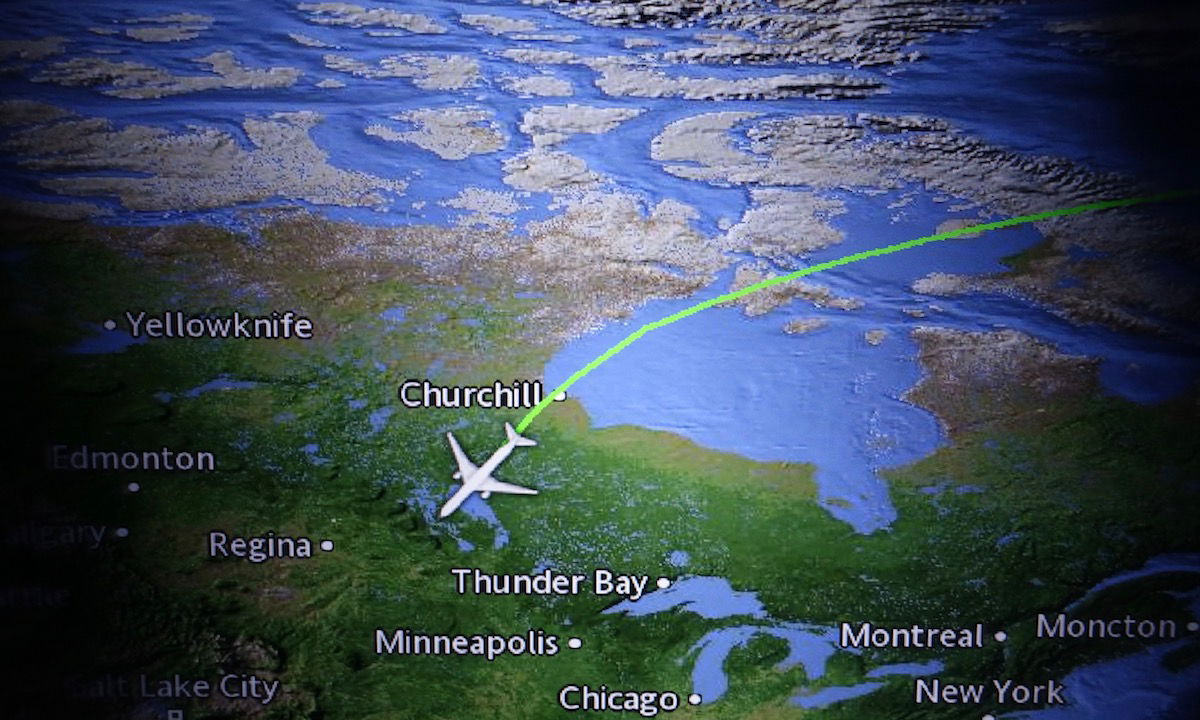 Resolute Bay? Yeah, I've actually heard of that, but never in a million years dreamed that it would be (sort of) easy and cheap to visit. While I knew about Canadian North Airlines and First Air (which have the slogans "Seriously Northern" and "Fly The Arctic"), I didn't realize just how extensive their route networks were in Northern Canada.

For example, take a look at Canadian North's routemap: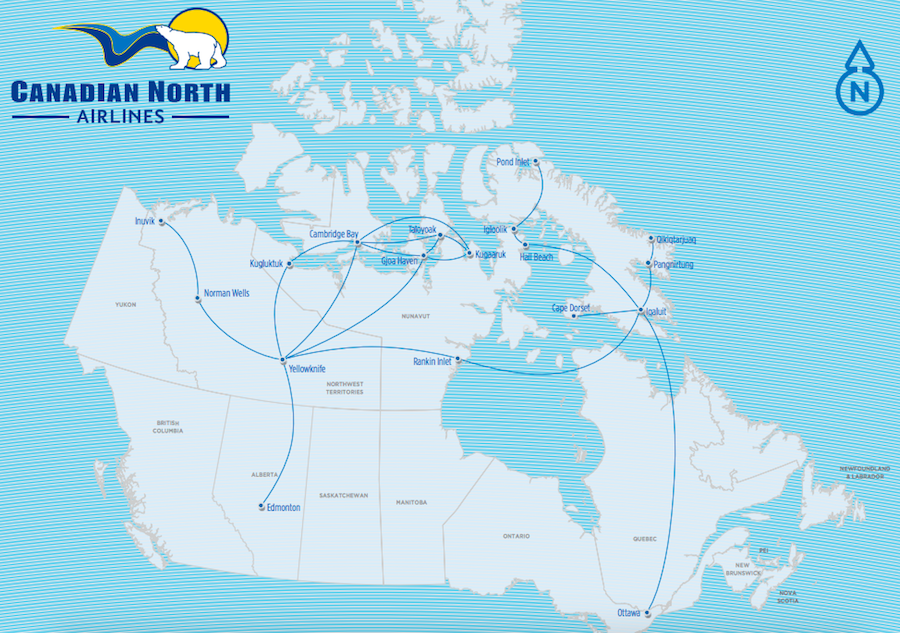 And here's First Air's routemap: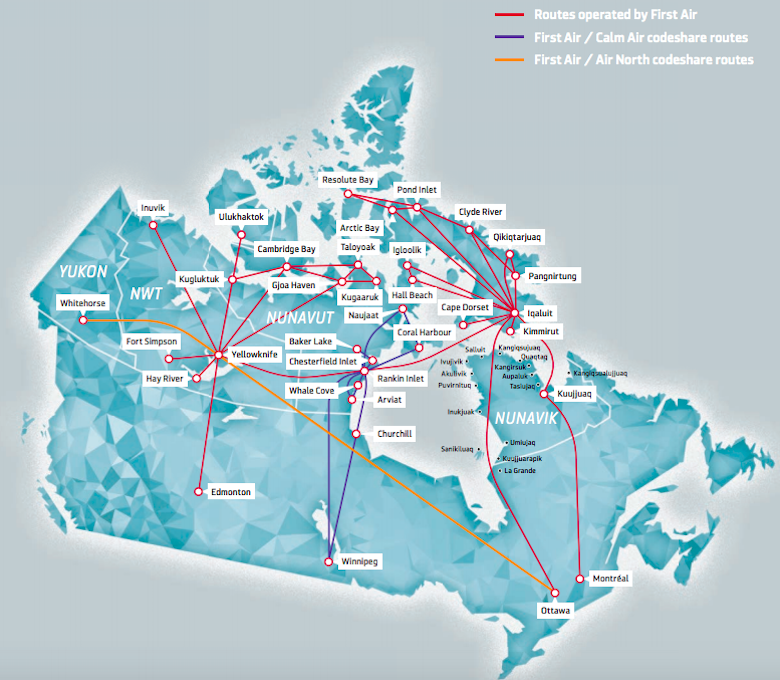 I am so fascinated. For example, last year Iqaluit Airport opened a new terminal, and this news report on it is awesome on many levels:
What do I notice?
While it's totally logical that they refer to the rest of Canada as "the South," as someone who has spent my entire life in warm climates, that's hard for me to come to terms with
I love the things that they're highlighting about the new terminal — "you can breath, and there's fresh air, and you can walk and not bump into anyone or trip over anyone"
The catch is that flights to the Canadian Arctic are really expensive. Want to fly a simple roundtrip from Ottawa to Iqaluit? The cheapest fare is 1,340USD.

Or want to fly from Ottawa to Resolute Bay, which appears to be the Northernmost airport that either of these airlines fly to? That will cost you 5,635USD.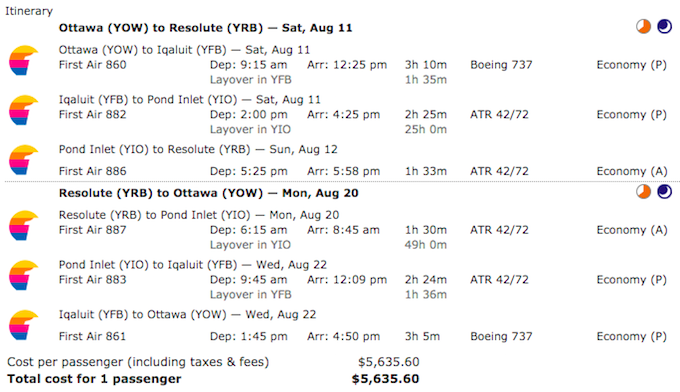 Yes, those are the lowest fares, and that's insanity. In fairness, I imagine most locals get major discounts on flights and that's just the price for the public since these are probably considered "essential" flights, but for most of us, that's what flights will cost.
That brings me to what's awesome, and what I wasn't aware of — you can actually redeem Aeroplan miles on both Canadian North and First Air, and the prices are very reasonable. Best I can tell, pricing is the same as any of Aeroplan's other partners, so a simple ticket within the lower 48 US and Canada will cost you just 12,500 miles one-way.
You can apparently even include the Air Canada segments to Ottawa on the same award. The catch is that these awards have to be booked by phone with Aeroplan, and award space can be tough to come by.
Now, in some cases the above may not be bookable on a single award, due to award availability, or due to long stopovers, but in general you should be able to go as far as you want for 12,500 miles, if flight schedules line up.
I'm probably going to spend way too many hours researching this, but before I do, has anyone been to the Canadian Arctic? Is there a destination that's most worth visiting, and I assume that generally summer is the time to go, rather than winter? It looks like Resolute Bay gets 24 hours of daylight in summer, and 24 hours of darkness in winter.
I'd love some feedback on this, and then I'll spend some time on the phone with Aeroplan to get all the details about booking these flights. While I hope to actually spend time in one or multiple of these destinations, I even just want to take one of these flights as an aviation geek.
Iqaluit actually seems to have some decent hotels, while Resolute Bay seems to have more limited options.
This is soooooo interesting to me, so someone please enlighten me!
(Featured image courtesy of Quintin Soloviev)