Guten Morgen aus Düsseldorf! As I mentioned yesterday, I just flew airberlin business class from Miami to Dusseldorf, and figured I would share my initial thoughts. Of course I'll have a much more detailed trip report, but I do enjoy sharing my initial impressions as soon as I get off the plane.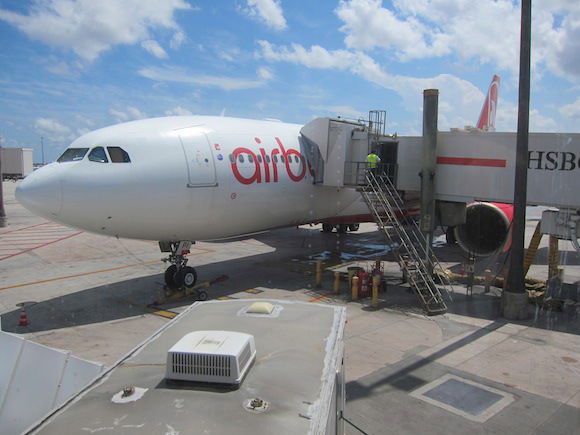 Airberlin A330
Before I dig too deep into this, close your eyes and take a journey with me for a minute. Actually, on second thought, don't close your eyes… but do take a journey with me. And feel free to listen to Lufthansa's "Symphony of Angels" while reading…
Do you remember your first love? And thinking how everything about them was so perfect and there's nothing they could possibly do wrong? And that when something went wrong with them you assumed it was always your fault?
And then when you're not with that first love, you still think about them and measure all others up to them, both in terms of hard and soft product?
Of course we're talking about airline love here, and my first airline love was Lufthansa, and they'll always have a special place in my heart. Yes, perhaps I love them too much. Nah, who am I kidding, that's simply not possible. 😉
So when I ride their biggest German competitor, I can't help but compare everything to Lufthansa… as it's natural to do with one's first love. The only problem is that I'm comparing airberlin business class to Lufthansa's first class (because lets be honest, Lufthansa's business class sucks). And that's totally not fair, but at the same time you can't help but measure everything else up to your first love. So with that in mind, take everything I say below with a grain of salt.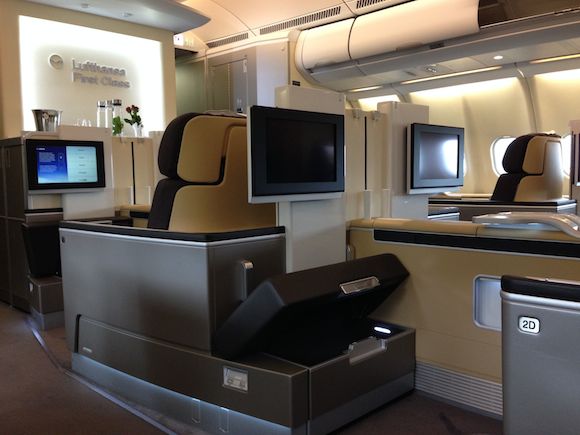 Lufthansa first class cabin A330

AND know that I feel incredibly dirty for cheating on Lufthansa with airberlin…
Airberlin business class seat
Airberlin has just 20 business class seats, so it's a fairly small cabin. They have a "staggered" business class product, very similar to what's offered by Alitalia, Etihad, and several other carriers.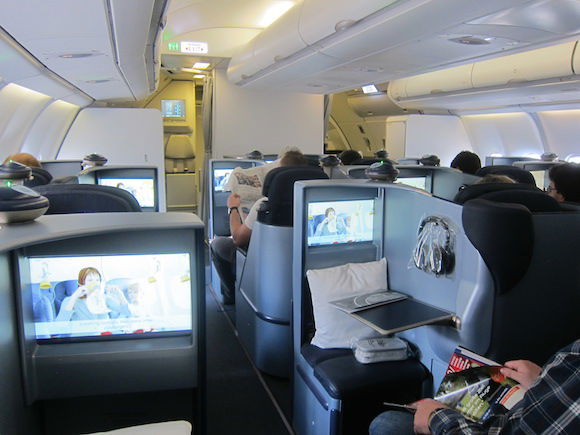 This is probably my second favorite type of business class hard product, after a reverse herringbone seat.
That being said, I can't even begin to stress how much better the "window" window seats are than the "aisle" window seats.
There are two window seats in each row (one on each side of the cabin), and since it's a staggered configuration the seat is either closer to the aisle or closer to the window in an alternating sequence.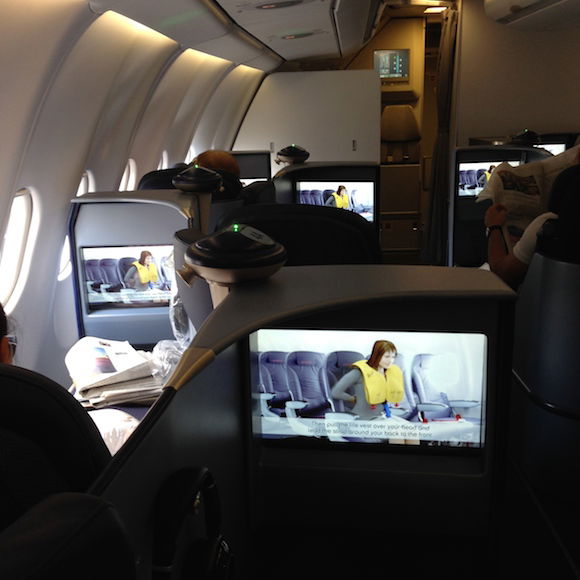 Airberlin business class configuration A330
The "real" window seats are so private and have three windows each.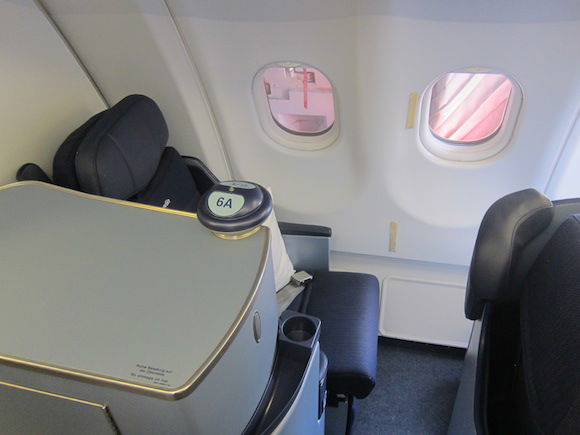 Airberlin business class "window" window seat
Meanwhile the window seats by the aisle basically feel like you're sitting in the middle of the aisle "on display."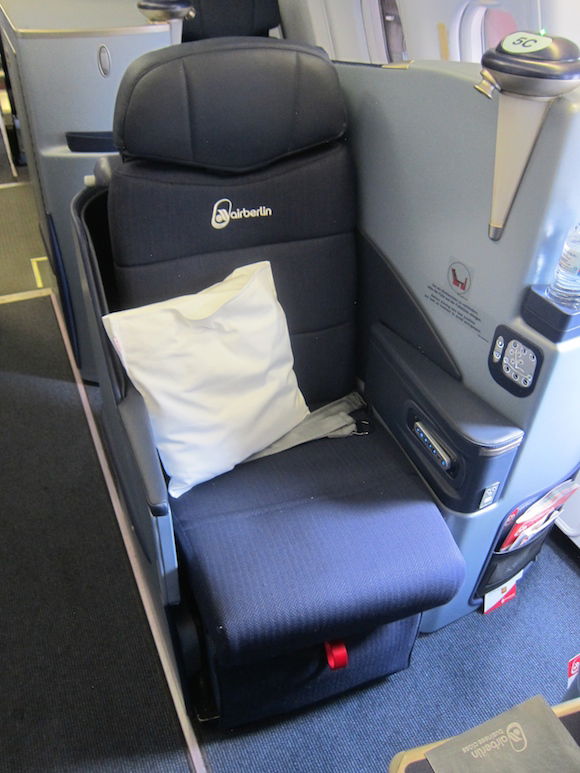 Airberlin business class "aisle" window seat
I booked this trip a few days ago so was only able to snag an "aisle" window seat, but if you fly airberlin business class I would highly recommend doing what you can to snag a "real" window seat. It makes a huge difference.
So I didn't love the seat as much as I enjoyed it on Alitalia (where I had a true window seat), though it's still a fairly good hard product. Just keep in mind that the seats are fairly narrow and lack storage space, which is quite frustrating.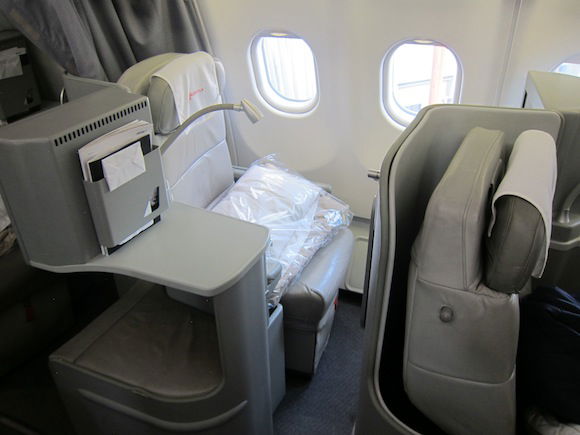 Alitalia business class "window" window seat

Airberlin business class food
The food was… acceptable. There was nothing that was bad, but nothing memorable either. At the end of the day for a transatlantic business class flight I tend to think food isn't all that important. That's mainly because the business class food is pretty comparable on most airlines between Europe and the US, perhaps with the exception of Austrian and Turkish, thanks to their DO&CO catering.
Service began with nuts and cocktails.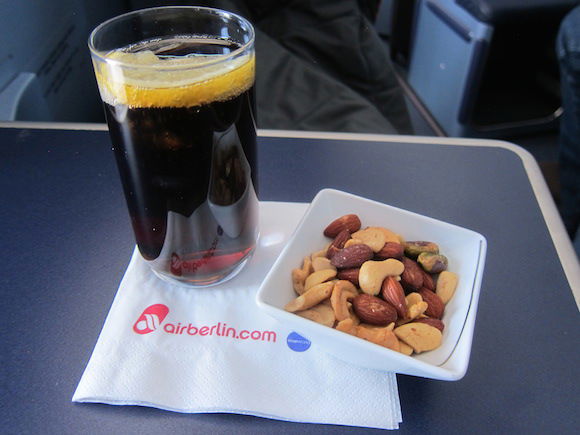 Airberlin business class drinks and nuts
Food was served on trays, with a salad and appetizer to start.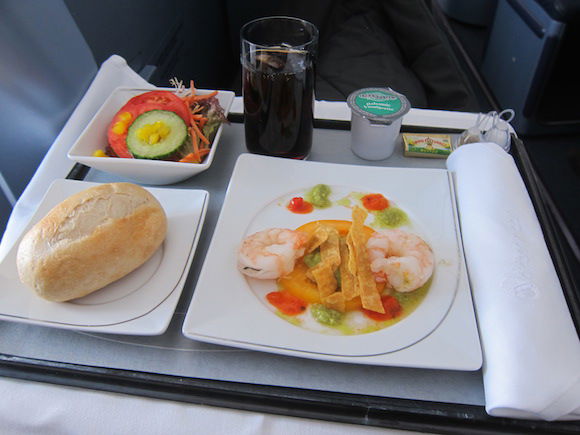 Airberlin business class appetizer and salad

Then a main course – I selected the crab cake.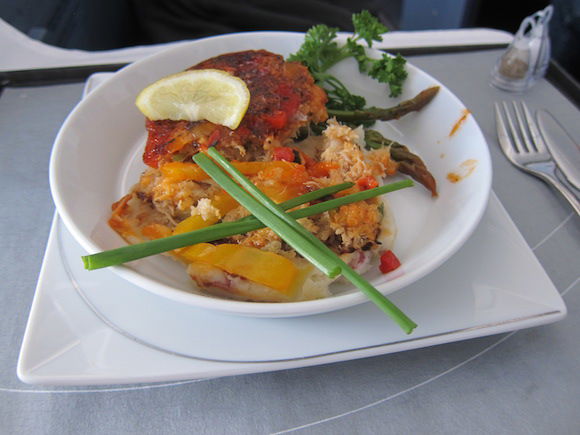 Airberlin business class main course

And then for dessert there was the choice of a fruit or cheese plate (there was no "sweet" dessert, though the fruit did have syrup).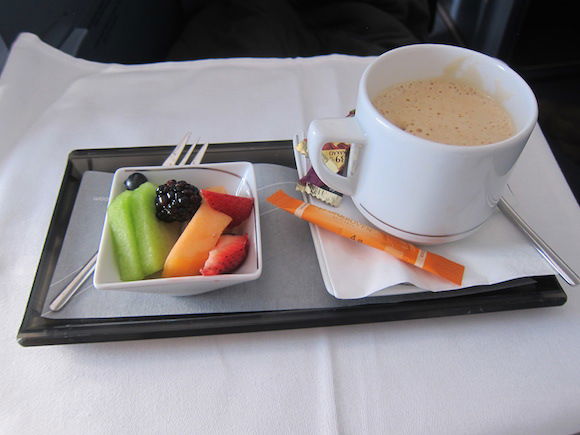 Airberlin business class dessert and cappuccino

Now, Lufthansa's business class catering is actually worse, I would say, but then again Lufthansa business class catering isn't much to aspire to.
Meanwhile the catering on Alitalia, for example, is excellent.
Airberlin business class service
The flight attendants were exceptional. They were personable, friendly, and attentive. The purser came by shortly after takeoff to welcome me aboard, and all of the flight attendants appeared happy to be working.
The service was fairly "systematic," as you'd expect from a German airline. That's to say that all the courses were served for all passengers at once (though no carts were used, which I appreciated). A new drink was offered with each course, and even overnight between dinner and breakfast the crew frequently came around to see if anyone needed anything.
Airberlin business class amenities
On the plus side, the entertainment selection was fairly good, actually better than Lufthansa's, in my opinion. That being said I don't really watch much on the entertainment systems nowadays, as I usually bring my own (airplane TV is usually too classy for me).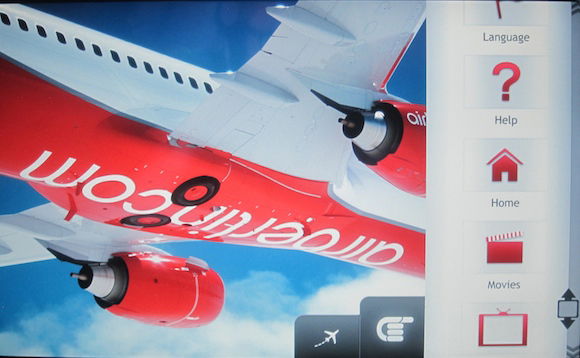 Airberlin business class IFE system
There was a fairly nice amenity kit and slippers as well.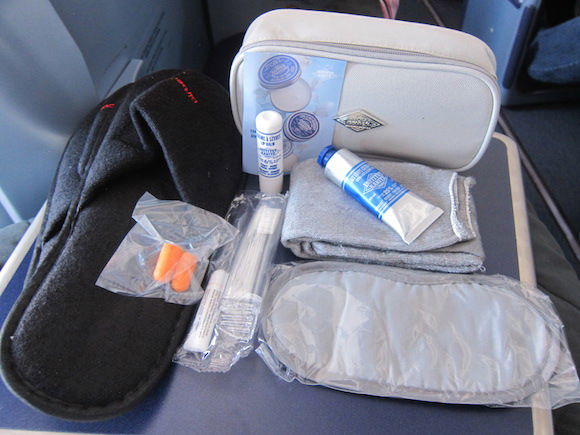 Airberlin business class amenity kit

Now here's my big beef. Like 60 ounce porterhouse sized beef. There's one freaking bathroom for the entire business class cabin. And it's not like other airlines where there's an economy bathroom right behind business class you can "sneak into," but rather the economy bathrooms are located behind the economy cabin. One bathroom for 20 business class passengers simply doesn't cut it, in my opinion.
Bottom line on airberlin business class
Airberlin offers a perfectly functional and pleasant business class product. The service was good, food perfectly edible, and hard product is also quite good for a European airline. If you can snag one of the "true" window seats then the hard product is excellent.
They're not the love of my life. They're not Lufthansa, the one I long for whenever I fly with a different airline. But it's also not fair to compare airberlin business class to Lufthansa first class, so…
And for that matter I think it's worth pointing out that airberlin now has fully flat beds throughout their longhaul fleet. Meanwhile many of Lufthansa's planes still feature their old business class product. So all things considered airberlin is doing a better/more consistent job with business class than Lufthansa.
If you've flown airberlin business class before, what did you think?