Several days ago I wrote a post about my upcoming travel to the Middle East using American AAdvantage miles.
At the time I only shared the details of my next trip, though figured I'd quickly outline my two upcoming trips, since I flipped aspects of them around. I've been on the ground now for nearly two weeks in Tampa, and am really excited to get back in the skies!
The purposes of my two upcoming trips are to fly on two inaugural flights:
I'm booked in first class on both flights, so the strategy for the positioning of these trips is to:
Try some new oneworld/AAdvantage partner airline business class products
Spend some time in the Middle East, given how good the hotel deals are
So in the end I'll be trying the following airline products on these two trips:
Airberlin A330 business class
Etihad Airways A330 business class
Etihad Airways A330 first class
Jet Airways A330 business class
Qatar Airways 787 business class
Qatar Airways A380 first class
Let me break down the two trips:
Trip 1: Abu Dhabi on Airberlin/Etihad Airways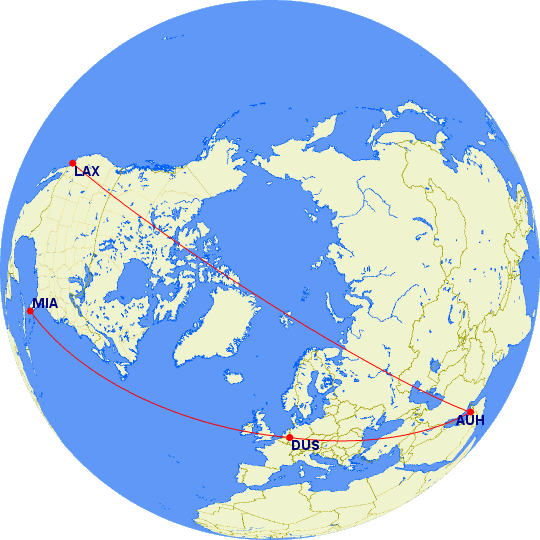 As I said above, the reason for the trip was to fly the inaugural Etihad Airways flight from Abu Dhabi to Los Angeles, which will be on June 1. In order to get to Abu Dhabi I'll be flying airberlin business class from Miami to Dusseldorf, and then Etihad Airways business class from Dusseldorf to Abu Dhabi.
Not only are airberlin and Etihad Airways both American partners, but the two carriers have a really close partnership, so the business class hard product is very similar.
I've flown Etihad Airways first class several times before, and have also flown airberlin short-haul economy, so I can't wait to try both carriers on as even of a playing field as they'll ever have.
I'll also be spending some time in Abu Dhabi, and plan on checking out the St. Regis Abu Dhabi, Hyatt Capital Gate Abu Dhabi, and aloft Abu Dhabi (just because I'm oddly an aloft fan, and I'm curious what they're like outside of the US).
Trip 2: Doha on Jet Airways/Qatar Airways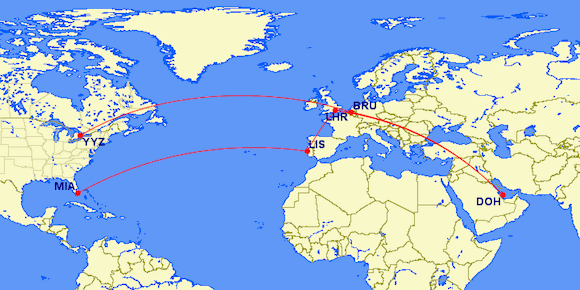 The second trip is centered around Qatar Airways' inaugural A380 flight from Doha to London Heathrow. I do plan on spending a bit of time in Doha before the flight.
And to fly there I figured I'd fly a fun combo of airlines — Jet Airways from Toronto to Brussels, and then the Qatar Airways 787 from Brussels to Doha. Jet Airways doesn't belong to oneworld though is an AAdvantage partner and has great award availability between Toronto and Brussels.
And then the timing of the Brussels to Doha flight works quite well, as it leaves mid-morning, a few hours after the Jet Airways flight from Toronto lands.
Bottom line
Expect lots of fun content over the coming weeks, and be sure you're following me on Twitter and Instagram, as I'll be posting a ton of updates and pictures there.
I'm paying 67,500 AAdvnatage miles for each of the outbound trips in business class, which I would say is a great use of miles, since I'm trying two new AAdvantage partner airline products on each award. Then I redeemed 90,000 AAdvantage miles for the Abu Dhabi to Los Angeles trip, and booked a (fairly) cheap paid first class ticket for the Doha to London Heathrow flight, which originates in Cairo (lowering the fare by about 75%).
And stay tuned, because that's not all I have planned for June. Safe and enjoyable travels to all!