As most of you probably know by now, Air Serbia began flying between Belgrade and New York this past Thursday. This is huge expansion for the airline, given that they previously only flew regionally. The flight is operated by an A330 that Air Serbia acquired from Jet Airways, which they were able to pick up thanks to the backing of Etihad Airways (they have a stake in both airlines).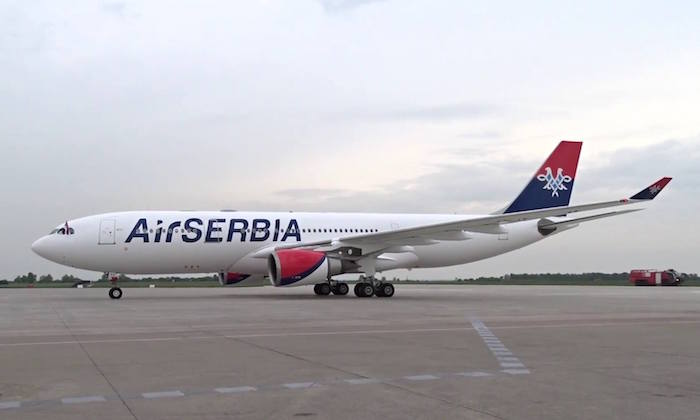 I'm excited about the new route for several reasons, including:
Air Serbia has herringbone seats on their A330s, meaning they're fully flat and feature direct aisle access. It's not a cutting edge hard product, but certainly much better than what's offered by many airlines.
While I have plans to try this route eventually, it'll realistically be a couple of months before I fly with them.
However, I figured it was worth sharing a link to the excellent review that Carfield published on FlyerTalk about his experience in business class on the inaugural New York to Belgrade flight, as it's the first trip report out there about the product.
I'd suggest reading the full report, but here are my takeaways, both positive and negative:
Pros:
It's great that Air Serbia uses the Etihad Lounge in New York, which is one of the best airline lounges in the US
The flight attendants were friendly and familiar with the product, despite it being the first flight; apparently they had been trained by Etihad crews on the Abu Dhabi to New York flight
There's a dine on demand menu, which is perhaps a bit unnecessary and even complicated for a quick transatlantic flight, but overall the food looks good
Air Serbia's regional business class product looks great, as they feature great catering with seats similar to what you'd find in the US, rather than just economy seats with a blocked middle, as is the standard on intra-Europe flights
Cons:
Right now the flight has a non-ideal schedule, as several days per week the New York to Belgrade flight departs at around 2PM, which is too early for most people to get any decent sleep
Air Serbia doesn't have proper blankets in business class, but rather just a premium pillow and an economy blanket (that really needs to be fixed)
Air Serbia offers wifi, in increments of 90MB for 13.90EUR — that's going to get pretty expensive if you're trying to do a significant amount of work
Bottom line
I'm excited to fly Air Serbia myself at some point, though it was great to read about the first flight. It's awesome that the crew were great, so hopefully over time they can adjust some minor aspects of their service, and then they'll have a top notch product.
How does the trip report compare to your expectations of Air Serbia business class?