Air Canada unveiled some details today about their soon-to-be Boeing 787 fleet, and even made a pretty spiffy website about the new plane. They'll take delivery of their first 787 in the spring of 2014. They'll be taking delivery of a total of 15 Boeing 787-8 aircraft, and will then begin taking delivery of 22 Boeing 787-9 aircraft starting in mid-2015. All 787s are expected to be delivered by 2019, and they will be replacing their 767s, which they'll be transferred to Air Canada Rouge.

Here's a video about the new 787 product:
Air Canada's 787 will feature a new business class product
Quite possibly the most exciting news about Air Canada's 787s is that they'll feature reverse herringbone business class seats. These are similar to the ones available on American, Cathay Pacific, EVA Air, US Airways, etc., and hands down the best business class hard product in the world. They'll also have an espresso and cappuccino machine aboard, which I'm really excited about (especially after having my first cappuccino on American yesterday — yum). Though I doubt it'll be able to compete with EVA Air's cappuccino.
A majority of the rest of Air Canada's longhaul fleet features herringbone seats, like the one I flew in from Shanghai to Toronto several years ago. Reverse herringbone seats are considerably more spacious and comfortable than herringbone seats.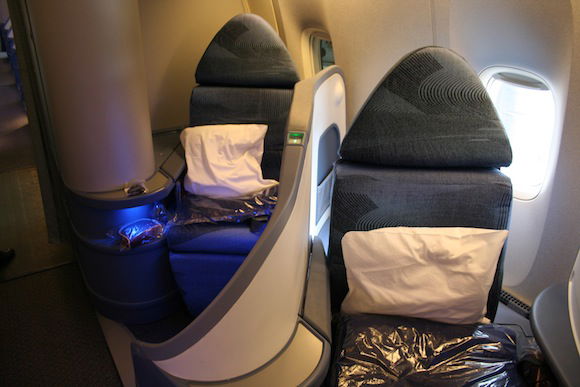 Air Canada herringbone seats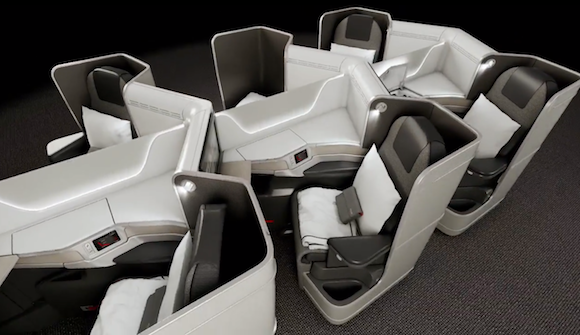 Air Canada's new 787 reverse herringbone seats
The downside — not surprisingly — is that there will be only 20 business class seats on the 787. This represents a pretty big reduction in the number of premium seats. For comparison, Air Canada has 24-25 business class seats on their 767s, 37 business class seats on their A330s, and 42 business class seats on most of their 777s.
Air Canada is rebranding Executive First Class
Presently Air Canada's regional business class is referred to as Executive Class, while their longhaul business class is referred to as Executive First. They'll be rebranding their cabins, and now Executive Class will be referred to as Business Class, while Executive First will be referred to as International Business Class.
Air Canada's first 787 route
The first longhaul regularly scheduled route to get the 787 will be Toronto to Tel Aviv, which will be operated exclusively by the 787 starting in July of 2014. Not surprisingly there's not much business class award space on the route, though that's more of a function of the route than the new aircraft, in my opinion.
Bottom line
Like most product improvements in the airline industry, it comes at a cost. Reverse herringbone seats are awesome for those paying for business class, while it'll probably be a double edged sword for those looking to upgrade, due to the increased demand and decreased capacity.