As I wrote about yesterday, my Aeroflot flight from Los Angeles to Moscow was such a pleasant surprise. The flight attendants were friendly and the food was delicious. I came in with very low expectations, and left with a very favorable impression.
From there it was time to connect from Moscow to Belgrade, a 2hr30min flight operated by one of Aeroflot's 737s.
Let me start by saying that generally intra-Europe business class is my least favorite premium cabin product in the world. On airlines like Air France, British Airways, Lufthansa, etc., business class within Europe is simply an economy seat with a blocked middle seat and better food and service.
To me the most important thing about a premium cabin experience is personal space, and that's non-existent in those seats.
Well, Aeroflot is one of the few airlines to offer a real business class product on intra-Europe flights. Their 737s have 20 business class seats, spread across five rows in a 2-2 configuration. I'd say legroom is on par with what you'd find in domestic first class in the US, and there's even a footrest, which you won't find on US airlines.
This was a brand new 737, so it had the Boeing sky interior with big overhead bins, mood lighting, etc.
These planes even had seatback on demand entertainment, which you won't typically find in intra-Europe business class either. That wasn't the end of the "small touches" you typically don't otherwise find on intra-Europe flights.
There were pillows and blankets…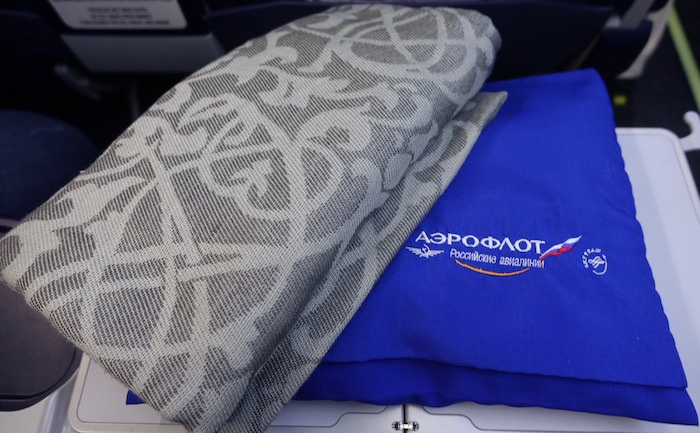 There were printed menus…
There were pre-departure beverages of choice (most European airlines don't have pre-departure beverages at all)…
The meal was also served in three courses. There were drinks and warm mixed nuts to start.
Then there was a delicious appetizer of shrimp and salmon tartare, and even pretzel bread.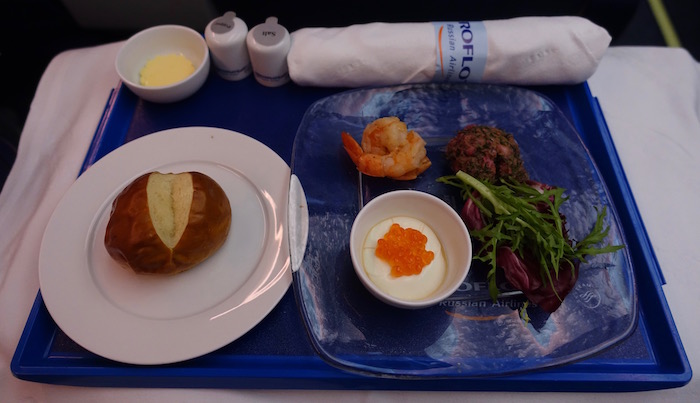 For the main course I had some very tasty cod.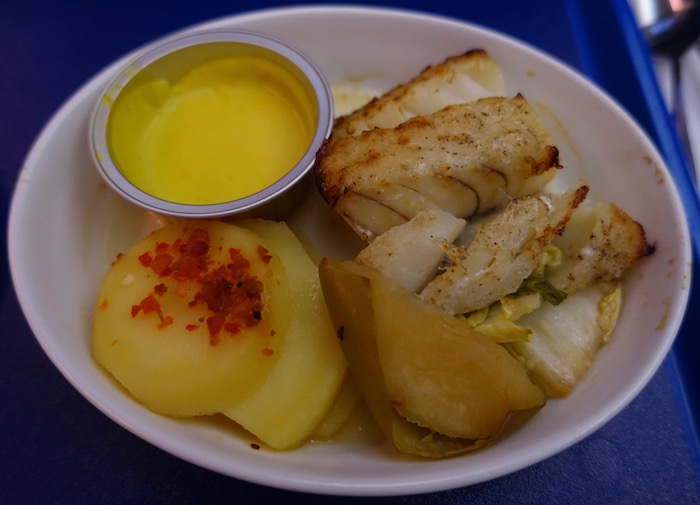 Then for dessert they served vanilla ice cream with mango sauce, as well as chocolate.
Service throughout the flight was friendly and attentive.
You also really can't overstate how incredibly stylish Aeroflot's flight attendants are. Sure, the female flight attendants are very attractive, but that's not what I'm commenting on. Instead, between their hats, the gloves they wear during boarding, the pristine condition of their uniforms, etc., they could rival Emirates or Etihad in terms of how well put together they look.
Aeroflot 737 business class bottom line
Once again Aeroflot really impressed me, as they offer among the best intra-Europe business class products. The only other airlines I know of to offer "real" business class products within Europe are Air Serbia and Turkish, and it really does make a big difference. After you get off a long redeye it's nice to have a legitimate business class seat, rather than the usual economy seat with a blocked middle that you get on most other airlines.
Seriously folks, Aeroflot is a hidden gem. I know this almost sounds like a paid advertisement (for the avoidance of doubt, I know no one at the airline), but I was just so impressed. I had low expectations, and in the end found an airline with among the best service and catering of any European airline. I'd highly recommend them, especially if you're connecting within Europe, since you'll get one of the best intra-Europe business class products there is.