Travis is my first new contributor to the blog, who will be writing a post every Wednesday to start. The idea behind adding guest contributors is to add different perspectives to the blog. Travis has a unique approach towards travel, given that he travels almost exclusively with his wife and young children, which is in stark contrast to my travels, which are usually alone.
Travis has recently returned from a month-long trip to Southeast Asia with his wife, 3.5 year old son Squirt and 2.5 year old daughter Squeaker (not their real names).

---
The single most important factor in terms of traveling with young children is… space. Be it on the plane, in the hotel, or in the car, more space is better!
Perhaps the best way to maintain sanity on a long family trip is to be able to put the kids in their own space and shut the door when it's time for bed. So while Ben apparently forgets to even use the suite upgrades he is granted each year, I often go out of my way to finagle suites which I'm not even entitled to!
Now to be clear, I'm not talking about the Presidential Suite, the Ambassador Suite, or whatever the the hotel calls their best room. I'm really just looking for more space and ideally some means of separating the two rooms (such as a door!). In most cases, a junior suite is perfect and can actually be preferable to a fancily furnished suite anyway….
That's not to say that we absolutely have to have a suite. We can — and frequently do — stay in a single hotel room for a night or two, but we know that our kids (3.5 year old son, 2.5 year old daughter) will eventually be in each others' faces (or ours!) if we do this for an extended period of time.
On our recent month-long Southeast Asian Adventure, we stayed at six western chain hotels where we had some level of status. We booked a single standard room at each of these six properties, and in no case were we entitled to a suite. Yet 5 of the 6 stays we were upgraded to suites.
(We also stayed at several independent hotels on this trip. Those results are not included here.)
Here's how we went 5 for 6 on suite upgrades which we weren't entitled to, and how you can too!
---
Update: This hotel is now the Bandara International Hotel by Accor Hotels
Booked: Standard Room
Received: Junior Suite
Award / Revenue: Category 2 award
Nights: 3 (1 stay of 1 night, 1 stay of 2 nights)
Status: Starwood Preferred Guest (SPG) Gold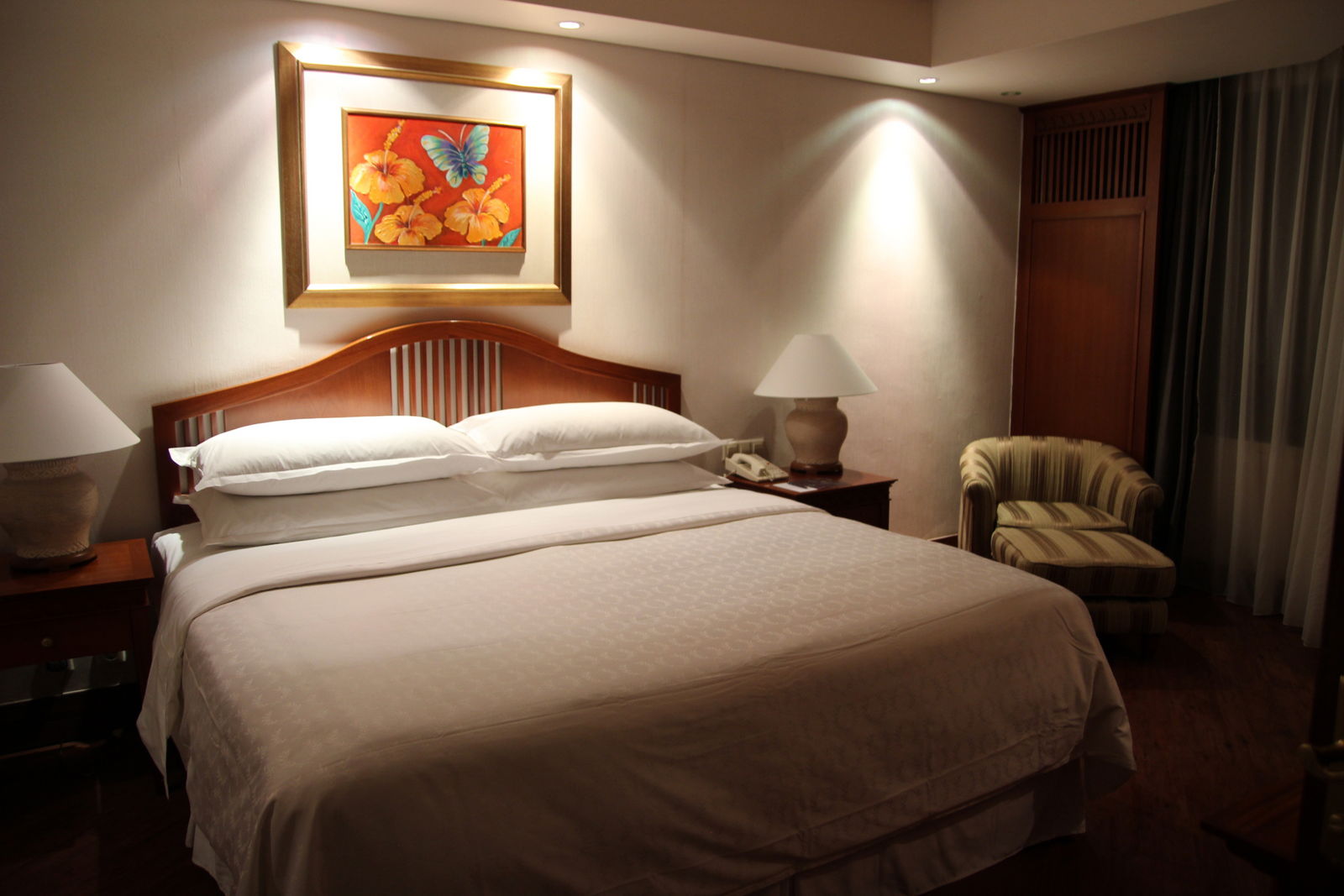 How: I emailed the hotel about a week before arrival to request a pickup at the airport. In the same email, I mentioned that I was an SPG Gold member and requested an upgrade to "one of their beautiful suites." The hotel promptly replied confirming the airport transfer and informing me that I had been assigned a Junior Suite.
Booked: Standard Room
Received: Standard Room (Fail!)
Award / Revenue: Anniversary award nights via Intercontinental Hotel Group (IHG) Mastercard
Nights: 2
Status: IHG Platinum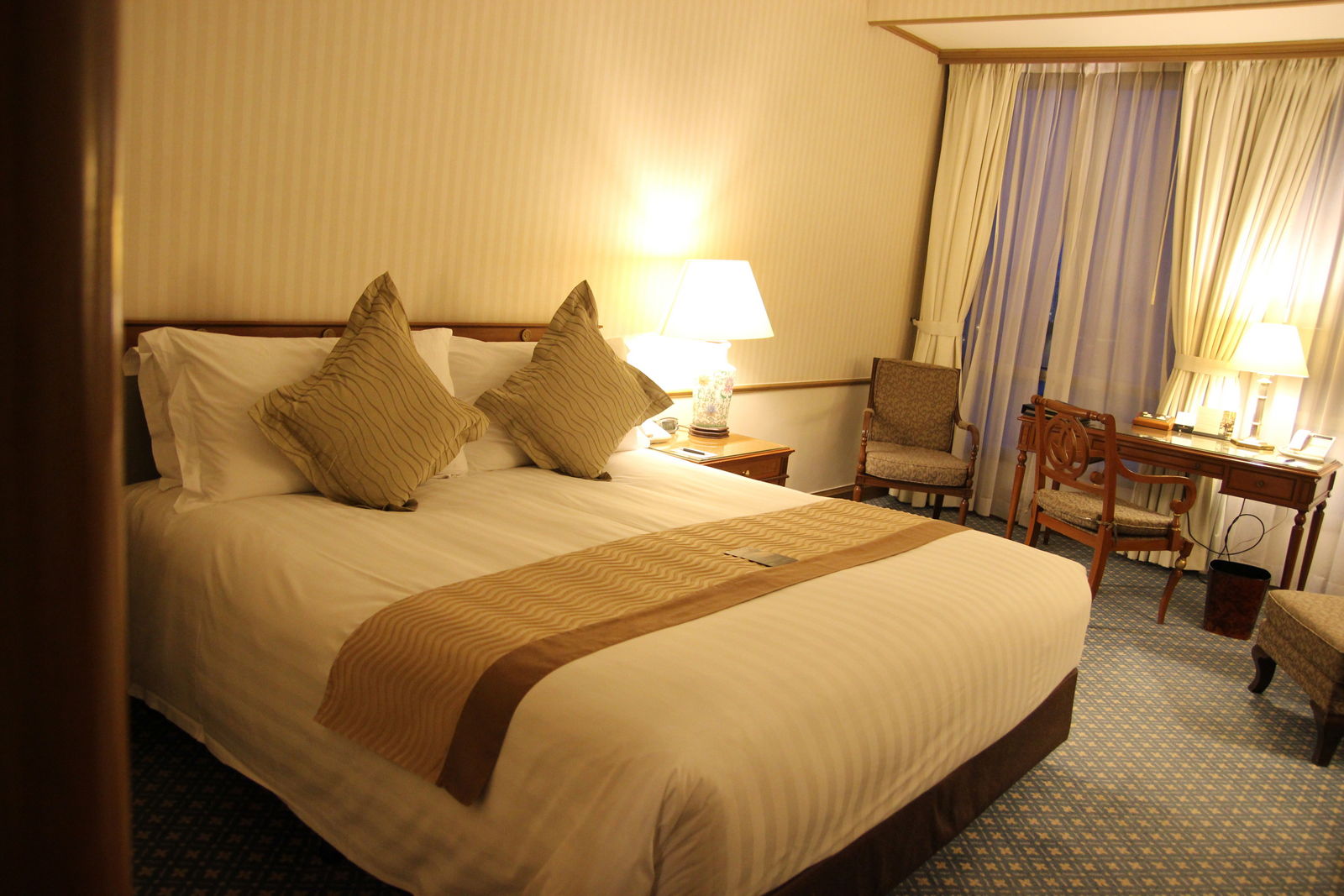 How: At check-in I politely asked if there were any suite upgrades available for a Platinum member. After several minutes of furious typing, the agent stated that they didn't have any suites available. Instead he offered me either an upgraded "shopkeeper's room" or my original room plus high-speed internet and breakfast. Since the "shopkeeper's room" was supposedly just nicer (not actually bigger), I chose the latter. I honestly think he would have given me a suite had there been one available, but perhaps he was just trying to let me down easy. Strike out.
Booked: Standard Hill-View Room
Received: Junior Suite
Award / Revenue: Category 1 award
Nights: 2
Status: Starwood Preferred Guest (SPG) Gold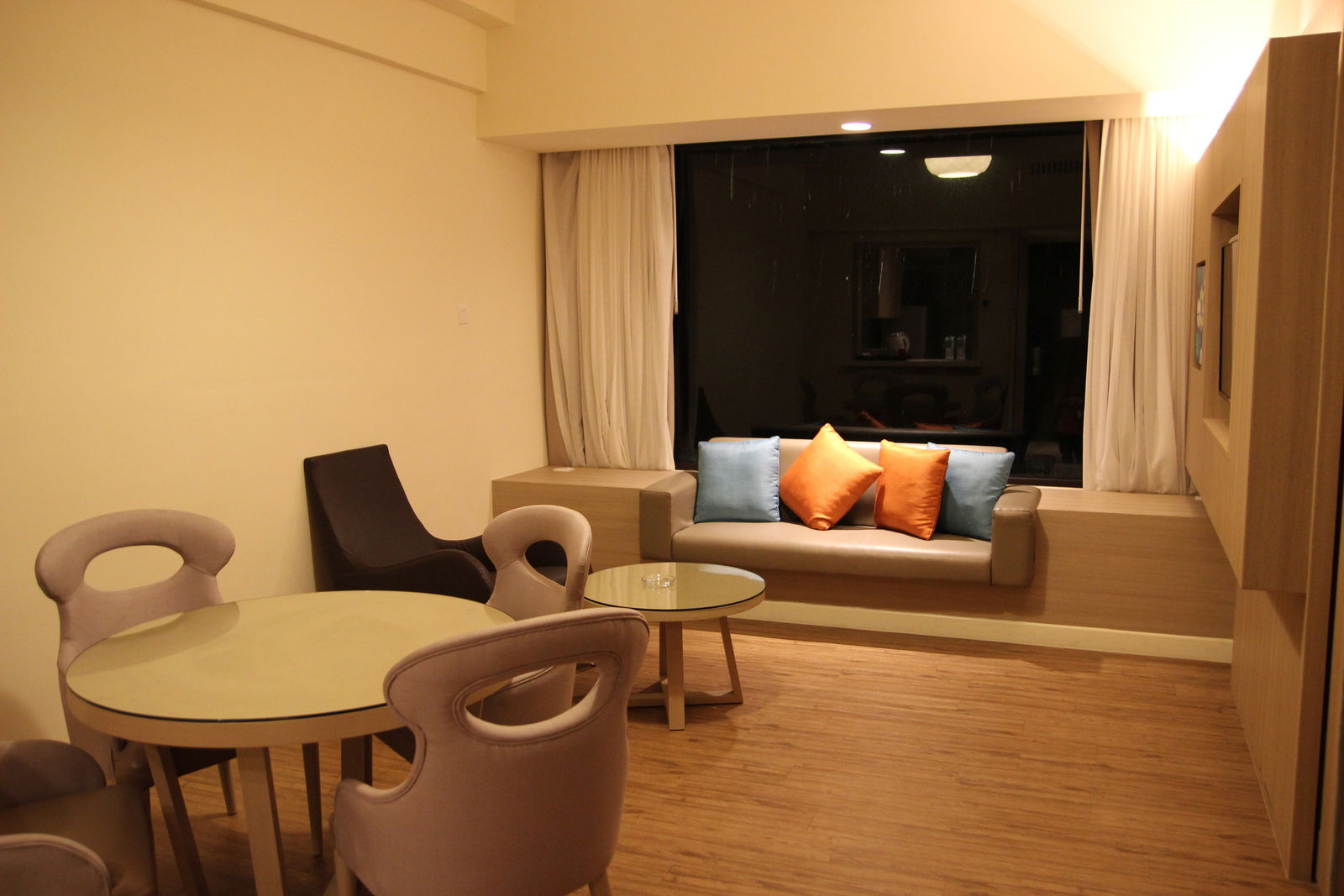 How: A few days before our arrival, I emailed the hotel requesting a pickup at the airport. I also mentioned that I was an SPG Gold member and would like to request an upgrade to "one of their beautiful suites." They replied confirming the airport pickup (for a fee, as expected) and informed me of my Gold benefits — namely that I would receive an upgraded room (within the same category), late checkout, and a choice of amenity. Yep, that's what the rules say — no argument here! Strike one.
At check-in, the very kind agent informed me that I had been upgraded from a hill-view room to a sea-view room. I very politely asked if they had a suite available for a Gold member tonight. After some very quick typing, the agent informed me that, regrettably, the only suite available was on a smoking floor. We took it, as the room smelled impressively clean, even if there was a slight odor in the hallway.
Booked: Standard Room
Received: Grand Suite
Award / Revenue: 2 nights as credit card sign-up bonus, 2 nights My Elite rate. Globalist Suite Upgrade (GSU) applied.*
Nights: 4
Status: Hyatt Globalist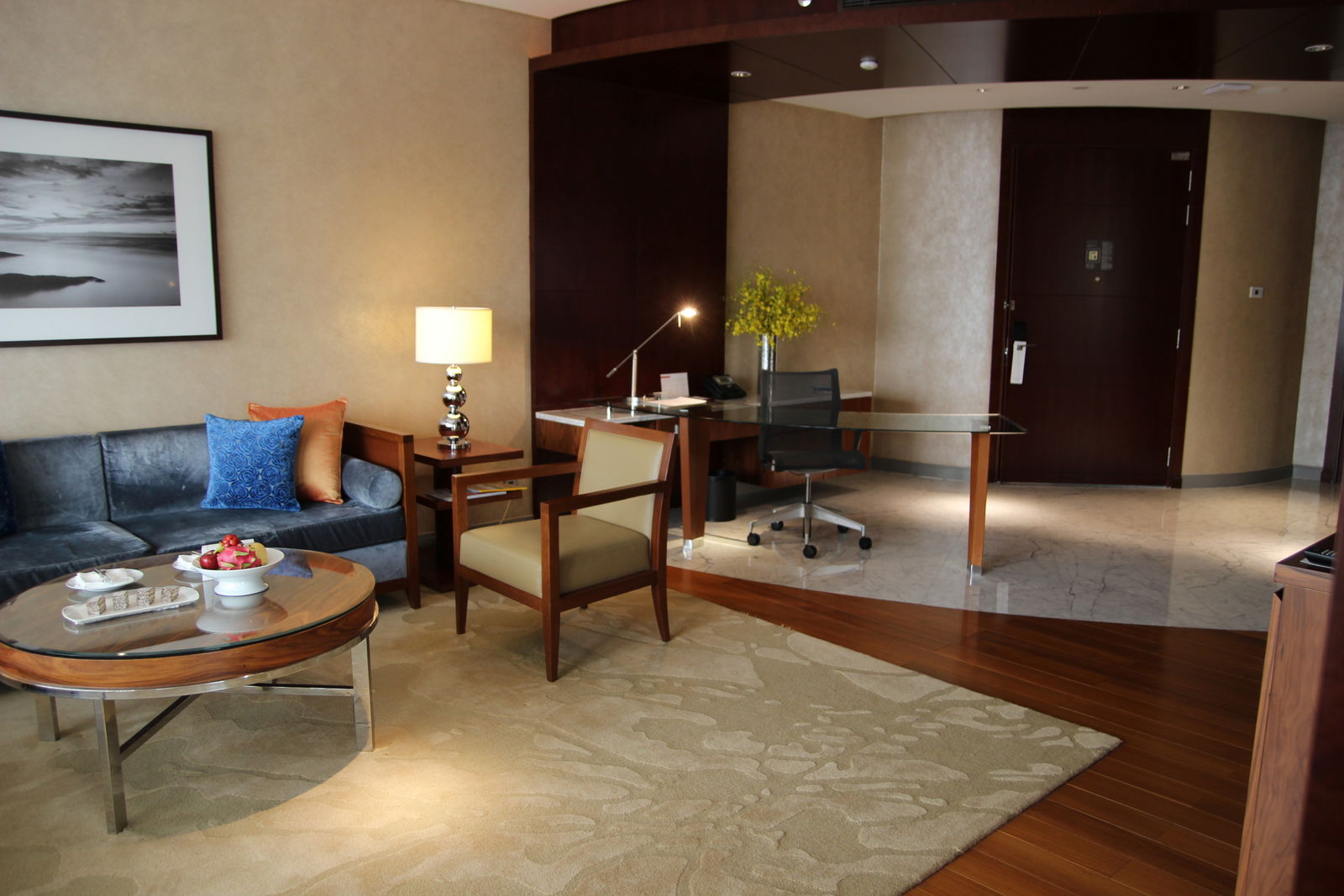 How: I originally emailed the hotel to apply the DSU to all 4 nights. They politely informed me that the credit card award nights were not eligible for the upgrade. Strike one.
I then reached out to World of Hyatt Concierge via FlyerTalk. I asked that the GSU apply to all 4 nights. I politely explained that when the Hyatt credit card debuted, Globalist members received two nights in a suite upon signup. Therefore, I was effectively just asking for the original offer. I was also still using a GSU for the other nights. The concierge apparently agreed that this was a reasonable request and quickly reached out to the hotel to make arrangements for the upgrade.
*It is debatable as to whether this stay counts as a "suite that I didn't deserve". The two nights booked on revenue using the My Elite Rate were certainly GSU eligible. However, the two credit card nights were not. Since it took special consideration on the part of HGP, I chose to include it here.
Booked: Standard room
Received: Suite
Award / Revenue: Anniversary award night via IHG Mastercard
Nights: 1
Status: IHG Platinum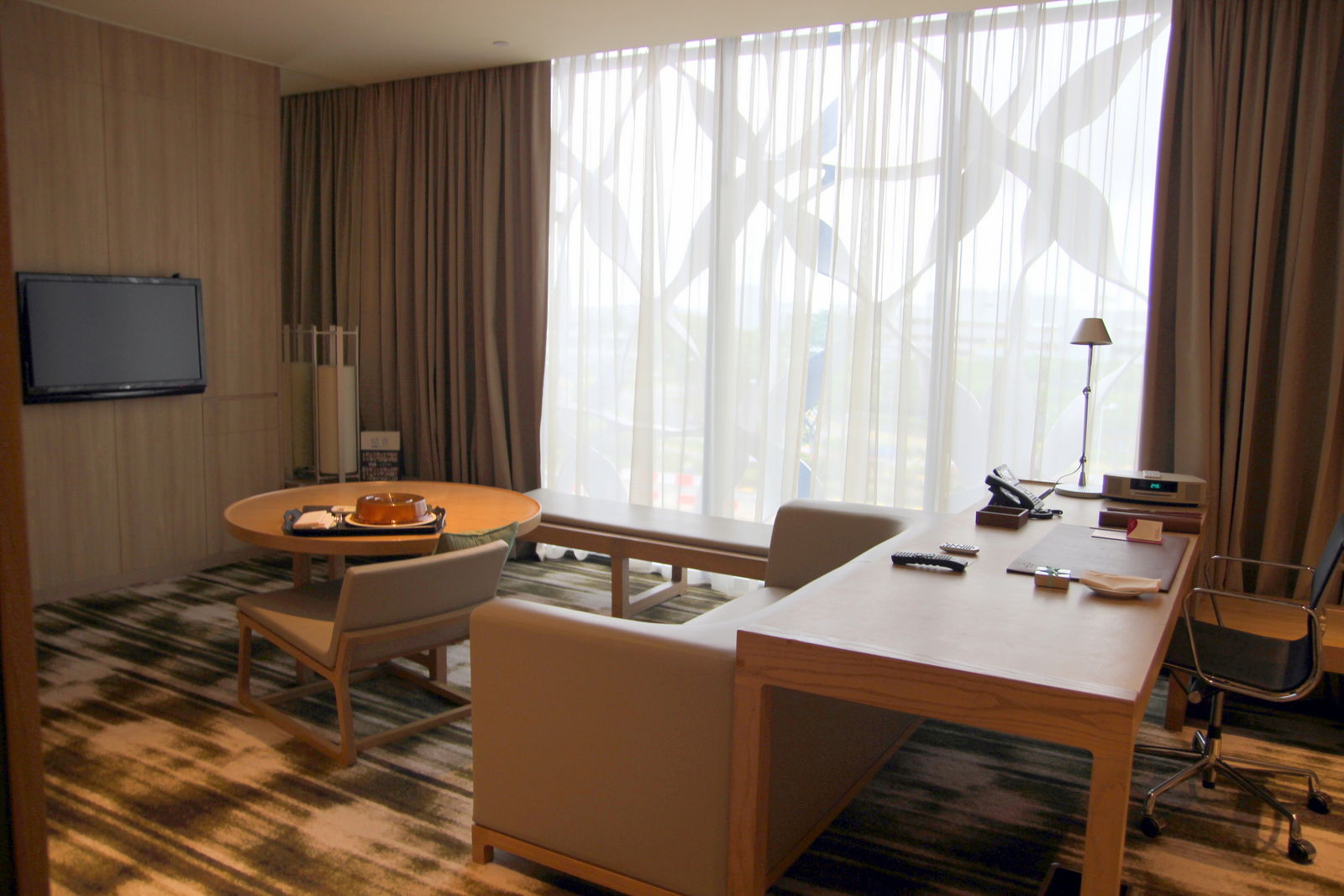 How: This room was in my wife's name, so she checked in. She tried our standard routine of politely asking if there was a suite upgrade available for a Platinum. The check-in agent quickly replied that the hotel's policy was to give Platinum members a one category upgrade to a Premium room. My wife asked what the difference in those rooms would be and found out that now we would be on the top floor. Yippee! Strike one.
We went up to the room which was indeed on the top floor. I reviewed my notes (which is to say I asked Google) and confirmed that this property has a reputation of treating Platinums very well — there are many reports of Platinums getting suites and even club access!
I returned to the front desk to try again. I hoped to get a different agent who might have a different interpretation of the policy, but as luck would have it, I ended up with the same one with which my wife had spoken. I quietly and politely stated that "my wife and I are both IHG Platinum members <she interrupted to thank me for our loyalty> and wondered if there was a suite upgrade available." She repeated the same line to me as she had to my wife, but then added, "since I know you are traveling with two children, maybe I can get you a suite, just this time." Ah yes, the "one time exception." Has IHG started hiring United agents? Cause if I had a nickle for every "one time exception" United has offered me over the years….
Anyway, it turned out that she only had a smoking suite available. I went to look at it smell it, and confirmed that it was acceptable.
Booked: Standard Room
Received: Executive Suite
Award / Revenue: Award (BOGO nights)
Nights: 4
Status: Club Carlson Gold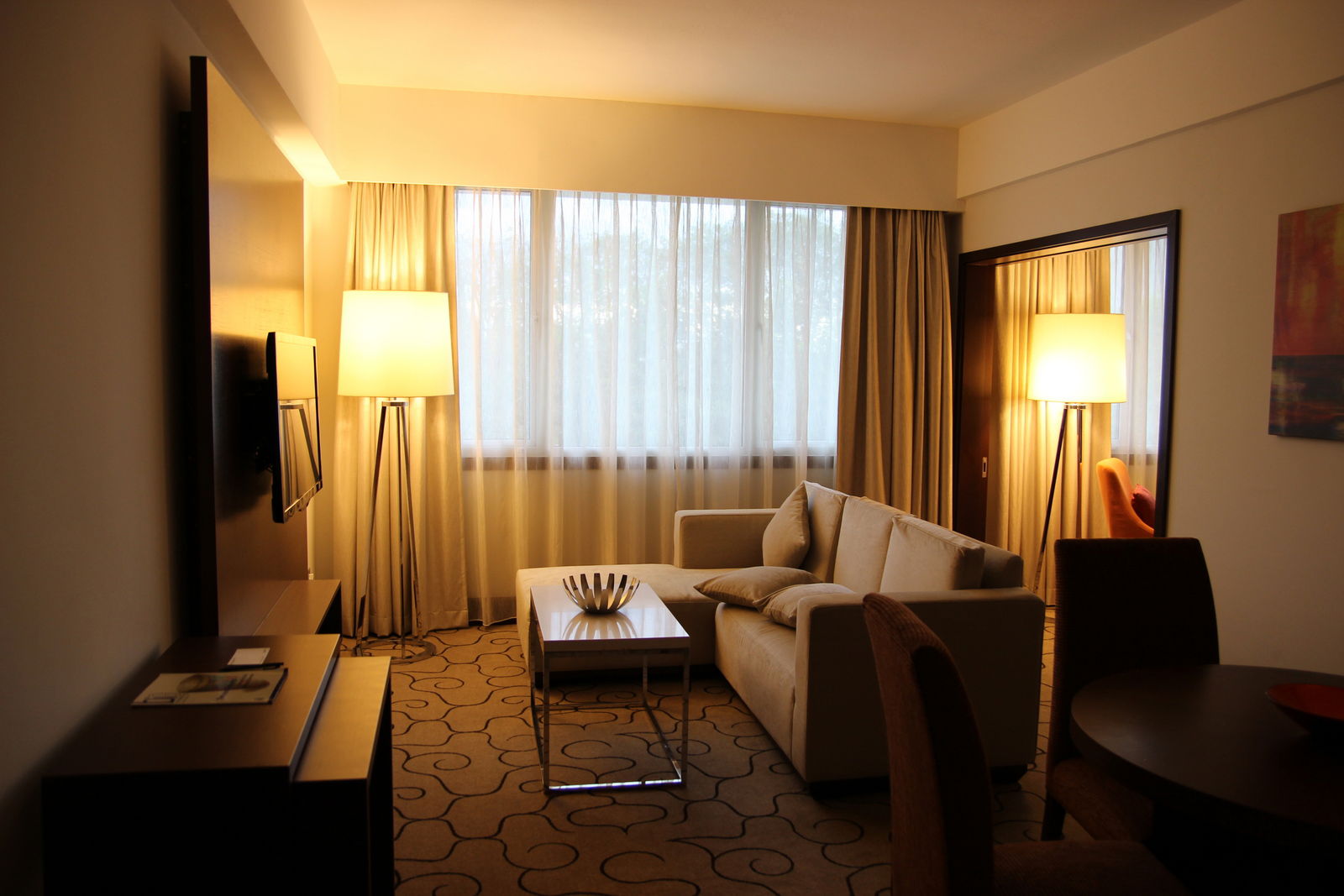 How: About a week before our arrival, I emailed the hotel to ask for an airport pickup and at the same time explained that I was a Club Carlson Gold member and would like to request an upgrade to "one of their beautiful suites." (Do you see a theme here?) I received a prompt reply confirming the airport pickup (for a fee, as expected) and that we would be upgraded one category to a Deluxe room. The Deluxe room did seem to have more space according to the website, but this was still strike one, as that door is really key.
At check-in, I politely asked if there would be a suite upgrade available for a Club Carlson Gold member. The agent immediately started typing and said that "regrettably none were available right then." I asked when one would be available and he said perhaps in half an hour. Deal. I said we would wait, and he offered me our original room to go relax in while we waited. Even better. The suite was ready in about 5 minutes.
And that's how we received suite upgrades at 5 out of 6 properties on this trip when we weren't entitled to any!
---
It would be easy to write all of this off to "Travis is just lucky" and while I do believe that I am the luckiest guy on Earth — at least among those not actually named Lucky — I think there is a bit of technique to this. Here are 6 take-aways to help you try to get a suite upgrade when you aren't entitled to one.
"You don't get what you don't ask for." My Dad taught me a long time ago that the worst somebody is going to say is "No." We can't let a fear of rejection get in the way of getting what we want. Had I feared rejection and losing, I would have given up five upgrades to avoid the one rejection.
"In the land of the blind, the man with one eye is king!" My SPG and Carlson status are only mid-tier while my IHG status is top-tier but just about everybody and their brother has it. Yet when you are traveling in off-the-beaten path places, properties may not see many elites and thus they treat you like royalty. (Heck, even booking directly on the hotel website can put you ahead of the competition who likely made their reservation with Orbitz, Expedia, Hotels.com, etc.)
"You can catch more flies with honey than with vinegar." In every case, I knew I was not entitled to the upgrade. I asked very politely and was prepared for (and expecting!) rejection. This should definitely

not

be a DYKWIA moment!
If the front desk indicates that suites are available, but refuses the complimentary upgrade, inquire as to how much it would cost. If your stay is for a single night, and it's already late, the suite is probably going to go unsold. The incremental revenue they get from selling you an upgrade is basically going straight to the bottom line, and as such, they may have room to negotiate. Inquiring how much the suite upgrade would cost also indicates that you aren't just looking for a handout (even if you'd gladly take one!), which may actually encourage the hotel to give you just that. In the worst case, politely decline the offer if it is more than you want to pay. Interestingly, we never had a chance to try this approach on this trip since the only time we struck out completely was when the all the suites were occupied (or so we were told).
Asymmetric information. Readings blogs (such as OMaaT) or websites such as FlyerTalk can make you believe that everyone is a Diamond, Platinum, Royal Ambassador, etc., and that you have no right to ask for an upgrade as a lowly Gold member who cheaply obtained their status just by having the credit card. Trust me, most of the world has no status. And check-in agents rarely know what it takes to earn status anyway. You don't need to tell them that this is actually going to be your first stay with their chain this year, or that you've never actually spent a dime with them. If they want to treat you like a big shot, just smile and let them.
Batting 83% on suite upgrades is incredible — and will get you in the Hall of Fame — but it's still far from guaranteed! While my wife and I really appreciate the sanity that more space offers, we know that we can get by for a few nights in a single room. So perhaps the most important thing to keep in mind is that you have to be prepared for the front desk to say no. If you really absolutely need a suite, then by all means, book one!
What tips do you have for getting upgraded to suites when you aren't entitled to one?