Travis is my first new contributor to the blog, who will be writing a post every Wednesday to start. The idea behind adding guest contributors is to add different perspectives to the blog. Travis has a unique approach towards travel, given that he travels almost exclusively with his wife and young children, which is in stark contrast to my travels, which are usually alone.
Travis is currently on a month-long trip to Southeast Asia with his wife, 3.5 year old son Squirt and 2.5 year old daughter Squeaker:
---
My suite at the Grand Hyatt Kuala Lumpur was vandalized… and I had to clean it up!
We recently wrapped up a 4-day stay at the Grand Hyatt Kuala Lumpur. (Review coming soon.) On the second afternoon of our stay, we received a call from the manager of housekeeping informing us that there was a situation regarding the stool in our bathroom.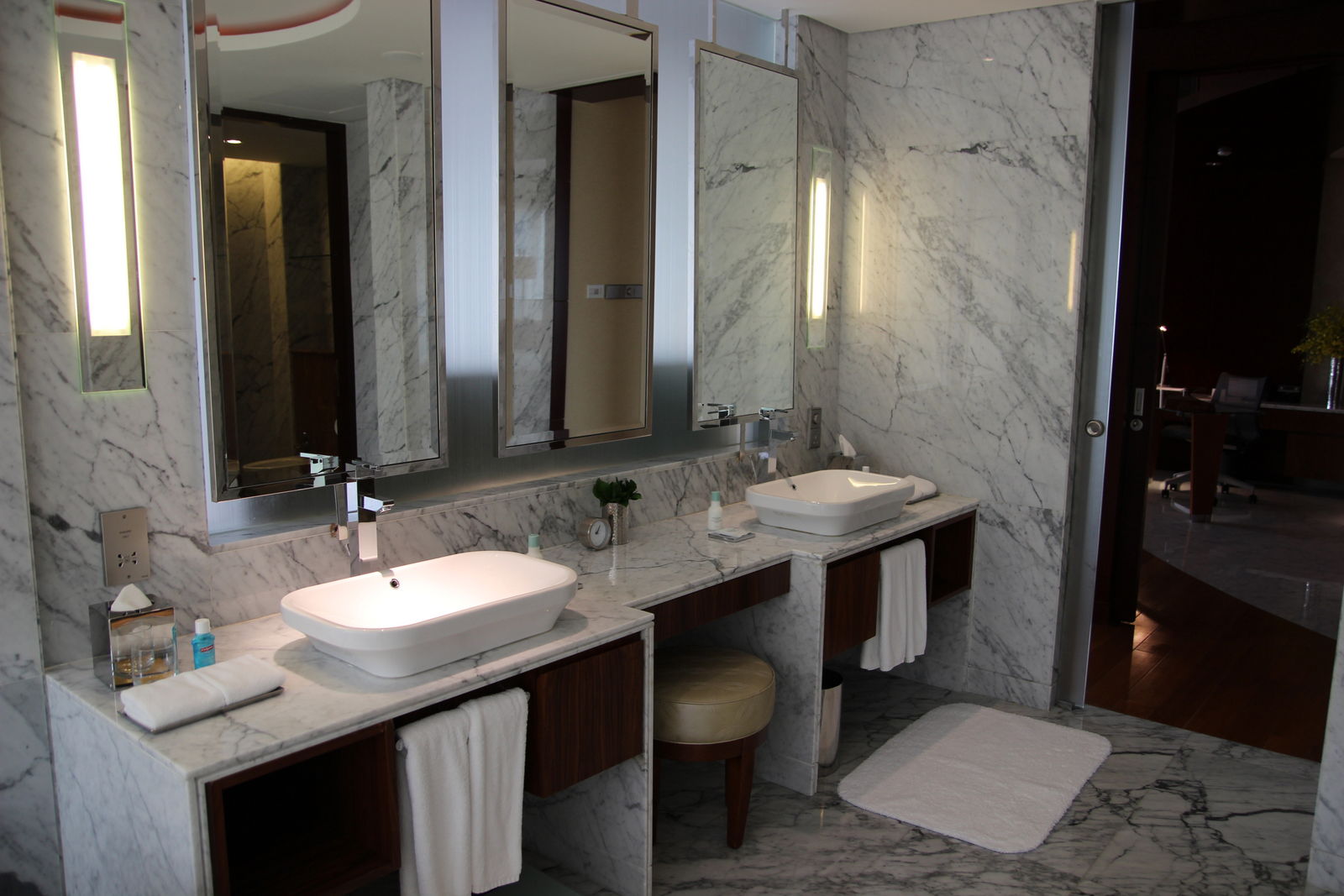 He wanted to know if we were aware of the ink marks on the top of it. My wife replied that we were not, but said she would go to the bathroom to have a look. Yep, sure enough there were some ink marks on it. The manager said that his housecleaning crew had tried to remove the marks, but they were unsuccessful, and if they couldn't be removed, the stool would be unusable. He said he would be down to discuss the matter with us.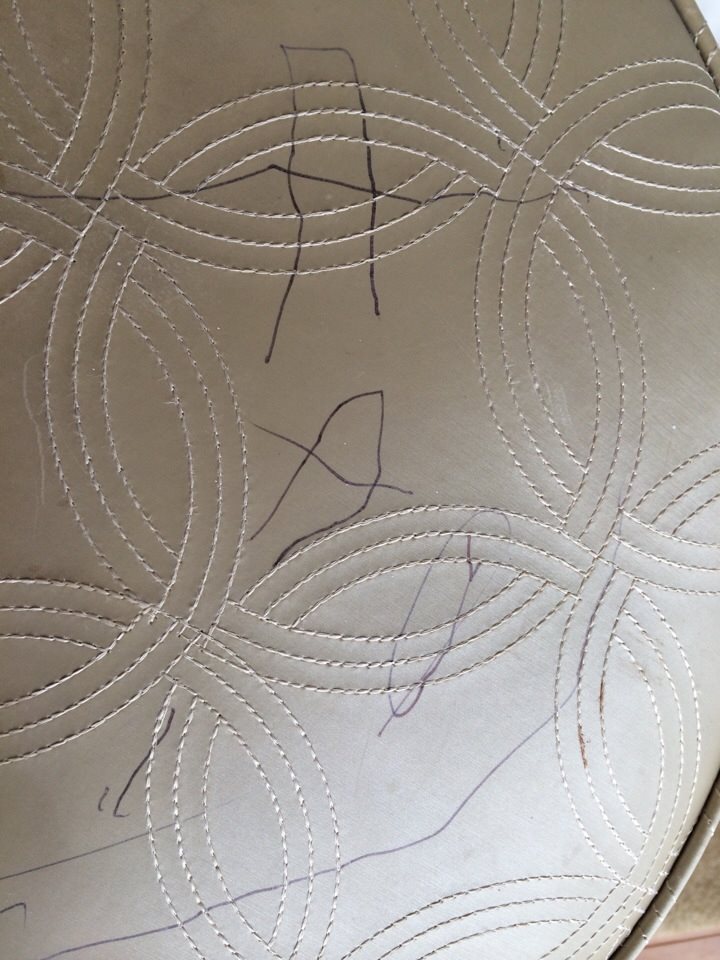 It didn't take long to figure out the identify of the vandal for the telltale "A" matched those of the artwork that are proudly displayed on our refrigerator at home.
We confronted our 3.5 year old son about it immediately. He informed us that that section of the bathroom was his office, and that the stool was his chair. Naturally, he had put his mark on it. (Because clearly, when Daddy goes to his office, he draws on his chair all day!) My wife was not happy. We had no idea what that stool would cost to replace, and we weren't keen to find out. If a professional hotel cleaning crew couldn't restore it, what could we as mere amateurs do?
Except we're not amateurs. We have two preschoolers. We've become masters at the art of cleaning up seemingly impossible messes. But our tricks of the trade were at home.
What would MacGyver do?
Then we noticed the "Hyatt Has It" placard on the desk. A couple years ago, Hyatt introduced "Hyatt Has It," a list of core items for guests to have, borrow, or buy, under the theory that if you know the hotel has it, you can pack lighter by leaving yours at home. It's an interesting concept, although frankly most of the items seem like things that most hotels would provide anyway. Still, it's good marketing.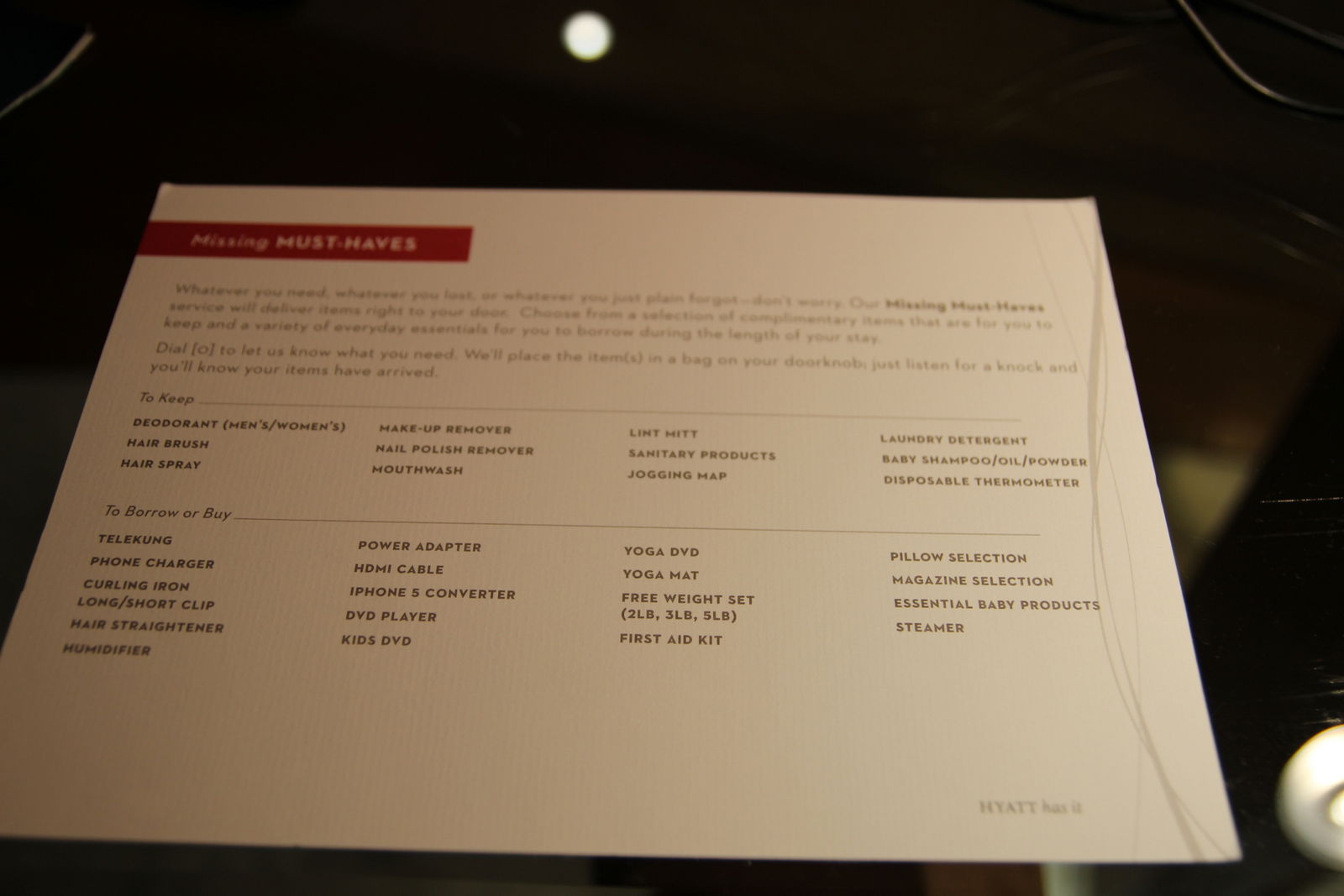 We needed a cleaning solvent. Looking at the placard, we noticed that there was nail polish remover and a first aid kit, the latter of which we presumed would contain rubbing alcohol for cleaning wounds. We called to request those items and they soon arrived. Then we spent the next hour delicately dabbing and swabbing at the marks using a towel moistened with alcohol. Slowly — and I do mean slowly — the ink started to come off. We breathed a sigh of relief. And dabbed some more. By the time we had to squint to see where to dab next, we decided that it could pass the "eye test" and called it a day.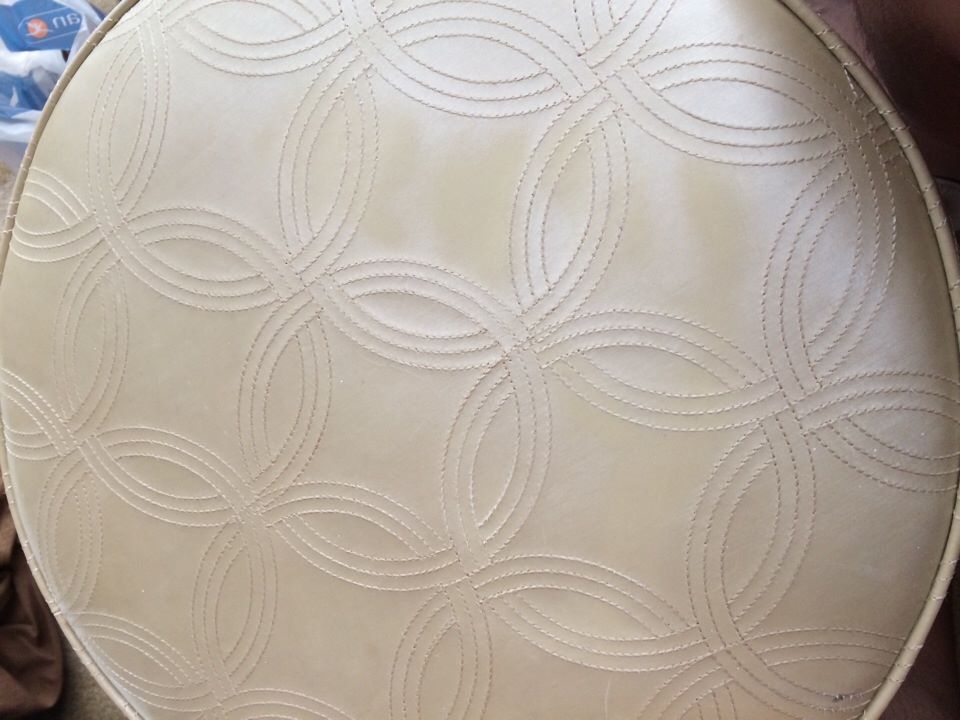 The next day the housekeeping manager caught up with us. We invited him in for a look-see. We all walked into the bathroom.
He looked at the stool.
He looked at us.
He looked back at the stool.
He looked at us.
I think he wanted to accuse us of swapping stools with the room next door. Instead he said something like "there were some marks on here, no. How did you get them off? What did you use?" We sort of just shrugged and mumbled something about wiping them off with the stuff we had in the room. And that was more or less the truth.
He took some pictures "for his boss" and went on his way. We didn't hear any more about the incident. Crisis averted.
I'm glad we didn't have to buy that stool, cause if we did, I was totally going to bring it home with us. I'd put it in the middle of our living room and powder my nose while watching Monday Night Football.
---
Have you ever had to buy an item at a hotel that your child broke or defaced? Do they charge you a fair price, or is it like buying parts for your car at the mechanic where they mark them up 50%? Does it at least count as eligible spend for points-earning purposes? What creative uses have you come up with for the "Hyatt Has It" amenities?
(Full disclosure: My wife actually went out to the pharmacy and bought nail polish remover and rubbing alcohol. We didn't think to request the items from the "Hyatt Has It" menu until after the fact, though it does seem to make for a good story.)