Travis is my first new contributor to the blog, who will be writing a post every Wednesday to start. The idea behind adding guest contributors is to add different perspectives to the blog. Travis has a unique approach towards travel, given that he travels almost exclusively with his wife and young children, which is in stark contrast to my travels, which are usually alone.
Travis is currently on a month-long trip to Southeast Asia with his wife, 3.5 year old son Squirt and 2.5 year old daughter Squeaker:
---
My wife and I tried something new on this trip – we hired a babysitter for a night! I know, that probably doesn't seem very revolutionary, but for us it was. Although we have a part-time nanny at home who helps out a few days during the week, we pretty much exclusively take care of our own munchkins on the road.
As I've previously mentioned, I was the best man in a dear friend's wedding in Penang this past weekend. The wedding was in the evening, and was scheduled to be followed by a multi-course meal. We wanted the kids, Squirt and Squeaker, to attend the wedding – they were both participating as flower children – but figured that by the time the party was finished, it would be way past their bedtime. And we all know that would not have ended well for us or anybody else!
So we hired a babysitter.
Though the wedding was at the Eastern & Oriental, we were staying at the Bayview which is kiddy-corner across the street, mostly to save a few bucks. (Review coming shortly.) The Bayview advertised babysitting on their list of available services. My wife called the front desk and learned that they charge RM 15 per hour (~$5 / hour), with a 3 hour minimum. The babysitters are sourced from the housekeeping department. That all seemed reasonable, even cheap, which made us say "why haven't we been doing this the entire trip?"
Since we didn't know when the ceremony would be finished (and had been advised by the groom that weddings in Malaysia are kind of like United flights — they rarely run on-time), we requested that the sitter be ready and available starting at 8 PM, but explained that we didn't actually know when we'd be ready for her. Of course, we explained that we'd pay her as though she was starting at 8 PM regardless. My wife even stopped again on the way out to go over the plan thoroughly an extra time, and the concierge seemed to understand. She said to just come by when we returned from the wedding and were ready for the sitter to start.
In my vision, this was going to be a very slick job for a sitter. My wife would bring the kids back from the wedding somewhere between 8 and 9 PM. The sitter would be waiting for them. My wife, maybe with the help of the sitter, would get the kids ready for bed, read a book, sing a song, and generally go through the routine. Then my wife would stick around for a few minutes to make sure that both of them were down for the count at which point she would sneak out and hand things off to the sitter.
Then the sitter would basically just be on call in case someone woke up or had an emergency. The odds of her actually having to do anything were very low.
Like many of the visions that dance in my head, that's not quite how it played out.
At about 9 PM, my wife brought the kids back to the hotel only to be yelled at by the front desk who stated that the babysitter had waited over an hour at our door and then left for home since we had never showed up. Clearly there had been some miscommunication, because this was not what we had agreed upon. (They also yelled at her for not paying in advance, despite never saying that was necessary – and what decent hotel can't just add the charges to the room?) Fortunately, they were able to call her back quickly, but it was still a little irritating to be blamed by the hotel staff (though that was somewhat a recurring theme – nothing was ever their fault – more on that in the review).
While waiting for the sitter, my wife got the kids ready for bed. It was a little after 9, roughly the time that my kids had been going to bed since we arrived in Malaysia. Both Squirt (3.5) and Squeaker (2.5) were tired and have been going down without much fuss on this trip, so everything seemed fine. Squirt was basically asleep as soon as his head hit the pillow. Squeaker was in bed and "assuming the position" by the time that my wife was ready to leave, meaning she'd probably be asleep within 10-15 minutes.
Thinking everything was fine, my wife then returned to the E & O, leaving the babysitter in charge. Everything seemed to be going according to plan.
At some point, however, the plan broke down.
When we returned to the room just after 11:30 PM, we found my son sawing logs as expected (great!), but my daughter was rolling around on the other bed – not her own — saying she wanted to go to sleep. Lovely.
The sitter was laying on the other bed watching TV. She told us that Squeaker had said she "wanted to sleep on this bed", so she let her, and that's what she had been doing for a while. Squeaker was obviously watching the TV with glazed eyes.
My wife was not very happy. The whole point of getting a sitter was to keep our kids on their sleep schedule such that they would not be cranky the next day, which happened to be a flight day for us. Even if our kids could sleep in following a late night (they don't), that wasn't going to be an option this time.
But what was done was done. My wife got Squeaker back onto her mattress, settled her down, and within minutes she, too, was out. Just 2+ hours later than it should have been…..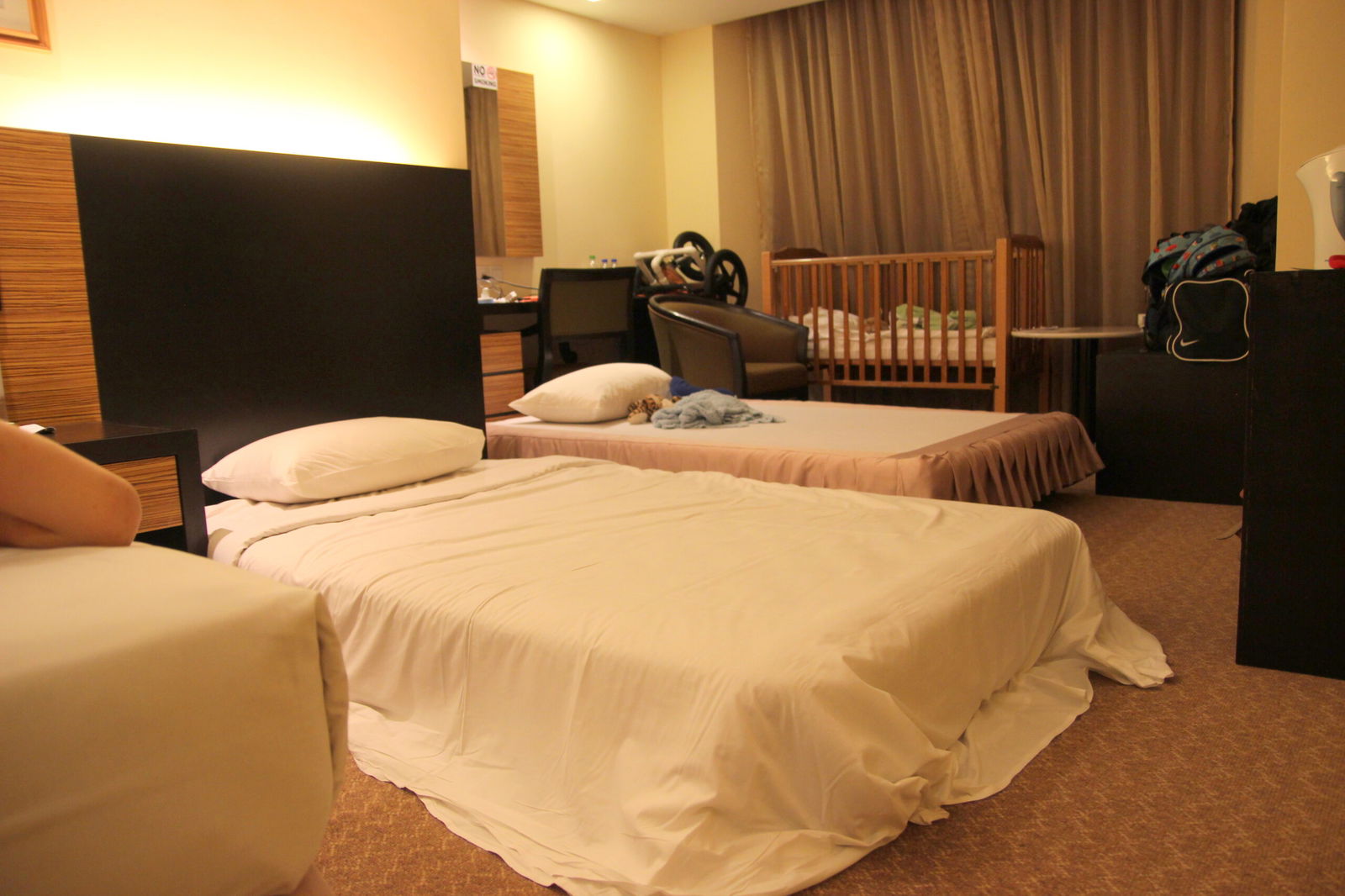 In hindsight, my wife suspects that as soon as she left, the sitter turned on the TV. Now our kids aren't super light-sensitive, but even I have trouble falling asleep with the flashing lights from a TV bouncing around the walls of a room, and the sound on. It's distracting and our kids definitely aren't used to it.
I guess the part of my vision which never got fleshed out in my head is where the sitter is supposed to be through all of this. If we had had a suite (which we often do), the babysitter could obviously hang out in the living area, doing whatever she wants, while the kids sleep in the bedroom. But what if you don't have a suite?
Should the sitter have been expected to sit in a dark room while the kids sleep?
Should she have sat in the bathroom?
Should she have sat in the hallway, with the door perhaps ajar?
If she had layed down on our bed in a dark room, would it have been OK if she had fallen asleep?
Frankly, any of those would have been fine. And perhaps that's why my wife and I didn't feel the need to micromanage her by telling her exactly where she should sit, and what she should be doing. We're probably spoiled by the fact that we have a part-time nanny at home that knows how we operate, knows our expectations, knows our kids' routines, and can pretty much just jump in at a moment's notice without ever skipping a beat. I also acknowledge that there may be some cultural differences here too.
In the end, everything worked out. Squeaker was a little squeakier than usual on the flight the next day, but nothing too obnoxious. Mostly I just want to learn better what to expect next time.
So have you ever hired a babysitter in a hotel, particularly for bedtime duty? If so, what are your expectations? How did it work out?