I'm constantly looking at my loyalty program accounts, be it the redeemable account balance, the elite qualifying balance, available upgrades, free nights, etc. And that's especially true towards the end of the year, when there's often a rush to track your status and figure out which upgrade instruments are expiring.
My two favorite hotel chains are Hyatt and Starwood, and both offer their top tier elite members confirmed suite upgrades:
Hyatt Globalist members received four Suite Upgrade Awards, each of which can be used to confirm an upgrade into a suite for up to a seven night stay at the time of booking
Starwood Platinum members receive ten Suite Night Awards, each of which can be used to confirm an upgrade into a suite for one night up to five days before check-in [Update: Marriott Platinum Premier members now have the option to select five suite night awards as a choice benefit]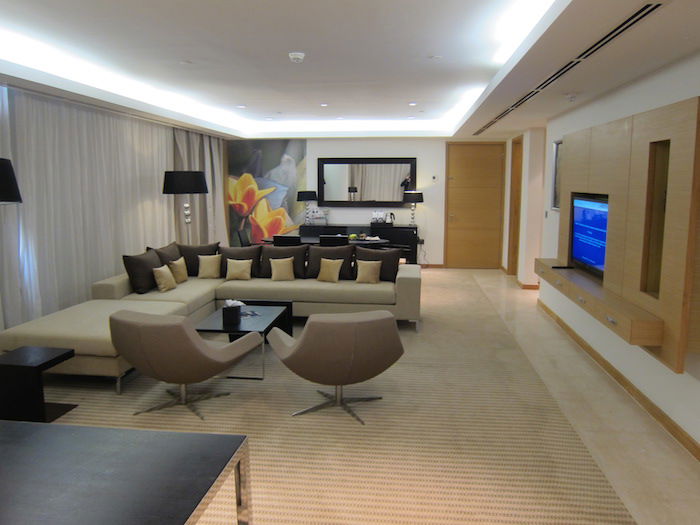 Le Meridien Cairo Airport suite
What kind of surprised me as I was going over my account balances today is that I've basically not used any of my upgrades. I've only used one of my four Hyatt upgrades for the year: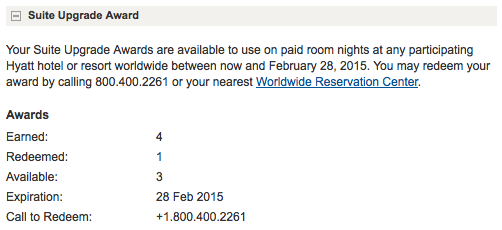 And I've only used six of my ten Starwood upgrades for the year (and four that I used have been within the past week):

And to me that's kind of puzzling. Like, I live in hotels, so surely my lack of use isn't because I don't stay enough.
But for some reason — I don't know why — I hoard them. It's not that I'm trying to "save" them for anything in particular, it's mainly just that if I'm staying alone I'm not sure there's much marginal value to a suite over a standard room, as long as I have a bed and a desk to work from.
I guess my main struggle with Starwood is that I'm usually "entitled" to the same suite at check-in that I'd be using a suite upgrade for, pending availability. And I seem to get that automatically outside the US with good frequency, while within the US most Westins and Sheratons don't really have very exciting suite offerings.
On the Hyatt front, the issue is that I rarely stay at a Hyatt property for more than four or five nights, so I'd be sub-optimally redeeming them for shorter stays. Then again, the end result there is that I end up with a bunch of upgrades at the end of the year that I haven't redeemed.
I'm curious, what strategy do you guys use when trying to decide when to redeem hotel upgrades? Do you usually end the year with not enough upgrades, or in a similar situation to me?