Back in July I had a little business trip over to Salt Lake City, and was originally booked to fly United Express on a CR 200. The night before, however, I noticed that the flight before mine was available for a free Same Day Confirmed change. Not only would it get me in an hour earlier — which was preferable — but it would also give me a chance to fly the Bombardier Q400 operated by Republic Airways for United. Even better, the flight showed F3 R2 at the time that I made the change, meaning that there was an excellent chance that my complimentary upgrade would clear.
Given that United has announced plans to phase out the Q400, I couldn't pass up this bucket list opportunity to fly first class on a propeller plane. I seem to recall having flown a de Havilland Dash 8 many years ago, but that was in economy.
The novelty factor of flying on a pimped-out prop plane along with the fact that the Denver – Salt Lake City flight path offers some great flight-seeing made this a surprisingly interesting trip.
And to all those who grumble that you never get a United First class trip report around here, this one's for you.
I should also apologize for the poor quality of the pictures. This was a business trip for my day job, so I didn't bring my D-SLR. I really regret that given the spectacular views of the Rocky Mountains and western slope, but oh well.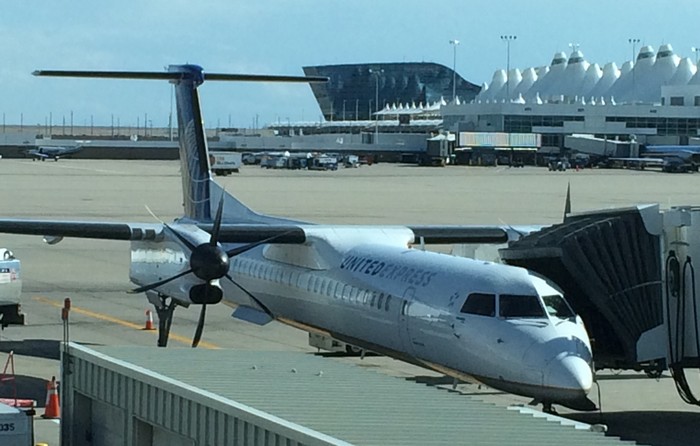 Boarding
As I was walking to the gate, I noticed that my original flight was already showing a 45 minute delay. That seemed to reaffirm my decision to pass up a jet for a propeller plane.
My flight, however, was on-time.
Boarding started promptly 30 minutes before departure and was actually wrapped up about 15 minutes later. I didn't try to fit my roller in the overhead bins, and instead just gate checked it.
Seating On The Q400
The Q400 has a 1-2 seating configuration in first, and a 2-2 configuration in economy.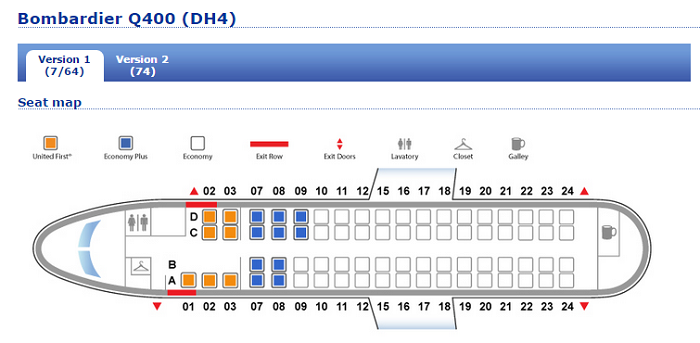 The first class cabin has 7 seats.
At the time that my upgrade cleared, I had a choice of any of the bulkhead seats — 1A, 2B, or 2C. I chose 1A for the privacy.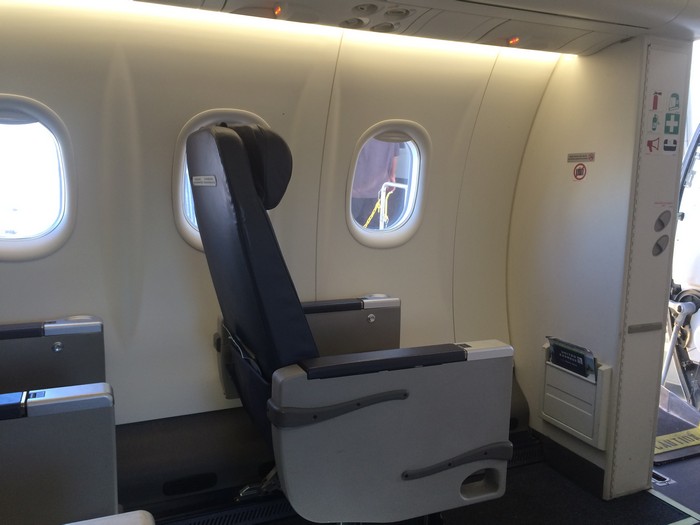 Both 2B and 2C are considered exit rows seats, though they are also the bulkhead.
Service On The Q400
This flight was scheduled to serve refreshments in first class. That translates to the snack basket. Now truth be told, it's quite impressive that there is any food served on a propeller plane at all, and in fact, the new United snack basket is pretty decent. Given that the flight had just been catered in Denver and the fact that I was in 1A, I had the full assortment to choose from.
That said, when it comes to refreshment flights, I actually prefer to sit in the back of the cabin since then I feel like I can be a bit of a pig and take as much as I want since everyone else has already had their chance. Then again, I've also had that plan backfire when the guy in the row ahead of me had the same idea.
This time I had to restrain myself and settle for just two items. I chose the bag of 7 chocolate covered pomegranate seeds (no really, that's how many you get), and the Culinary Crisps along with a Dasani lime water.
It seemed like a lot of people were sleeping or not eating, so there was quite a bit left over. She didn't actually offer seconds, but I requested a bag of Popchips, just so I could include them in this review. Yeah, that's the reason.
The Smallest Lavatory I've Ever Seen
I thought the Q400 was generally comfortable for what it is. Except for the lav. This has to be one of the smallest lavs on any plane, at least in terms of legroom. I didn't measure, but it seemed like there was less than a foot from the edge of the toilet seat to the door.
Flight-seeing In The Q400
The Q400 is perhaps the best plane in the United fleet if you like to look out the window. No really, hear me out.
The Q400 actually flies at a very low cruising altitude. For this flight, we were at 24,000 feet which is a lot less than the 32,000-36,000 feet that would be typical of regional jets or larger aircraft.
Then consider that we were flying over the Rocky Mountains where the summits can top out at 14,000 feet, and well, it seems like you can reach out and touch them. Like most propeller planes, the Q400 doesn't set any speed records, so you have plenty of time to savor the views.
For this route, I recommend sitting on the left side of the plane such that you are looking south. (Or on the right side, if you are flying from Salt Lake to Denver.) That way you are looking toward the I-70 corridor and, if you're like me, you'll have a little better chance of identifying some landmarks such as 14ers, ski resorts, or the Colorado River. Looking north is nice too, I'm just not as familiar with the terrain in that direction.
Here are a few more the pictures I took on the flight with my iPhone. I really regret not bringing my D-SLR on this trip. Some people pay big money for these flight-seeing trips, and here I got one for free and couldn't really take advantage.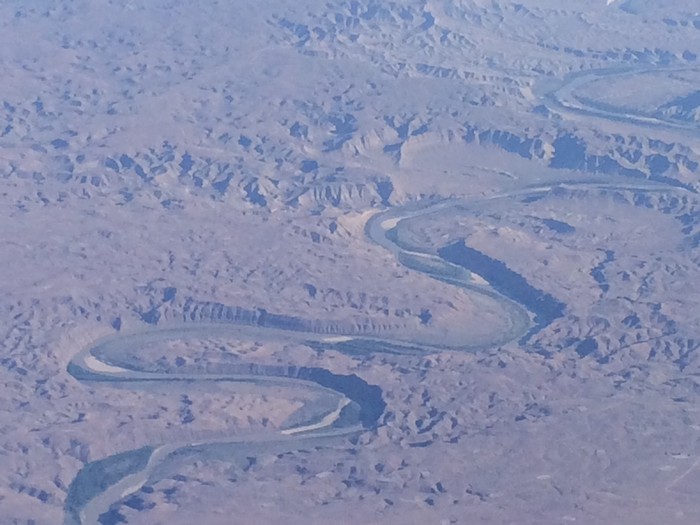 I feel like I should be able to explain this phenomenon, but I'm kind of at a loss. Any ideas?
Conclusion
I enjoyed this Q400 flight. There was a little more noise, but it wasn't deafening or anything. The flight time was about 15 minutes longer, versus flying on a regional jet, but that wasn't a big deal. In fact, I was enjoying the view so much that I wouldn't have minded it taking a little longer. I'm glad that I had the chance to fly the Q400 upfront, especially given that it is being phased out of the fleet.
Have you flown the Q400 or any other prop plane in first class? What was your experience like?