Yesterday I shared all the details of the new Hilton Honors program, which will be implemented this year. Perhaps the most significant change is that Hilton is completely reinventing their award pricing. Rather than having a fixed award chart, Hilton will have variable award pricing. The absolute maximum award price for a hotel won't be increasing, while there will be more flexible low season pricing.

Hilton has a handy calculator that lets you compare the cost of redemptions before and after the change. Understandably a lot of people are skeptical, because we're used to loyalty program changes being negative nowadays.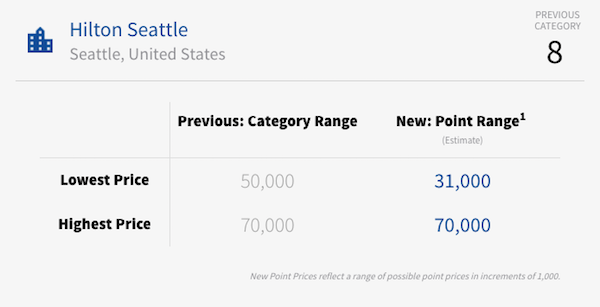 Personally I don't view these changes quite as negatively. Vineet emailed to explain his perspective on these changes, and I think he's spot on, so I'd like to share his explanation, which is definitely worth a read:
Was reading the coverage of the new Hilton P+M and other changes online and I feel its still an incomplete narrative, no one has quite got to the bottom of why these changes came about and what are the mechanics behind the changes.

I think a lot of the people have an us vs. them equation in their head regarding program enhancements and automatically assume that no change would be made unless it benefitted the program and hence every change is worse for the guest.

The real reasons these changes are coming about are to clear the Hilton balance sheet of points (liability for accounting purposes) by utilizing unused inventory.

It's important to understand that hospitality isn't a 2 stakeholder game, its a 3 stakeholder game. There is Hilton, the guests, and the property owners. The P+M revision doesn't really change things between guests and Hilton, but really changes things between property owners and Hilton.

Redemptions are compensated by the chain to the property with an amount that just about covers the cost to the property. Usually properties don't mind this since those rooms would have gone unsold anyway. However, the problem with assigning categories using average daily rates is that you can either track the high season or low season (averaging both will create fantastic redemption values for guests during peak season, which is bad for the chain and owner, and overpriced awards during low season, which is bad for the chain/property again since no one will redeem).

Removing the lower limit on the redemptions and pushing down the dynamic prices is all about facilitating cheaper redemptions during off peak times. This doesn't harm Hilton since they get to write off points (liability on balance sheet) that could potentially have been converted into much more valuable redemptions later.

It isn't truly terrible for the property owner since the lower rates are only applicable at times of lower occupancy so it would still cover their costs and not have any associated opportunity costs of losing high revenue rooms.

So to sum up, this is largely good for guests in short term (long term the ramifications of the opaqueness of categories might be terrible). It is great for Hilton to be able to incentivize redemptions and get rid of the billions of points on the balance sheet at very low compensation rates. This is a zero sum game and so it can't be good for everyone, so the slack is taken up by the owners, and even there it isn't terrible for them.

The whole scheme will just increase the utilization rates of the empty low occupancy rooms and thereby reduce inefficiency and dead space.

It's actually a very well conceived change with the opaqueness of categories slipped in as a Trojan.
I think Vineet is spot on, and explained this much better than I could have. To simplify this even more:
The major global hotel chains don't own most of their hotels, but rather just have management contracts for them
When someone redeems points at a hotel, the hotel is compensated by the loyalty program at slightly above the hotel's marginal cost
The exception is when the hotel is full, in which case the loyalty program compensates the hotel at (or close to) the average daily rate, which can be expensive
With this new system, Hilton has the ability to get points off their books, and is encouraging people to redeem off peak when hotels aren't actually full, and therefore the reimbursement rates will be low as well; this can be a win-win
Sure, there will likely be some cases where hotels are more expensive under the new system than the old system. However, I think when you understand that the hotel industry is different than the airline industry when it comes to reimbursement for award redemptions, it becomes clear that this change doesn't have to be negative — it could be a win-win for both consumers and Hilton Honors.