As many of you probably know, I'll soon be embarking on my last US Airways 90,000 mile business class award to North Asia. While looking over the itinerary today, I noticed that one of our Ethiopian Airlines flights was swapped from a 787 to a 767. I asked my friend and travel companion Andrew B (who needs no introduction) to break the news. 😉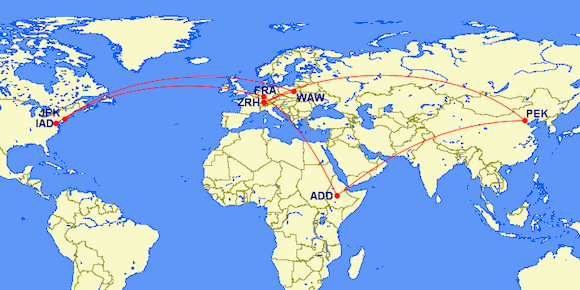 ---
Hey, everyone, it's Andrew B – you may know me as the meme guy (if you read this), the fetish bar guy (if you read this), or the handsomest and most special guy in the whole world (if you're my mom).
I told Lucky a few months ago that I had a ton of US Airways miles just sitting around waiting to be devalued, and he suggested that we do one of their 90k "North Asia" trips (a sweet spot on US's partner award chart that they've since, sadly, eliminated – though it's only 110,000 miles now, which still ain't half bad).
Thanks to some great input from you guys and some convincing from Lucky, I signed on for a pretty ambitious itinerary that involves stops in Warsaw, Zurich, Beijing, Addis Ababa, and Frankfurt. I'll get to fly LOT, Swiss, Ethiopian, and Lufthansa (all of which are new airlines for me, with the exception of Lufthansa, which I flew on my way back from a board game convention – no, seriously).
You may remember that Lucky missed out on experiencing a LOT 787 when they swapped it for a 767. The good news is that it looks like this time he'll actually get to try out their Dreamliner (and it will be my first time ever on that aircraft!). The bad news is that Ethiopian swapped their 787 on the Addis Ababa to Frankfurt route for a 767-300. Based on the photos of the business class cabin on that aircraft, we're in for an experience. I'll probably do an equipment swap of my own, trading the water I usually drink on flights for some hard liquor.

I'm mostly joking. It doesn't take much to impress me, and I'd like to think that I'm fairly easy to please. (And, by the way, I would never say "do you know who I am" to anyone, lest they think I have amnesia.) I take DC's Metro to work every day, and I'm pleasantly surprised on days when I don't step in vomit or witness someone almost get involuntarily amputated by a closing train door. So, I think Ethiopian's 767 business class will be fantastic in comparison to my usual mode of transport. (Lucky, on the other hand, is sometimes a bit more discerning, unless there's a blue crane on the tailfin, Hello Kitty-themed toilet paper in the lavatories, or a shower onboard.)
Anyway, I'm super excited for this trip, and I'll be sure to share my thoughts on it with you all!