When it comes to planning mileage runs, or looking for great fare deals, the go-to tool for most of us has been the ITA Matrix. ITA is a powerful tool, and makes searching for specific inventory buckets or fare combinations more practical. However, ITA is also becoming slow and glitchy, and the interface isn't exactly beginner-friendly.
Part of the reason for the slowness of ITA has to do with the new tool Google has developed for finding flight deals. Google Flights is designed to be more approachable to the general population, so I thought it might be helpful to talk about how to use Google Flights to save money on airfare.
When you first visit the Google Flights page, you'll see a map, along with highlighted deals to popular destinations based on your current location, or from your home location if you're signed in to your Google account.
While your current location will auto-populate, you can select additional airports by selecting the drop-down menu. You can either type in the airport codes (up to five), or check the boxes for the airports you're interested in.
Using Google Flights with a set destination
You can, of course, put in a specific destination as well. Let's say you're looking at going to London over New Years.
Google Flights will show you the available fares to London for the dates you've selected, but I like to click "Expand Map", which then gives you a bar graph that lets you know the least expensive travel dates in your general window.
Google Flights also shows the fares to nearby destinations, which can be useful if a particular route is much less expensive than the one you were originally considering.
Using Google Flights with fixed dates
This is one of my favorite features, and can be especially useful if you find yourself short a few miles towards elite status, or even just want to take a weekend getaway.
Enter your departure airports, along with your dates, but leave the destination blank. You can then expand the map, and will see lots of cities with red dots and prices:
You can also click and drag the map, which is the way to go if you're looking at cheap fares to Europe.
Copenhagen has been the city for great deals lately, and this is no exception. It's also worth noting the bar graph in the upper left corner — again, Google is showing you a range of fares around your dates, and in this case it looks like the price drops by about a third if you can move your trip a week later.
Clicking on the shortest line in the graph will pull up the new results, which also lists the available flights: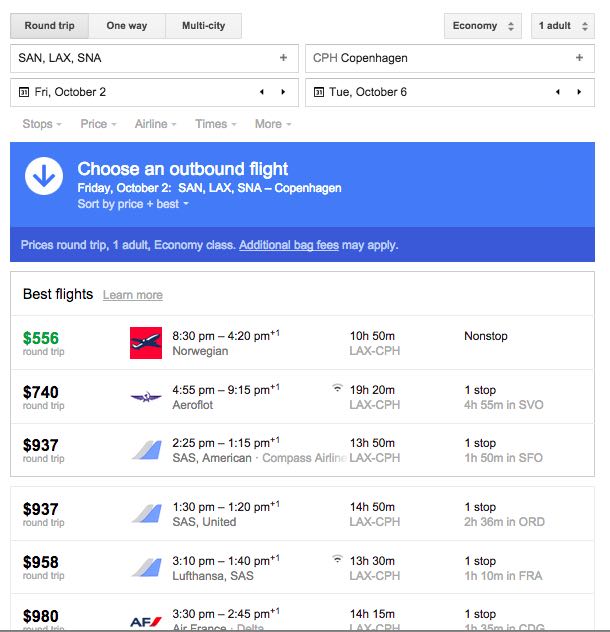 Let's say you don't want to fly Norwegian, despite the cheap fare and convenient routing. You can also use the filters at the top of the screen to select a particular number of stops, a specific departure time, or your choice of airlines or alliance: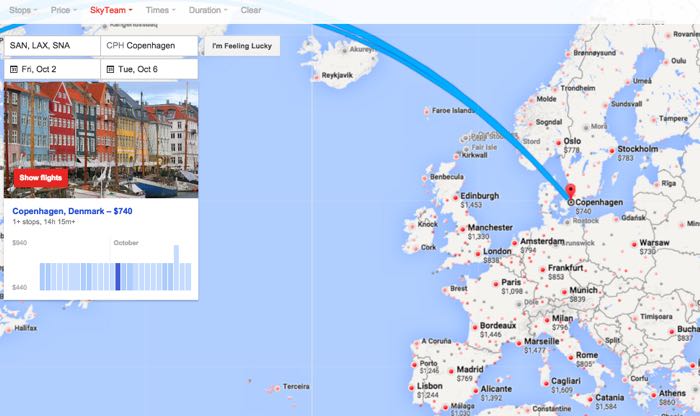 If you select SkyTeam, for example, the price bar goes nearly flat, and you'll only get results on SkyTeam carriers.
Booking mileage runs using Google Flights
As another example, let's look at fares on oneworld carriers to South America. Using the tips above, we can quickly find fares to Sao Paulo over a weekend.
Google automatically groups the "best" flights at the top of the results (again, you can filter based on your preferences, but these are the default settings), and highlights the lowest fare:
Once you've selected your flights, you'll see a blue box at the bottom of the screen giving your purchase options. In some cases there will be instructions to call the airline or your travel agent (in which case you can often still price the fare using an online travel agency like Orbitz).
If Google has an agreement with the ticketing carrier, you can click on the price box and be taken directly to the purchasing screen of the airline website.
This is basically magic, as far as I'm concerned. From here, you can purchase the ticket as normal, and if you're logged in to your frequent flyer account you'll have the options of auto-filling your personal info as usual.
You might still encounter the occasional glitch, but it works for me more than 80% of the time.
Price alerts from Google Flights
As part of Google's progression towards world domination integrated product line, Flights works in conjunction with Google Now to send updates on destinations you've searched, track flight status, or even (and this is my favorite) send you price updates for specific flights.
Once you've used the tool, Google Flights will remember the routes you've searched, which makes it easier to quickly check the price for a trip you're planning.
The pricing alerts are really cool though!
To give an example, let's say you're interested in going to Puerto Rico. Even better, let's say you know from past experience that premium cabin fares from California to Puerto Rico can be outrageously cheap in winter, and you want to be ready to book those as soon as the price drops.
Fill in the details of your trip, and select the dates you're interested in. In the upper right, change the class of service to "Business."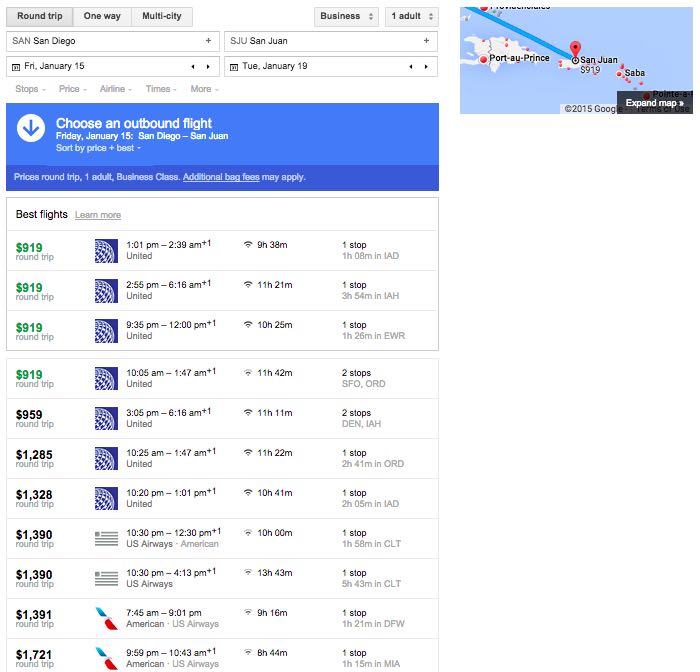 The cheapest fares at present are on United, but let's say I'm most interested in that American flight through Miami, which is currently the most expensive flight.
Once I've selected my flights, I'll again see the blue pricing box with my ticketing options. I obviously don't want to purchase these flights at that rate, but Google also gives me the option to save the itinerary.
By clicking Save, the fare alert will be sent to any of your devices with Google Now installed, which makes tracking prices much easier. It's not a foolproof system, as it only tracks specific flights, but it can give you a good general idea.
If you haven't used Google Now yet, it's worth noting that it's a little Skynet-feeling the first week or so. I find the benefits outweigh the creepiness, but if you're the kind of person that's likely to flip out if your phone tells you that you need to leave right now or you'll be late, when you haven't even added that appointment to your calendar, you might want to tread carefully.
Bottom line
For advanced players, Google Flights isn't at the level of ITA Matrix yet, but I'm not sure that's the direction Google wants to go anyway.
For everyone else, this is a great tool that's pretty easy to use, and is a good way to get your feet wet in searching for deals and great fares.
There are also many more features to explore and learn, so this is just a starting point. If you have favorite tips please share them below!
Have you used Google Flights? What has your experience been?