Posts from me are going to be a bit lighter over the next week as I continue my dad's round the world surprise birthday trip. As you may (or may not) know, I also have a points consulting service, whereby we help people redeem their airline miles. I have several colleagues working with me, and they're some of the most knowledgeable and passionate people I know in this hobby. They've offered to pitch in and write a few posts to give me a bit more time off while I'm traveling, so hopefully you'll enjoy the additional unique perspectives. This post is from my friend Tiffany, whom you've heard from before.

---
Hi everyone! To continue my trend of absolutely destroying any potential credibility I might have in the miles and points community with the things I write on Ben's blog (see also: Lufthansa first class is just okay, and Egypt for Instagrammers), today I'm here to talk about one of the most pressing topics imaginable.
Why you might want to redeem Alitalia MilleMiglia miles
No really.
Alitalia is a SkyTeam carrier that doesn't really get that much attention. This is primarily because their website and call center are Italian challenging to navigate, but the MilleMiglia program is worth knowing about for a few reasons.
Alitalia has a generous award chart
Both American Express Membership Rewards and Starwood Preferred Guest are transfer partners of Alitalia MilleMiglia, so it's easy to top off an account
However, Alitalia is also an Italian airline. And I say that as someone who loves Italy. But if you've spent any time there, you know what I mean.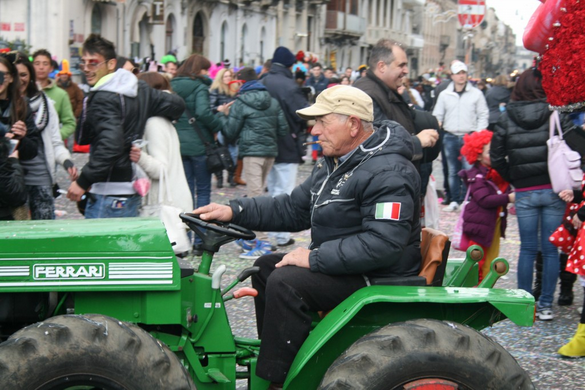 Oh Italy.
So there are a lot of quirks to the MilleMiglia program.
Redeeming Alitalia miles for travel on Alitalia
For flights exclusively on Alitalia, you'll want to follow their specific charts for economy and premium economy, or business class award travel.
The rates for business travel are very good — 80,000 miles roundtrip between Europe and North America is a bargain, even with the fuel surcharges.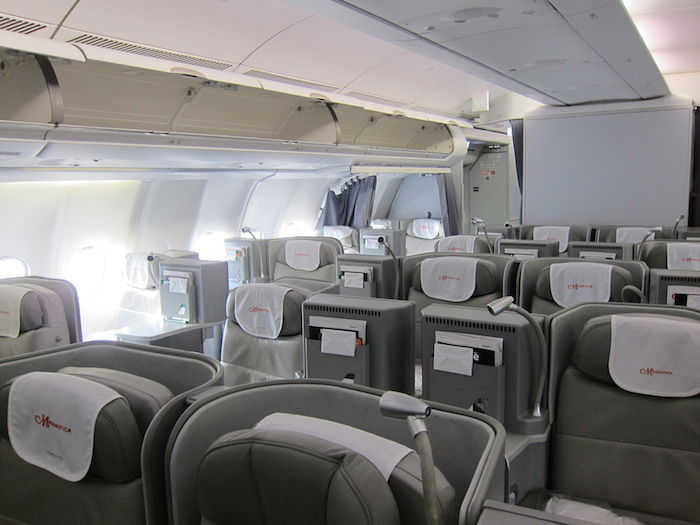 Alitalia Magnifica business class
A few things to note about the award charts:
One-way tickets are allowed at 60% of the cost of the roundtrip
The "flex" and "superflex" awards offer expanded, but not last-seat availability
In terms of the routing rules, Alitalia doesn't allow a lot of creativity. However, since they also don't have a huge route network, this isn't that much of a limitation in practice.
You can have two "transits," which basically means connections. You can have three segments on a one-way, or six on a round-trip.
Stopovers are not allowed
Open-jaws are allowed, within the same region. So you can fly into Rome and out of Venice, but can't have an open-jaw between Northern Africa and Europe.
It's also worth noting that mixed-cabin awards will price as two one-ways on the website, so you'll pay more miles. However, if you want to book business class for the outbound and premium economy for the return, the call center can correctly price this at the round trip rates.
Alitalia levies fuel surcharges on award tickets. For a roundtrip between North America and Europe, these are generally about ~$850 for business class and ~$500 for economy or premium economy.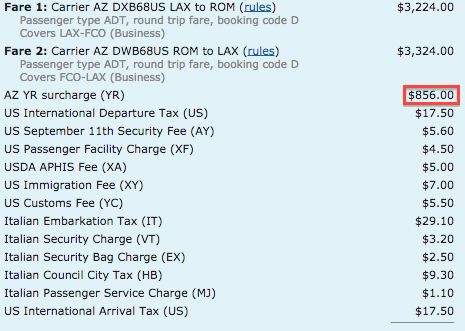 Alitalia business class fuel surcharges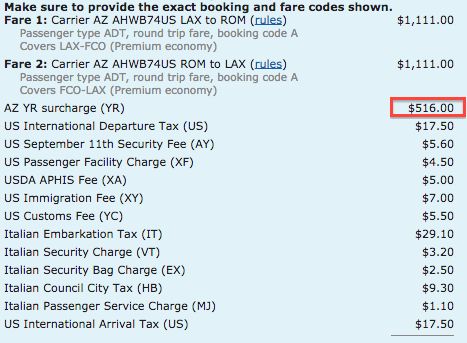 Alitalia economy and premium economy fuel surcharges
Not cheap by any means, but better than what we see from other European carriers, and there are of course ways to lessen the economic impact.
Redeeming Alitalia MilleMiglia miles for travel on SkyTeam partner airlines
Alitalia MilleMiglia has a separate chart for SkyTeam partner airlines, and there are some very tempting redemption options:
North America and North Asia for just 90,000 miles roundtrip
North America and Southeast Asia for just 95,000 miles roundtrip
North America and India for just 100,000 miles roundtrip
North America and Southern South America for just 75,000 miles roundtrip
North America and Tahiti for just 90,000 miles roundtrip
In nearly all cases, these are lower than what Delta or Air France would charge. However, the award charts are set to be updated next year (or last Saturday, according to their Greek language website), so I wouldn't count on these prices sticking around.
Alitalia also levies fuel surcharges on partner award tickets. These aren't as onerous as Air France or British Airways, and in many markets are similar to what Delta would charge. So you can save quite a few Membership Rewards points by booking through Alitalia, with an equivalent cash outlay.
In terms of routing rules, there are a few things worth noting:
You can only redeem miles for roundtrip travel on partner awards
You can have a maximum of six segments for a partner award ticket
You're allowed one stopover enroute to your destination, and your stay at the stopover point has to be shorter than at the destination
Furthermore, keep in mind that partner reservations have to be made by phone, and like all SkyTeam airlines, the call center is an adventure.
How to find Alitalia award availability
The easiest way to search Alitalia award availability is via ExpertFlyer.
Business class is "Z"
Premium Economy is "A"
Economy is "U"
Award availability in advance is very good, and it's not unusual to see three business class seats on a single flight. However, I don't think I've ever seen more than three business class seats on a longhaul, so groups of four will need to split across multiple cabins or flights.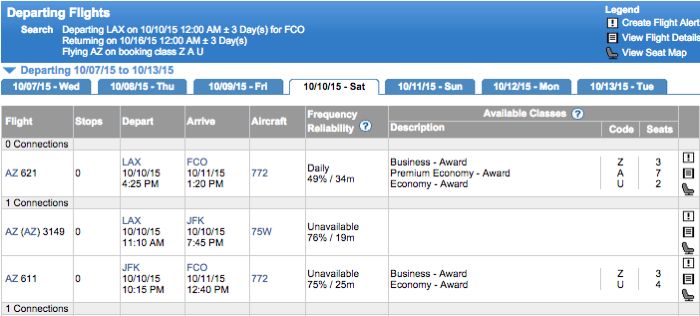 Even competitive routes like Los Angeles to Rome have great space in advance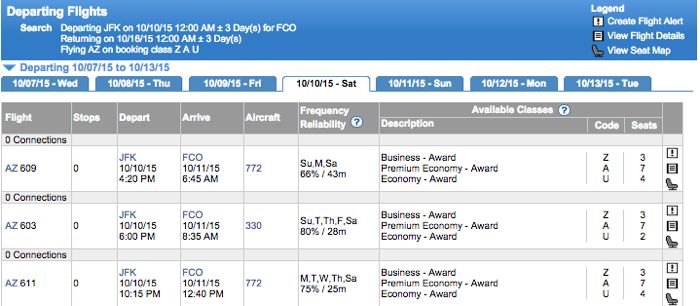 Three flights a day between New York and Rome means there's often space if you can split your group
In general, Delta typically has access to the "Z" and "U" fare buckets, so you can also use delta.com to search for space, which might theoretically be easier now they've fixed their award search calendar.
Using Alitalia.com
Actually, you should really be using alitalia.it and translating through Chrome. Many of the Alitalia-provided translations don't quite work, so seat assignments and fare classes don't translate well. Prices on revenue flights are also often lower through the Italian site, for what it's worth.
One of the other "fun" aspects of Alitalia is that once you have miles in your account, their website is less of a pile, and you have some enhanced features. So once your account is fully "active," you can search for award availability online.
You'll want to click on "request your award" under the "redeem miles" tab in order to get to the booking engine.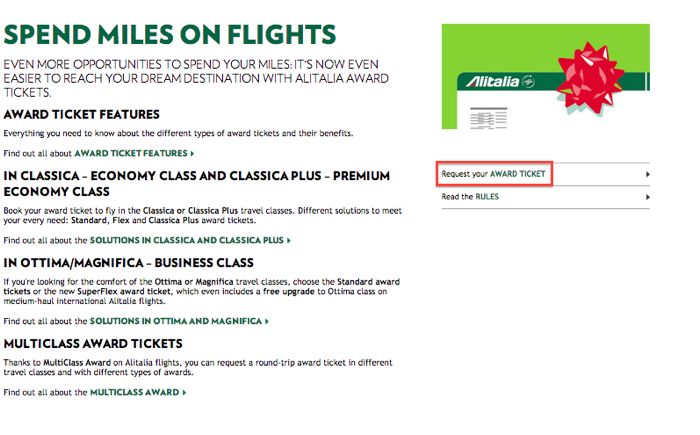 The website isn't very robust, so in most cases you're still going to be better off using ExpertFlyer to confirm availability. You can use the Alitalia site to price out simple awards, but for anything complex you'll need to call.

And there are other benefits to calling, which I'll get to below.
If you don't have any Alitalia miles, you have a few options:
Transfer as few as 1,000 points from American Express Membership Rewards
Transfer as few as 1,000 points from Starwood Preferred Guest (or even just 1 if you're an elite)
Alitalia frequently offers a bonus for joining the program and crediting a flight. Right now they are offering 5,000 miles to new members, so if you have an errant revenue SkyTeam flight this could be a good option
For partner awards on airlines other than Air France/KLM, Alitalia should have access to the same award space that FlyingBlue has, so the FlyingBlue site is a great tool to use there.
For AirFrance/KLM awards, I'd probably just use the Alaska website to check availability prior to calling Alitalia.
Alitalia MilleMiglia award holds and ticketing
As I mentioned above, the trick to booking Alitalia awards is to have some miles in your account. Once your account is considered "active" you can hold Alitalia-only awards for about two weeks.
And the key word there is really "about." Remember this is an Italian airline, and your Italian experience begins the moment you start booking your trip. You may have an agent tell you they are busy, and will call you back domani. (They won't actually call back, just FYI.) Selecting English on the phone menu may transfer you to whomever is working who happens to speak English, even if they work in cargo. You never really know, because:Italian. So just be patient, and know that many things (such as the length of an award hold), are agent-dependent.
And regardless, it's waaaaaay better than calling FlyingBlue, so there's that.
Despite that, the best strategy here is:
have a small handful of miles in your account
place your award tickets on hold
transfer in the needed miles
call back to ticket
The US phone number for Alitalia is (800) 223-5730.
However, if you have Google Voice, you're probably better off calling the Italian number +39 066 5649, as those agents seem a bit better trained.
Upgrade Alitalia tickets
In general, upgrading tickets using miles isn't something we recommend. That's because for the most part airlines require you to purchase a more expensive economy ticket, and you're still limited by availability. Just because seats are left for sale in first or business class doesn't mean you can use miles to upgrade.
As with everything, there are a couple of exceptions where it can make sense to use miles to upgrade:
When someone else (ie an employer) is purchasing the base ticket. Many corporate contracts book into higher fare buckets anyway, so it can make sense to use your own miles to upgrade the ticket to business class.
When programs have high fuel surcharges it can be a better value to purchase a ticket (especially on carriers that have premium economy) and then upgrade. You're often only paying a few hundred dollars more than you would in fuel surcharges, and given you can spend fewer miles (and still earn miles), this can be worthwhile.
In nearly all cases, you'll need award inventory to be available in order to upgrade, so keep that in mind.
Alitalia, however, is unique in that they don't require business class award inventory to upgrade. As long as "I" space is available — which is their lowest business class fare bucket, you can upgrade from premium economy to business for just 15,000 miles each way.
Given that you aren't limited to award inventory, this is a very good deal!
Mindbogglingly, not only can you also upgrade on the day of departure, but Alitalia flight attendants can process upgrades after boarding. They have a little chart with the manifest where they can see the miles and/or copay required and everything.
Bottom line
Booking Alitalia award tickets requires a bit of effort and patience, though compared to some of their SkyTeam partners it's not that much more work.
I wouldn't necessarily recommend crediting miles to the program, but there are definitely some good values to be found in terms of awards.
Has anyone redeemed Alitalia miles? What was your experience?
(Many thanks to Mac, our amazing SkyTeam guru for teasing out many of the rules here)