Sorry, codes are gone!
It has been a few months since I last gave out upgrade coupons for AwardWallet Plus, and this seemed like as good a time as any.
As I've mentioned before, AwardWallet is one of those websites I don't put much thought into but it makes my life so much easier.

Back in the day I'd have to refresh all my mileage balances manually, and if you're as OCD as I am and have as many frequent flyer accounts as I do, that can take hours each week. 😉
I assume most of you already know about AwardWallet, but for those of you that don't, it allows you to store most of your miles and points balances in one place. (If you are totally unfamiliar with AwardWallet or loyalty programs in general, make sure to check out the Beginner's Guide to Miles & Points).
There are some programs that AwardWallet can't load, like Delta, Southwest, and United, but aside from that they're pretty thorough. Even aside from actually loading mileage balances, I find it a handy place to store all my account numbers.
AwardWallet is free to use, though they also have a "Plus" service, which gets you a few extra benefits, like displaying extra reward account properties, historical account balances, etc. For example, for my Alaska account AwardWallet displays the active companion certificates I have, as well as a $125 certificate, because I'm a "Plus" member.



Anyway, for anyone that's not an AwardWallet Plus member, I have some codes to give away on a first come first serve basis.
Here are 50 codes for an AwardWallet Plus six month upgrade for those that already have an AwardWallet account (if you're not yet a member, you can register for AwardWallet and then apply one of the below codes):
(sorry, codes have all been used)
To apply one of these log into your AwardWallet account and click on "Upgrade Using a Coupon" in the left sidebar.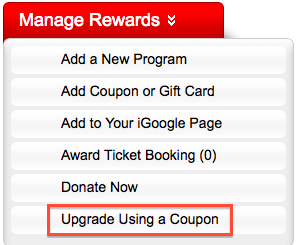 Please post below when you've used one of the above codes so I can remove them from the list and hopefully make everyone's life a bit easier.