A story went really viral yesterday about United non-rev passengers traveling from Denver to Minneapolis being told they needed to change out of leggings if they wanted to get on a flight. A Twitter user on a different flight observed the situation unfolding at the gate, and assumed United was applying this dress code to revenue passengers.
My theory was that these were in fact non-revs, as a dress code does apply to those passengers. United eventually confirmed that this was in fact the case.
With that in mind, let's look at the situation a bit more closely:
What are non-revs?
One of the biggest perks of working in the airline industry is the travel benefits you get. You can travel almost anywhere in the world for next to nothing. "Non-revs" refers to non-revenue passengers, or those traveling on a space available basis. That means they show up at the airport and are let on a flight if there are seats available.
Not only do airline employees directly get these benefits, but an appointed companion, spouse, parents, etc., get some benefits as well. On top of that, airline employees often get "buddy passes," which they can give out to friends and family. When they do, it's their job to tell the people they're giving the passes to about the requirements associated with this type of travel, in terms of the dress code, risk of not getting on a flight because it may be full, etc.
What is the non-rev dress code at United?
Here's the full dress code that United has for anyone traveling as a non-rev passenger (the bolding is mine, and reflects the reason these passengers were denied boarding):
Dress attire for pass riders traveling space-available or positive-space should always meet or exceed the casual standards outlined in this policy. In general, casual attire refers to clothing that is appropriate for the local environment, allow you to feel comfortable while pass traveling, yet looks neat and professional.

Employees from United will enjoy the following relaxed dress code when pass traveling on all United flights and in all classes of service, system wide:

Pass riders' overall appearance should be well-groomed, neat, clean and in good taste
Attire should be respectful of fellow revenue passengers, employees and pass riders
Pass riders may wear denim attire (such as jeans), shorts that are no more than three inches above the knee and athletic shoes

The following attire is unacceptable in any cabin but is not limited to:

Any attire that reveals a midriff
Attire that reveals any type of undergarments
Attire that is designated as sleepwear, underwear or swim attire
Mini skirts
Shorts that are more than three inches above the knee when in a standing position
Form-fitting lycra/spandex tops, pants and dresses
Attire that has offensive and/or derogatory terminology or graphics
Attire that is excessively dirty or has holes/tears
Any attire that is provocative, inappropriately revealing, or see-through
Bare feet
Beach-type, rubber flip-flops

These guidelines are not intended to be all-inclusive, but rather should help set the general parameters for appropriate attire. Pass riders should use good judgment and common sense about items not specifically addressed. If you are uncertain about what is acceptable attire for pass travel, please ask your supervisor or your Human Resources partner.
Why do airlines have dress codes for non-revs?
The intent is that non-revs are supposed to be good representatives for the airline. After all, this benefit is a privilege. The only problem is that in practice other passengers don't know who is and isn't a non-rev. So perhaps these policies are a bit outdated, and reflect an era where people dressed up to fly. Maybe it's time to update these policies to simply reflect that people should be clean and clothed. 😉
The gate agent didn't do anything wrong
No matter how you feel about the policy as such, the gate agent enforcing the rules did nothing wrong. The gate agent wasn't sexist, racist, or anything else. S/he was just enforcing United's policy, as s/he was supposed to.
The non-revs were wrong to show up dressed the way they were
No matter how you feel about United's non-rev dress code as such, you have to adhere to it. If employees have an issue with the dress code, they should address them with management, their union reps, etc. At the end of the day airline employees agree to the terms associated with their great travel benefits, and they absolutely should adhere to them.
That's not to say that they shouldn't fight them on a higher level — they absolutely should, if they feel they're not fair. But just showing up not adhering to the dress code is problematic, since it puts the gate agent in a very uncomfortable situation, and potentially jeopardizes the travel benefits of the person who gave you a buddy pass.
What we don't know is if the employee failed to tell these passengers about the policy, or if the passengers in question misinterpreted the rules.
How does United's policy compare to others?
Let's look at the policy of the two other global US carriers, to see how United's policy compares.
Delta's policy for non-revs is as follows:
Appropriate:

Overall appearance should be well-groomed, neat, clean, safe and respectful from head to toe.
Clothing should be respectful to fellow passengers.
Footwear – shoes are required unless the pass rider is not able to wear footwear due to a disability or physical condition

Not appropriate:

Passenger that is (or appears to be) intoxicated
Passenger whose dress violates public decency laws and community standards (examples include clothing that is sheer or inappropriately revealing or is designated as sleepwear, underwear or swim attire)
Bare feet
Clothing that is excessively dirty, stained or torn
Clothing that is vulgar, offensive or suggestive
Essentially, Delta's policy is the same for non-rev passengers as it is for anyone else. Delta basically wants you to be clean and neat, which seems fair to me.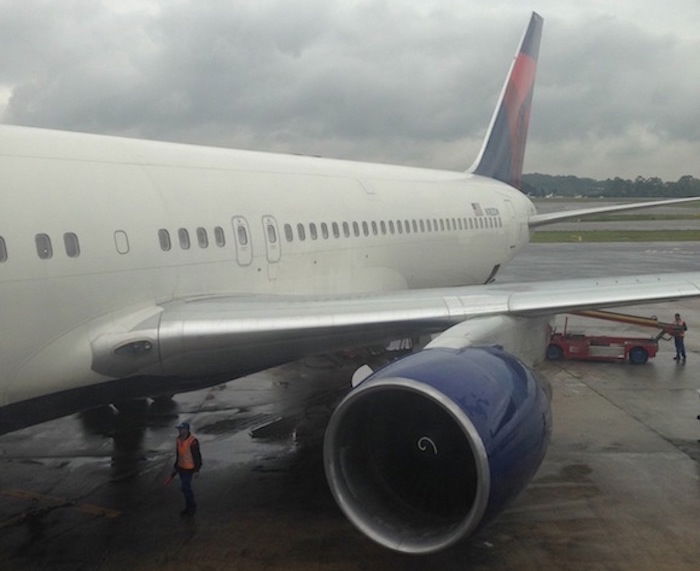 American's policy is as follows:
Dress code

Employees are asked to always wear clothing that is clean and neat.
Jeans and athletic shoes are acceptable in any cabin.
Employees may not wear clothing that is torn, dirty, or frayed, clothing that is distracting or offensive to others, anything revealing (e.g., extreme mini-skirts, halter and bra-tops, sheer or see-through clothing), or visible swimwear, sleepwear, or underwear.
Clothing that is vulgar or violates community standards or decency is also never appropriate, including items that have words, terms, or pictures that may be offensive to others
Bare feet are also not permitted.
If you want to fly first or business class, American doesn't let you wear shorts, but that's about it.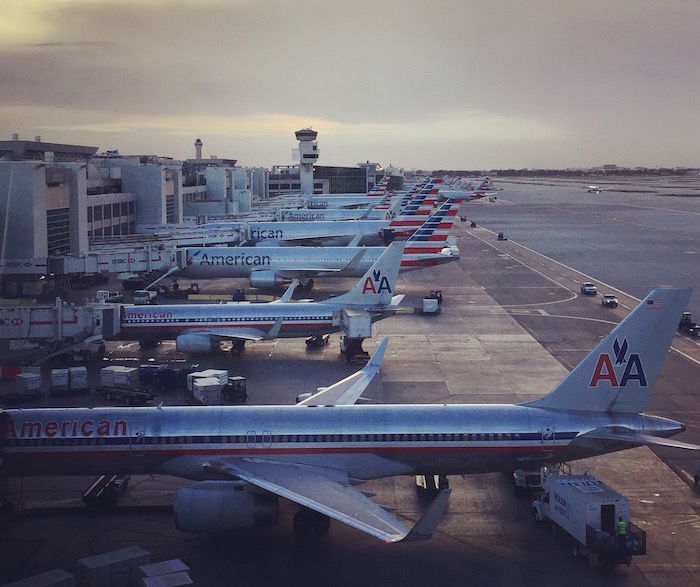 Why United's policy comes across as sexist
The more I look at it, the more I see a problem with United's policy for non-rev clothing. Here's the thing — it's one thing if United said sneakers, t-shirts, shorts, etc., aren't allowed. However, they allow all those things.
The things that are banned do seem to disproportionately impact women.
Would it be ridiculous if an airline wanted their employees to set an example of how to dress, and didn't allow shorts, sneakers, sweatpants, leggings, etc.? I think that would be fine. That would be no different than a nice restaurant having a dress code about what you can and can't wear.
However, is it fair that they seem to primarily target articles of clothing worn by women? It's extremely common for women to wear leggings, especially when traveling.
I don't think this policy was intentionally sexist, though I think it needs to be reviewed, and perhaps it reflects the inherent sexism in American corporate culture. Perhaps it's what happens when men decide on dress codes for both men and women, and when an airline has as many people named "Doug" on their board of directors as they have women altogether.
I think United could learn from Delta when it comes to their dress code for non-revs.
United's response to the situation made things worse
A big problem with all of this was how United handled the situation. When this was first brought to their attention, they responded by saying that their contract of carriage states they can refuse passengers boarding for how they dress. This suggested that they thought this was a revenue passenger, and that it was okay to remove them for wearing leggings.
This was a massive screw up on United's part, and made people more angry. Clearly they train their employees to refer to the contract of carriage when they get complaints, which is what they did here… without applying logic to the situation.
The other big issue is how long it took them to correct themselves after the mistake. Eventually they issued the following statement, which I think is well phrased:
We care about the way we present ourselves to you, our customers, as we believe that is part of the experience on board our flights. One of the benefits of working for an airline is that our employees are able to travel the world. Even better, they can extend this privilege to a select number of what we call "pass riders." These are relatives or friends who also receive the benefit of free or heavily discounted air travel – on our airline as well as on airlines around the world where we have mutual agreements in place for employees and pass riders.

When taking advantage of this benefit, all employees and pass riders are considered representatives of United. And like most companies, we have a dress code that we ask employees and pass riders to follow. The passengers this morning were United pass riders and not in compliance with our dress code for company benefit travel. We regularly remind our employees that when they place a family member or friend on a flight for free as a standby passenger, they need to follow our dress code.

To our regular customers, your leggings are welcome.
This is how they should have responded to begin with. They should have quickly retracted their original statement and apologized, reassuring revenue passengers that they'd be fine if they chose to wear leggings.
This was all blown a bit out of proportion
This story is the prime example of what happens when someone on social media witnesses something and they don't know what's going on… and then the story is blown up, 140 characters at a time.
The Twitter user in question was on a completely different flight, and witnessed someone else (supposedly a 10 year old girl and her father) ask about the dress code, since they hadn't realized it doesn't apply to revenue passengers. They weren't asked to change, but rather only the non-rev passengers were.
So the story quickly became that a sexist gate agent was arbitrarily enforcing a dress code that doesn't exist, and United made the situation worse by confirming this could apply to revenue passengers, which it couldn't. That was just one misinformed social media employee for United.
The story became that the behavior of asking them to change was "sexist and sexualizes young girls." The 10 year old girl in question was never even asked to change.
I think it's very important to differentiate between an airline with an outdated dress code for employees, and an employee actually creating an arbitrary dress code and "humiliating" passengers by forcing them to change. This should have never happened, because the non-revs (not the 10 year old girl in question, who has nothing to do with this) should have known the dress code.
Bottom line
The gate agent did nothing wrong here — s/he was simply enforcing the company's policy.
The non-revs (or people who have the non-revs their passes) did do something wrong here — by agreeing to use the passes they agreed to adhere to United's dress code, but they didn't do that.
However, United's non-rev dress code and their response to this situation were wrong as well. Beyond their actual response, their policy seems outdated, and their dress code does seem a lot more restrictive towards women than men. If the problem is casual clothing, they should ban shorts, sweatpants, sneakers, etc. I think that would be perfectly fair. However, restricting leggings but not other similarly casual articles of clothing worn by men isn't especially fair.
Perhaps this will be the catalyst that gets United to update their policies to reflect the day-and-age we live in. I think Delta's policy of basically saying "don't be a slob" is a good one.