Alaska Airlines has this week adjusted employee appearance standards to be more inclusive, and has given employees the option of wearing pronoun pins. Let's go over the full details of what has changed.
Alaska Airlines' more inclusive appearance standards
As of Monday, March 28, 2022, Alaska Airlines has adjusted appearance standards for employees. These new guidelines were designed in partnership with employees, and are intended to provide more freedom and flexibility in individual and gender expression.
With Alaska Airlines' updated policy:
Fingernail polish, makeup, two earrings per ear, and a single stud nose piercing are expression options available to all employees
Grooming policies have been updated to allow tattoos in more locations, and there are more hair style options
The airline is working on developing new, gender-neutral uniform pieces for frontline employees, in collaboration with Seattle designer Luly Yang; uniforms will be focused on fit vs. gender identification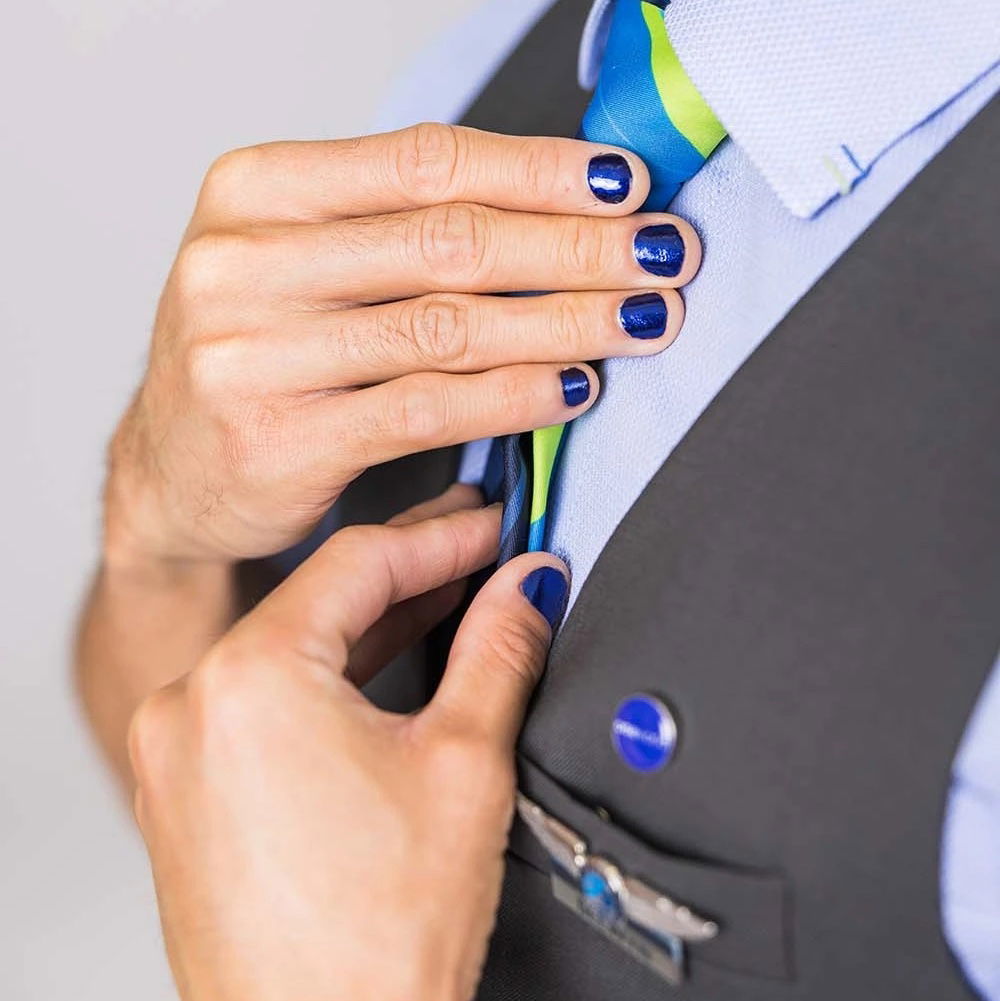 As James Thomas, Alaska Airlines' Director of Diversity, Equity, and Inclusion, describes this:
"I know firsthand what it feels like not to be seen, heard or able to bring your authentic self to work. When I've experienced this, it didn't feel great and honestly made it hard to come to work every day during those times, or to deliver my best work. Our employees, guests and communities we serve have my commitment we are going to keep listening and pushing ourselves to be better."
Alaska Airlines' new pronoun pins
Going forward, Alaska Airlines employees will have the choice of wear pins with their preferred pronouns, whether it's he/him/his, she/her/hers, or they/them/theirs. The airline is also working on enabling guests to have the option to choose their personal pronouns while booking travel, and that's expected to be rolled out by the end of 2022.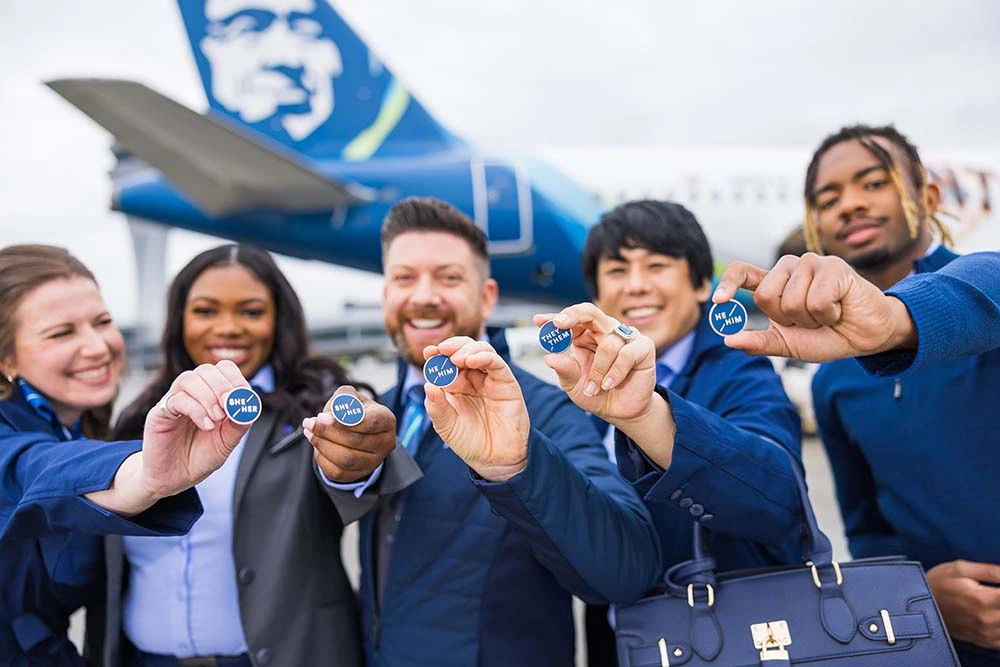 As Isaac, a lead customer service agent in Washington D.C., describes this development:
"I answer to all pronouns. I accept he/him/his, she/her/hers, and they/them/theirs. I feel that there has been greater awareness and sensitivity to personal pronouns, and I love that. But I'm also cognizant that changes take time and I want our society to feel comfortable with how they view and communicate with me."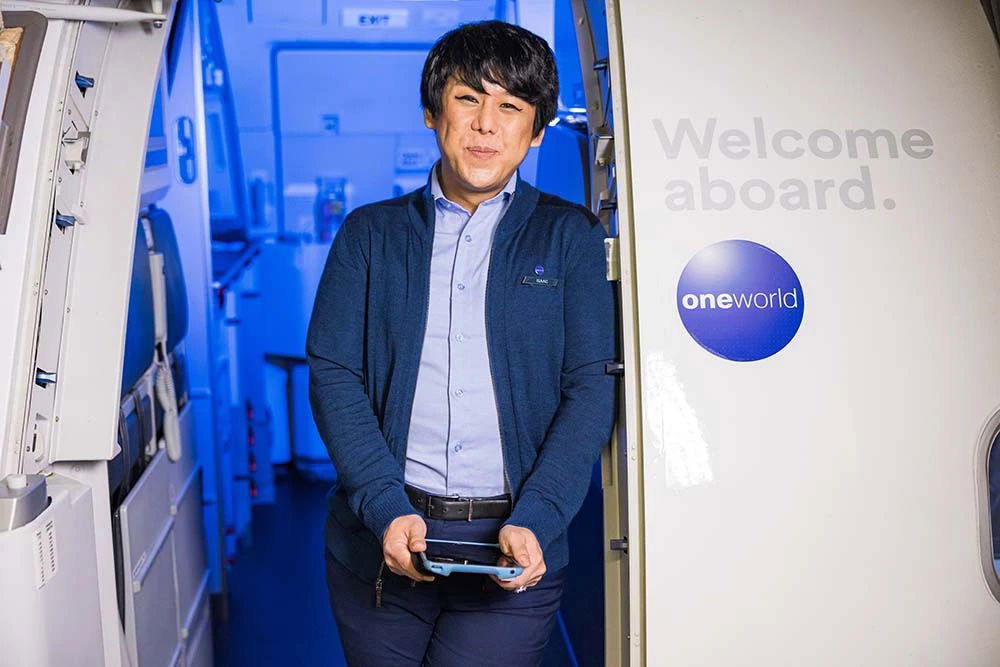 Alaska Airlines' update about these changes has quotes and stories from all kinds of employees, so it's worth a look. That includes this story:
Eager to always live their best life, Jason, an Alaska flight attendant by day and drag star by night, says the best thing a person can do when they don't understand someone is to treat them with kindness and put themselves in their shoes.

Jason shared they chose to come out at their senior prom. They slipped on a dress while their mom was out of the house and went to the dance. There, they were called a disgrace and accused of seeking attention. "I didn't do it to make anyone uncomfortable or to be the first," Jason said. "I did it for me, and that's all that matters."

Jason says while the uniform changes are very positive, they also appreciate and look forward to the company's support if faced with adversity among peers or guests who may find it difficult to see them wearing nail polish.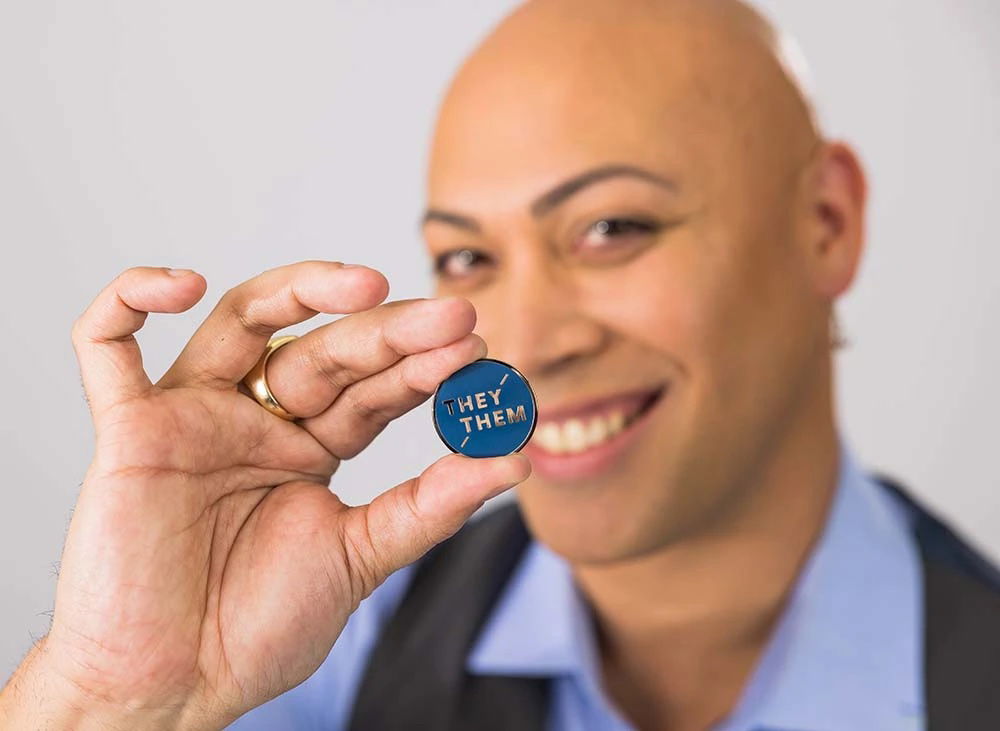 Bottom line
Alaska Airlines has just updated its appearance standards for employees, to allow more freedom and flexibility in individual and gender expression. This includes allowing visible tattoos, nail polish, makeup, earrings, nose piercings, etc. Furthermore, employees now have the option of wearing pronoun pins, so that they can be addressed by their preferred pronoun.
It's no secret that a lot of frontline airline employees in the United States don't take much pride in their appearance. Personally I'm excited at the prospect of seeing more people being able to express themselves, because hopefully it makes them more motivated to put their best foot forward.
And for anyone who is offended by someone else's (non-offensive) tattoo or nail polish, try to be a little bit more open-minded…