---
As I finish up this trip report series, I figured I'd answer a question I've been getting quite a bit — do I prefer the Maldives or Bora Bora? These are two of the most popular "exotic" island vacation destinations, so I figured I'd chime in.
Before I do so, let me note that:
I've only been to Bora Bora once, while I've been to the Maldives a handful of times
There's more to French Polynesia than just Bora Bora, as there are other islands you can visit; however, I only went to Bora Bora, so that's all I'll chime in on
I'll compare various aspects of visiting the destinations, so let's get right into it:
Maldives vs. Bora Bora: getting there
First let me address the actual process of getting to either Male International Airport in the Maldives and Papeete International Airport in French Polynesia:
French Polynesia is an eight hour nonstop flight from the US West Coast, and can be reached from Los Angeles or San Francisco on Air France, Air Tahiti Nui, French Bee, or United
The Maldives can't be reached nonstop from the US, but rather you can either connect in Europe, Asia, or the Middle East, on literally dozens of airlines
So in terms of travel time from the US mainland, French Polynesia is significantly faster to get to, especially if you're originating on the US West Coast.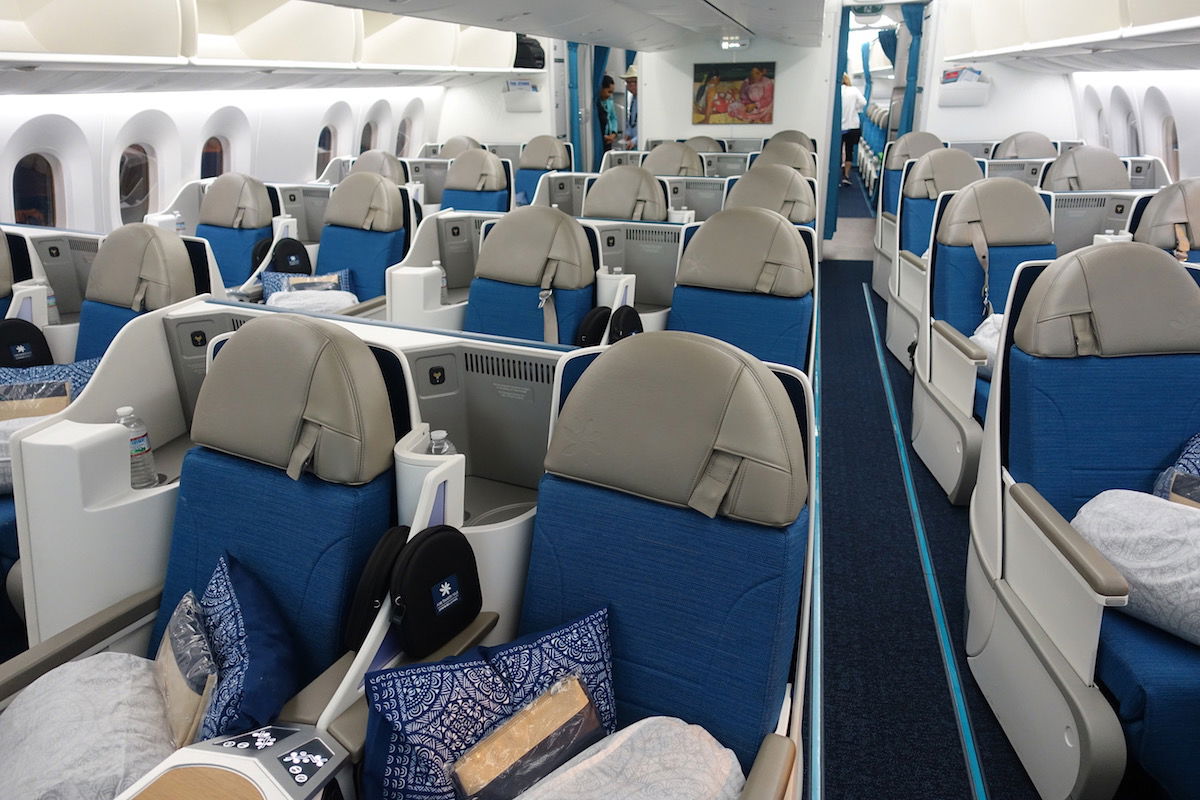 Air Tahiti Nui's new 787-9 business class
However, in terms of the quality of airlines and the ability to redeem miles, the Maldives is going to be much better. There are lots of options for redeeming miles, and you can fly some really spectacular airline products.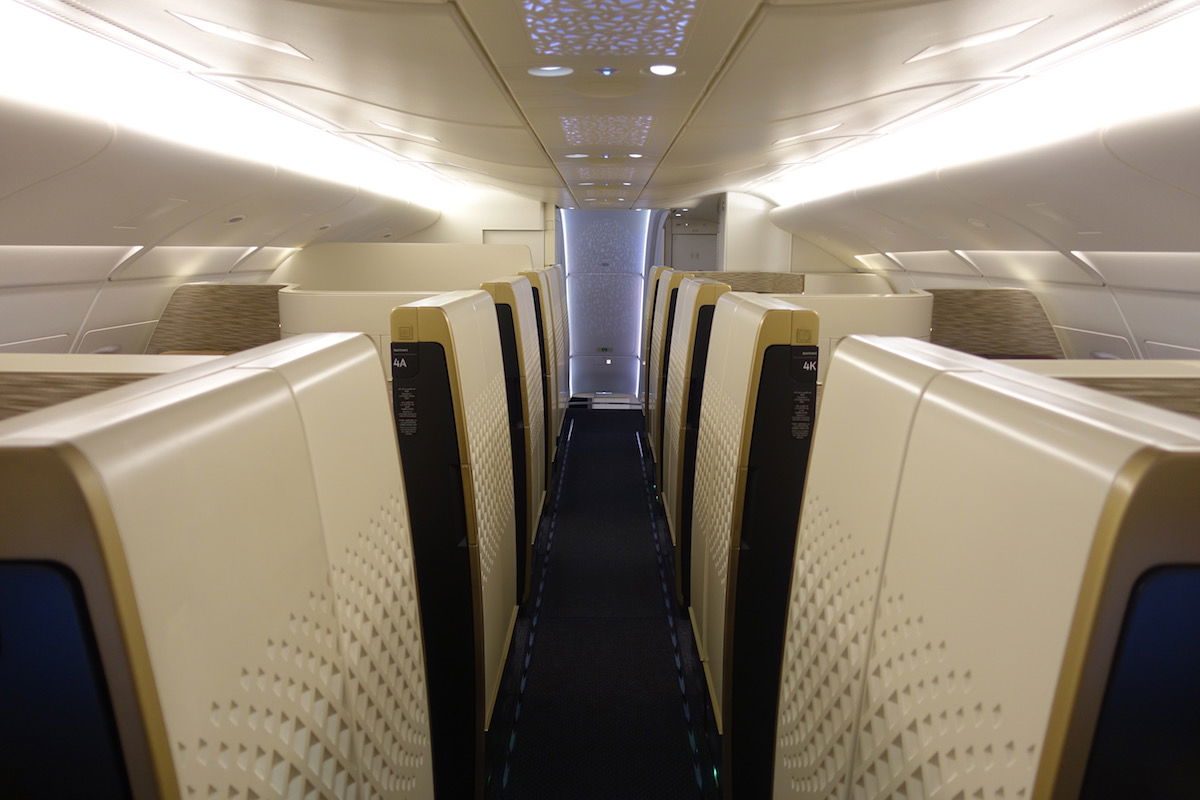 You can fly Etihad's spectacular A380 first class enroute to the Maldives
Whether you prefer faster or more comfortable obviously comes down to individual circumstances.
Winner: It really depends, though living on the US East Coast I personally prefer getting to the Maldives, since it's not that much further, and I can fly much better airlines with access to a lot more award availability.
Maldives vs. Bora Bora: inter-island transfers
There are two parts to getting to most resorts in the Maldives or Bora Bora — first you have to get to the major international airport, and then you have to get to the actual resort.
To compare the two processes:
In French Polynesia you'll take a scheduled flight on Air Tahiti to Bora Bora, and then it's a 20 minute (or so) boat ride to the resort; the cost is typically about $350 roundtrip per person for the flight, and then maybe another $150 for the hotel transfer
In the Maldives resorts can be reached by speedboat, domestic turboprop flight, or seaplane, depending on the resort you're going to; the cost is typically in the range of $600-1,000 roundtrip per person, depending on whether you're going, and that includes getting all the way to the hotel
One thing to note is that in French Polynesia you're just booking a scheduled commercial flight, so you know exactly when you'll fly.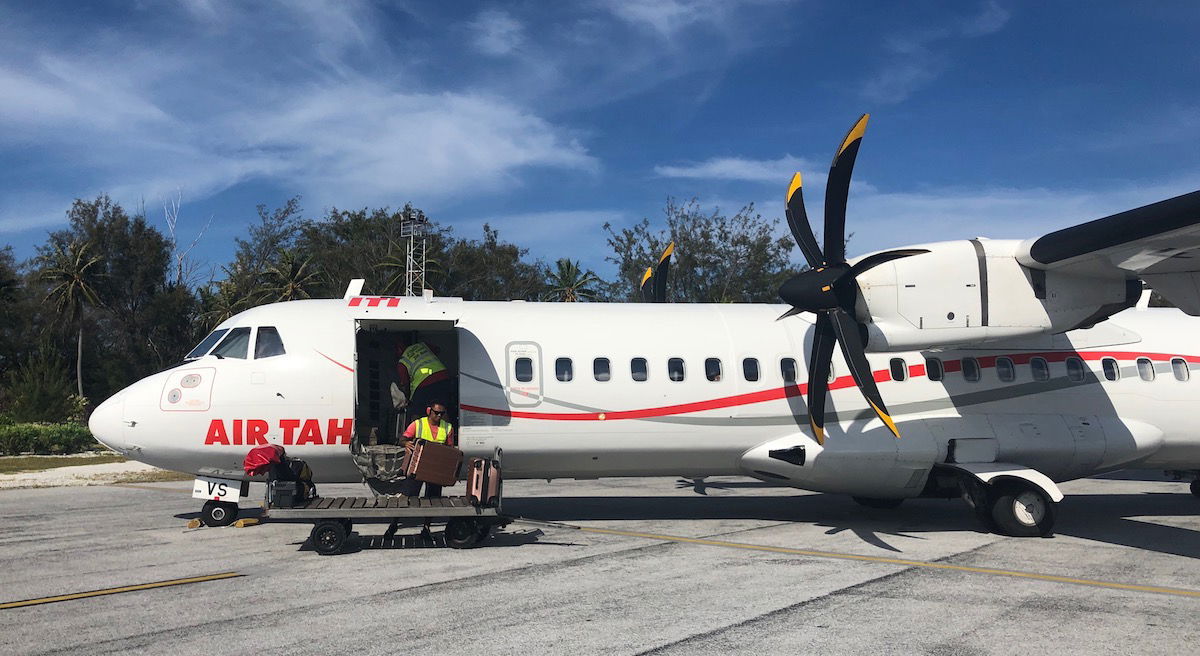 Air Tahiti plane in Bora Bora
In the Maldives you typically arrange the transfer through your resort, and they often only let you know a day or so in advance at what time you're flying, which can be stressful for some.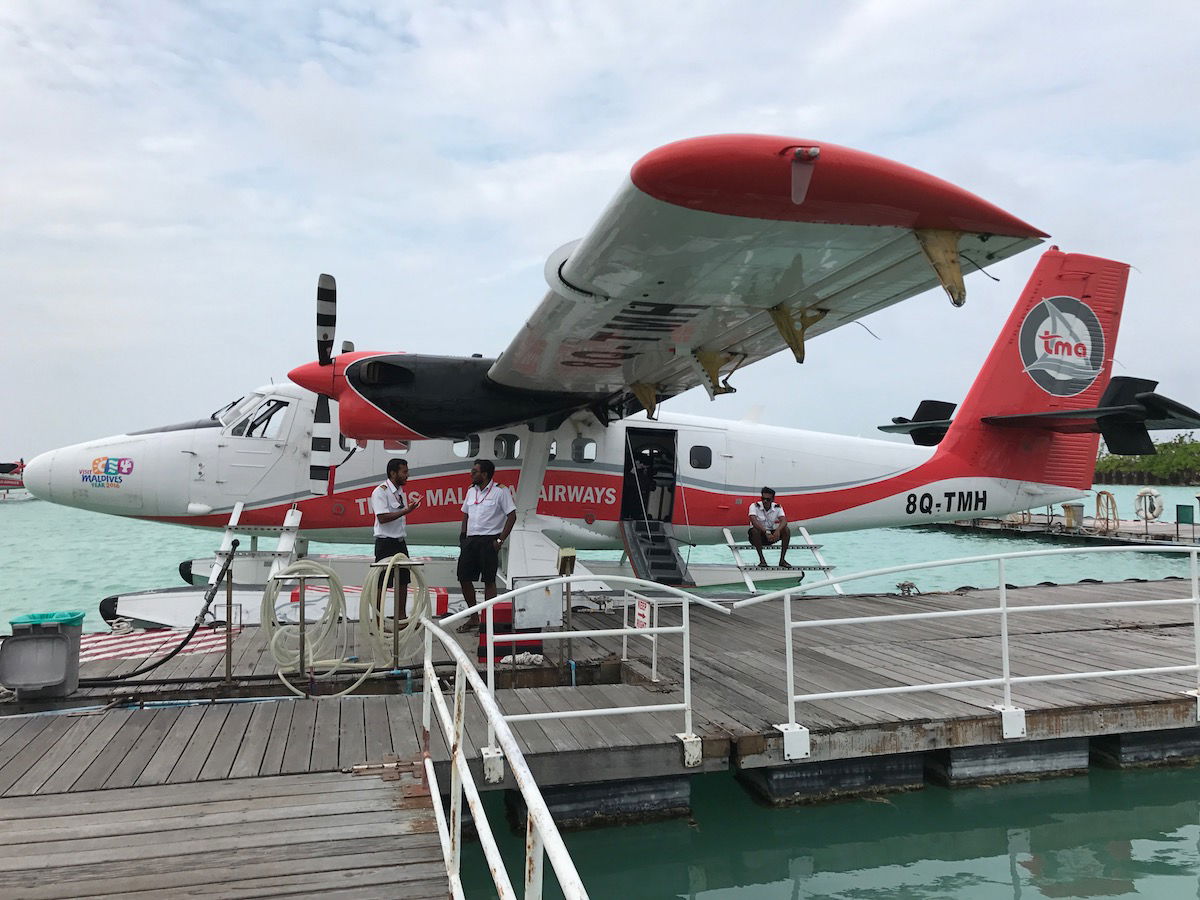 Trans Maldivian Airways seaplane
Winner: Personally I prefer the Air Tahiti transfer experience, given that it usually has a lower cost, and is also more predictable, since you're booking a scheduled flight.
Maldives vs. Bora Bora: hotels
One thing the Maldives really has going for it is the number of spectacular hotels. Even when it comes to points hotels, you have the incredible St. Regis Maldives, which is only a couple of years old, and the Waldorf-Astoria Maldives, which is opening soon.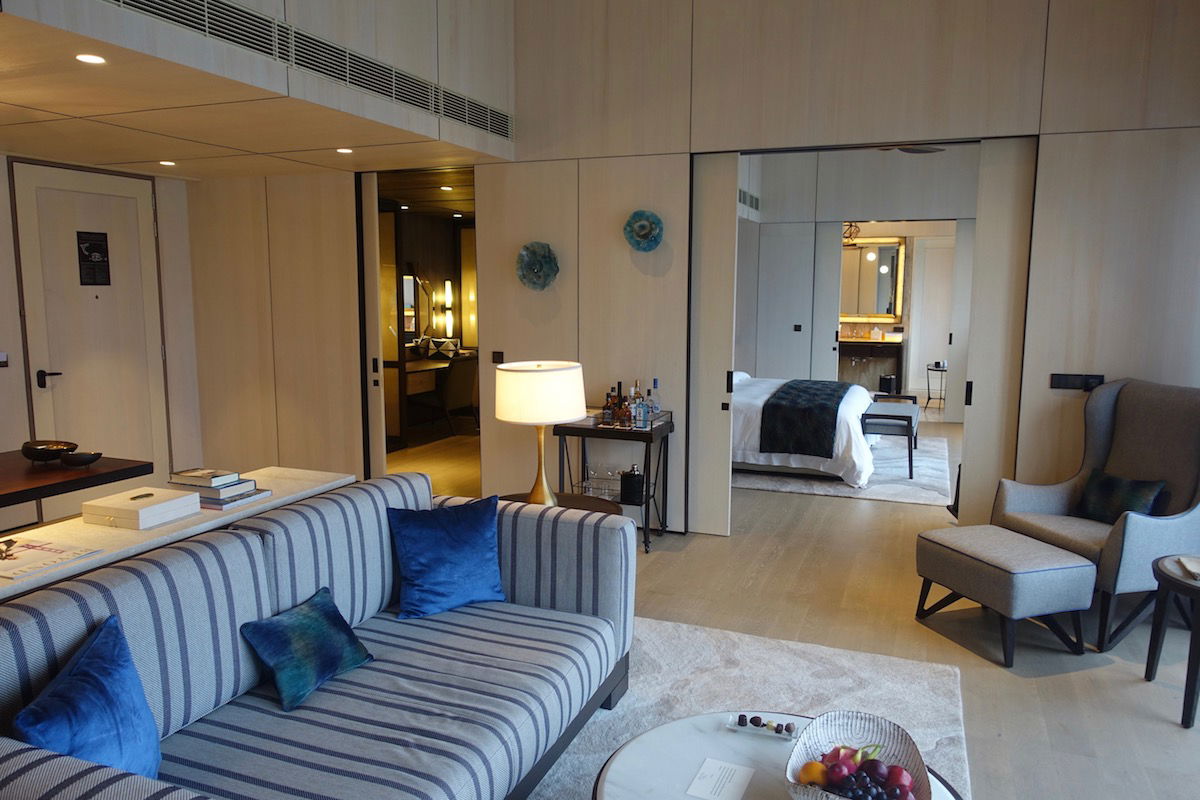 Beautiful St. Regis Maldives overwater villa
There are a countless number of other hotels. If you're looking to redeem points, there's the Park Hyatt, Conrad, W, and many more.
As far as points properties go, Bora Bora has the St. Regis, Conrad, and InterContinental. There are some hotels on other islands as well, but in general you won't find quite the same quality of points hotels.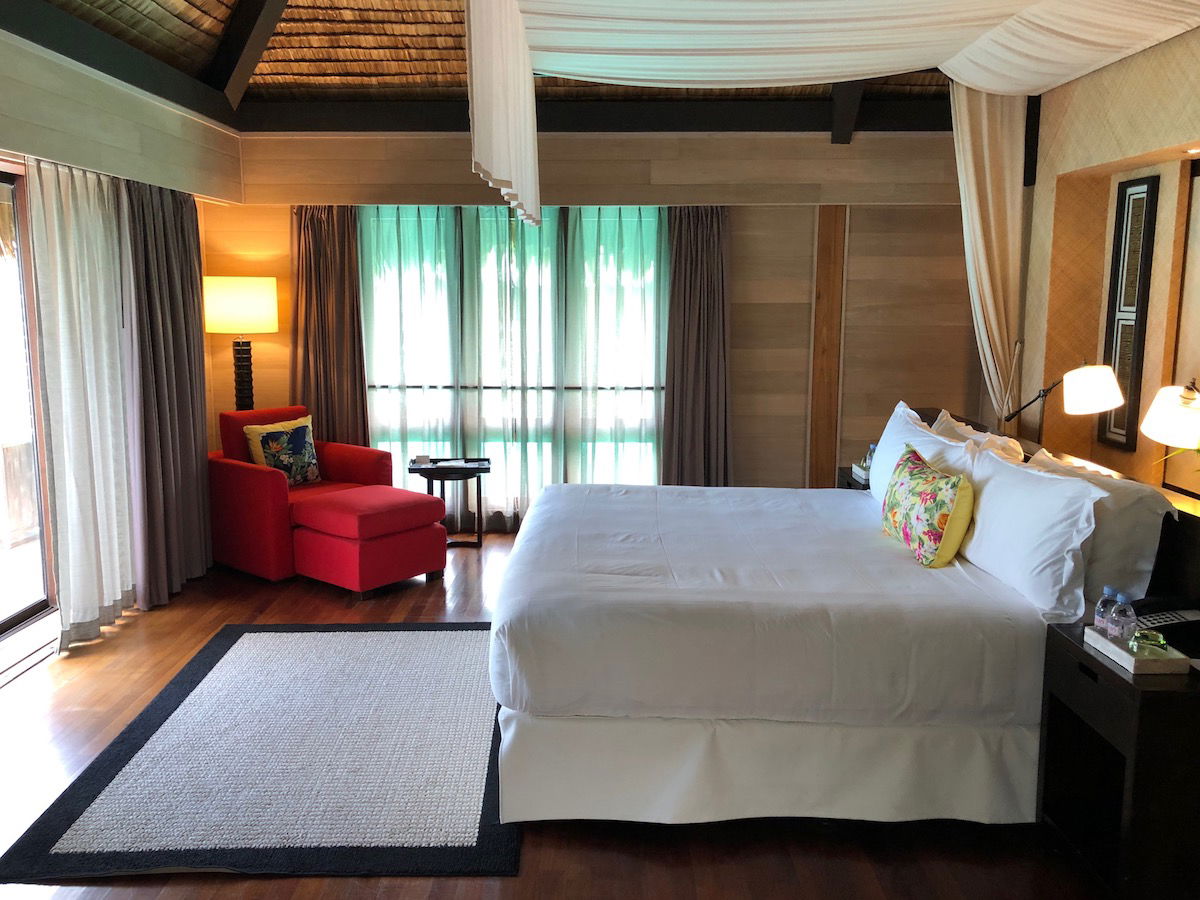 Significantly less beautiful St. Regis Bora Bora overwater villa
Now, both regions have some other incredible non-points hotels. While not in Bora Bora, the Brando in French Polynesia is often regarded as one of the most spectacular hotels in the world. Similarly, Cheval Blanc in the Maldives is regarded as one of the top hotels there.
Winner: I'd say the Maldives has more options, and also a lot more cutting edge, new hotels.
Maldives vs. Bora Bora: price
Both destinations are bloody expensive. Obviously the nicer of a resort you stay at, the more expensive it's going to be. So there's no "one size fits all" answer here. The Maldives has high import taxes on things like alcohol, while French Polynesia has a high minimum wage, so labor is more expensive.

In general I'd say that Bora Bora was perhaps marginally less expensive for most things. I'd say prices on the menu in the Maldives and Bora Bora were roughly comparable, while in Bora Bora the price displayed includes tax and service, while it doesn't in the Maldives.
It's also worth noting that in Bora Bora you can take a boat into town and eat there if you want a more reasonably priced meal (though the boat transfer typically isn't cheap, so will likely wipe out any savings).
Winner: Bora Bora, but only by a little bit.
Maldives vs. Bora Bora: natural beauty
The Maldives and Bora Bora are popular for a reason — they're both naturally stunning. I will say that I think Bora Bora was perhaps marginally more beautiful, if that's possible.
Why? The Maldives has gorgeous ocean and beach, though land is flat.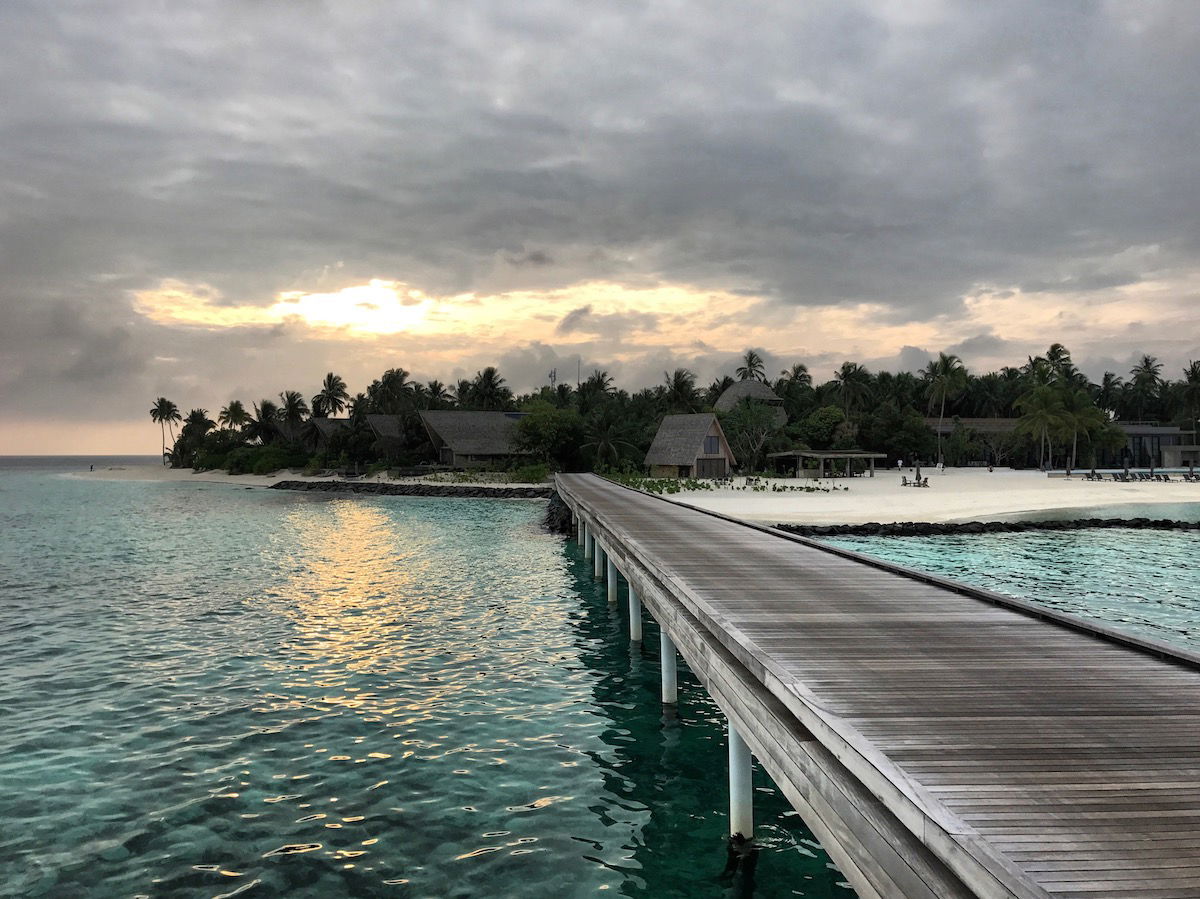 St. Regis Maldives
In Bora Bora you have beautiful ocean and beach, and also have the benefit of mountains, thanks to Mount Otemanu, which adds a further depth to the scenery.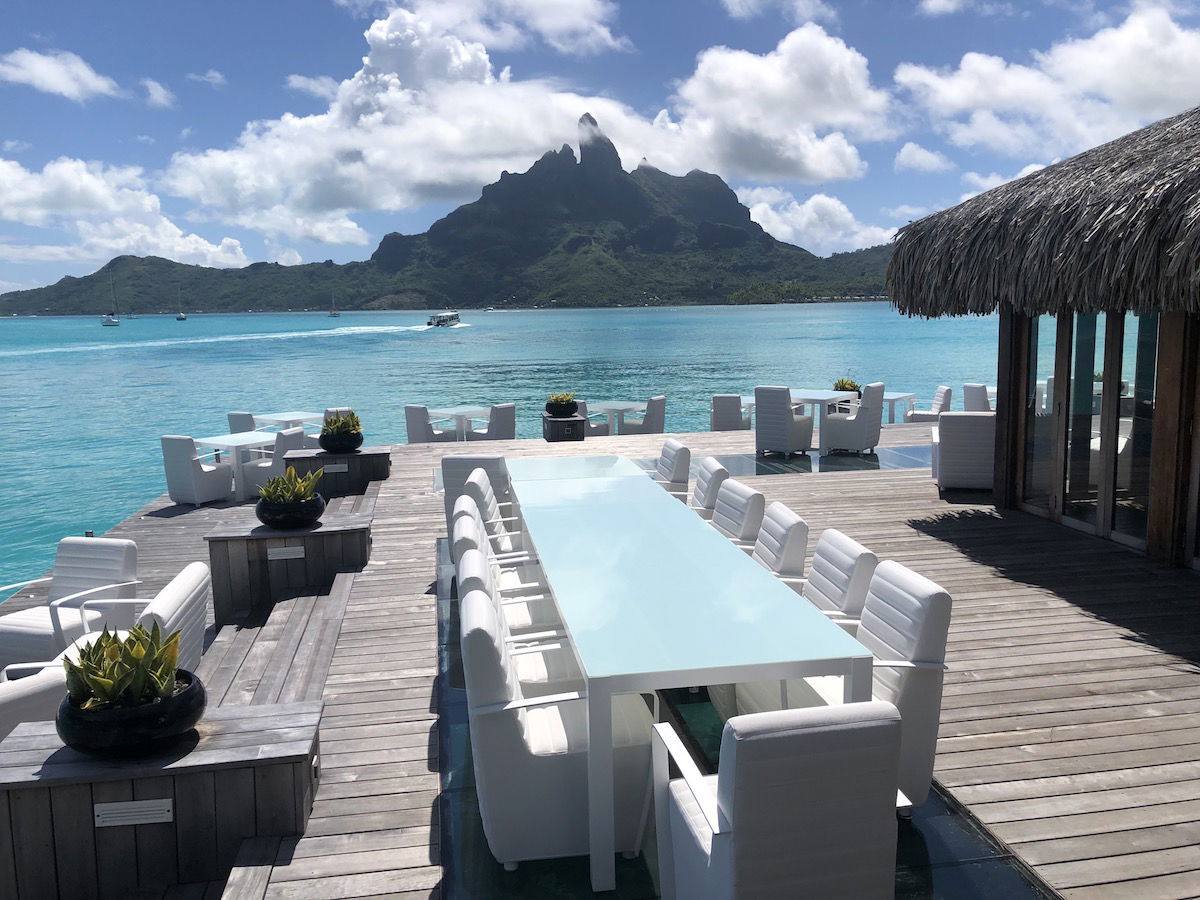 St. Regis Bora Bora
Winner: Bora Bora thanks to the mountains.
Maldives vs. Bora Bora: activities
The focus of both destinations is obviously the beach and ocean, and most go to relax. There are some differences, though:
In the Maldives you're "captive" on an island, so can't really go to a local town for dinner, etc.
In Bora Bora you can take a boat to the main island, and while it's not the coolest town you'll ever visit, it has some good restaurants and is cute enough
I'd also note that Bora Bora having an actual community means that you can plan all kinds of activities with outside tour operators, which isn't typically possible in the Maldives. This means the tours will often have lower costs (though they're still far from cheap).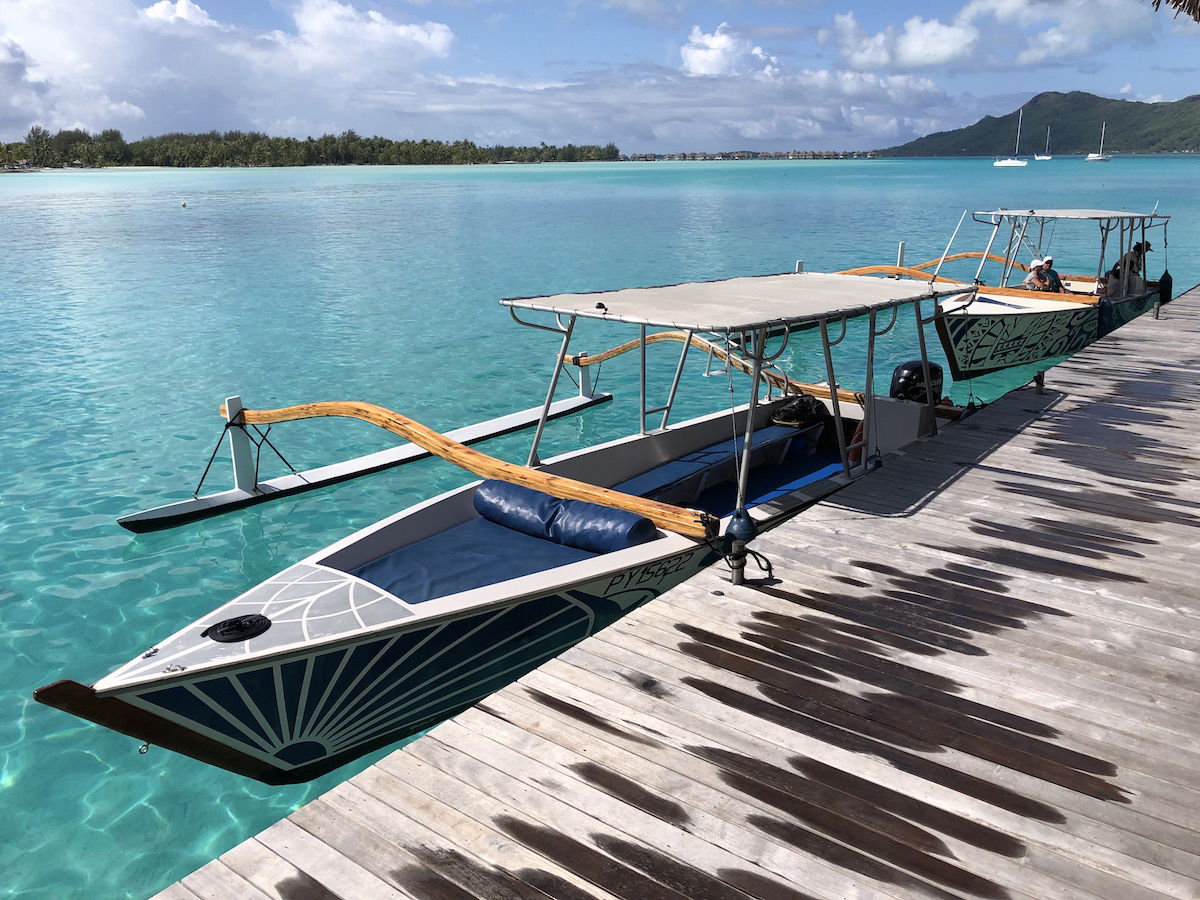 Arranging outside tours in Bora Bora is easy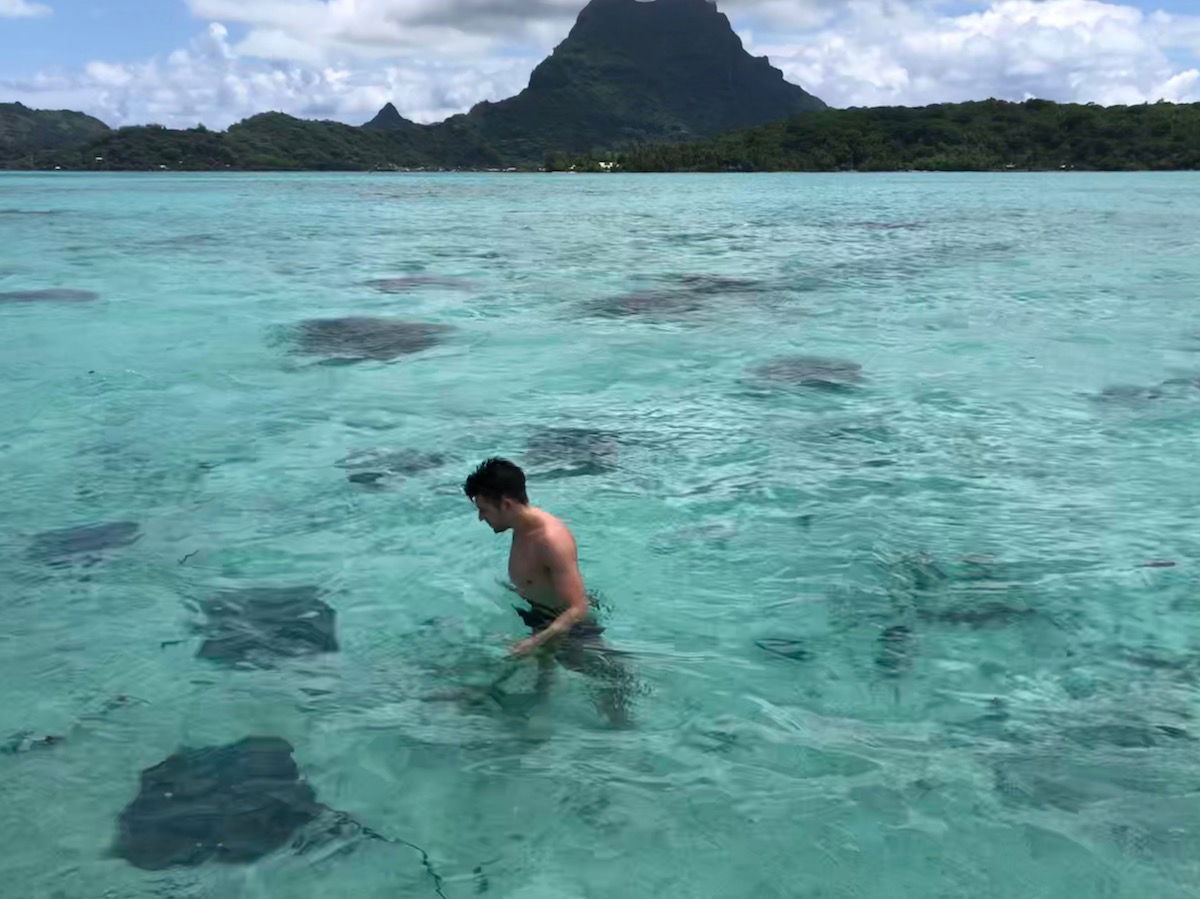 Sting ray tour in Bora Bora
Winner: Bora Bora, given that you're not completely isolated.
Maldives vs. Bora Bora: safety
I'm not suggesting this should be a concern, but rather I know a lot of people have safety concerns when traveling. Personally I think the safety concerns are overblown. For example, in the US a lot of people think it's dangerous to travel to London and Paris, and don't even consider the number of mass shootings we have here.
That being said…
I'd note that there aren't really any major safety concerns in Bora Bora that I can think of, as that part of the Pacific is pretty peaceful.
In the Maldives there's always the fear of terrorism. The government sometimes lacks stability, and on a per capita basis, more ISIS recruits come from the Maldives than any other country (of course the country has a small population, but still). Add in the lack of real defense in the Maldives, and it sure seems like the individual islands are quite vulnerable.
Is this something I'm personally concerned about, and that informs my decisions? No. But I know it's something that others do think about.
Winner: Bora Bora.
Bottom line
There's no absolute right answer as to whether Bora Bora or the Maldives is "better." There are so many different circumstances to consider, and I'm barely scratching the surface here.
This is also somewhat tailored to those who are into miles & points. I can also only speak based on the activities I like. For example, I don't dive, but I know that's a reason many people travel to places like this.
I was pleasantly surprised by how different Bora Bora was from the Maldives. I preferred the scenery and liked that you could go into town and weren't totally held "captive" at the resort.
That being said, personally I also sort of feel like Bora Bora was a "been there, done that" kind of place, and I don't always get that feeling from the Maldives.
The thing about the Maldives is that every private island feels different for a variety of reasons, so going to a different island gives you a different experience.
Meanwhile in Bora Bora I sort of feel like the resort locations, etc., are similar enough so that I don't need to return anytime in the near future. I can't fully explain why I feel that way, but I do.
So I guess my conclusion is that both are worth checking out. If you've been to the Maldives several times, give Bora Bora a try, and vice versa. They're different.
I prefer the hotels and comfort of getting to the Maldives, while I think I prefer most other things about Bora Bora.
If you've visited the Maldives and/or Bora Bora, which did you prefer?