---
This installment will cover our Air Tahiti flights between Papeete and Bora Bora. Note that Air Tahiti is the only airline operating inter-island flights in Tahiti, and they're also not associated with Air Tahiti Nui, which is rather annoying.
Booking Air Tahiti flights to Bora Bora
As mentioned above, Air Tahiti isn't associated with Air Tahiti Nui, which means you can't book flights to Bora Bora on miles, and it also means you actually need to book your flight to Papeete on a separate reservation as your flight to Bora Bora.
That means you're not covered in the event that one of your flights is delayed and causes you to misconnect. As a result, you'll want to leave extra time between your flights, though at the same time Papeete Airport really isn't very nice, so that's a double edged sword.
While in the Maldives hotels will arrange your flights for you from the main airport, with Air Tahiti you just book directly.
Stupidly I waited quite a while to book, since initially I assumed our hotel would handle the flight arrangements for us. But that's not how it works — fortunately there was still availability on the flights we wanted when I booked.
Given that there's no competition in the market, fares are quite expensive, so I booked the following flights for $383 per person roundtrip (which is the lowest fare they offer for non-locals, as far as I know):
12/05 VT402 Papeete to Bora Bora departing 7:30AM arriving 8:20AM [Economy]
12/11 VT434 Bora Bora to Papeete departing 6:40PM arriving 7:30PM [Economy]
This left us with a 2hr25min layover on the outbound and a 3hr10min layover on the return.
Air Tahiti review
Upon landing from Los Angeles we cleared immigration, which was painless, and then found ourselves in the arrivals hall. This is an open-air area, and then we turned right to follow the signage towards domestic flights.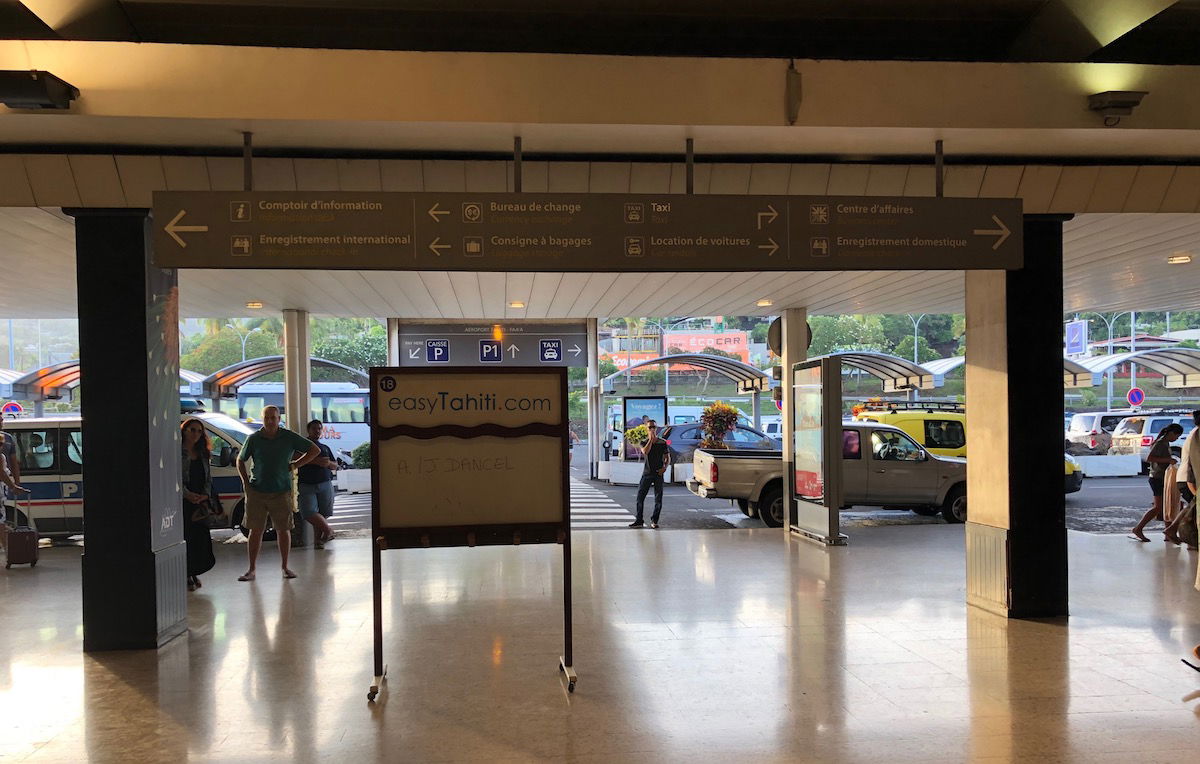 Papeete Airport arrivals hall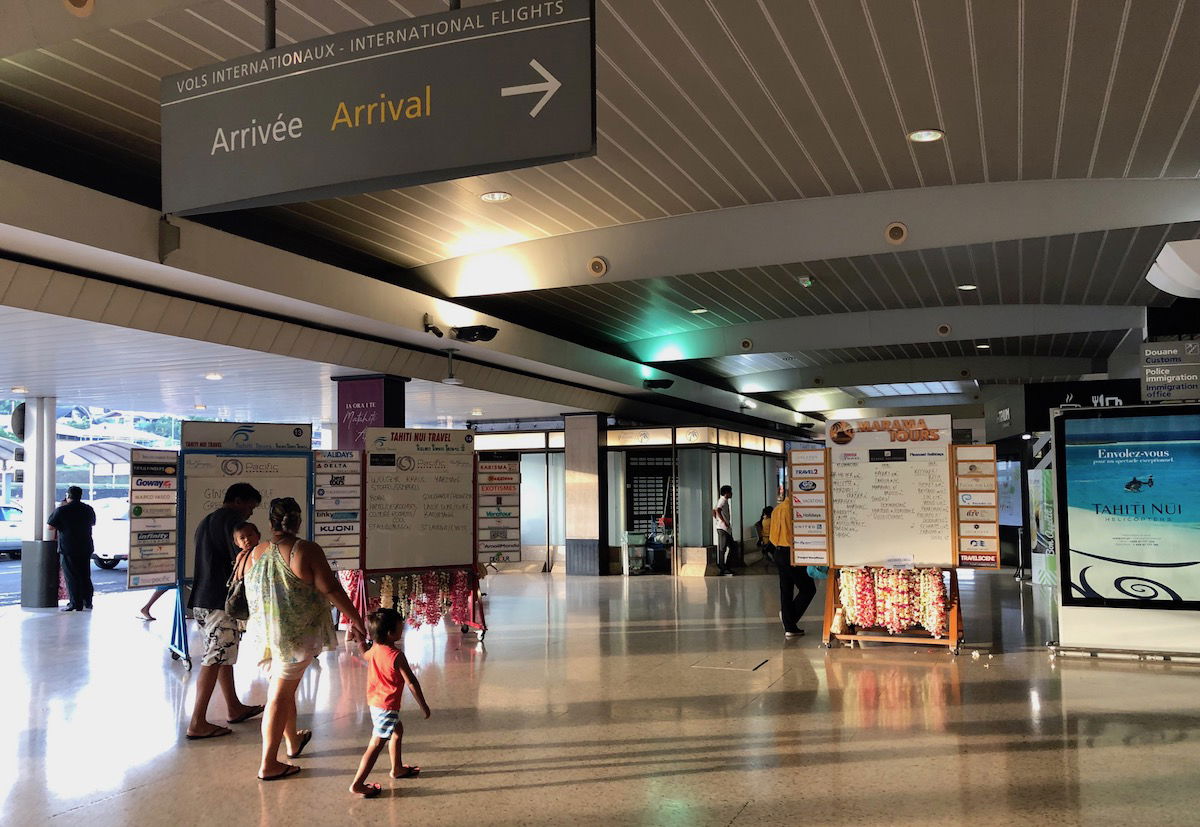 Papeete Airport arrivals hall
The good news is that this is a small airport, so it was less than a minute walk, and then there's a single check-in area. The wait was about 15 minutes to get checked in. One tip I learned the hard way — there's a separate check-in area for those who did web check-in, and that had no wait, so I regret not having checked in online.
While we only had carry-ons for our longhaul flights, Air Tahiti flights are operated by turboprops, so our rollaboard bags had to be checked.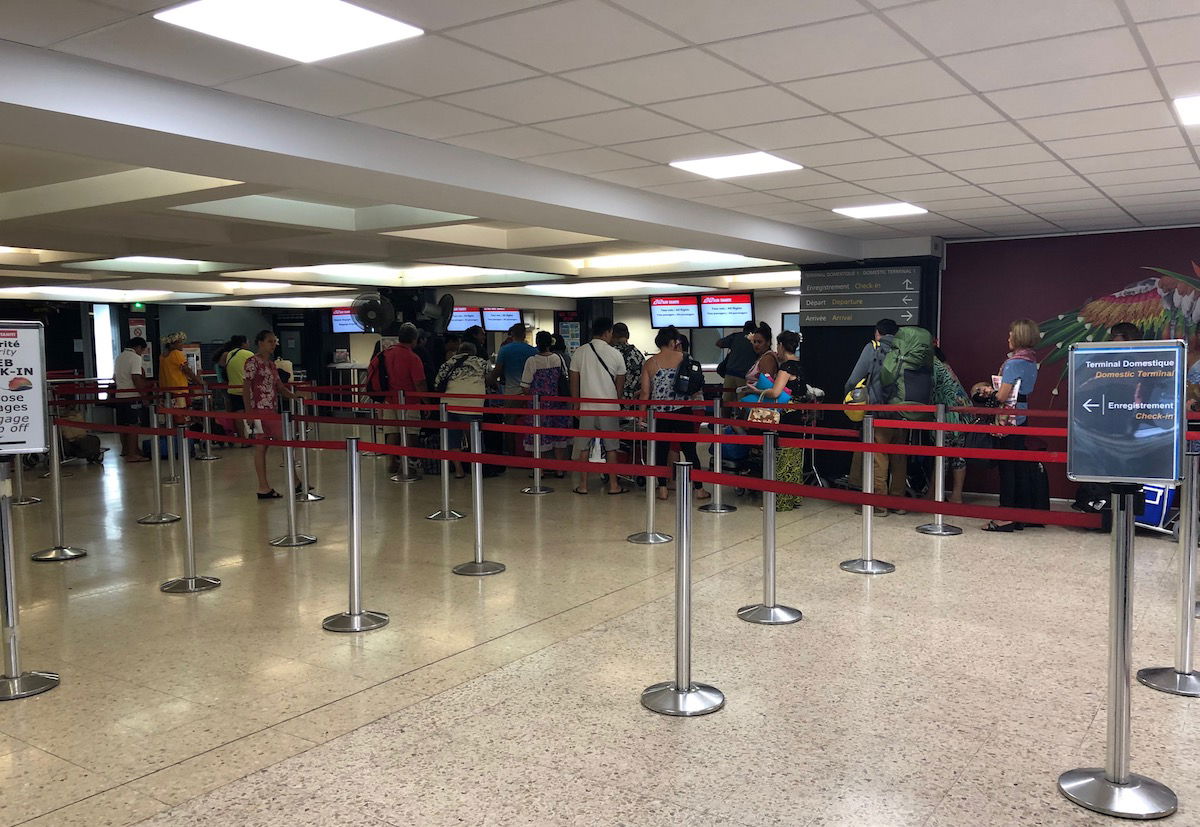 Air Tahiti check-in counter
The check-in process was easy enough, and we were issued boarding passes to Bora Bora, and were told to head through security. Note that Air Tahiti doesn't assign seats, so it's first come first served once onboard.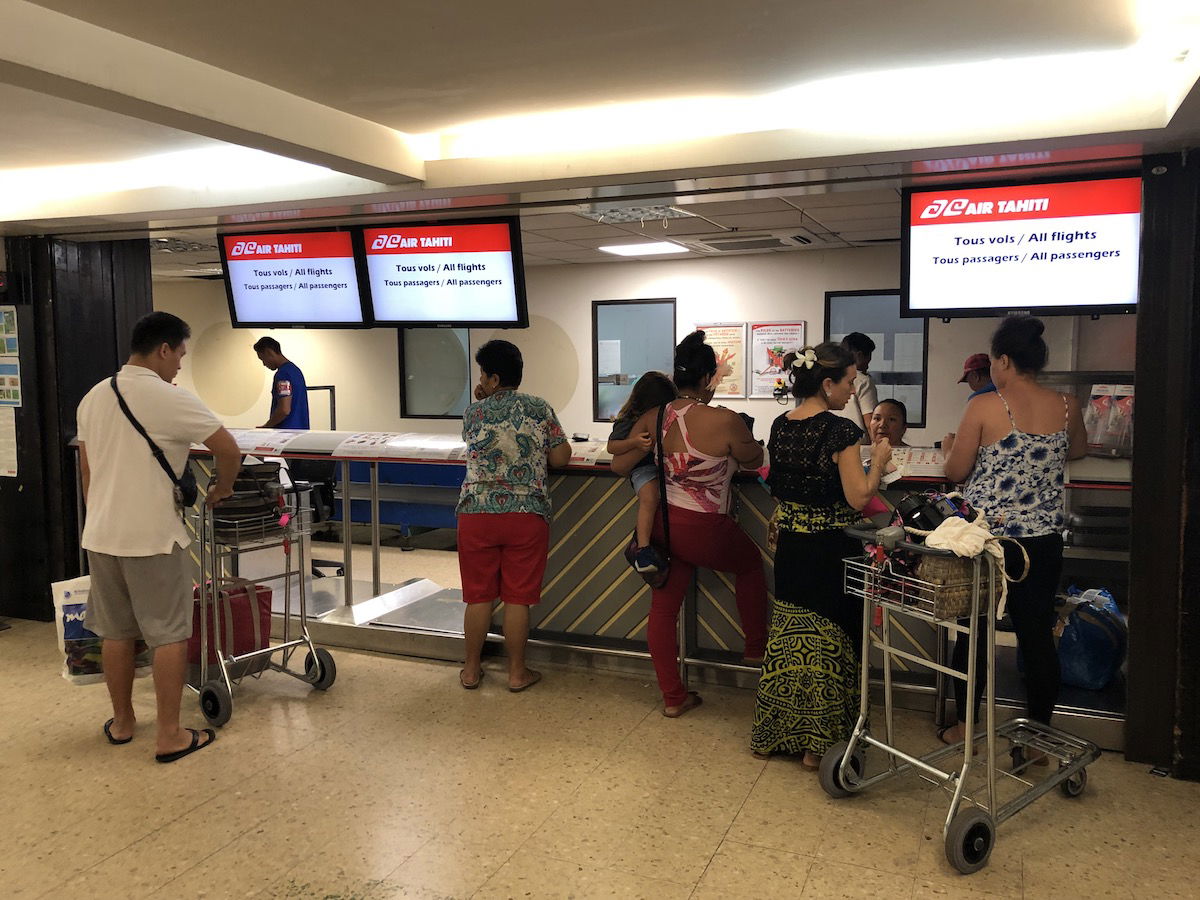 Air Tahiti check-in counter
Landside there's a McDonald's, which is the only "legit" food option in this part of the terminal (if you can call it that). I was tempted to stop there for a coffee, but instead we headed straight through security, which was a quick process.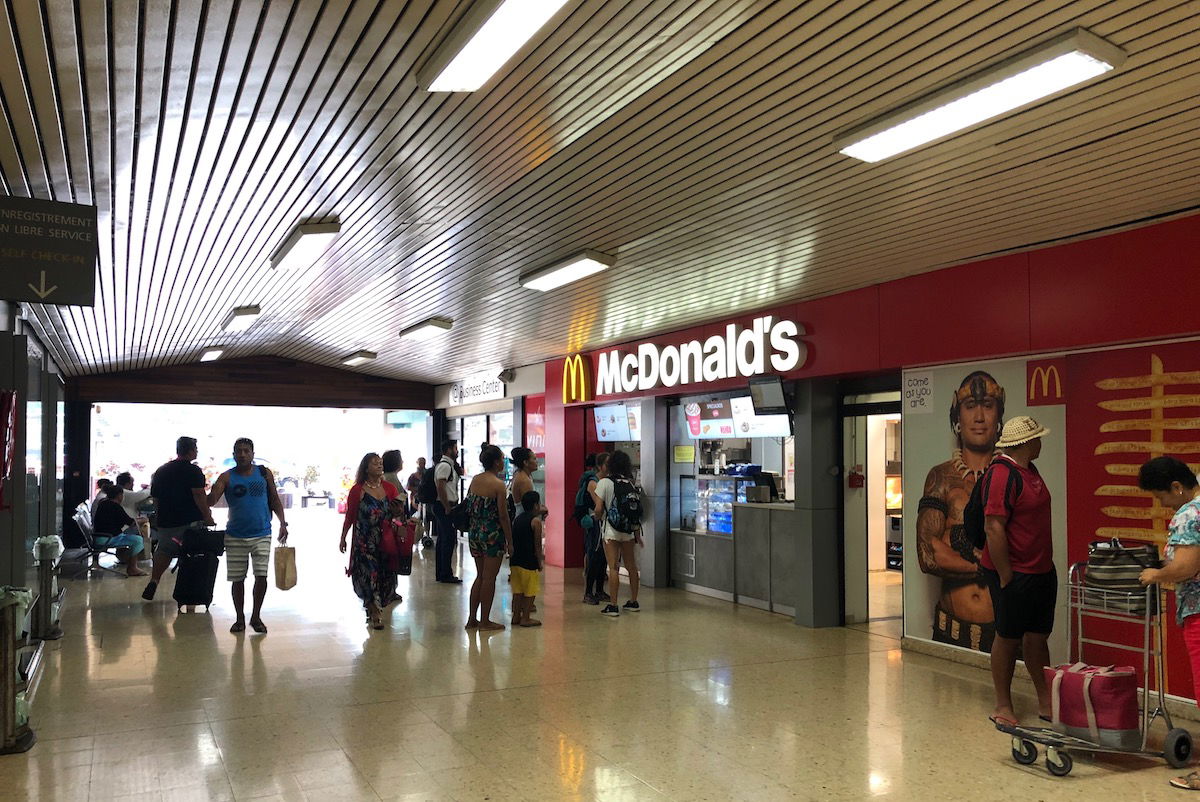 Papeete Airport domestic terminal
The airside area has nice enough seating, a small cafe, and some disgusting bathrooms. The terminal doesn't seem to have air conditioning, which isn't a big deal at 6AM, but I imagine during the day it gets warm in here.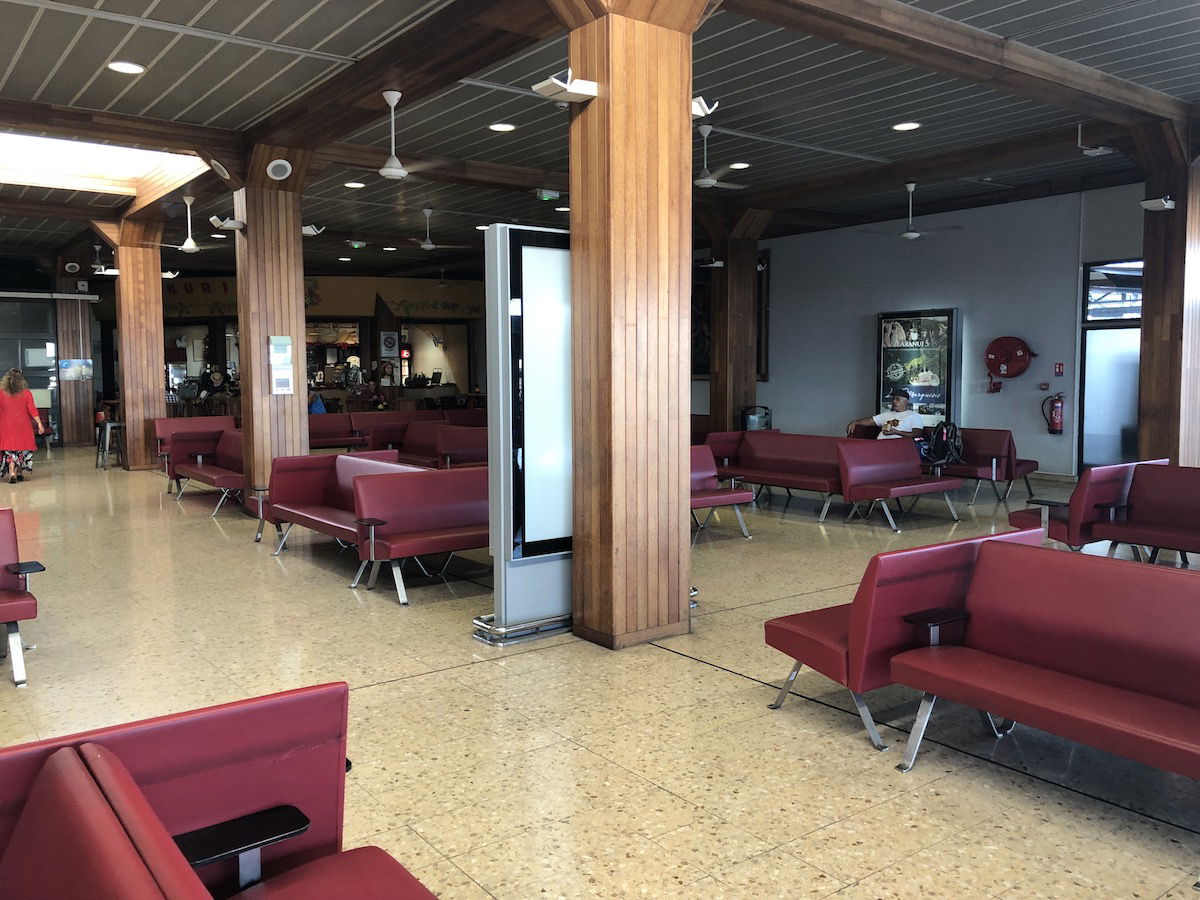 Papeete Airport domestic terminal
As you can see, the terminal was initially empty (we got there shortly after 6AM), but it filled up pretty soon, as there were several flights departing around the same time.. The terminal technically has a couple of gates, though in reality only one flight boards at a time.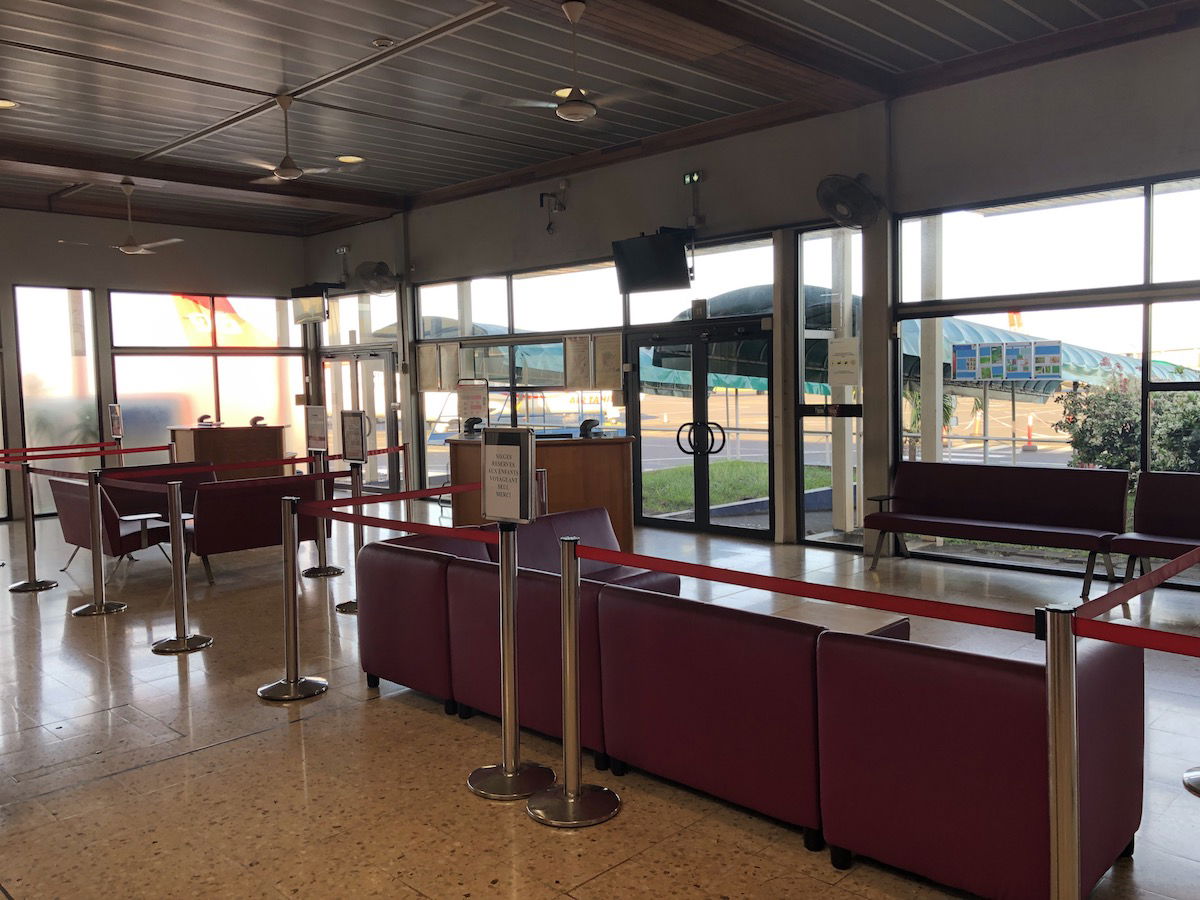 Papeete Airport domestic gates
The airport does have free Wi-Fi, though it's limited to 30 minutes. So I used 30 minutes of free Wi-Fi, and then I started tethering on my phone.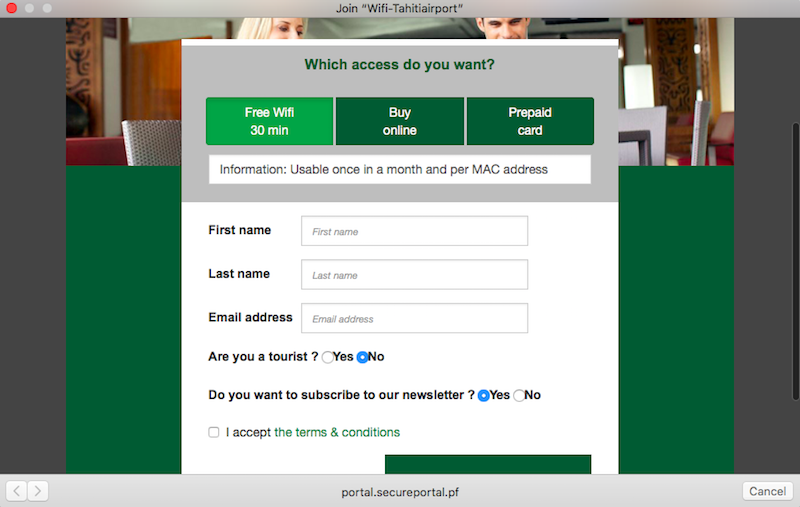 PPT airport Wi-Fi
Our flight was scheduled to board at 7:15AM (10 minutes before departure), though in reality boarding started at 7:10AM. It wasn't entirely obvious boarding was actually for our flight, since a gate agent just yelled something and then everyone got up.
When boarding these flights they just take half of your boarding pass, then advise you to wait under the awning, and then a gate agent leads everyone out to the plane.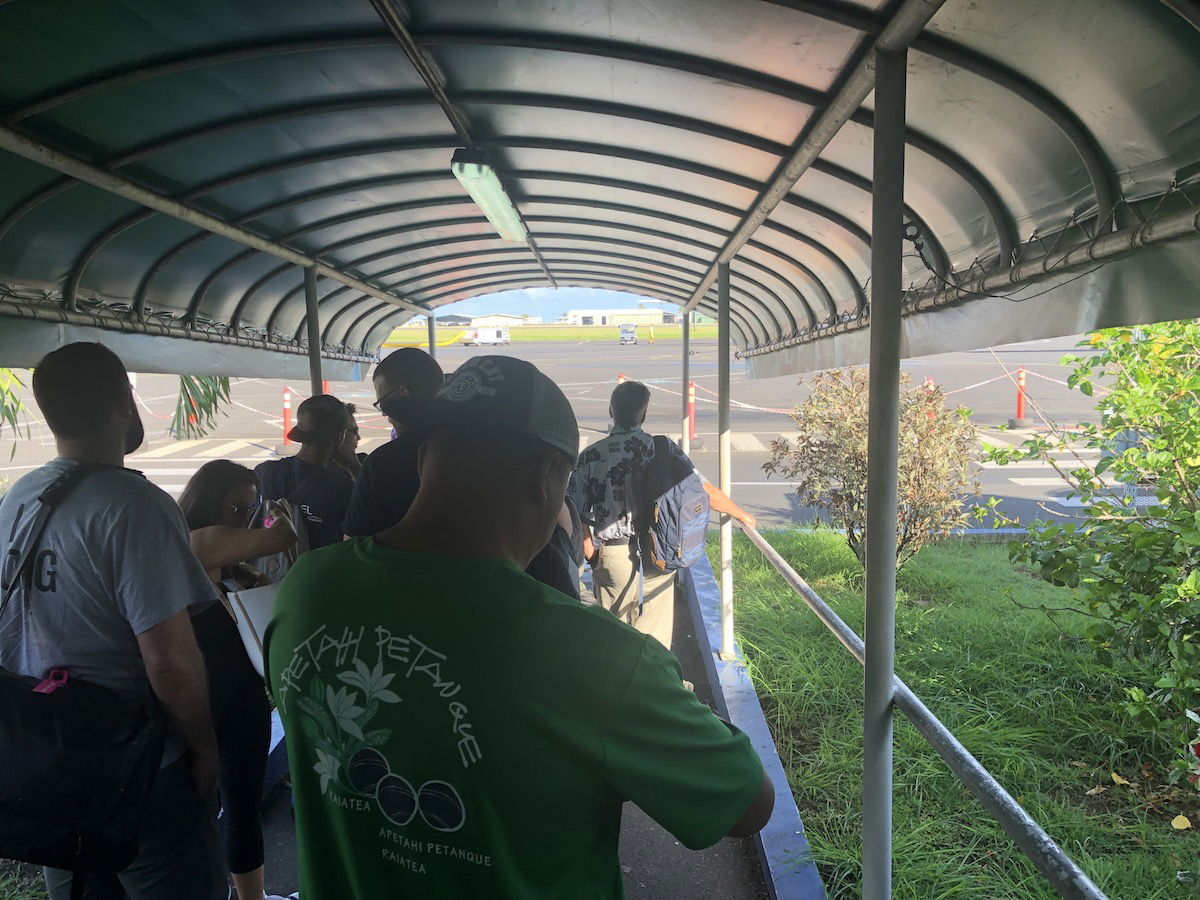 Papeete Airport domestic terminal
There were several Air Tahiti turboprops on the apron (for what it's worth, the airline has nine ATRs, and then five smaller props).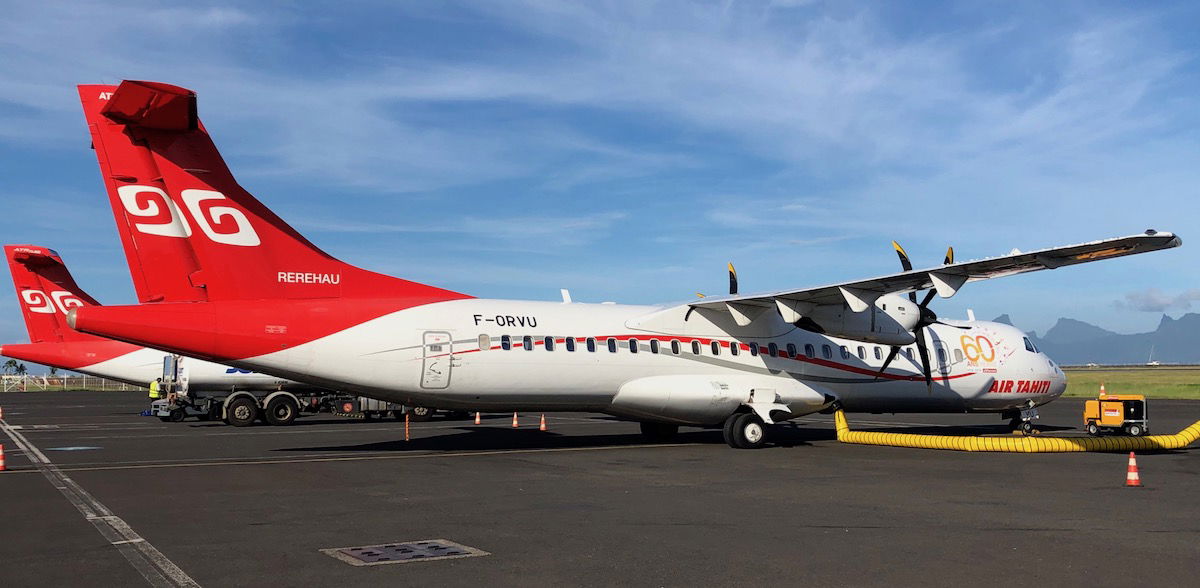 Air Tahiti ATR 72
For our ATR 72 boarding was through the rear, given that the baggage is loaded through the front. We were flying F-ORVS, a four year old plane.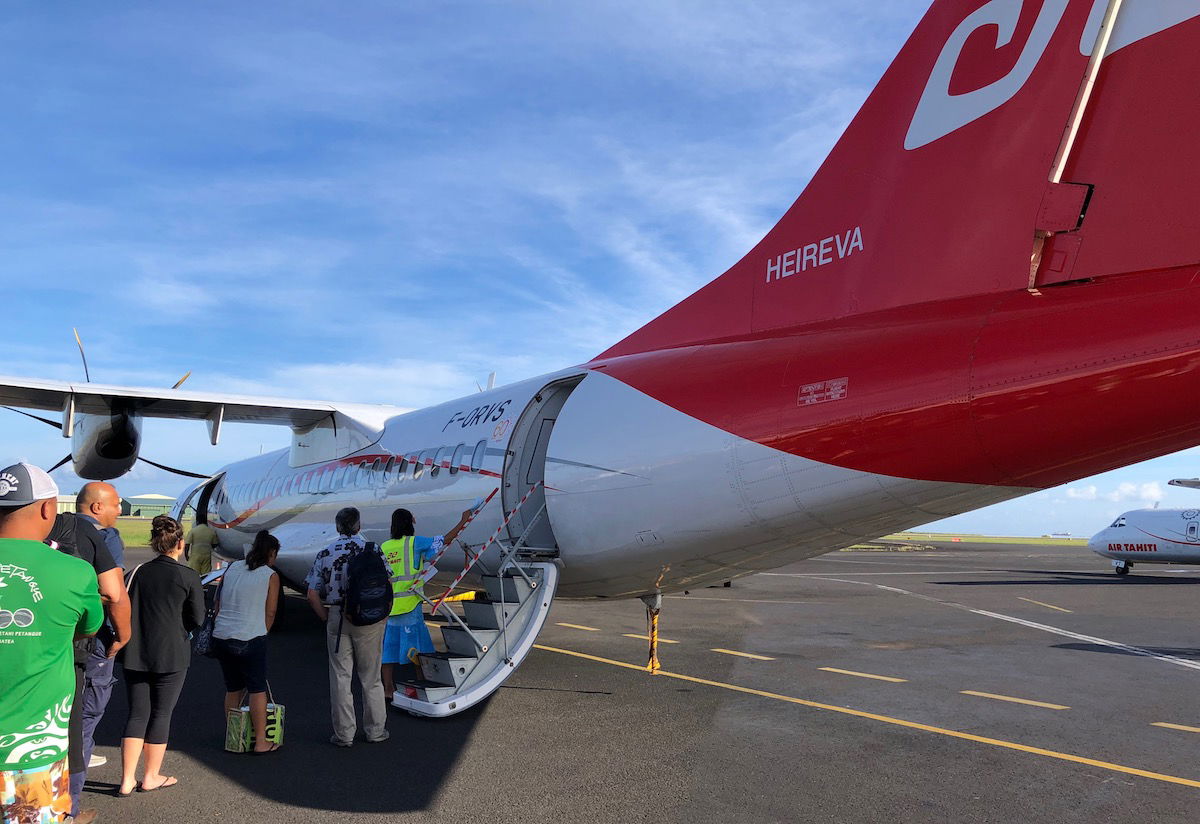 Air Tahiti ATR 72 boarding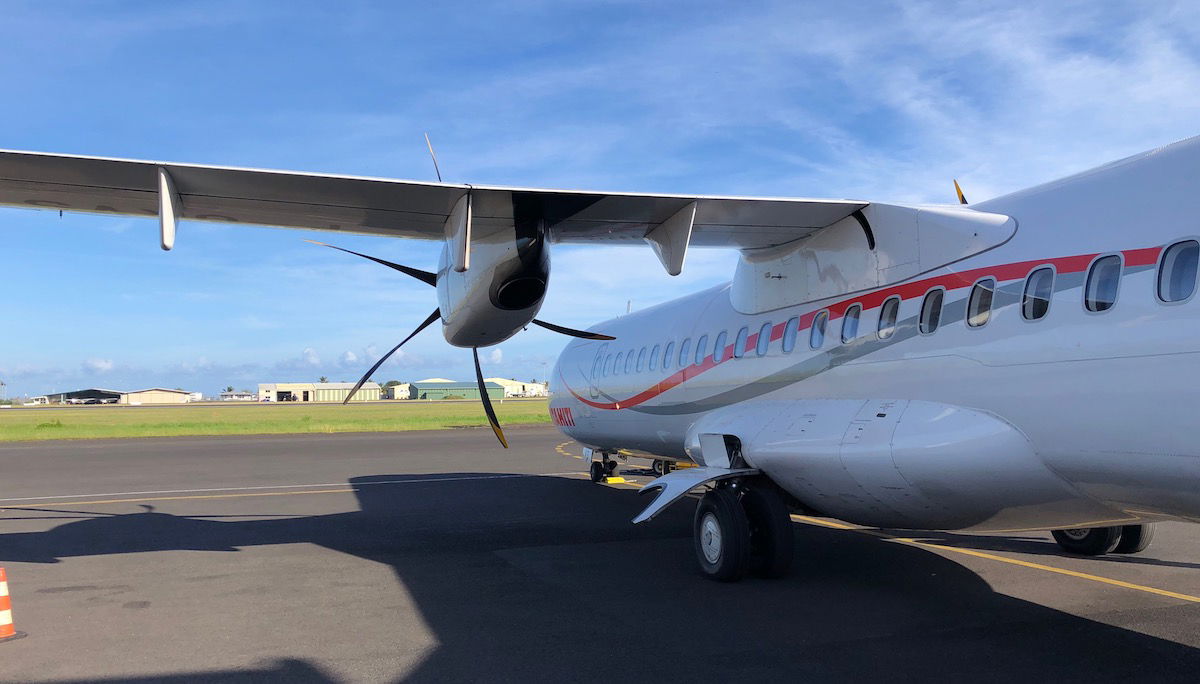 Air Tahiti ATR 72
Air Tahiti Nui 402
Papeete (PPT) – Bora Bora (BOB)
Wednesday, December 5
Depart: 7:30AM
Arrive: 8:20AM
Duration: 50min
Aircraft: ATR 72
Seat: 12A (Economy Class)
The ATR 72 has a total of 68 seats, spread across 17 rows in a 2-2 configuration. The cabin definitely still felt fresh and well maintained. Usually people want to sit as far up front as possible, but since you board and deplane through the rear, the opposite was true here, where everyone wanted to sit towards the back, which created a bit of a bottleneck.
By the way, I highly recommend sitting as far back as possible, as it's so much quieter back there — the noise difference between sitting by the engines and sitting in the back is huge.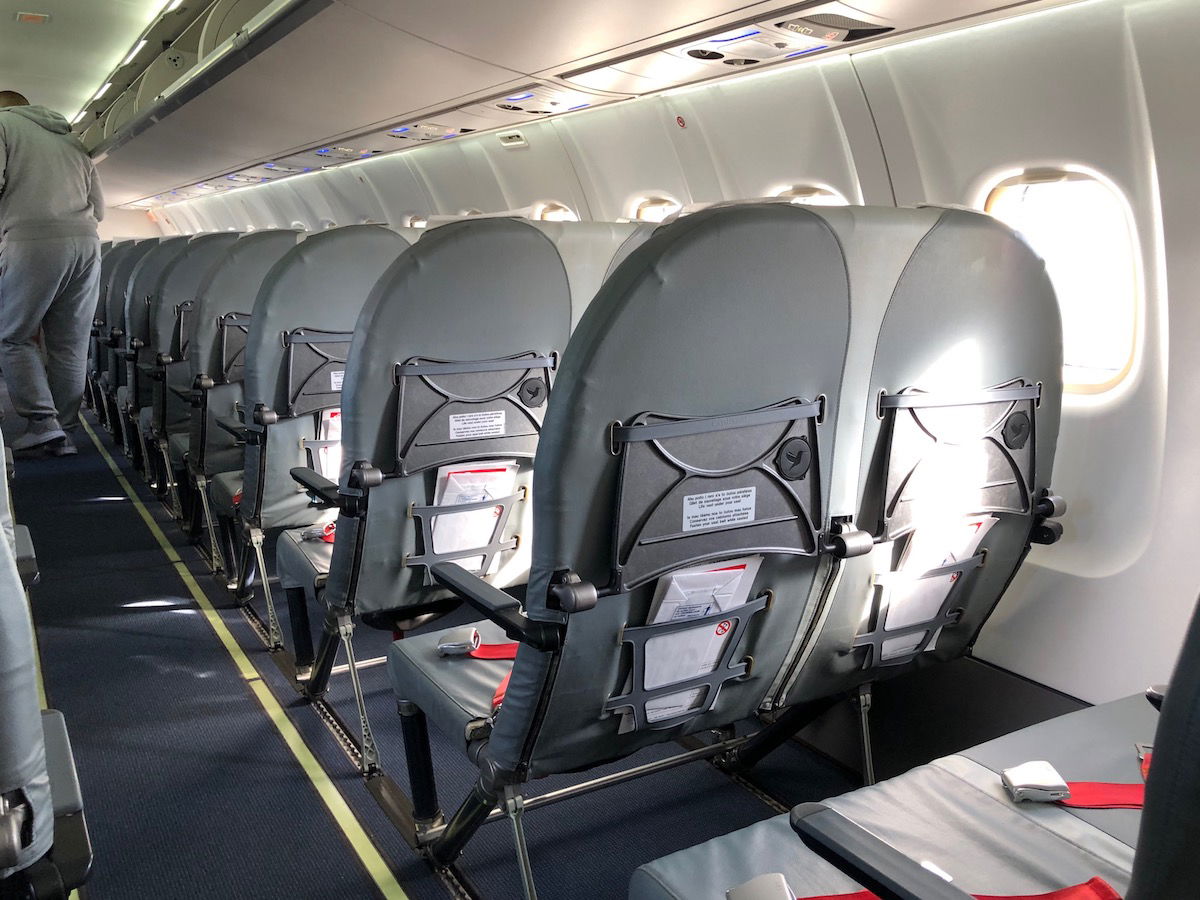 Air Tahiti ATR 72 cabin
The seats were quite comfortable, though I think this is the first time I've seen "bench" seats like this. Each set of two seats is really one continuous seat.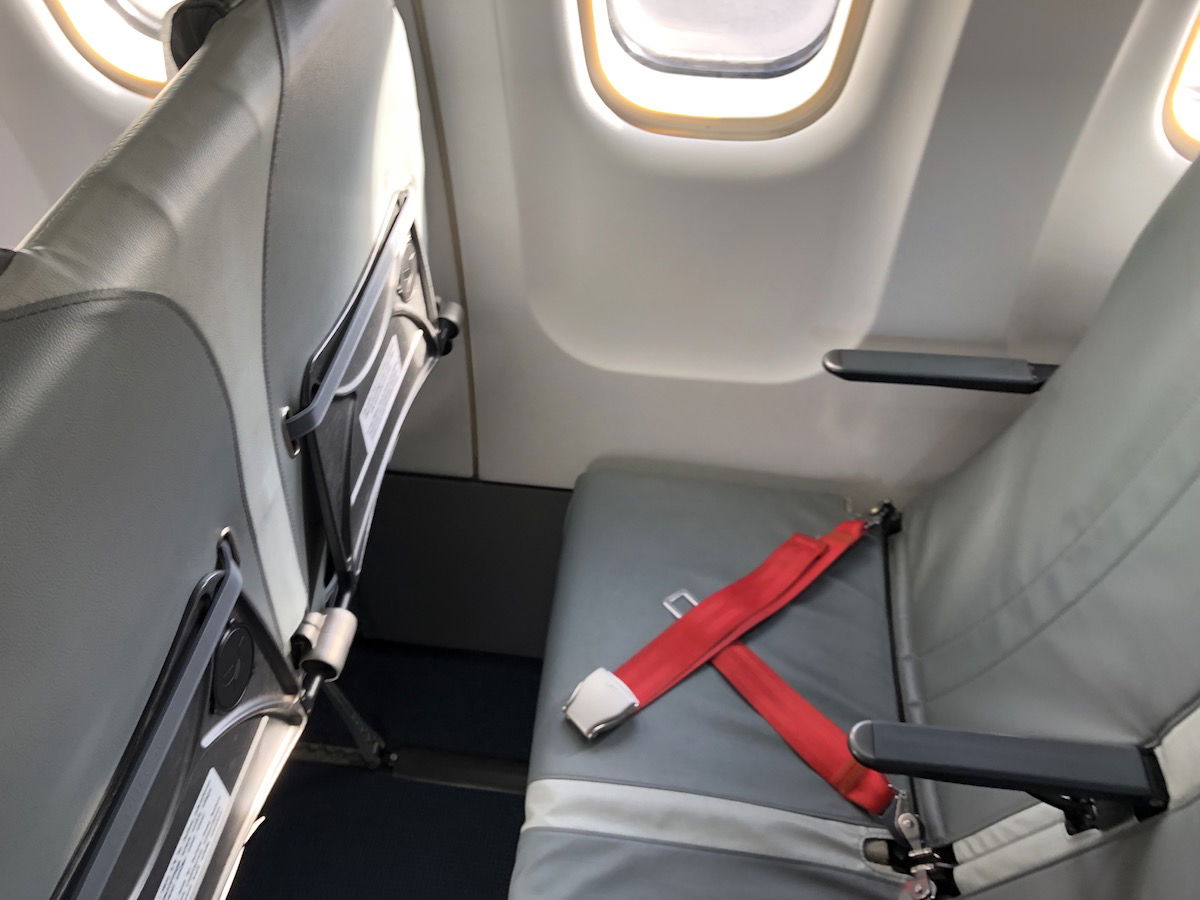 Air Tahiti seat
But the seats were comfortable enough for a short flight, and the legroom was good. There was a small tray table at each seat, which could be held up using an elastic band.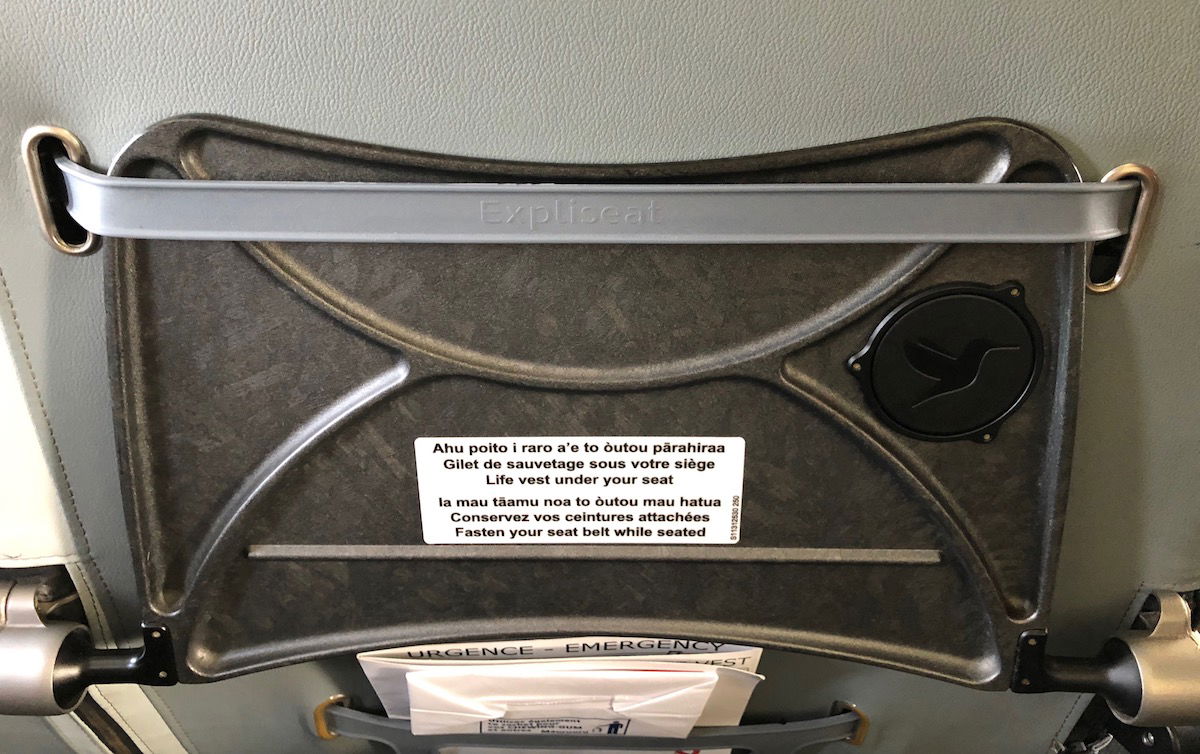 Air Tahiti ATR 72 tray table
By 7:20AM boarding was complete, and I'd say the cabin was about two thirds full. The captain made an announcement informing us of a flight time of 45 minutes. A moment later the safety demo was performed by the two flight attendants, and then the engines started up.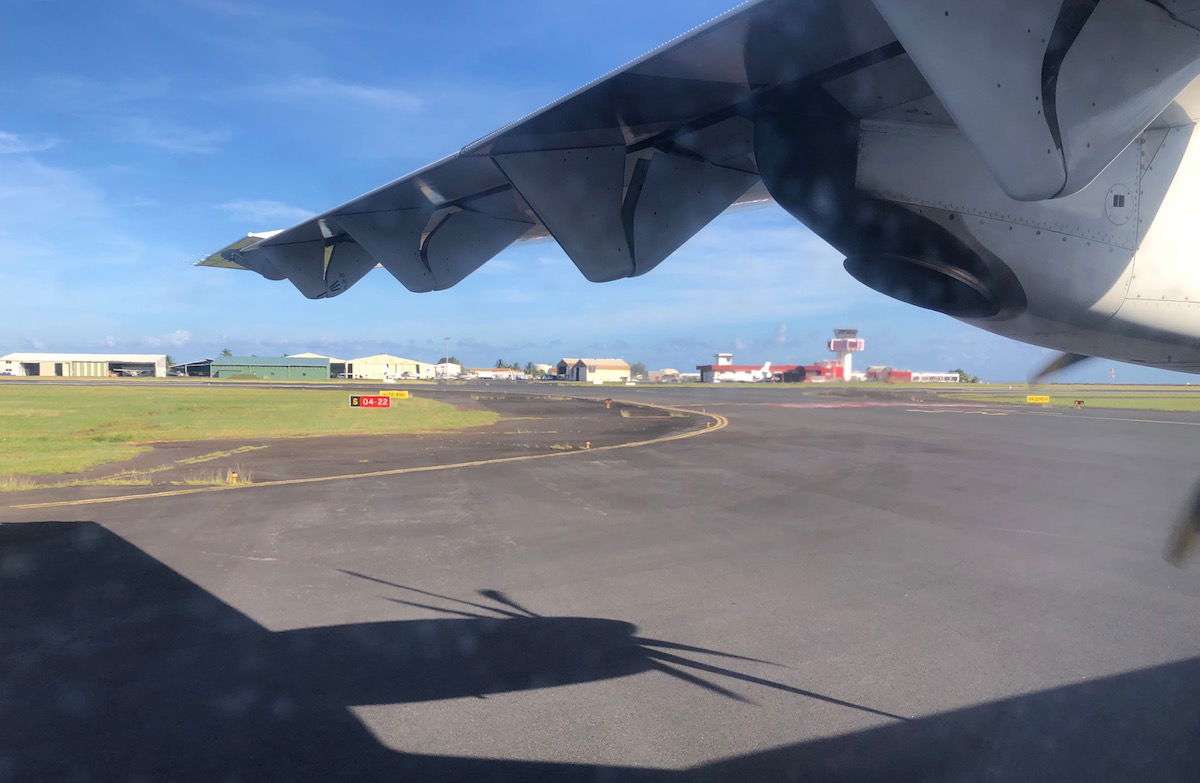 Taxiing out Papeete Airport
Our taxi was really quick, and by 7:30AM we started a midfield takeoff from runway 4.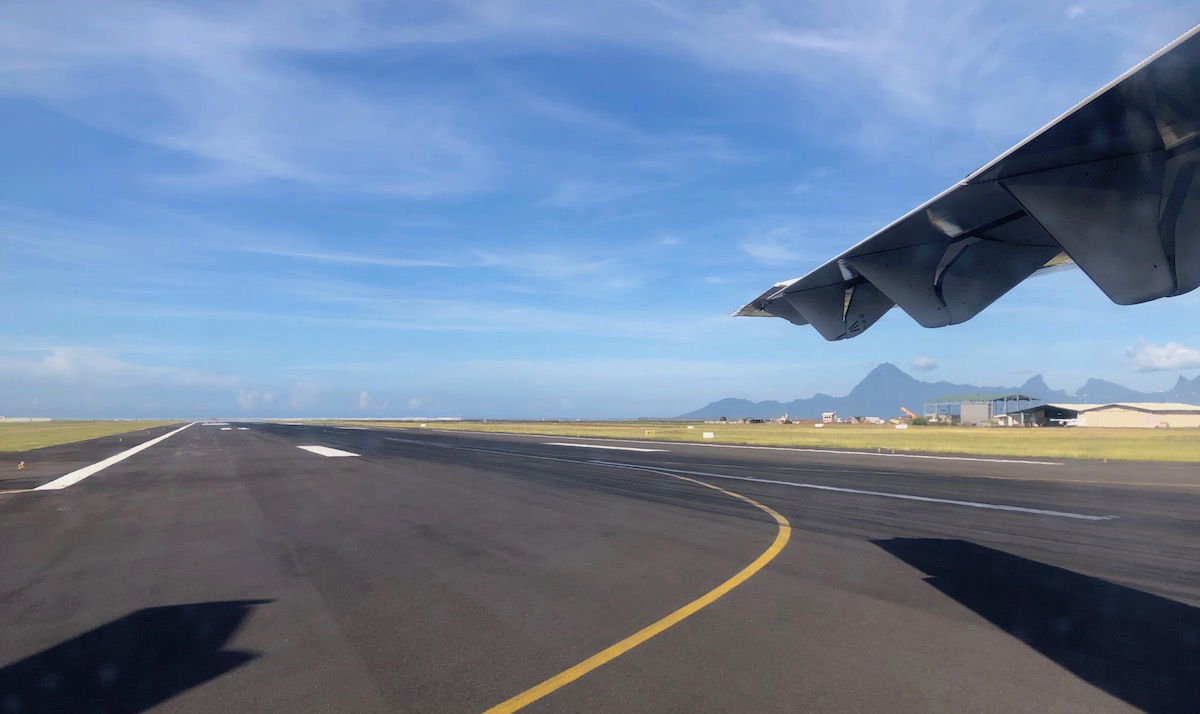 Taking off from Papeete Airport
As you'd expect, the views on this 161 mile flight were beautiful.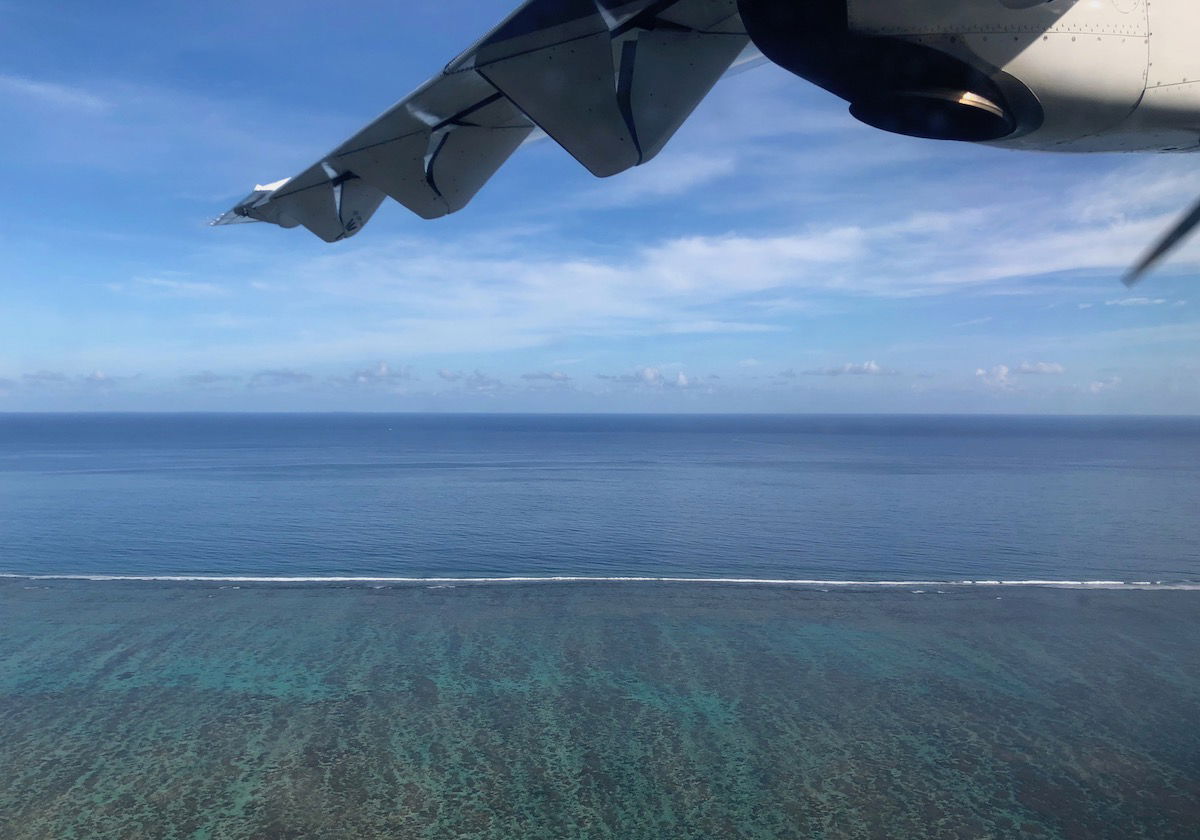 View after takeoff from Papeete
Initially we had views of Papeete.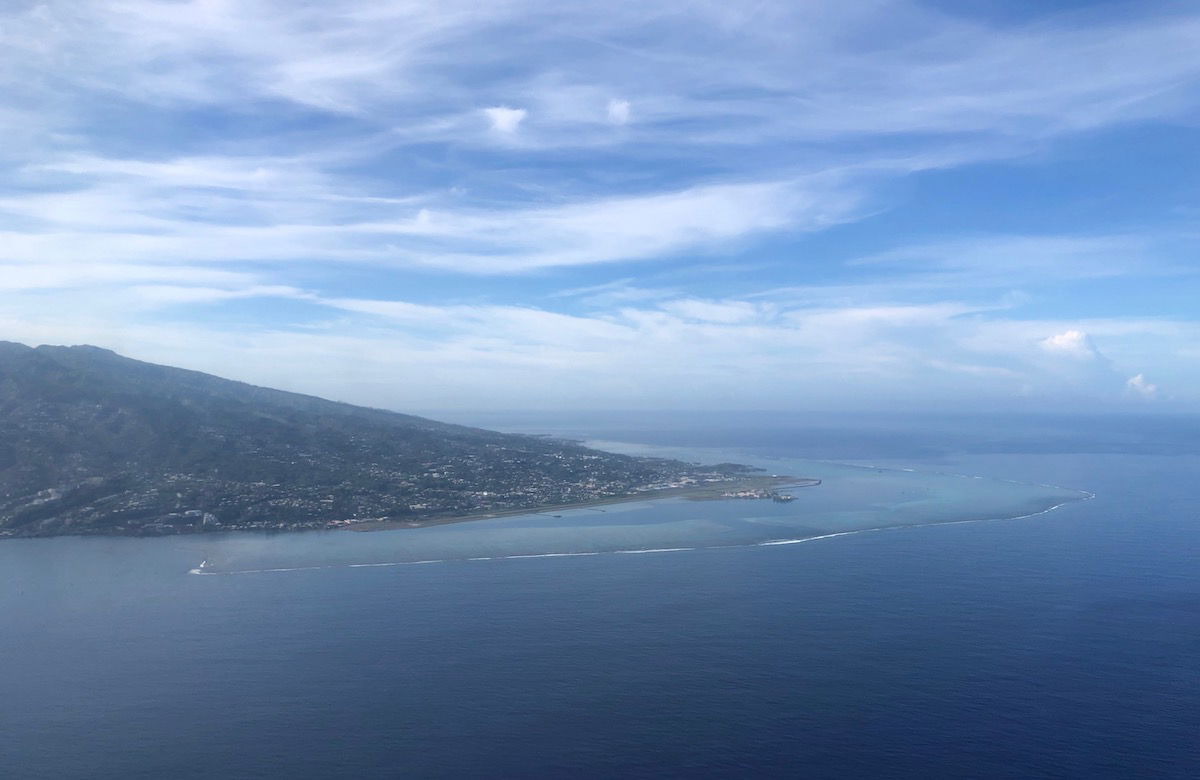 View after takeoff from Papeete
Then just a few minutes later we had views of Moorea, which looked breathtaking.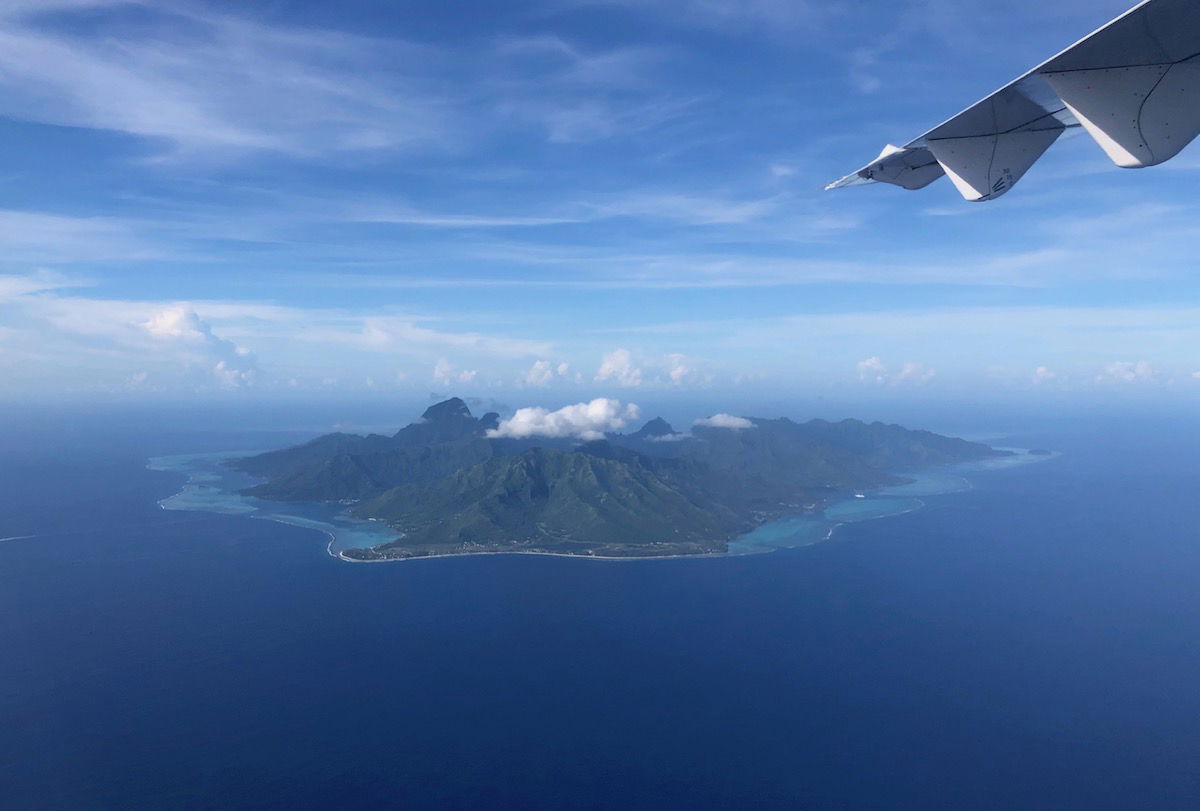 View enroute to Bora Bora
For the next 30 minutes there weren't any other islands to see. The seatbelt sign was turned off 10 minutes after takeoff, and about 20 minutes after takeoff a very simple beverage service was performed, with the choice of coffee or pineapple juice — we had one of each.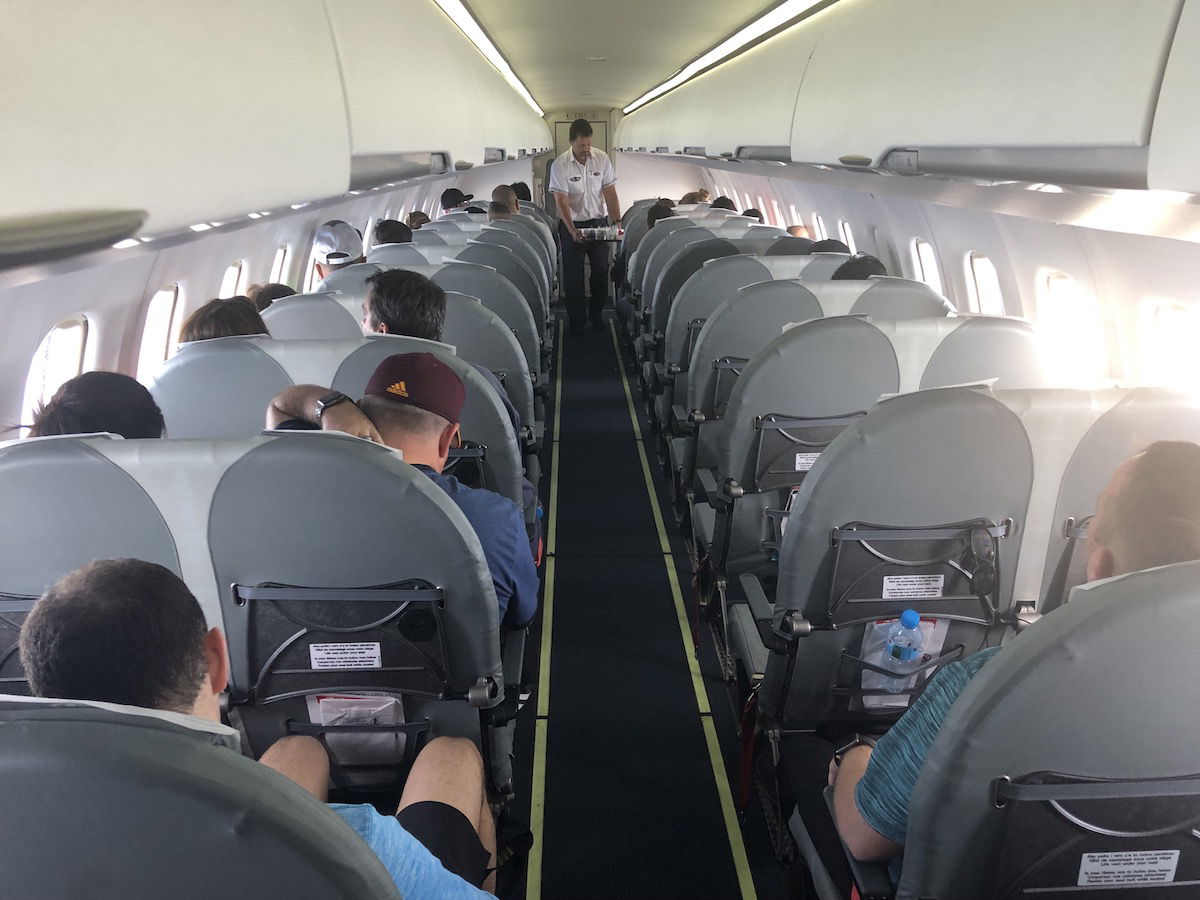 Air Tahiti cabin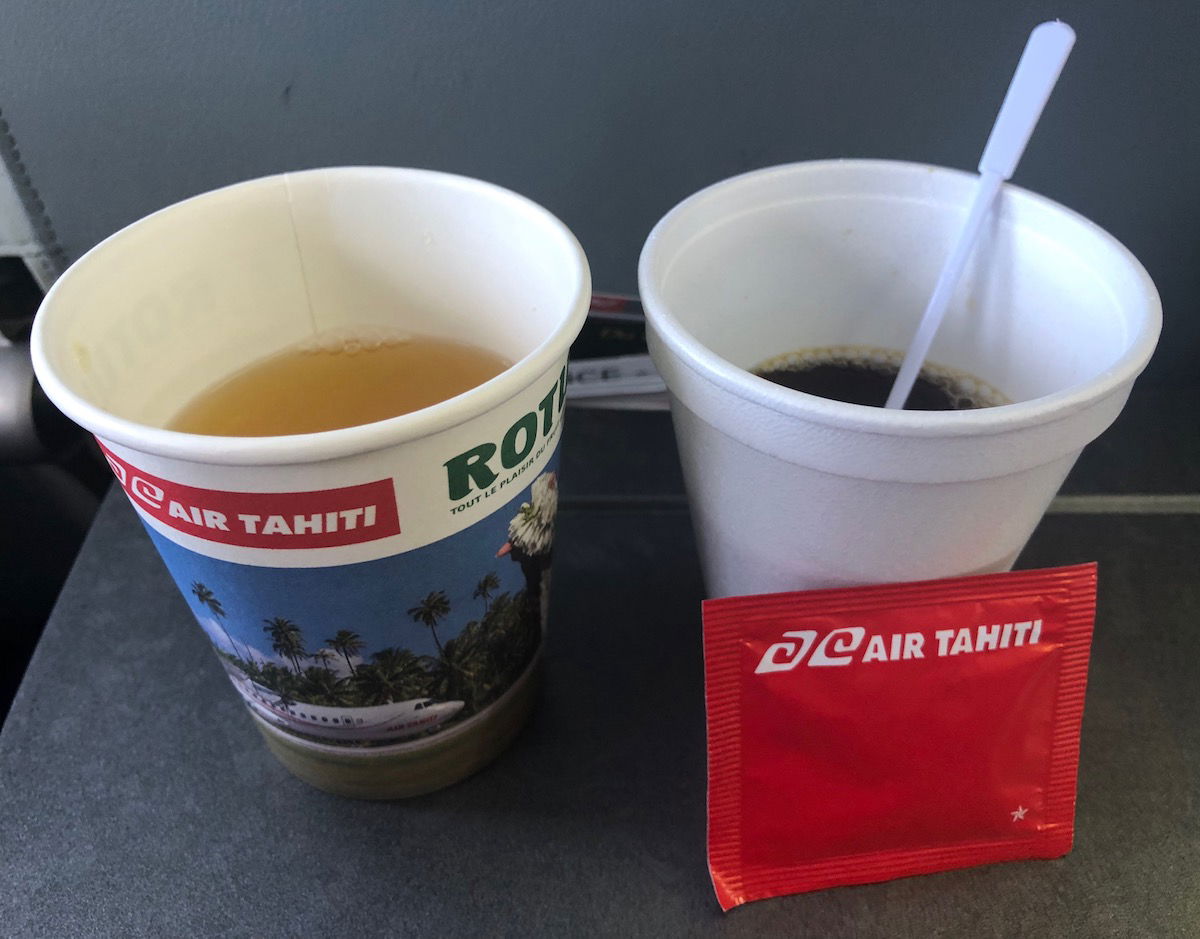 Air Tahiti beverage service
There was also a menu indicating they had some buy on board options, though we didn't buy anything, and I never even saw them proactively offering to sell anything. That menu read as follows: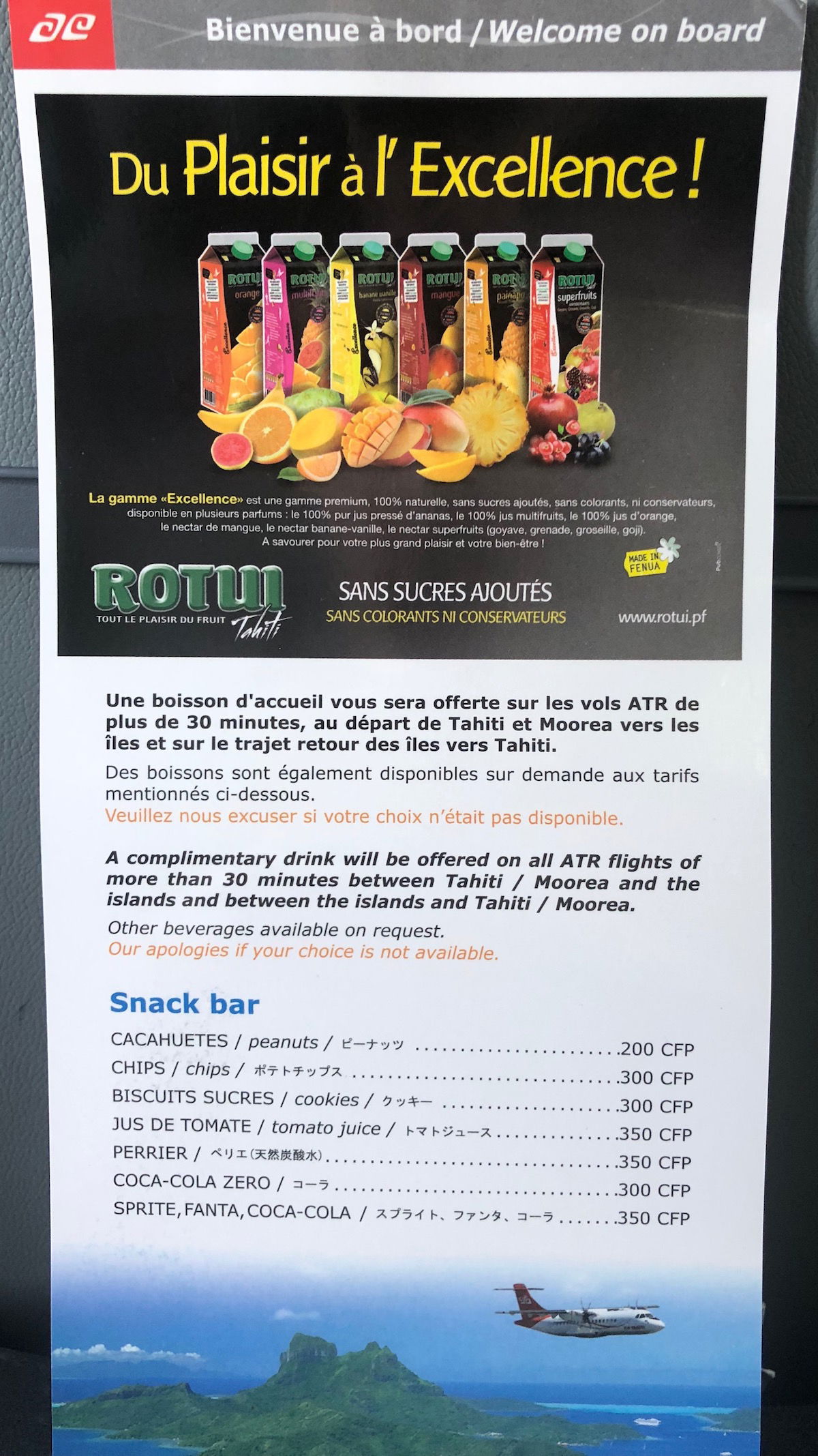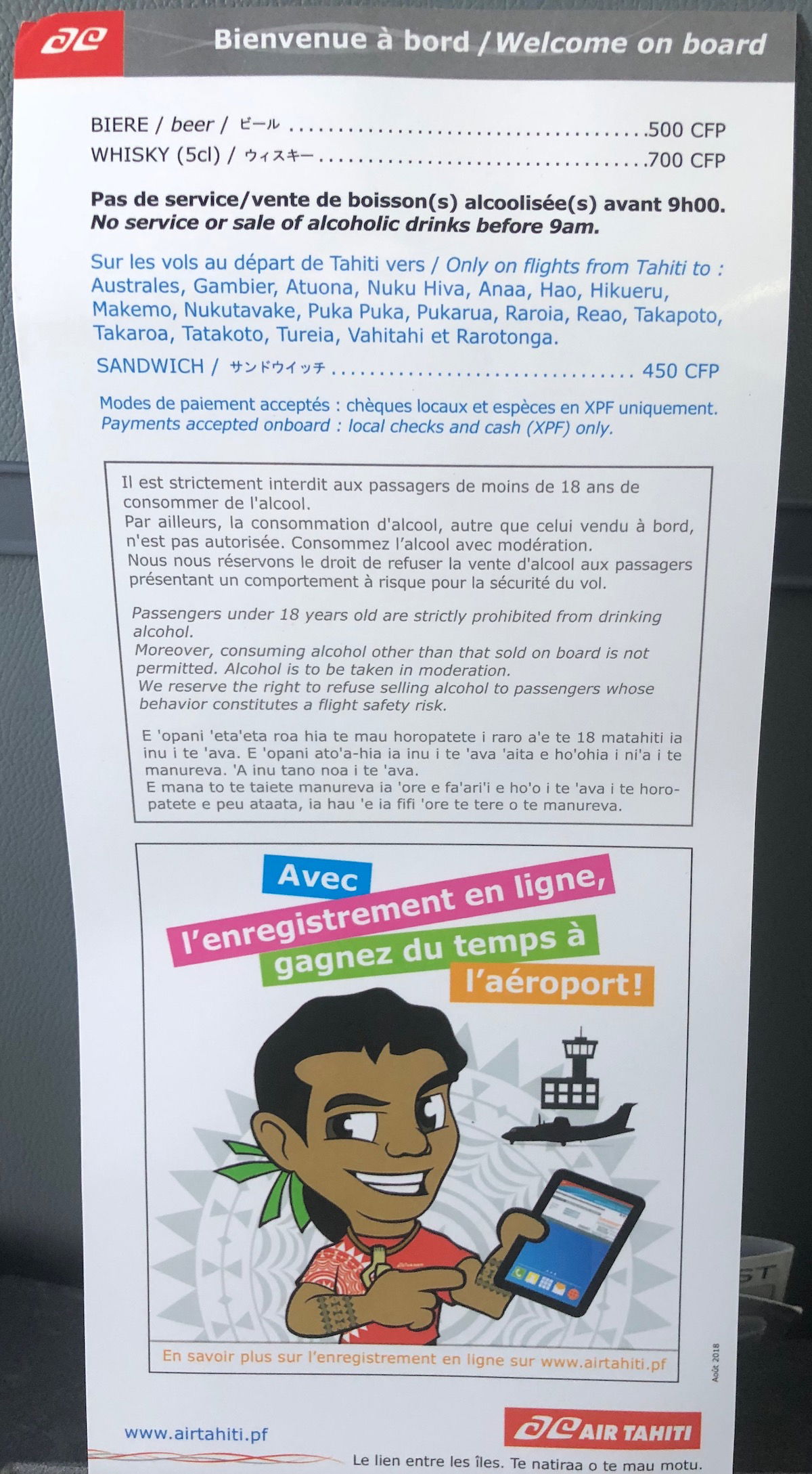 About 30 minutes after takeoff we began our descent, as we were passing a couple of the islands before Bora Bora. 10 minutes out the seatbelt sign was turned back on.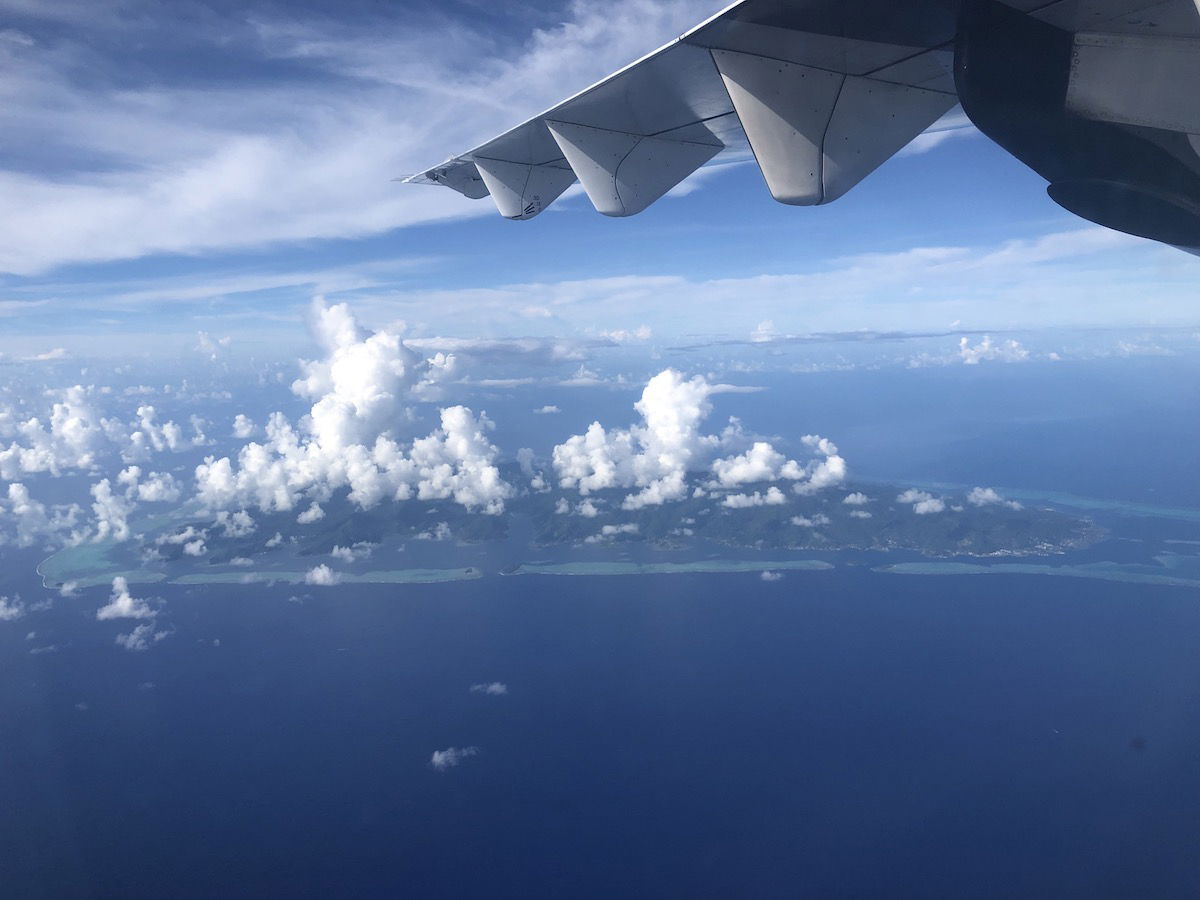 View enroute to Bora Bora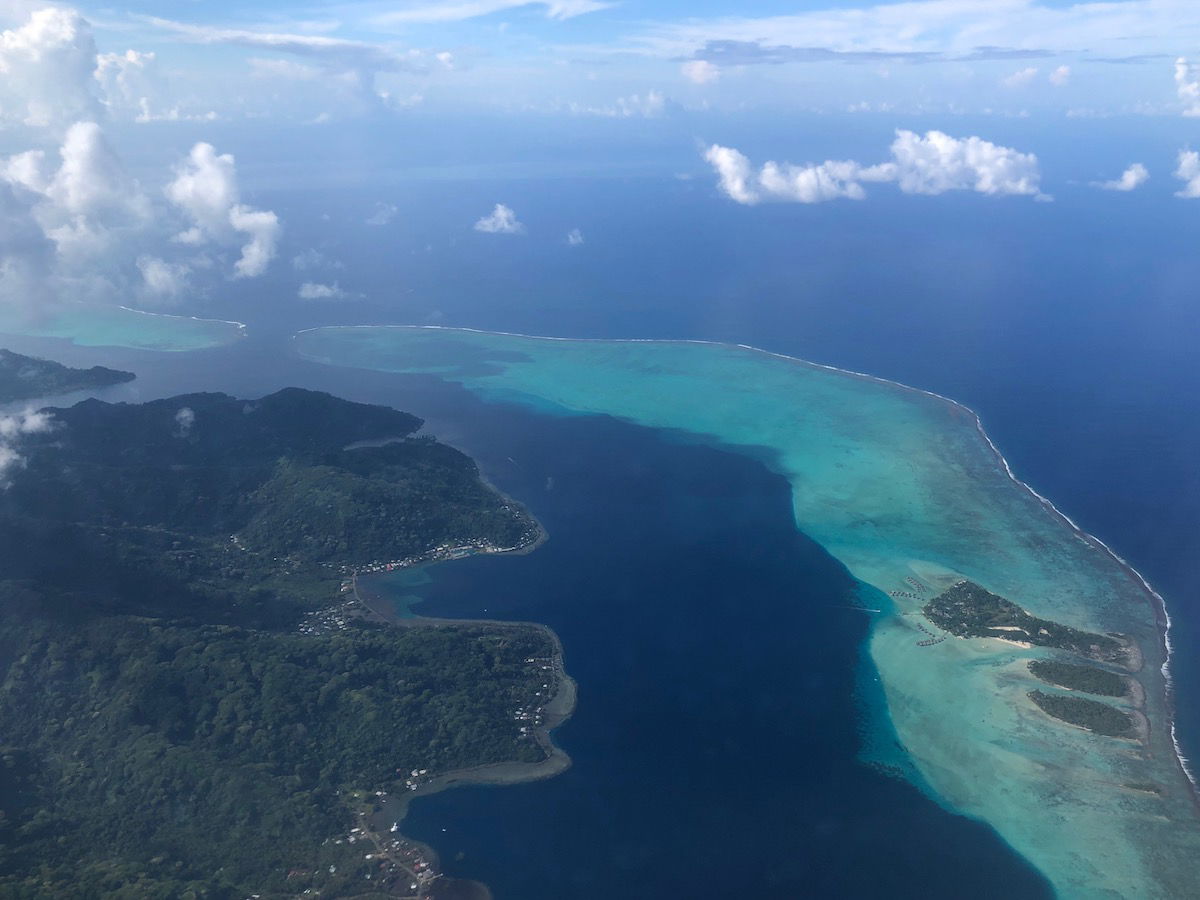 View approaching Bora Bora
Soon enough we were approaching Bora Bora, and oh boy was I excited! Look at those views!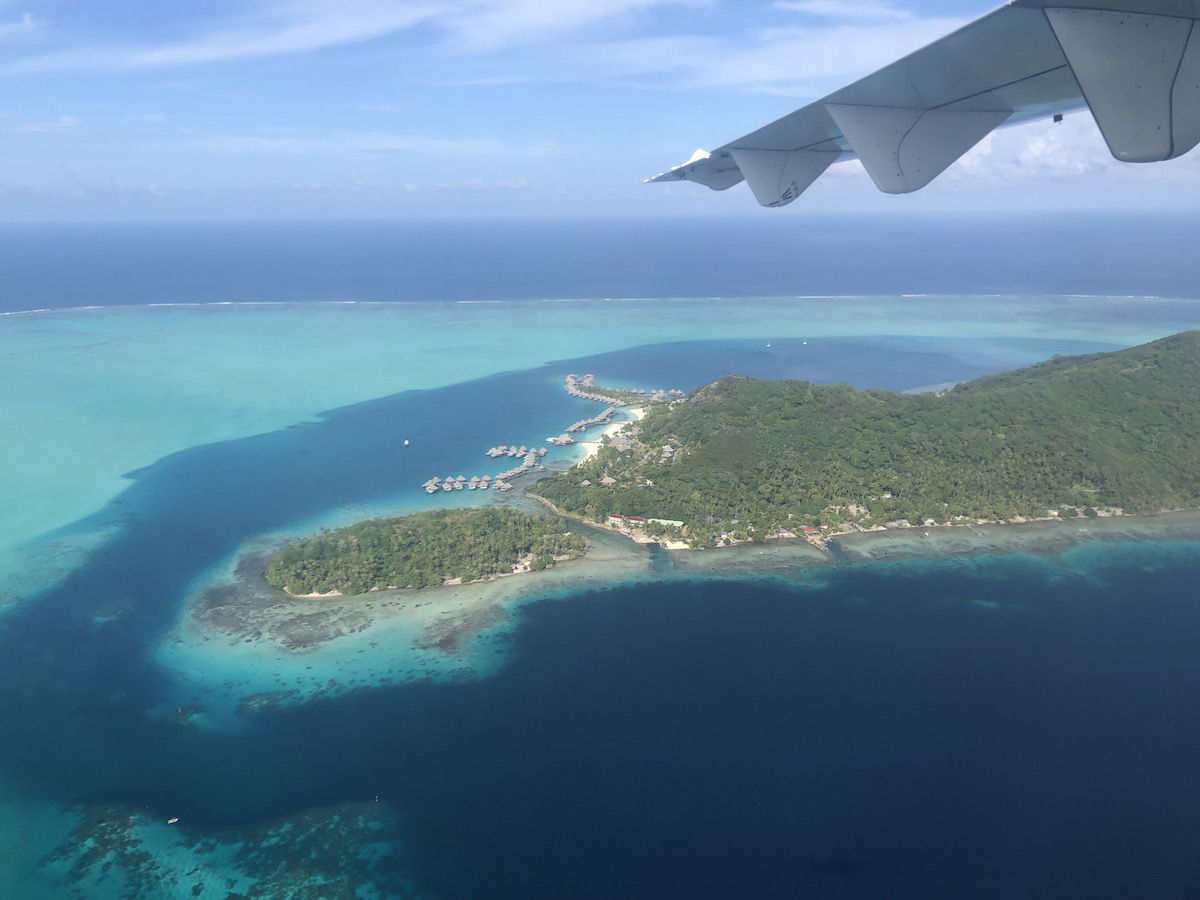 View approaching Bora Bora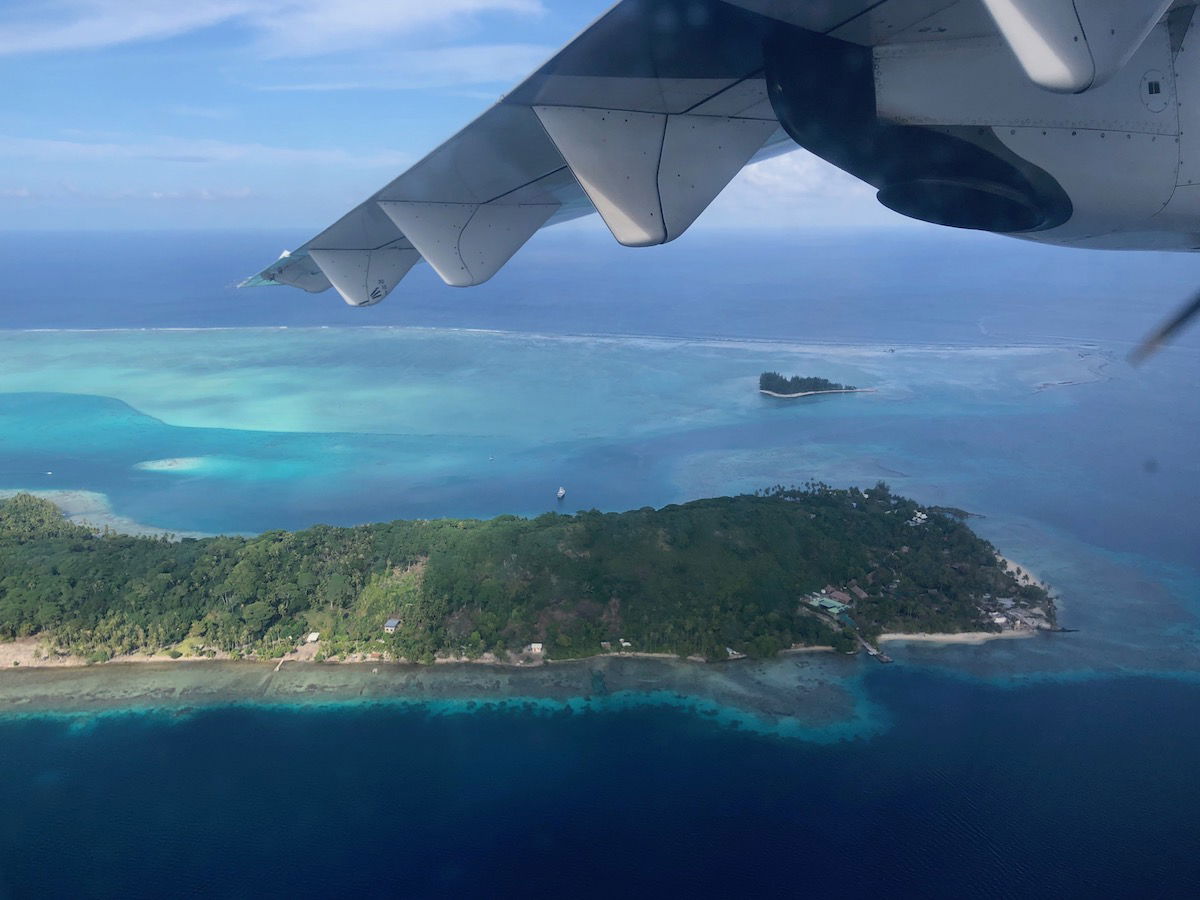 View approaching Bora Bora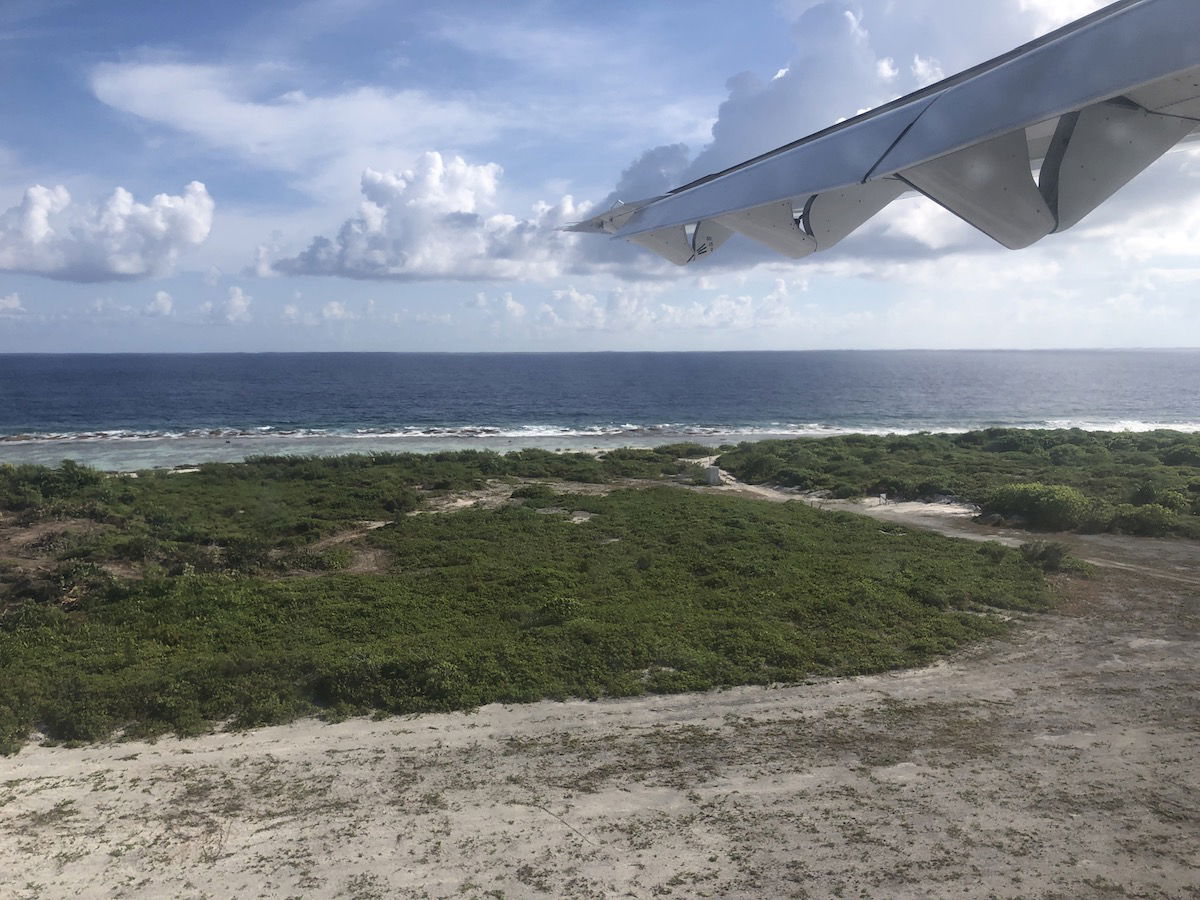 Landing in Bora Bora
We touched down on runway 11 at 8:10AM, and then backtaxied before getting to the apron just a few minutes later.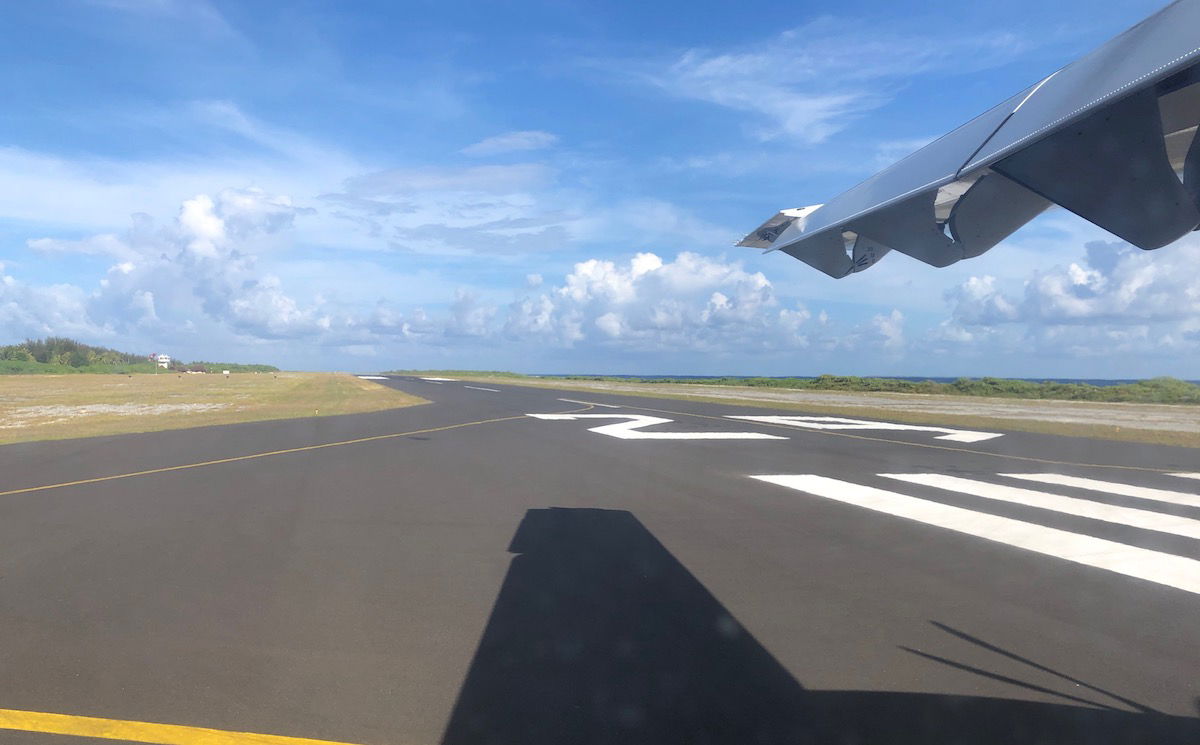 Taxiing Bora Bora Airport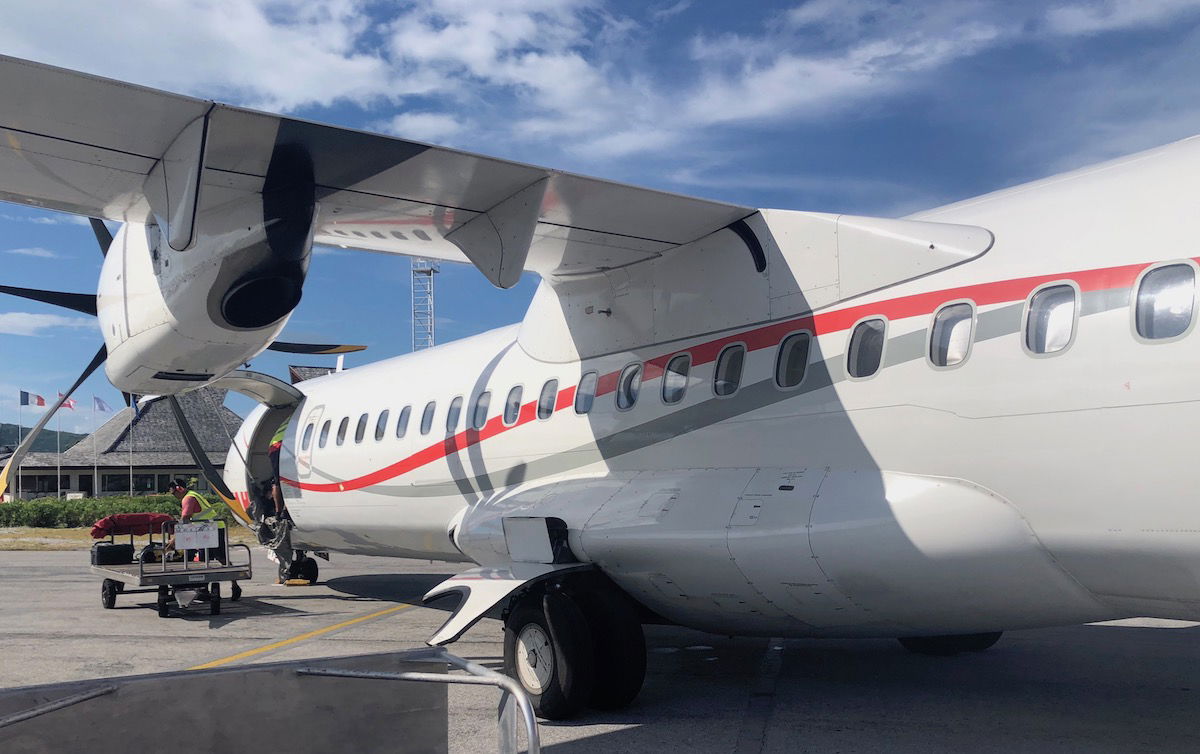 Air Tahiti prop upon landing in Bora Bora
Bora Bora Airport is so adorable.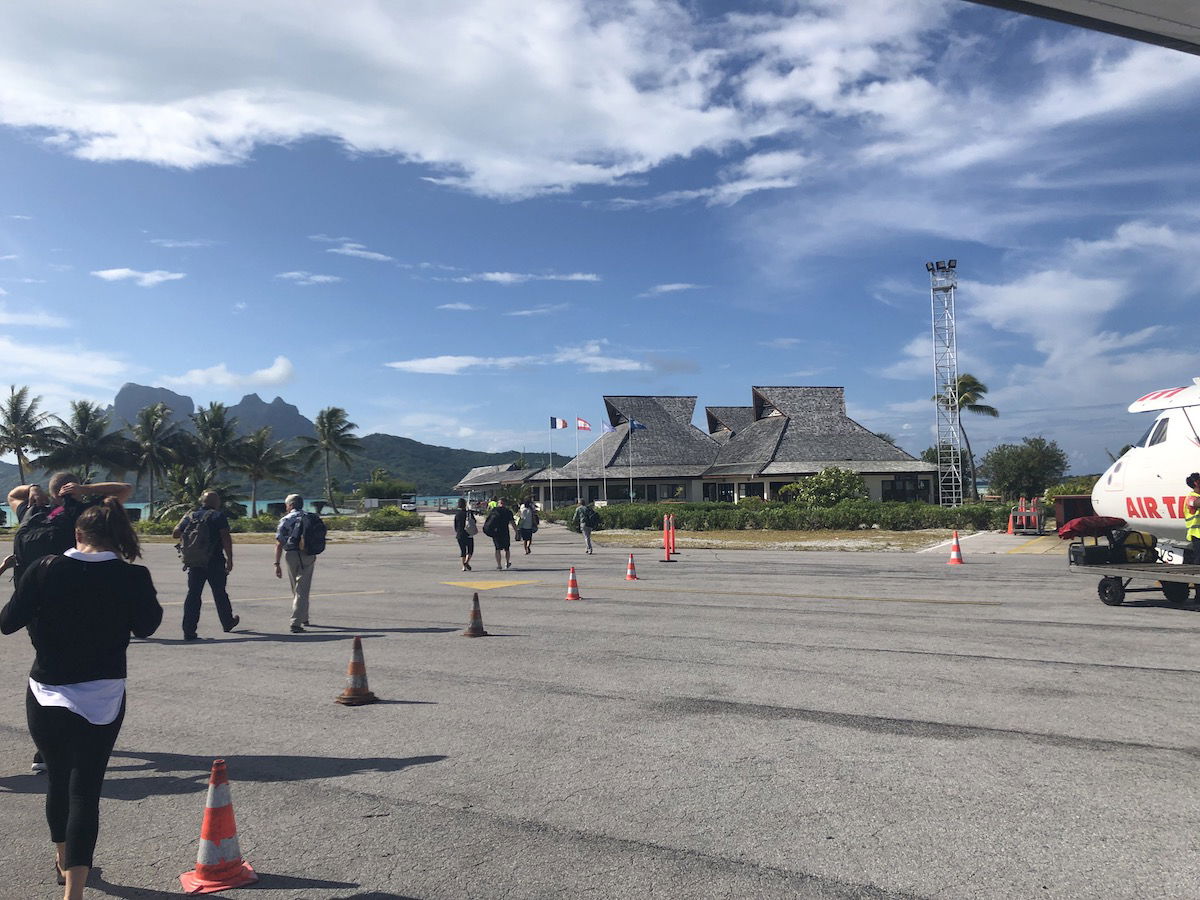 Bora Bora Airport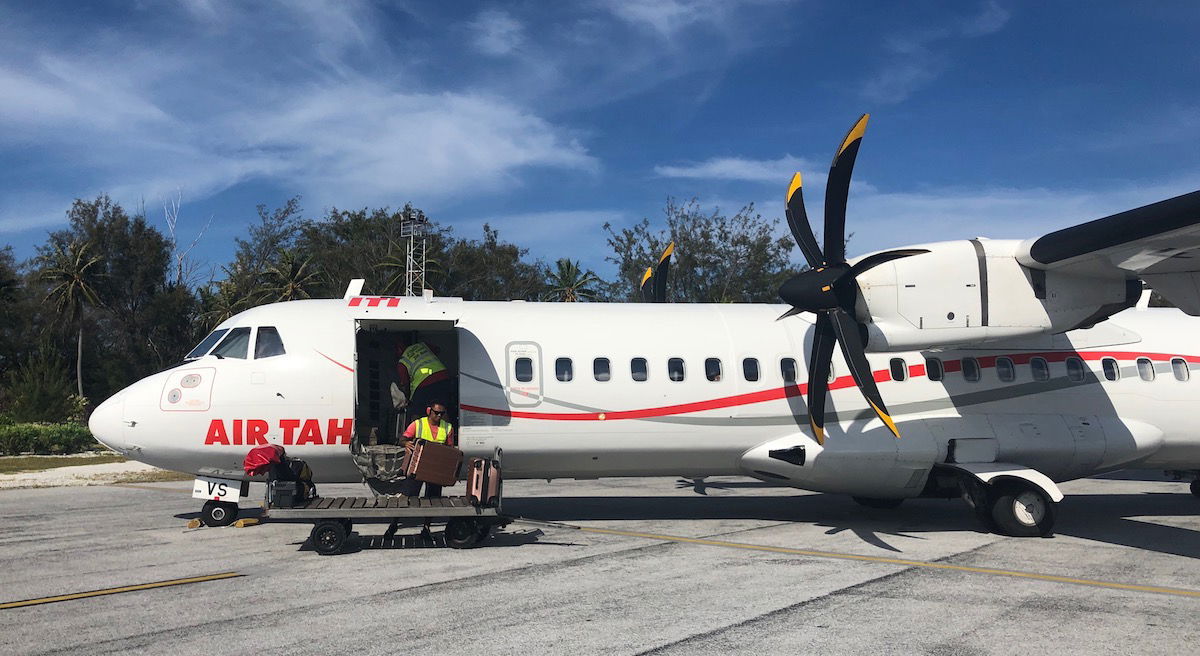 Air Tahiti plane upon arrival in Bora Bora
Inside the terminal all the hotels had welcome desks, so we just had to wait for our bags to arrive, and then were escorted to a boat that would take us to our resort.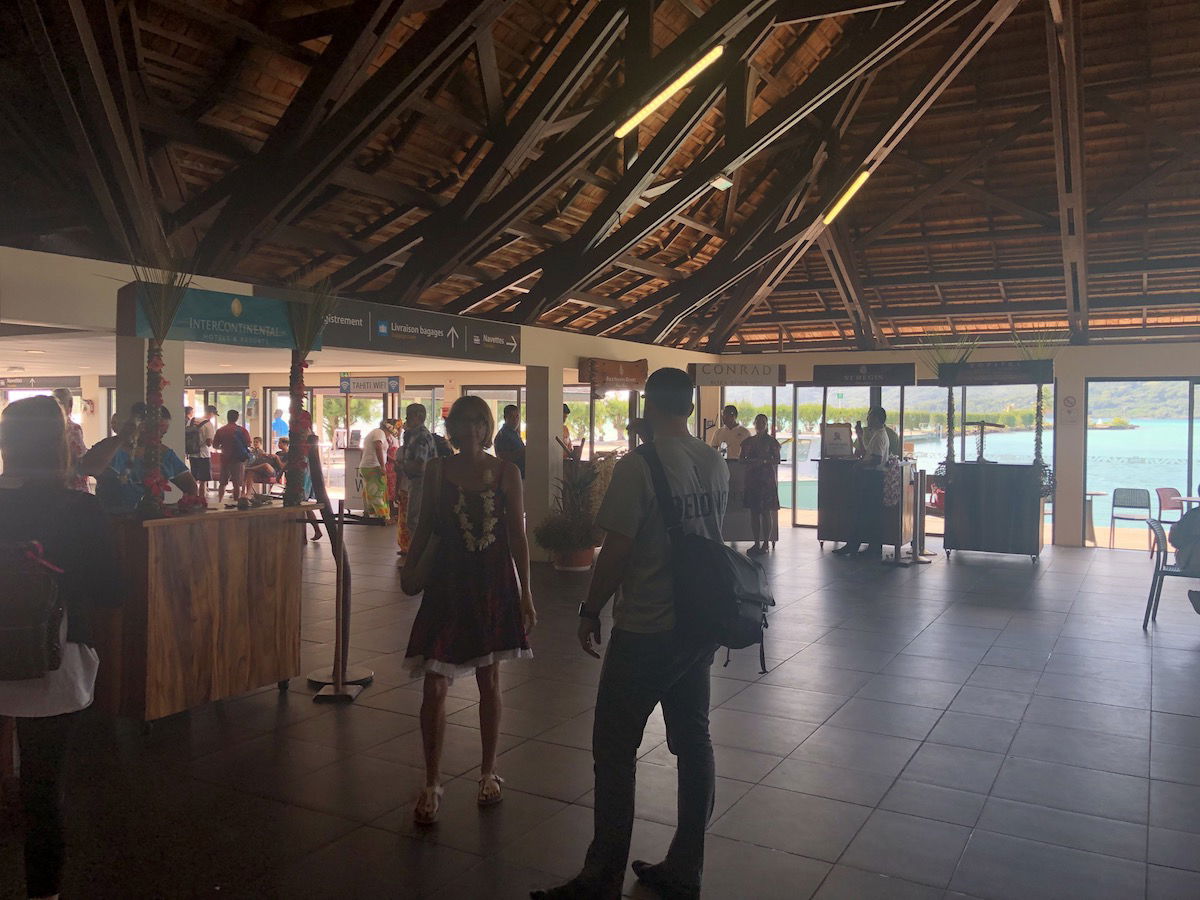 Bora Bora Airport
As was the case in Papeete, there was some dancing to welcome us.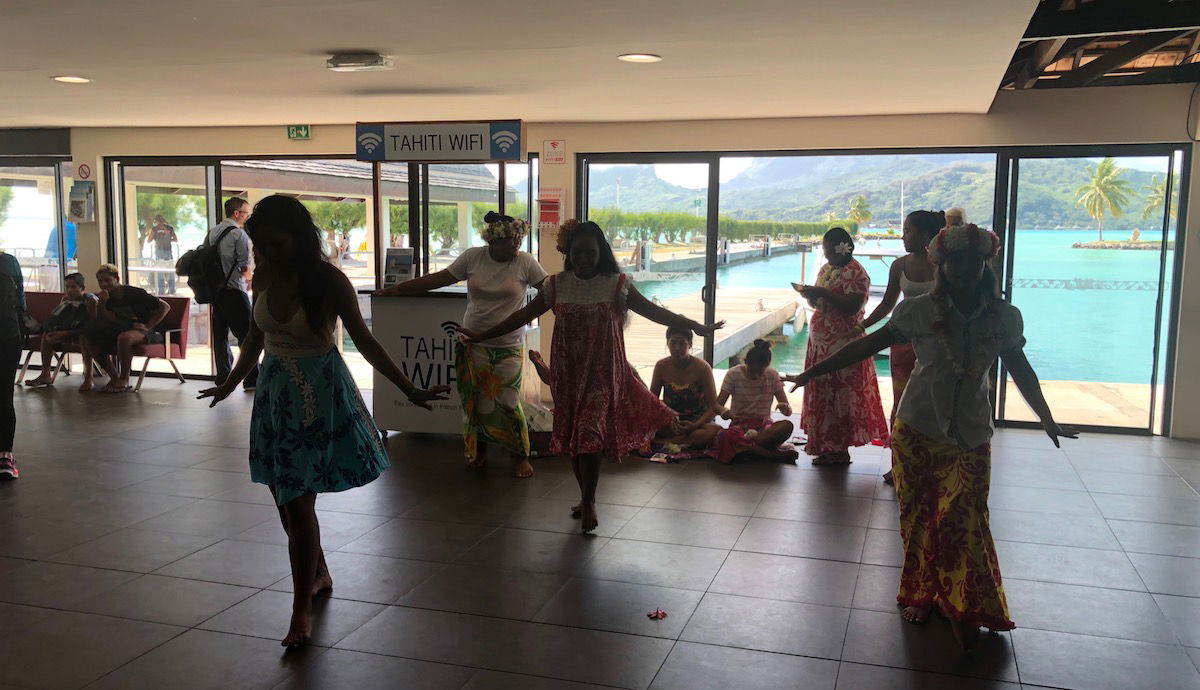 Bora Bora Airport
What a view, eh?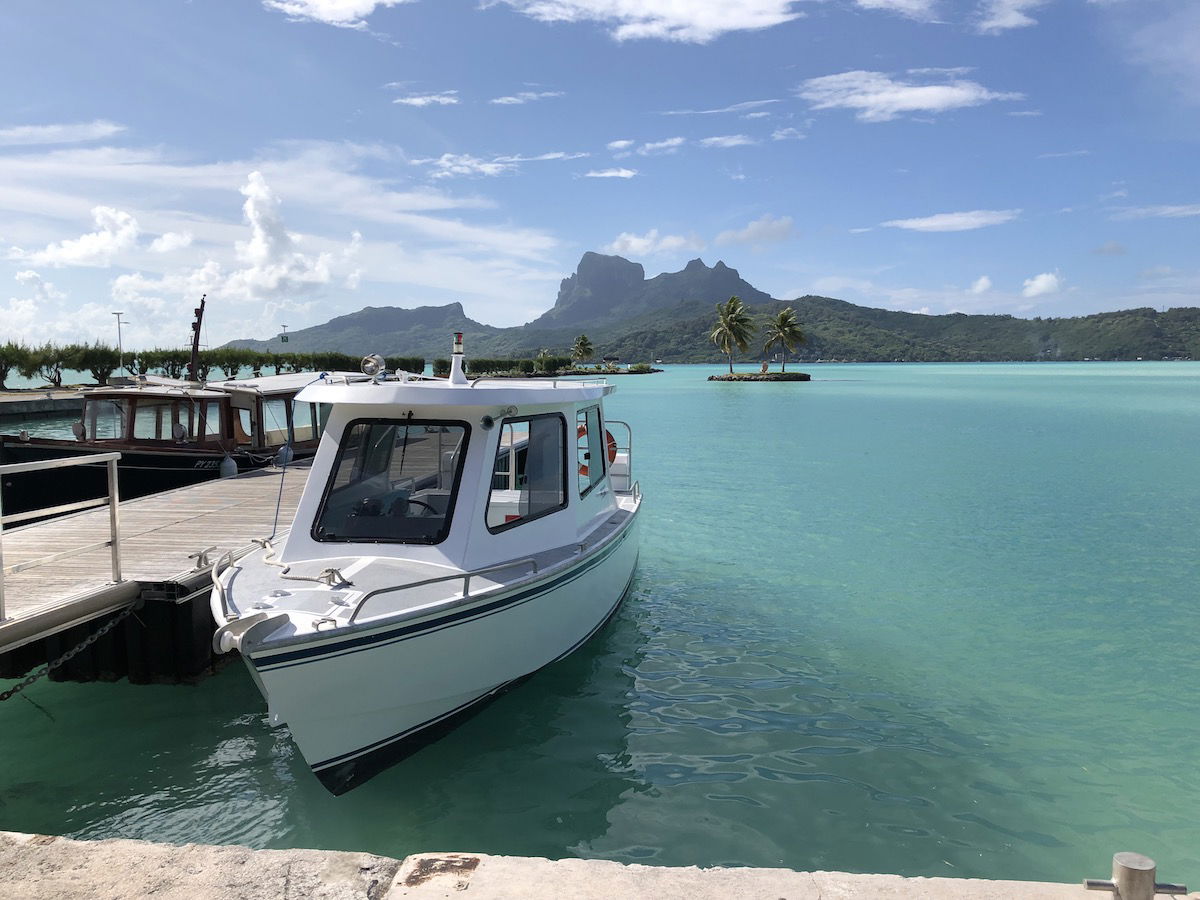 Hotel transfers from Bora Bora Airport
I won't be reviewing the return flight, other than to note:
Bora Bora Airport is awful if you have a significant amount of time to spend there, as there's no air conditioning, and we had to sit there for almost an hour; prior to departure there also aren't really enough seats in the gate area
Bora Bora Airport doesn't have any security
While our Air Tahiti flights operated on time, the day before our return flight we received an email saying our flight was pushed back by 30 minutes; that wasn't a big deal for us since we left plenty of time, but you definitely don't want to cut flights tight, or else you might be in trouble
Air Tahiti bottom line
Air Tahiti offers reliable service on comfortable turboprops. Don't expect much in the way of service — you'll get juice or coffee, and the flight attendants aren't particularly friendly — but based on my experience the airline was pretty good operationally.
Personally I prefer the Tahiti system of booking your own inter-island flights over the Maldives system, where they let you know only a few days in advance when your flight will operate.
If you've flown Air Tahiti, what was your experience like?